Are you looking at planning a trip to Japan?  If so, you've chosen a great place to explore if you are in for all kinds of adventures. 
You can choose from beautiful national parks, bustling cityscapes with plenty to see, and all sorts of culturally significant locations that will offer you a true authentic vacation. 
Let's take a look at some of the highlights and, of course, what you need to enjoy each one to the fullest.
While this is a good list to start from, this is not a complete list to everything that you'll want to see in Japan.  This is simply going to introduce you to some great starting points that you can use to see where your interests best lie.
Experienced travellers recommend that you take a look online and see what fascinates you most in terms of your main focuses: history, natural beauty, cultural significance, food and cuisine, or shopping.
You can combine all of these things into your trip, of course, but make sure that you pick the right shoes to take them all on!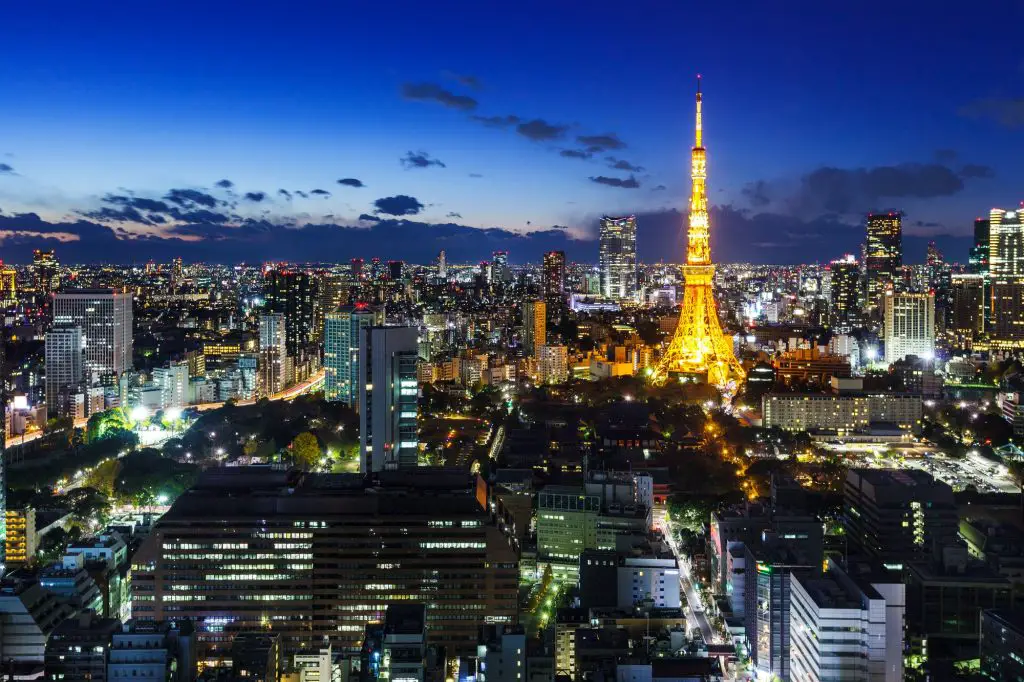 Walking Sneakers
You will need a pair of good walking shoes because you will literally walk all day. Prep yourself by getting comfortable and durable walking shoes so you can enjoy Japanese culture and food.
Capital of Japan – Tokyo City: There are lots of places for sightseeing such as:
Imperial Palace
Ginza District –High-end Urban Shopping District
Kaminari Mon (The Thunder Gate)
Meiji Shrine
Tokyo Skytree
Tsukiji Fish Market
Akan Mashu National Park: A beautiful sight of lakes and volcanos, this is a beautiful national park that you will love simply because it's so peaceful.  It's large and easy to explore comfortably.  You'll want to prepare yourself properly with either hiking boots — ideal shoes for Japan's rainy season — or comfortable walking sneakers. 
You can find modern, cushioning tennis shoes for men and slim-fitting, supportive sneakers for women that will both provide lots of support, comfort and easy wear to keep your feet happy.  Since there can be a bit of rough terrain, you'll want to bypass the sandals for now.
Best Walking Shoes for Japan Travel (women)
Walking for long time through Japanese streets while shopping or tackling long paths in a park can eventually make your feet feel heavy and fatigued, but the Women's Walking Shoes Sock Sneakers are designed to fit like a sock, making them remarkably lightweight to reduce any unnecessary bulk. They are also breathable and smooth, keeping your feet cool on long tours.
---
Best Walking Shoes for Japan Travel (men)
With a thick, durable rubber sole and a lifted heel measuring two inches in height that give you all of the support and stability you need to traverse Japanese cities and paths, the Skechers Men's Afterburn Memory-Foam Lace-up Sneaker can keep you secure on your feet even on wet surfaces, as it often rains in Japan. The memory foam insole will conform to the shape of your foot for longer periods of comfort.
---
Sandals
Kerama National Park: If you're craving the white sands and beaches but still want to stay in Japan, you'll find this national park to be precisely the best option.  It's got lots of space for you to stretch out on a beach towel and enjoy some quality sun-soaking. 

You can explore this best with bare feet, or with lightweight sandals for both men and women.  Since this is a classic beach within a national park, it can be a great way to enjoy a down day in between explorations. 
Best Sandals for Japan Travel (women)
With gentle arch support, a padded midsole, and a strong supportive outsole, the Skechers Women's On-The-go 600-Brilliancy Sport Sandal makes it comfortable for you to walk for long stretches of time in Japan while ensuring your feet are still comfortable and dry. The sandal has a lightweight, responsive cushioning that works hard to keep you comfortable with each and every step you take.
---
Best Sandals for Japan Travel (men)
The ECCO Men's Yucatan will keep you feeling comfortable as you walk the various Japanese streets and paths with their open, breathable nature that doesn't sacrifice support for its open-air look. The sandals have a durable rubber sole that adheres to the shape of your foot to give your arches the support they need to go where you want to explore comfortably.
---
Hiking Boots
Mount Fuji: A gorgeous landmark that you simply have to see for yourself, this is a great option for hikers and anyone who wants to enjoy a beautiful sunrise from its peak.  You can enjoy this hike from the base of the mountain, or you can do it from halfway up. 

If you want to take on Mount Fuji — and its worth the climb — you'll want to invest in some comfortable, waterproof hiking boots.  Even if you aren't going to Japan during its rainy season, condensation and water are common on the climb.  There are great waterproof men's hiking boots and waterproof women's hiking boots available to help keep you safe on your adventure.  
Best Waterproof Hiking Boots for Japan Travel (men)
With a long shaft measuring 4.75 inches from the arch that provide a supportive ankle, a thick outsole and a waterproof leather upper, this Timberland Men's White Ledge Mid Waterproof Ankle Boot keeps your feet protected during wet hikes in the Japanese wilderness while giving you the support you need to go the distance without experiencing fatigue all day long.
---
Best Waterproof Hiking Boots for Japan Travel (women)
These Columbia Women's Newton Ridge Plus Waterproof Hiking Boots offer a stylish way to traverse Japanese terrain while protecting your feet from the wet conditions of Japan. The firm midsole and ample cushioning provide long-lasting comfort and support during long treks, while the advanced traction on the rubber sole helps keep you stable on your feet even on wet paths.
---
Interchange between Sneakers, Slip-ons and Sandals
Nikko: A cultural hotspot for the traveller who wants to learn and explore at the same time, this is where the founder of the Tokugawa shogunate is enshrined and is a well-loved cultural hub for those that want to take in the historical aspects of the Japanese culture. There are plenty of sights to see, too. 

The best shoes to take on for this particular spot would be the sandals or, if it's during the rainy season, perhaps a pair of men's or women's slip-on shoes.  You'll want to be comfortable and supportive, but the hiking boots will be a bit too much for the stairs and many other walking surfaces here.
Hiroshima Peace Memorial Park: While this has a more serious vibe to it than some of the other places that we've mentioned, it's one of the most popularly visited areas in Japan.  This is a memorial museum and a monument to the horrors of the atomic bomb that destroyed a lot of what was then Hiroshima. 

It's a serious and reverent place, but absolutely worth the trip even if you aren't naturally a history buff.
Arashiyama: This is a gorgeous sight that helps you to really take on the appreciation of the power of bamboo in its natural state.  For those that want to combine nature with the peace of a retreat, this is absolutely a great spot to visit.  Your walking shoes for Japan will be great here, in particular, as it can be a long walk in slip-ons or sandals!
Best Slip-On for Japan Travel (women)
Wear the easy-to-slip-into Adidas Women's Cloudfoam Pure Running Shoe instead. These comfortable, stylish walking shoes go on and come off with ease, making them a great choice when visiting various Japanese establishments that require you to remove your shoes upon entering so you can get in and out of your footwear with ease.
Best Slip-On for Japan Travel (men)
Wake up and get out to explore Japan in seconds with the Skechers Men's Expected Avillo Relaxed-Fit Slip-On Loafer that slips on and off with ease. These comfortable loafers are very convenient to wear to restaurants and other establishments in Japan that ask you to remove your shoes before entering, so you won't have to stop and unlace your shoes every single time.
A Word from Love at First Fit
From national parks to culturally significant monuments, Japan has a lot to offer.  You'll want to find a comfortable athletic shoes for Japan travel before you pack, so take some time to find brands that are affordable, designed to comfort your feet, offer support, and still keep to the lightweight profile that you want. 
It's important to carefully choose the kind of shoe that you need for each spot because if you're in pain or otherwise uncomfortable due to footwear, you won't be able to enjoy the adventure.  Take the time to get your shoes right and break them in before you get on a plane!
The right fit will make sure that your feet stay happy and healthy from the start of the trip until the end and beyond, after all.  It'll make all of the difference in the world.  So, with all of that being said: Japan is waiting for you!  Are you ready to take it on in comfort?
Loveatfirstfit.com is a participant in the Amazon Services LLC Associates Program, an affiliate advertising program designed to provide a means for sites to earn advertising fees by advertising and linking to Amazon.com. We may earn a commission when you buy through links on our site.
Last update on 2022-02-14 / Affiliate links / Images from Amazon Product Advertising API