Choosing the right shoe for cycling, whether you are out on the open road, or taking classes in a gym or studio, can be overwhelming. You might not want to have to buy a specialty cycling shoe that can potentially only be used while you bike, due to the specific clips or cleats, if you can avoid it.
Ideally, we would all be able to use our cross training shoes for every single activity, as that's what they were made for anyway. But do even cross trainers have their limits? The biggest question being, is it safe and smart to use your cross trainers for cycling?
Cross trainers are a decent choice for cycling if you are cycling casually or just starting out. But if you are an avid cycler, hoping to maximize your pedaling power and efficiency, or have preexisting conditions, the best choice for cycling is cycling shoes.
There are many things you should consider in order to make the right choice for your cycling needs. The type of shoe support you need, the potential for injury with the wrong support, the requirements at your gym, and even the pedals on your bike are all important factors in making your decision.
Related: What Are Cross Training Shoes Good For? | The Complete Guide
Understanding Cycling Movements
When you cycle, your pelvis, hands, and feet are connected with your bike for stability, and movement is fairly concentrated in the muscles and joints of your lower half.
Your hips, knees, and ankle joints and the muscles associated with those areas, work to generate enough power to propel your bicycle forward. While the muscles of your upper half are also working, they are mainly helping to provide the stability that allows your lower half to work efficiently.
Additionally, your stability, and therefore your efficiency, is affected by your footwear. As one of the points of contact, your feet are stabilizing as well as propelling.
Potential Injuries Associated with Cycling
Some injuries and issues associated with cycling that can potentially be remedied with the correct shoes include:
Knee swelling, pain, or clicking
Shin splints
Sesamoiditis
Numbness
Knee issues related to cycling can potentially be a result of the misalignment of pedals, feet, and knees. A fix is sometimes a shoe that limits the amount of lateral leg movement you can make while you're on your bike.
Shin Splints can be related to a collapsed arch, which can happen when your shoe does not provide a stiff enough sole and therefore does not fully support your foot while you pedal. 
Sesamoiditis is when two small bones in your foot inflame or rupture, and can be prevented with shoes that correctly support your feet.
Numbness is also common and can be a result of improper shoe width or tightness.  
Factors that Determine your Cycling Shoe Needs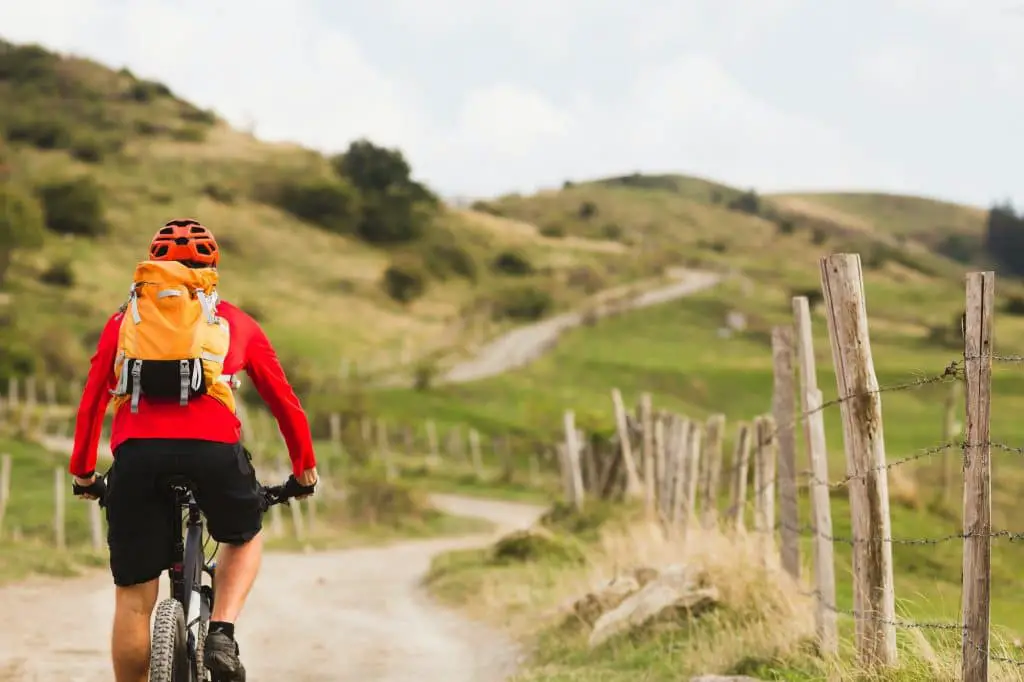 Cycling, like many other sports, requires proper alignment. Although you might think that your bike will efficiently keep you in the correct position at all times, other factors, such as your shoes, play a role as well.
Before you decide on any specific shoes for your cycling needs, you should consider:
The type of pedal your bike, or the bikes at your gym, have
The type of cycling you might do
If you are doing most of your cycling at a gym or on a stationary bike at home,  or if you are looking into buying a bike for outdoor cycling, you should take a look at the pedals on the bike before you commit to a shoe.
| | |
| --- | --- |
| Pedal Type | Shoe Compatibility |
| Clipless AKA "clip in" | Clipless shoes only |
| Flat or "platforms" | Any shoe except some clipless |
| Flat pedal with foot strap | Most shoes, including your daily shoe or cross trainer |
| Flat pedal with toe strap | Most close-toed shoes |
Clipless (or, confusingly, "clip in") pedals allow you to "clip in" your clipless shoes for a more supportive and efficient biking experience. You will need to purchase special shoes with cleats in order to effectively ride a bike with clipless pedals.
Flat pedals are what you probably remember from your first bike as a child. They are wide and have no built in clipping system, so you can ride with pretty much any shoe, including your cross training shoes. They are, however, not compatible with the 3 hole clipless shoes.
If your flat pedal is equipped with a foot strap or a toe strap, you also have a lot of options. Foot straps allow you to ride with any shoes, even your daily shoes, while still providing support and enhanced performance. Toe straps offer the same benefits, but you must wear close-toed shoes.
If you own your bike, you can always switch out your current pedals for those that more suit your needs. A new set of bike pedals is generally less expensive than a pair of clipless shoes and can allow you to use the cross trainers you already own.
Related: Types of Athletic Shoes
As far as the type of cycling you might do, there are many different paths you can take as a cyclist. Of the three types of cycling I mention below, each is benefited by a different type of petal. This is important to be aware of because shoe choice is closely linked to the pedal you will be using.
Mountain cycling
You may prefer flat pedals or clipless pedals with two holes
Option of a mountain shoe with a 2 hole system and a recessed cleat, or a shoe with a stickier sole.
Racing
You may prefer the efficiency and support offered by a clipless pedal
You will need a clipless shoe to ride a bike with a clipless pedal, as it provides much less width.
Commuters
You may use any pedal type
You might prefer a pedal that allows you to wear one shoe for their whole day, such as a flat pedal or a 2 hole clipless pedal.
As far as your options go, you can see there are many things to consider. If you know the type of cycling you want to do, and the type of pedals you have or prefer, you can pretty easily narrow down the shoes that you can use.  
As mentioned above in the commuter's column, we now even have the option of a clipless shoe that looks appropriate for all-day wear. 2 hole clipless shoes have recessed cleats, allowing them to double as an everyday shoe, and there are some pretty attractive options out there.
Cross Training Shoes for Cycling Pros & Cons
Cross training shoes are specifically built to be used across a wide variety of sports and activities, and cycling is no exception. Still, there are both pros and cons to using your cross trainers as your cycling shoe.
Cross trainers are a good choice for the casual cycler. According to the American Academy of Podiatric Sports Medicine, they provide enough support for arches and insteps and have the added benefit of a heel lift that is similar to that found in cycling shoes. 
Related: Best Running Shoes for High Arches
Of course, cross training shoes also have the added benefit of being versatile enough to use as your only workout shoe.
Wanting one shoe that does it all is totally reasonable. So while there are downsides to using your cross trainers for cycling, those downsides could easily be outweighed by the benefits of providing adequate support and versatility.
That said, if you are a more avid cycler, or are en route to becoming one, there are benefits to investing in a shoe that is built for your sport.
Advantages of Cycling Shoes Over Cross Trainers
First and foremost, if you already have foot conditions, you probably want to skip the cross trainer and invest in the cycling shoe, as cycling shoes are developed with cycling in mind.
A cycling-specific shoe:
Has rigid soles that optimize your energy usage
Is made to be breathable
Attaches to your pedals to give you the most efficiency, power, and smoothness while pedaling
Some cycling shoes also allow your heel to move in and out to certain degrees, which will help with alignment and avoiding knee injuries.
If you are going to be cycling at a studio, they might also have shoe requirements. For example, the popular cycling classes at SoulCycle require that you use shoes that clip into their pedals. You can usually rent shoes for indoor classes like this, but if you don't want to share shoes with strangers, and you are going to go often, buying cycling shoes might be a necessity.
A Word from Love At First Fit
Depending on your goals, the pedals of your bike, and preexisting conditions, you can make a good case for going ahead and investing in a pair of cycling shoes.
But, if you want to, you can absolutely wear cross trainers, or any athletic shoes, for most cycling. If you have the right pedals, they are a supportive and decent choice for the casual cycler.