For a culture night out downtown, skinny jeans have virtually no equal in their universal appearance. They're countercultural, they're sturdy, they're simple, and they're relatively affordable in most cases.
Slide on some denim, and you're totally set to head out the door to a concert, a dance club, a coffee shop, the library, or most places (excepting more formal settings).
David Bowie, and the garage punk ethos, skinny jeans, have truly become emblematic of youth culture in a permanent manner that virtually no other article of clothing has.
Most likely, you already have something in mind for footwear, but if you are looking for some guidance, we're here to inspire you with a number of fresh ideas.
Converse with Skinny Jeans
Let's acknowledge first that skinny jeans are not meant to be worn in the same setting as a pair of carpenter's jeans with a hammer loop on the hip. They are a distinctly postmodernist garb that associates heavily with music scenes, student life in academia, coffee houses, and the neon-lit atmosphere of life in the city.
As we mentioned in the intro, the classic option for this urban kind of look is to get a pair of Converse Chuck Taylor All-Star sneakers. Converse makes these shoes in a variety of different colors, and they also sell two different cuts of the shoe, the Low Top or the High Top.
"High Top Chucks" have been heavily intertwined with punk rock, scene culture, and emo groups since at least as far back as the days of Blink-182 and early, Nimrod-era Green Day.
Low Tops (which you may hear some people call plimsoll) are more associated with skateparks, but they're also a very general-wear kind of shoe.
Just make sure that you're wearing low-cut socks if you opt for the plimsoll style.
Some people also roll up their jeans to show some of the bare ankle and lower leg when wearing plimsolls. It's one of those trend-setting statements which are becoming more frequent among baristas, bartenders, and other characters in urban locales.
Converse sneakers are near timeless at this point in the realm of casual footwear. It should be said that they aren't just for musicians and skateboarders.
Plenty of people put on a pair of Chucks when going to the park, the grocery store, the library, or wherever.
It's a nice pair of shoes to have for their quality, and they last well over a year or two assuming regular wear and tear.
Western Boots with Skinny Jeans
Hearkening back to Keith Richards and The Rolling Stones, a pair of western-style boots with skinny jeans remains a dynamite combination if you are confident enough to give this option a try.
It increases your height. The vertical length of the boot will increase the overall intensity of your presence as well.
The overall visual effect almost certainly contributed to the cult of personality that arose around some of the Rock 'n' Roll icons who sported this look throughout the 1970s and 1980s.
It's a charismatic combination that has archetypal roots in the American psyche, going all the way back to gunslingers of the wild west.
Jesse James and Annie Oakley might have worn them for their practical, purely utilitarian value, but they ended up having a lasting presence in the wardrobe of an entire nation.
Western boots fell out of favor, especially in the 80s and 90s, and 2000s.
As with most trends in the fashion world, dormant styles make for a ripe opportunity for a retroactive awakening.
Now in the aftermath of 3rd wave feminism, we can use this potent look to add a showstopping weekend flair to our closet variety.
Whether you use western boots to stomp the performance stage or more in the manner of a fashion-oriented boot variation, it can be a decent addition to your arsenal.
There are a few suggestions we can give as well to give a contemporary flavor to your outfit when wearing western books.
First, if you're concerned about looking too "country" in style, wear them with a nice pair of dark blue or black skinny jeans.
Light blue denim lends itself to the wild west mental association. If that is what you're going for, then by all means wear light blue jeans. However, it's totally possible to wear them as part of a city dweller's outfit also. 
Another twist is to play with different belt styles—obviously, the outfit will have a totally different tone with a metal-studded belt versus a canvas belt versus a leather belt. The leather belt, especially if it's brown, is the most traditional option.
A studded belt will give the outfit a rock 'n' roll influence, and a canvas belt is basically your middle-of-the-spectrum option. Lastly, you can experiment with different styles of distressed jeans, whether tastefully ripped at the knee or other lengths of the pant leg.
Athletic Shoes with Skinny Jeans
Athletic shoes are probably something you have lying around, and they can complement skinny jeans at least as well as the other shoe options in our list can.
If you opt for a white pair of tennis shoes, make sure you take a damp cloth and wipe them down every so often.
It really does make a difference in how long they stay fresh and impressive in appearance.
Sometimes it's useful to just decide when you buy a pair of tennis shoes if they are going to be on a daily basis, for workouts and activities, or for more special occasions.
There's nothing wrong with having a few pairs for different purposes. It actually turns out to be a pretty good investment in the long run.
What brands are in? Nike Air Jordans seem consistent to be held in high esteem. Puma and Adidas also make plenty of sleek and attractive shoes.
A nice brand of brand-new tennis shoes with a pair of skinny jeans is an image that projects confidence, success, as well as a measure of humility.
One nice fact to keep in mind is that while a really good brand of tennis shoes is usually more expensive than a pair of casual sneakers, usually tennis shoes last a long time.
If you're thinking about your "non-essential" expenditures and having to harshly budget yourself for some reason, a really good pair of tennis shoes are an option that can serve you well for multiple years into the foreseeable future.
In the wake of the millennial generation, it's one of those lower body ensembles which continues to define how we perceive fashion in its relation to generational politics. It is a subtle phenomenon but real nonetheless.
If you walk into an urban coffee shop wearing a pair of stiff-legged, wide-cut Levi jeans and a pair of work boots, you'll still be perceived and likely treated in a different manner than if you're wearing skinny jeans and Nikes.
Combat Boots with Skinny Jeans
Cyberpunks and the digital hacker frontier popularized this now-classic look, which still rears its head today in bars, manga characters, and other television shows.
It's well known as the feminine footwear of choice for Seattle grunge rock also.
A pair of chunky boots can go a long way toward taking your outfit from PG-13 movie material to the kind of ensemble we think about when we imagine the most mythic underground countercultural movements in recent history.
The combat boot with skinny jeans is an iconic combination that nearly always accompanies the sardonic goth, the aesthetic nihilist—quintessential the world-weary ironic teenager.
At this point, it transcends stereotypes and has really set itself apart as a visual calling card in the artistic nightlife environment.
You could opt for an actual pair of military boots, which is an authentic route, yet sometimes the military boots are actually a little too heavy-duty to pair up with skinny jeans, depending on how hardcore your style is.
There are also some combat-style boots available in most thrift shops and a few online venues as well, and it's possible to find a pair that are designed more for the lightweight, fashionable aesthete.
Toms Shoes with Skinny Jeans
If you're looking for a choice that benefits the environment and the impoverished, you might consider shopping from Toms, a footwear company headquartered in Los Angeles, California.
In 2006 founder Blake Mycoskie started Toms with the intent of donating one pair of shoes to a child in a developing nation alongside every sale to their major markets in the developed world.
Their one-for-one model of social entrepreneurship has since inspired other companies, and multiple millions of shoes have made their way into the hands of children who would otherwise be barefoot.
Their classic canvass slip-on style is super fashionable, and though Mycoskie is no longer the CEO of Toms, the company has continued its policy of one-for-one donations to the present day.
Toms is an example of modern-day capitalism in a self-conscious attempt to do social good in the world while also turning a profit.
Some may scoff at this observation as a contradiction, but it's pretty difficult to deny the monumental benefit Toms has done at this point.
Without shoes, a child's odds of various diseases increase dramatically, and Toms has made a colossal dent toward alleviating this fact with their charitable efforts.
Platform Sneakers with Skinny Jeans
Our final option to consider is the platform sneaker. While it may seem like a distinctly modern variety of shoes, the truth is exactly the opposite.
Platform shoes actually have a long history in world fashion, which goes back to Venice in the 1400s.
The design intent was to allow people to walk across flooded pavements without getting their feet wet.
Although as recently as the 1970s, Europeans of both genders have enjoyed widespread use of platform shoes, today they're a style which is worn only by women in most cases.
Regardless, they tend to match well with skinny jeans depending on the exact shoe.
The wedge style of platform sneakers tends to be decently casual, long-lasting, stylish, and affordable.
Though some consider platform shoes to be gaudy or a bit too flashy, they've been worn by the likes of the Spice Girls, Lady Gaga, and even Stevie Nicks of the British-American band Fleetwood Mac.
If Stevie Nicks isn't a credible endorsement of a shoe style, it would be difficult to find one. More recently, female artists such as Charli XCX and Lady Miss Kier have also used platform shoes to augment their performance presentations.
Shoes to Avoid with Skinny Jeans
There are a few stumbling blocks to keep in mind—generally, you don't want to wear something which would clash with the cultural milieu of alternative culture. We could start with the obvious.
Avoid wearing crocs with skinny jeans (even better, don't ever wear crocs, and if you have a pair, donate them to a needy child or melt them down into a liquid foam state, to be recycled at a time and place of your choosing).
You want to stay away from open-toed footwear in general, though, and opt instead for sneakers or tennis shoes. We're looking for Chuck Taylor All-Star sneakers, a pair of Nikes, or Adidas, for example.
It's not all that difficult to find a decent pair of all-purpose shoes that go with your jean wardrobe, so let's take a look at the overall array of options.
If you feel confident with what you have, our thoughts here could simply be of comparative interest. If on the other hand, you are searching for ideas, take a look and use what appeals most to your sensibilities.
Loveatfirstfit.com is a participant in the Amazon Services LLC Associates Program, an affiliate advertising program designed to provide a means for sites to earn advertising fees by advertising and linking to Amazon.com. We may earn a commission when you buy through links on our site.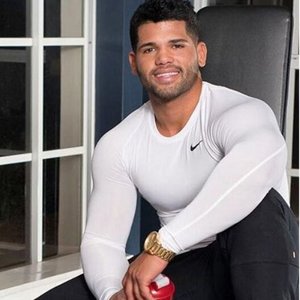 Austin is the author of loveatfirstfit.com and a personal trainer with extensive knowledge in nutrition. Austin is passionate about helping others to find a suitable healthy lifestyle and feel good about themselves. Austin's goal is to help people push their limits and achieve their physical performance.