It's possible that the COVID-19 pandemic affected your exercise routine. Aside from being a parent, many people also have responsibilities that leave them less time for exercise. Those who work from home may have less physical activity.
It's okay to give yourself a break. However, it's important to remember that it doesn't take much to get back on track. The first week, start small and keep moving.
For the first week, try to commit to doing 10 minutes of exercise a day. This can be anything from taking the dog for a walk to participating in a class.
If you're not feeling inspired to exercise, it's possible that you haven't been to a gym in a while. Or, you may be paying for a membership that's not working. If you're still not motivated to exercise, there are a few simple steps that can help get you back on track.
How to Restart Your Exercise Routine
You should find the right gym for your exercise routine. It should be one that you can easily access and maintain. You should also avoid overcomplicating your routine. Having a friend who will accompany you to the gym is also beneficial.
Make a Return Plan Before You Start
One of the first steps in getting back into a regular exercise routine is planning out the steps and the way that you will get there. This will help you establish a schedule that works for you. Getting too rigorous can make you feel defeated, which is why it's important to understand that you're not going to be as fit as you were. However, it's still okay to start with just 10 minutes a day.
Being back in shape can also be a fun thing to do, especially if it's been a while since you exercised regularly. A good pair of running shoes or a sports bra that provides adequate support and comfort during your exercise will help make it a pleasant experience.
Choose the Gym that's Right for You
There are various types of gyms, ranging from the high-end to the pay-as-you-go variety. If you're not going to go to the gym a lot, then stick with the pay-as-you-go option. On the other hand, if the gym has a lot of facilities, such as steam rooms and fitness classes, then it might encourage you to go more frequently.
Related: Top 13 Gyms with Pool 2022 Near You
Start with Workouts that You Enjoy
Many people get discouraged when they go to the gym and do the things they really dislike. Instead, try other cardiovascular exercises such as swimming or cycling. Doing these types of activities will keep you motivated and will help you stick with the gym. Michele Mehl, the CEO of Excy, a company that makes high-quality stationary bikes, says that everyone has their own reasons for wanting to improve their health and fitness.
For her, being able to do various types of activities such as hiking and mountain biking helps keep her heart disease at bay. She also likes the added energy she gets from working out. The "why" behind exercise varies depending on the individual, but it can help lower blood pressure and boost energy levels.
Be Patient and One Step at a Time
Instead of making drastic changes, try planning ahead. For the first week, start planning how you will exercise and how long you will work out each day. Then, set small goals for the following week. Setting goals for yourself can help keep you motivated and feel accomplished. Set realistic goals that are achievable for yourself.
Once you have set a goal, think of the rewards that will motivate you to reach it. For instance, if you want to work out for 20 minutes a day for three days, then you might get a treat like a new pair of running shoes.
Before starting a new exercise routine, figure out what works for you. For instance, if you only want to work out once a week, start with that. Don't let yourself get carried away with the idea of working out five to six times a week. Once you're comfortable with the idea of starting a new exercise routine, try working out for four days a week, this will help improve your body's response to exercise.
Don't Overcomplicate Your Exercise Routine
It's also a good idea to start with a basic strength training routine in order to get started on the path to a more complete and effective exercise routine. This list will help guide you through some of the basic exercises that are commonly performed in various types of workouts.
Aside from working out, it's also important to spend some time before and after each session stretching. This will help prepare you for the rest of the day and keep you moving seamlessly, you can also utilize a foam roller to help improve blood flow and reduce soreness.
Include Rest Days In Your Weekly Routine for Recovery
One of the biggest reasons not to start a six-day-a-week routine is that recovery is part of being active. It's hard to get back into shape after a day off, and it's important to maintain a regular schedule to keep your body in tip-top shape. You can schedule rest days into your schedule by choosing between active and passive rest days. An active rest day is when you're still doing some form of active movement, such as walking or cycling.
Both are beneficial for your body and can help you recover. Active rest days are known to increase blood flow and help with muscle repair. However, passive rest days are for when you need to rest. Ideally, keep your active rest days at low to moderate intensity. You can also consult your body when choosing the type of rest day that's right for you.
Getting to the gym at a time that suits you is also important. Many establishments have extended opening hours so that the early birds can get in before the office. It's also best to go to the gym when you're on the way home.
Don't Be Hard on Yourself
Many people struggled with maintaining a healthy lifestyle during the COVID-19 pandemic. According to a survey, most people gained over 30 pounds during the pandemic and are struggling to take it off. Getting too critical of yourself when you're not doing well on your own exercise routine can be very harmful, says Nolan Peterson, a personal trainer and health coach at the Mayo Clinic.
Instead of dwelling on the things that are not working, think about what can be learned from them that will help you move forward. Most people make the mistake of increasing their weekly miles too quickly, which can lead to overuse injuries, says Craig, a running coach. He suggests setting a goal of increasing your weekly miles by about 10 percent.
Most of the time, people avoid working out because they don't have time to fit in a full-fledged gym session. However, even if they have time constraints, it's still possible to get in a proper exercise. If you're honest with yourself, you probably know that you spend at least half of your time in the gym watching what everyone else is doing.
Do Not Compare with Other People at the Gym
One of the things that people avoid, when they go to a gym, is the type of people they find. In most cases, they are not the type of people that they expect to find. So instead, focus on what you can do on your own instead of what the other people are doing.
Getting back into a routine is important, but setting goals is also key to staying focused. The S.M.A.R.T method by Amy Sikorski can help you set realistic and achievable goals. This method works by asking yourself what your goal is and then planning a strategy to reach it.
Getting off track can be a common obstacle to getting back on track. According to Creel, setting modest goals can help motivate people to reach their goals. Having a schedule for physical activity can help keep everyone on track.
Physical activity on a daily basis can include:
Going for a walk after dinner
While watching TV, do calisthenics, stretching, or yoga.
While on the phone, take a walk.
Create Good Habits that Can Help You
Aside from exercise, other healthy habits can also be incorporated into your new routine. These include eating healthy, reducing stress, and getting enough sleep. Getting enough sleep is also important to maintain a healthy and happy body.
Your body will tell you that it's working harder in other ways, which is why it's important to listen to it. According to exercise expert Jackie Sikorski, it's also important to stop doing something that makes you feel uncomfortable.
The idea of creating habits is that they can be established by doing the daily activities that we choose to do, once they become part of our daily routine, they will become a part of us. Performing an action for 30 days in a row makes it a habit, and this is what you need to do with your exercise routine.
How Long Does It Take to Get Back Into Shape?
Generally, people tend to notice changes in their health and fitness after around six to eight weeks. They can expect to see noticeable results within a couple of months. Getting active regularly will not only improve your health and fitness, but it will also help you feel better.
Remember that it's important to take it slow, as overdoing it can lead to injuries. Doing low-intensity exercises is also a great way to get the body used to the idea of working out.
If none of these tips have inspired you to start working out, try working out at home instead. There are plenty of ways to keep yourself fit and healthy at home, and it doesn't have to involve expensive gym equipment.
When it comes to fitness, always remember to utilize all of your resources. Whether it's a video motivating you or a group exercise instructor, do not be afraid to ask questions.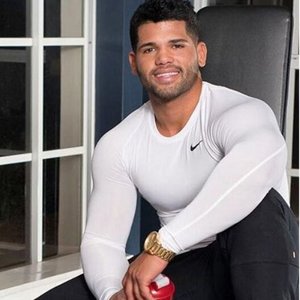 Austin is the author of loveatfirstfit.com and a personal trainer with extensive knowledge in nutrition. Austin is passionate about helping others to find a suitable healthy lifestyle and feel good about themselves. Austin's goal is to help people push their limits and achieve their physical performance.