Many of us have fitness goals that we want to accomplish. However, not all of us have the budget to opt for the most expensive gyms.
After all, the cost of gyms has been rising each year. That is why you might be on the lookout for a great gym that will not break your bank.
If you want to opt for Gold's Gym, you have come to the right place. Here is a complete guide to help you understand whether this gym is expensive or not.
Reasons Gold's Gym Is Expensive
Gold's Gym is expensive because it is a high-end gym chain that offers high-quality machines, great ambiance, and many amenities to the members. The space is also less crowded, which means that you will not have to wait a long time for your turn at the gym. Because of this, the gym charges a premium.
It is one of those gyms that will offer you everything you need under the sun. These include:
Pools
Steam rooms and sauna
Showers and locker rooms
Basketball, tennis, and racquetball courts
Kids' Club
Tanning beds
Yoga studios
Smoothie bar
Boxing ring
Group classes
Cardio cinema room
Massage chairs
And much more
High-Quality Machines
One of the top reasons why Gold's Gym is expensive is because it offers high-quality machines to members. They have a large selection of treadmills, stair climbers, bikes, resistance machines, benches, plates, dumbbells, and much more.
Whether you do CrossFit or you just want to get fit, you can benefit from the incredible range of equipment at this gym. There are also various classes you can take such as kickboxing, yoga, Zumba, and many others.
Great Ambiance
Another reason Gold's Gym is expensive is that they work hard to give you a good ambiance. The trainers will help you reach your highest potential and the people are friendly.
Depending on the location, when you first join, you will also get a free personal training session with your membership. Of course, you will have to pay a fee for subsequent sessions.
The staff will also be incredibly welcoming and friendly while helping you get settled in the first time. They will also make sure you are comfortable using the equipment for your safety.
Endless Amenities
Finally, another top reason Gold's Gym is so expensive is that it offers many amenities you will not find at other gyms. For example, most gyms have a boxing ring for you to try out different fitness classes related to boxing.
Besides that, it also offers tanning beds, massage chairs, and more to help you relax after you are done working hard at the gym. There are also many classes you can opt for such as Zumba, Pilates, kickboxing, yoga, and more.
Offering such amenities is not easy, and this is one of the top reasons it is so expensive. It allows its members to take their fitness journey to another level.
Related: Does Gold's Gym Have A Sauna?
How Much Is Membership At An Gold's Gym?
The membership cost at Gold's Gym will vary between the location and classes you want to take. However, it typically costs between $40 and $54 each month. The pricing is exclusive of taxes and other costs that you will have to pay.
| | |
| --- | --- |
| Membership Plan | Cost |
| EFT 12 Months with Half-Off Enrollment | $39.99 (excluding tax) per month with a $49 enrollment fee and $59 club enhancement fee |
| Annual Membership | One-time fee of $499 (excluding tax) |
| Monthly Auto-Renew. No Commitment, No Enrollment | $54 per month |
These are the top membership plans you can opt for, depending on your preferences and budget. The total cost always comes to more than $100 the first time.
That is because you have to pay other fees that are mostly one-time fees. After that, the cost will be lower for each month that you spend at the gym.
Each membership option will also offer you access to different things at the gym. You can learn about this in detail when you visit the gym location and decide the membership you will prefer in the long run.
Learn More: Gold's Gym Personal Trainer Cost
Is Membership At Gold's Gym Worth It?
A membership at Gold's Gym will be worth it for most individuals. However, if you are a competitive weightlifter or powerlifter, then the gym might not be ideal for you.
That is because not every location of this gym offers a squat rack and a deadlift platform for you to lift weights. Besides that, the gym also has a strict policy of not dropping weights.
If you are looking to opt for competitive lifting, then these rules and policies will not suit your style of working out. On the other hand, if you want to opt for cardio training, strength training, group classes, or personal training, then Gold's Gym can prove to be a great gym for your goals.
Learn More: Does Gold's Gym Have Guest Pass?
Gold's Gym Vs. Other Gyms
Gold's Gym is not as expensive as some other gyms. However, it is still in the high-end range. You will not be able to afford this gym if you are on a strict gym budget.
| | |
| --- | --- |
| Gym | Membership Cost |
| Gold's Gym | $50 |
| Equinox | $285 |
| Crunch Fitness | $149 |
| Anytime Fitness | $59 |
These are the membership costs of various gyms around the US. The most expensive gym is Equinox among them all, but it also offers some great services to its members.
On the other hand, Gold's Gym is relatively affordable when you compare it to other gyms. Considering the price, it is great for anyone looking to begin their journey on the right foot.
However, if you are a competitive, powerlifter, bodybuilder, or weightlifter, we wouldn't recommend this gym to you. That is because you might not get the most use out of the equipment.
Instead, you can select from other gyms to make the most of your weightlifting journey. But, do consider this gym if you are looking to get fit.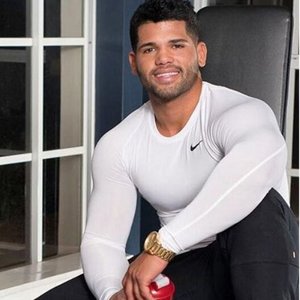 Austin is the author of loveatfirstfit.com and a personal trainer with extensive knowledge in nutrition. Austin is passionate about helping others to find a suitable healthy lifestyle and feel good about themselves. Austin's goal is to help people push their limits and achieve their physical performance.