When Nike first released Air Jordan I in 1984, it set the world of basketball shoes on fire. Air Jordan I turned basketball shoes from something you would only wear to play basketball into a fashion symbol and a cultural icon.
More than 3 decades after Air Jordan I's debut, Jordan is bigger than ever. In 2019, Jordan Brand brought in over $3.1 billion in revenue for Nike.
On top of that, there is a huge resale market for Jordans. The global sneaker resale market is now estimated to be worth more than $2 billion, with Jordans account for a big chunk of that.
We have scoured both the real world and the Internet to find the best places to find authentic Jordans for cheap. In recent years, Finish Line has become very popular for Jordan lovers.
Many of our picks are on the unconventional side. But that is how you get to save money on Jordans. Hopefully, this article will help you to do just that.
For those in a hurry, the following table gives you a summary of the top 5 places to buy Jordans.
Top 5 Places To Buy Authentic Jordans for Cheap
| | | | | |
| --- | --- | --- | --- | --- |
|   | Discounts | Rare Jordans? | Sizes | Risk of Fake Jordans? |
| Facebook Groups | Vary | Yes | Limited | Medium |
| Sneaker Shows & Conventions | Vary | Yes | Limited | Low |
| eBay | Up to 70% | Yes | Limited | Medium |
| Nike.com Clearance | Up to 50% | No | Wide range | None |
| Nike Clearance Stores | 75% or more | No | Very limited | None |
Related: How Much Do Pawn Shops Pay for Jordans?
Facebook Groups
Most people see Facebook as a great way to stay connected with friends and family. What many do not know is that Facebook is also a great way to buy Jordans.
There are many groups on Facebook that are devoted to sneakers in general and Jordans in particular.
Not only do people talk about Jordans and sneakers in these groups, but they also actively buy and sell shoes with each other.
Many of the sellers on these groups are Jordan collectors, so you are more likely to find rare and collectible Jordans on these groups than most other places.
50 thousand members and close to 500 posts per day. Many sneakers on sale here are Jordans. Many Jordans you see here are either brand new or "worn only once."
Very often, you can find rare Jordans for sale in this group at a surprisingly cheap price.
Another great group for Jordan lovers. Close to 70 thousand members and 400 posts per day. New shoes are dropped here many times per day.
Check out this group as often as you can and you are sure to find some hidden gems.
This is a regional group dedicated to the buying and selling of sneakers in the Midwest. It has 20 thousand members and close to 900 posts per day.
The mods of this group have done a great job policing the place and make sure all sneakers on sale here are not fake and the prices are not a ripoff.
Do not worry if you do not live in the Midwest – there are many other regional sneaker groups like this on Facebook. Just do a search within Facebook and you will find them.
Another major sneaker group on Facebook. Close to 90 thousand members and 700 posts per day.
This group is entirely devoted to the buying and selling of sneakers and it is a very active marketplace.
The mods have done a great job keeping this place nice and clean. Only PayPal is allowed for payment.
As you may or may not know, "deadstock" is a lingo of sneaker collectors. It refers to stock in new condition that was never sold. So basically, overstock.
This group is very active – it has more than 22 thousand members and more than 1 thousand posts per day. As this group is dedicated to dead stock, prices are usually very cheap.
There are many other similar groups on Facebook devoted to Jordans and sneakers. Just search for them and join as many as you want.
Check out the posts and get a general feel of the vibe of each group. You will find something you like.
Sneaker Shows & Conventions
Every year, there are many sneaker shows and conventions happening all over the United States. Sneaker lovers and collectors from all over the world come to these shows to talk about sneakers and to buy and sell sneakers.
Jordans are always big business in these shows. If you are looking for hard to find Jordans, these shows are great places to try your luck. The following is a list of some of the biggest sneaker shows in the country:
This is probably the world's largest and most popular sneaker convention show. It is held in a different city every year.
In 2019, it was held in Anaheim with more than 125,000 attendees and vendors in total. Sneaker Con 2020 was canceled as a result of the pandemic.
The next Sneaker Con will be in Cleveland in March 2021.
Founded in 2005, this is one of the original sneaker shows. Its 15th Anniversary show is held in Santa Ana, CA in Dec 2020.
This once a year show is completely devoted to buying and selling all things sneaker related including shoes and sneaker posters.
The 2020 show is in Atlanta in December. The cool thing about The Sneaker Exit is that not only can you buy from the registered vendors in this show, but you can also buy from other attendees there.
If you are willing to haggle, you can buy Jordans at really cheap prices here.
Established in 2004, this is one of the oldest sneaker shows in the world.
It bills itself as a community based event where sneaker enthusiasts from all walks of life gather to buy, sell, trade, browse, and discuss rare and fashionable sneakers, clothing, and accessories in a huge party environment.
This is a great venue to buy rare Jordans on the cheap.
Sneaker Fest is a local sneaker show held in New York every year.  Typically, there are more than 100 vendors attending the show. You can also buy sneakers from other attendees.
If you are a Jordan lover who lives in the New York metro area, Sneaker Fest is a can't-miss event.
If none of the shows in the list above is close to where you live, do not worry. Most sneaker shows such as Sneaker Con and The Sneaker Exit will move to a different city every year.
There are also many smaller, local-level sneaker shows that are being held all over the country. Just search for "sneaker show" on Google or Eventbrite and you will find one close to you.
eBay
eBay is one of the best places to find rare Jordans. It is also a popular venue for stores to unload their excess inventories.
As a result, there is a good chance that you will be able to buy Jordans at a lower than usual price on eBay.
Jordans on eBay come and go very quickly, so be sure to check on that website frequently or you may miss out on some amazing deals.
Tip 1: Not all Jordans you see on eBay are going to be authentic. That is the reality. So, be vigilant about possible fake Jordans there. Avoid sellers from high risk countries such as China. If your purchase on eBay ends up being fake, do not be afraid to contact eBay and ask for a refund. If all else fails, contact your credit card company and ask for a chargeback.
Tip 2: There are many slightly used Jordans for sale on eBay at very cheap prices. If you do not mind used shoes, this is a great way to save big on your Jordans.
Tip 3: If you find a pair of Jordans you are interested in, message the seller and ask for more pictures. Ask to see the soles. the inside of the sneaker, the shoe tongues, the box, etc.
Tip 4: Check eBay early in the morning and sort by the newness of the listing. Most sellers on eBay typically upload their new inventories early in the morning. This way, you will be able to catch the newest batch of inventories every day before most other people.
Tip 5: Do not be afraid to haggle. When you find something you like, message the seller and ask them if they would take $25 – $50 less if you buy immediately. Most of the time, they will agree to at least a $10 discount.
Nike.com Clearance Jordans Section
Most people do not associate the Nike.com website with discounted Jordans. While it is true that most Jordans you see on Nike.com are full price merchandise, there is a section on that website that is dedicated to clearance Jordans.
The amount of discount you get on the clearance section varies but it can be as much as 50% off.
Nike Factory Stores
Besides the online clearance store discussed above, Nike also runs a chain of brick and mortar factory outlets called Nike Factory Stores. It is where obsolete Nike merchandise goes.
You can typically find a lot of Jordans here. Sizes are pretty complete so you should have no problem finding shoes in your size.
Typically, you can expect to get Jordans for 30% to 50% off retail at Nike Factory Stores
Tip 1: The most deeply discounted merchandise is located on a rack in the back of the Factory Store known as the "Hash Wall." Things on that rack typically come with an additional 30% discount.
Tip 2: The best time to shop at Nike Factory Stores is Friday, Saturday, and Sunday mornings. That is when most of the additional discount happen
Nike Clearance Stores
If Nike Factory Stores are the first stops for out of season Jordans, Nike Clearance Stores are their final destinations. Here, you will find Jordans that failed to sell at Nike Factory Stores.
They get shipped here and go on sale at a deep discount, often 75% off or more.
Sizes are very incomplete at Nike Clearance Stores. So don't be surprised if the Jordans you want are not available in your size.
Final-Score
Final-Score is a good place to buy deeply discounted sneakers. There is an entire section dedicated to Jordans.
On the plus side, discounts at Final-Score are generally very deep, up to 60% off retail.
On the minus side, sizes tend to be very incomplete. Most styles are available in only 2 or 3 sizes.
Eastbay
The discounts at Eastbay tend to be a lot more modest than that at Final-Score, typically ranging from 10% to 20%. On the other hand, sizes at Eastbay are much more complete than that at Final-Score.
For example, at the time of this writing, Jordan 6 Rings in the Silver/Graphite/White colorway is on sale at Eastbay for $139.99, an 18% discount from its original retail price of $170.
That is a decent but not great discount. On the other hand, this shoe is available in 9 different sizes, so there is a good chance you will be available to find it in your size.
Tip: Eastbay frequently offers discount coupon codes and free shipping with no minimum. You can find all the coupons on the coupon section of the Eastbay website. So make sure you check it out before you buy anything at Eastbay.
Finish Line
Finish Line is similar to Eastbay in that discounts are typically not that deep but sizes are usually quite complete.
It is a place you go to if you are looking for the more recent styles of Jordans and you are not expecting deep discounts of 50% or more.
For example, at the time of this writing, Men's Jordan Max 200 in the Black/Electric Green/Black colorway is on sale for $100, a 20% discount from its original retail price of $125. 20% is not exactly a deep discount.
But the good news is this shoe is available at Finish Line in 10 different sizes. Your chance of finding your size here is good.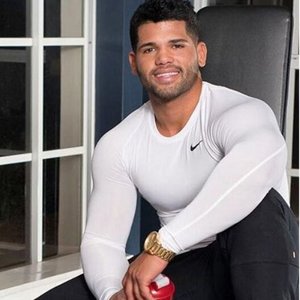 Austin is the author of loveatfirstfit.com and a personal trainer with extensive knowledge in nutrition. Austin is passionate about helping others to find a suitable healthy lifestyle and feel good about themselves. Austin's goal is to help people push their limits and achieve their physical performance.