Cross training shoes are designed to help provide some protection from the impact of running on hard surfaces or impacts from jumping in long-distance running. These shoes have a slightly raised heel that lowers the angle of your foot from your body. This helps reduce stress on your lower legs, knees, and toes.
Most cross training shoes can last for 100 hours of use, but cheaper pairs may wear out sooner. These hours can easily add up, so even two hours a week can mean you need to replace cross training shoes every year.
These shoes are perfect for training like CrossFit, HIIT, weightlifting, and daily gym workouts. They are designed to reduce stress on your feet and joints. They provide added cushioning and flexibility, which reduces the likelihood of injury while running or jumping over various obstacles.
Here is a list of the best cross training shoes brands based on price.
Good Cross Training Shoes Brands
Ryka: Ryka cross training shoes are great for HIIT workouts. They have a padded collar and tongue and a foam midsole to protect against shock while being made from breathable fabric. They are also lightweight; however, they are designed specifically for women.
Under Armour: Under Armour cross training shoes are another popular option because they are lightweight, breathable, and have high support. However, Under Armour shoes may run small and narrow so you may want to order a size up.
Altra: Altra is known for their running shoes, but their cross training shoes are also very good. Altra training shoes are made with a rubber, non-slip sole which has great traction for even rope climbing. Altra shoes are ideal for HITT, CrossFit, gyms, and light running.
Great Cross Training Shoes Brands
Adidas: Adidas cross training shoes have a sock-like fit for comfort but are a bit heavier than some trainers. They can support all activities from walking to CrossFit. They also come in several styles, patterns, and colors.
NoBull: NoBull has cross training shoes with a good non-slip sole, plenty of design options, and durable material. However, they are one of the more expensive options. Although their brand is not mainstream like Nike or Adidas, they have a very good reputation with many positive feedbacks in the fitness community.
Asics: Asics cross training shoes have good cushioning and support for gym activities. They are great for cross training workouts that require side-to-side movements as well as weightlifting. They also are less expensive than many other cross training shoes brands, although not as popular.
Best Cross Training Shoes Brands
Nike: Nike Metcons are one of the most popular brands for cross training shoes. Nike has a huge variety of styles, colors, and patterns as well as a large variety in price. Nikes are typically lightweight, durable, and stable.
New Balance: New Balance cross training shoes are popular for weightlifting. They are fashionable, yet durable and stable to support your feet and give more ankle support. They are designed training shoes good for heavy lifting and a firm grip.
Reebok: Reebok designs some of the best crossfit shoes and they are great for HIIT training as well. Reebok shoes have plenty of cushioning so whether you're jumping or squatting, your feet will be supported. They have a rubber midsole and are one of the best multi-purpose shoes.
New Balance Men's 517 V1 (Best Overall Cross Trainers)
New Balance is known for making some of the best cross training shoes for men and the New Balance Men's 517 V1 is part of the New Balance Minimus collection. It features the New Balance Memory sole which provides comfort and versatility for men with wide feet. These cross training shoes have a solid fit and maximum cushioning making them a great daily sneaker.
They are durable and made of 100% leather, a mesh upper for great ventilation, and a full rubber sole. It features a removable insole and is available in a variety of different color combinations. This cross training shoe is available in regular and wide widths.
The New Balance Men's 517 V1 is inspired by athletes and offers a classic fit with comfort that lasts all day. It features New Balance's memory sole, which is a versatile cushion that supports whatever you may encounter in your workouts or throughout the day, every day.
These durable shoes are good for all types of athletes including runners and those doing strength training. One of the most attractive features of New Balance sneakers is that they are often available in wide widths for those that need that extra room. The cushioning provides arch support, stability, and protection for knees and joints across various activities.
Nike Metcon 5 (Most Popular Cross Trainers)
Men's Nike Metcon 5 base is solid and stable and the Metcon series has the reputation of being one of the best cross training shoes series.
It is quite popular among heavy guys because it is supportive, flexible, and provides maximum resistance for the wide array of training activities that metabolic conditioning workouts are known for, such as rope climbs, box jumps, and sled pushes. The low heel to toe drop makes them ideal for heavy lifts such as squats and deadlifts.
This cross training shoe has a 4mm heel to toe drop and is made of a textured mesh which is stronger and lighter than any of its predecessors. It is available in a wide array of color combinations to suit anyone's style.
The Nike Metcon 5 Men's is a leader in the Crossfit, cross training sessions, and weightlifting arena, but is a great cross training shoe for anyone doing multiple training modalities.
Much like previous iterations of the shoe, one of the main complaints is that it squeaks. Although, it is reported that this can be alleviated by putting baby powder under the insole. Otherwise though, the Nike Metcon is my favorite training shoe and it continues to be one of the most popular cross training shoes available.
Related: Women's Nike Metcon on Amazon
Reebok Nano X (Most Reliable Cross Trainers)
The Reebok Nano X is the 10th version of the Nano line. It also represents the end of a 10-year partnership with CrossFit and the sport's evolution. This can be a very good crossfit shoe and theyare reliable both in and out of the gym.
Reebok Nano X is ideal for jumping, lifting, rope climbing, and gymnastics, and it is extremely comfortable with a sock-like feel and an extra wide toe box. It's comfortable right out of the box and doesn't require a break-in period.
Reebok Nano X has a 4mm heel to toe drop and fits securely thanks to a high-density foam collar and a taller tongue which is separated into three sections, sitting comfortably for more ankle support.
The upper features an updated Flexweave that stretches more than previous versions. The Flexweave in the back has been replaced by a stiffer material back for more support and mesh in thoughtful areas for breathability.
Related: Women's: Reebok Nano X Review
ALTRA Men's Solstice XT (Best Cross Trainers for HIIT)
The ALTRA Men's Solstice XT is a pair of firm cross-training shoes with light cushioning. The midsole is very flexible and offers a softer forefoot along with a firm heel cushion. The outsole is made of all rubber which provides great traction, both indoor and outdoor dry surfaces. The midfoot is supported by the caged upper. However, this results in the trapping of some heat during runs.
The Solstice XT is best for strength and agility workouts but is also comfortable for shorter runs. It is an extension of Altra's Solstice running shoe, but is more supportive and flexible for cross-training activities such as squats, jumps, and kettlebell swings.
This cross training shoe is best suited for athletes who engage in high-intensity interval training workouts, with perhaps occasional short runs on pavement or treadmills. The tread on the fitness shoe reportedly doesn't perform as well on trails or outdoor wet surfaces. However, it offers great traction on indoor flooring and dry terrain.
Related: ALTRA Women's AL0A4QTN Solstice XT Review
Adidas Men's Strutter (Best Cross Trainers for Light Activities)
The silhouette of the Adidas Men's Strutter is chunky, providing lateral stability, and features the signature Adidas 3-stripe detailing. The upper is made of smooth leather and the outsole is a comfortable rubber with iconic sculpting. It bears a striking resemblance to the Nike Monarch. The Adi-bounce EVA sock-liner makes these one of my favorite training shoes cushiony and comfortable.
The shoe is no-nonsense, reliable, functional, and inexpensive. They are lightweight and provide good traction, making them excellent walking shoes—both comfortable and secure.
Touted by many as a "dad shoe" and by Adidas itself as the "deadliest of street shoes," it is available in wide widths, making it an ideal choice for a comfortable shoe for a variety of daily activities or recreational play.
The all-black colorway makes for an excellent workout shoe where nonslip is required such as in the food industry. However, these are not designed for more intense athletic activities relative to some of the other cross trainning shoes on the market.
Under Armour Men's Charged Commit 2.0
The Under Armour Men's Charged Commit 2.0 features a mesh upper that is both lightweight and breathable. The dual-external heel counter provides extra stability by hugging your foot.
The mid-foot saddle is made of leather and is both comfortable and supportive. Slippage isn't an issue thanks to the cushioned sock liner which provides underfoot comfort and molds to your foot's shape.
The Charged Cushioning midsole converts impact into a responsive burst by absorbing it. The outsole is completely rubber and has intentionally located flex grooves for excellent traction on multiple surfaces and added flexibility.
This reasonably priced cross trainer is reliable, making it a good choice for daily wear. However, its stability and support also make it a good choice for weightlifting or other gym activities.
This weightlifting shoe are best suited for those who want a good option for moderate training and activity without spending lots of money. Although it doesn't compete with the top cross trainers, it does provide a reasonable, cost-effective alternative.
Related: Under Armour Charged Women's Assert 8 Review
New Balance 608 v5 Training Shoes
The New Balance 608 v5 is ranked #1 best seller for men's cross trainers category in Amazon. This pair of cross training shoes combine style and comfort. There are a number of available width options, making it easy to find the perfect fit.
This durable shoe provides good underfoot support. It is comfortable for both training and walking. It runs true to size and width. Aesthetically, the all black and all white colorway variants provide an attractive option for street shoes. They are durable and provide notable arch support. Additionally, they have superb traction and easily accommodate various orthotics.
The NB Comfort Insert provides memory comfort and cushioning from multiple angles. The ABZORB heel crash pad combines cushioning and compression resistance to absorb impacts, providing excellent shock absorption. It also features a dual-density collar foam is designed to prevent irritation around the ankles.
The outsole is flexible, providing cushioning through deep flex grooves covering the entire sole, allowing you to move in comfort. The 608v5 features a leather upper that provides soft comfort and the classic laces, N logo, and Flying NB on the tongue represent classic New Balance style.
From my experience, this pair of cross training shoes are best suited for those looking for a reliable and durable everyday wear.
Related: Women's New Balance 608 v5 on Amazon
Under Armour Men's HOVR Rise 2
The Under Armour Men's HOVR Rise 2 features UA HOVR technology which provides a 'zero gravity feel,' maintaining energy return which then helps to eliminate the impact.
The upper is made of a compression mesh energy web which contains & molds to your foot. Lightweight and abrasion-resistant, 3D print in the upper provide durability and breathability throughout all of your workouts.
The external heel counter combined with overlapping films gives added stability while hugging your foot. The tongue and ankle collar are supportive without being restrictive. It features a rubber outsole, enhancing traction and durability.
These cross training shoes return the energy that you put in. It can also replace running shoes for treadmill running, high-intensity interval training sessions, and light to moderate weightlifting.
The HOVR Rise 2 is ideal for those looking for a lightweight and stylish cross trainer that provides lateral support and long-wearing cushioning. Many reviews claim that it is one of the most comfortable trainers they've ever had.
Related: Under Armour Women's HOVR Rise Review
Reebok Men's JJ III Cross Training Shoes
Designed by JJ Watt, the Reebok Men's JJ III Cross Training Shoes are made to elevate your training beyond the gym. They feature Reebok's Flexweave mesh upper which is lightweight and flexible, making it ideal for dynamic moves, as well as a cushioned EVA foam midsole that is responsive and supportive during sprints and short runs.
The die-cut EVA sockliner is durable and comfortable. The outsole wraps up the sides to fight abrasion while also providing durability and traction. They are resilient, supportive, and breathable. The absence of a tongue can make them less than ideal for those with wider feet and they can be difficult to put on.
Reebok also have a very good reputation for making the best cross training shoes for men and this pair offer vibrant colorways and a retro style, reminiscent of the Nike Air Jordans. They are comfortable enough for daily workouts and stylish enough for casual wear, and they are well-built and constructed of quality materials.
The JJ III is ideal for those interested in a high-performing high-intensity interval training shoe. These training shoes are quite popular among people who do agility and footwork drills.
Whitin Men's Barefoot & Minimalist Cross-Trainer
The Whitin Men's Cross-Trainer is a comfortable, flexible, and durable barefoot trainer. It is also very affordable. They feature an anatomic toe box that ensures your toes aren't compressed during wear.
You'll be able to spread your toes pain free which, in turn, provides better balance. The sole is firm and thin, providing better feedback and proprioception from the ground. The flat, low heel to toe drop sole keeps your feet in a neutral position, supporting your posture and alleviating joint stress.
This vegan-friendly minimalist trainer is durable, supportive, and promotes healthy posture. It has an extra wide toe box and lessens joint stress. The shoes have a rubber sole and the rear collar is padded for Achilles comfort. The knit upper provides a sock-like fit and flexibility.
The outsole is made of a sticky-grip rubber which makes it an ideal running shoe for trails by offering grip, traction, and durability. It is best suited for those who are conscious of animal products used in production and those interested in a minimalist trainer for running.
In my case, these cross training shoes run a bit large. In comparison to Merrell Vapor Gloves, they are not as light or breathable.
ASICS Men's Gel-Venture 6
The ASICS Men's Gel-Venture 6 is designed for rugged terrain. Its trail-specific outsole features reversed lugs and high-abrasion rubber is strategically placed to provide incredible traction uphill, downhill, and on all types of terrain.
It also features ASICS Rearfoot GEL cushioning, which keeps you comfortable on the trails by absorbing shock and the removable sockliner allows you to personalize your fit by using custom orthotics. The shoes offer 10mm heel to toe drop and provide adequate cushioning for trails, but aren't designed for long-term use on hard surfaces.
Although Asics is known for its running shoes, these cross training shoes are a good value at their price point and provide great traction, especially on wet surfaces. They are truly trail shoes and excel on muddy trails and softer surfaces.
These fitness shoes are best for trail walkers looking for good traction and cushioning.
In my experience with these workout shoes, they are not very breathable. However, removing the sockliner may help. They are also a bit too wide in the forefoot.
Related: Women's ASICS Gel-Venture 6 on Amazon
PUMA Men's Axelion Spark Cross Trainer
The PUMA Men's Axelion Spark features a knit upper and a TPU shank which provides support in the midfoot and control through movements. Since the upper lacks structural support, they may not be best for intense sports or activities, but they are a great option for everyday wear and comfortable training shoe.
The extended lacing system provides a secure fit and feel. The split outsole design provides shock absorption in the heel and has arch support, as well as grip and traction. They provide all-day comfort.
These cross-training shoes are cushioned and comfortable. They are sturdy enough to handle cross training workouts. The unconventional lacing sets them apart from the rest.
These shoes are best suited for those looking for something stylish and different. They are not waterproof and your feet will get wet with even moderate rain. The inner sole isn't very durable, but can easily be replaced with insoles.
While some say they run true to size, It was narrow for me and I would recommend ordering a half size up.
Nike Varsity Compete TR 2 trainers
These Nike Varsity Compete TR 2 trainers feature a synthetic upper composed of mesh and a skin overlay with a low-profile silhouette. The lacing is integrated with locked down sides which provide traction ideal for weight training.
Webbing in the midfoot provides lateral support and a mesh tongue and lining increase breathability. The low-profile EVA midsole gives softness and stability. There are aggressive rubber nubs in the center of the outsole, which enhance traction on both indoor and outdoor surfaces.
These cross training shoes run true to size and their widths are great for people with wide feet. The heel collar extends beyond the Achilles area to ensure a snug fit during workouts and prevent the foot from slipping out. A small pull tab made of fabric located at the back of the cross training shoe helps in putting the shoes on.
These are both comfortable and visually appealing, as well as of great value. These fitness shoes are ideal for guys who do a lot of outdoor high-interval intensity training sessions.
How Much are Cross Training Shoes?
Cross training shoes vary in price from as low as $50 to $150. You may get more quality for a more expensive pair, but the average price for cross training shoes is $100 to $130. If you spend around $150 or more, you can expect to get the best cross training shoes for men.
$50-$75 Cross Training Shoes
You can get affordable cross training shoes that still work for your basic workout needs. Under Armour, Adidas, New Balance and Ryka all offer decent quality shoes for under $50.
If you're looking for a simple & basic daily trainer for your gym workouts, a pair of $50 cross trainers will be fine, but the support and durability will be less than $100+ ones. If you train often, expect your $50 cross trainers to last around 6 months.
$100-130 Cross Training Shoes
Your average cross training shoes will be in the range of $100 to $130 and these are of better quality. If you do training like cardio kickboxing or dance fitness like Zumba, you can consider $100 cross trainers.
They have better protection and support to your feet than the cheaper $50 trainers, and they will last longer. If you train more than 4 days a week, you can expect your $100 cross training shoes to last 6month to 1 year.
$150+ Cross Training Shoes
Cross training shoes over $150 are the most expensive, but also are of the highest quality materials, made by well-known brands with better materials. If you're looking for a pair of training shoes for intensive training such as CrossFit, weight lifting, or HIIT training, consider investing in a pair of $150+ cross training shoes.
Trainers at this price range have the best support and cushion design that offers enhanced versatile multi-direction movement. Your $150 cross training shoes will last you between 1-2 years depends on your activity type and usage frequency.
What is the Right Fit for Cross Training Shoes?
Cross training shoes must be snug without being tight and offer room without letting your feet slide around. When trying on cross trainers, do not just walk around in them. Stand on your toes, hop up and down, wiggle and fan out your toes, and make a few sharp cuts to see how the shoes react. Ideally, you should feel some room without having your feet move around much.
All cross training shoe brands have their shoes listed in standard sizes. This indicates the length of the shoe in question. However, you may find that one brand of shoe fits when you wear a 10, while another brand of shoe fits when you wear a 10.5.
Don't assume that a cross training shoe will fit just because it is the size you usually buy. It is a smart idea to go and try on the new shoe before you take the plunge and buy it. Just like with clothes, there will always be a discrepancy between sizes and brands.
When you try on a shoe, here are a couple of tips you can use to help you determine if the fit is correct for your fee
Check your toes – you should have a little room between your longest toe and the front of the shoe. This space should be roughly the width of your thumb.
Check your distances – the heel and the ball of your foot should be the same distance apart as the heel and forefoot support on the shoe. Otherwise, your feet may not receive the proper support when you exercise. If you aren't getting support in the right areas, you are more at risk for an injury.
No pinching – a workout shoe should be snug, but not uncomfortably tight. If you feel that the shoe is too tight on any part of your foot, you may need to try a different size.
It is also very important to check a shoe's width when you are researching brands and checking sizes.
Most brands use these letters to represent shoe width: A, AA, B, C, D, E, EE, EEE, and so on. The letter "B" denotes a medium width for women—the letter "D," a medium width for men.
The closer you get to the letter "A," the narrower the shoe is. Conversely, the further you get from the letter "A," the wider the shoe gets.
Many people have the same size shoe but need a different width. Remember, a shoe's size only measures the length of the shoe! Some people have narrower feet and need less room, whereas some people have wider feet and need more room.
You may find that many generic shoes only come in one width. Some notable companies that are doing this are New Balance and Skechers.
Upper
The upper portion of the shoe is normally made from strong, flexible materials that are commonly used in many types of shoes. They can be natural materials such as leather. Or, they can be synthetic materials such as nylon. Leather is quite strong, durable, and provides plenty of support, but it is not as breathable compared to synthetic mesh.
In most cases, you will probably want a synthetic mesh material used for the uppers of your cross trainers. The only exception would be in cold weather when you may want leather or other material that provides better insulation.
Heel Support
Proper heel support is the major factor separating cross trainers from standard sneakers or running shoes. The materials used in the heel are designed to handle the stress and weight of lifting along with shifting to different positions. You should look for the following materials.
EVA Foam
High Abrasion Rubber
Thermoplastic Polyurethane
All three materials provide strength, comfort, and flexibility which is vital to keeping the heel in place. The Thermoplastic Polyurethane is common with weightlifting shoe and is easy to spot on cross trainers.
Midsole
Standard rubber that is part of the sole makes for an excellent midsole material, which is a very important factor when you're looking for the best cross training shoes for men. What you want is a thicker sole in this area to provide greater traction and durability for the shoes. This is especially true if you are climbing, moving sideways, and the like.
Rubber
EVA Foam – For Better Support
If your cross training is focused on engaging in different activities, such as climbing up hills, rocks, and the like, it's good to have midsole material that is solid rubber.
Outer Construction
Next to the heel, the outer construction of the shoe is the most important. It's common for cross training shoes to have multiple layers of material to withstand the stress and keep the shoe together even under considerable duress. The most common materials used in the outer construction include the following.
Blends of Cloth, CORDURA, and Dyneema,
Flexweave, Flynit, and Nylon
Synthetic Mesh and Textured Rubber
Any of these materials are excellent for cross trainers. Even simple nylon is quite strong and flexible, making it a great material for the outer construction of the shoe.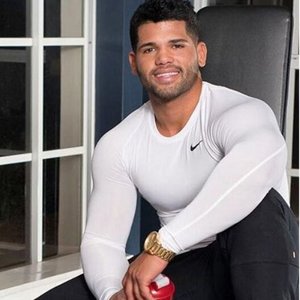 Austin is the author of loveatfirstfit.com and a personal trainer with extensive knowledge in nutrition. Austin is passionate about helping others to find a suitable healthy lifestyle and feel good about themselves. Austin's goal is to help people push their limits and achieve their physical performance.