When compared to other athletic shoes, ballet shoes are across the board pretty affordable. Read on to learn about what you should expect to spend, and what you might want to avoid when you are searching for your first pair of ballet shoes.
Here is a chart that shows you the average prices (including lows and highs) of three main ballet shoe brands: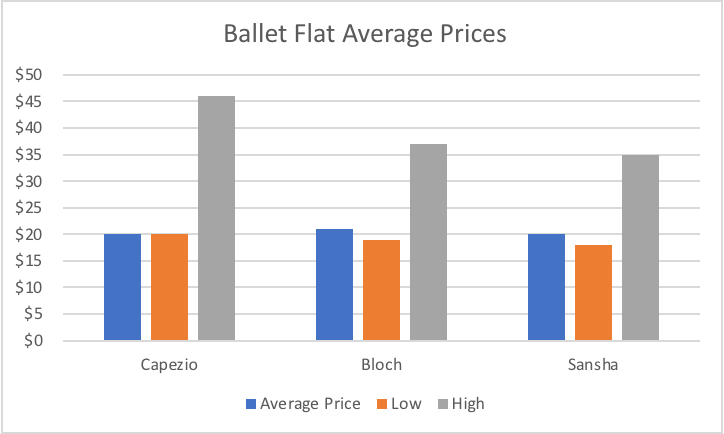 You can see that the average price in all three brands hovers right around $20, and doesn't go much lower. There are outliers for each brand, with Capezio offering the most expensive shoe at $46. 
While the range differs slightly from brand to brand, all of them offer the most shoes at around and just below the $20 range. 
Expensive Ballet Shoes
Based on the average price for ballet flats being about $20, if you paid more than $40 you would be overpaying for your ballet shoes.
Of the mainstream brands mentioned above, Capezio is the only one that offers a shoe above the $40 range – and while this shoe is high quality, the average dancer would find it unnecessary to purchase a shoe at that price point due to the wear and tear suffered by ballet shoes, and the accessibility of shoes at a much lower price. 
Average Cost of Ballet Shoes
The sweet spot price range for ballet shoes is $20-$30. 
At this range, you can easily find a high-quality shoe from a great brand. There are many shoes offered in this price range, and you know for sure that you will not be overpaying for the shoe that you buy. 
Cheap and Low-Quality Ballet Shoe Prices
Any shoes that fall below the $10 range are going to be low-quality or cheaply made ballet shoes. A low-quality ballet shoe might:
Be primarily made of a material other than canvas, leather or synthetic leather 
Have poor stitching
Utilize cheaper canvas
Canvas is a hardy material, as is leather. Leather is definitely the most durable, but canvas is used in ballet shoes because it can offer other features like a more formed fit and still be more durable than other fabrics. If your ballet shoe is made out of a material other than leather, canvas, or synthetic leather, it will not be as durable and therefore not last as long. 
Ballet shoes must be stitched professionally in order to hold together for as long as possible. If threads are coming out from any areas, gaps, or very obvious outer stitching, it could be an indication that the shoe is cheaply made. 
Lastly, not all canvas is created equal. Ideally, you will probably want a canvas shoe that has some stretch to it. Many canvas shoes in the sweet spot range and from good brands will offer the stretchy canvas. While non-stretchy canvas does not necessarily mean low-quality, it could be an indication that your shoe is not going to be comfortable for long periods of dancing, and it can also be a clue as to why it was so cheap.
There are many brands of ballet shoes available. Here is an overview of a few of the best and most popular brands on the market right now. 
Bloch
Bloch has been designing and producing dance shoes since 1932. They have been collaborating with professional dancers ever since to create the most innovative shoes that directly address the needs of those using them. They offer a variety of stretch canvas, pointe and leather ballet shoes in a range of nudes as well as black and white. They also offer both split-sole and full-sole shoes. 
Capezio
Salvatore Capezio began making pointe shoes in the late 1800s for the Metropolitan Opera House. His company grew and over the years has been heavily involved in both dance footwear and fashion. They are a top choice for many performers due to their craftsmanship and long history in the world of dance. They offer both flat and pointe shoes in a variety of nudes as well as black and white, and primarily split-soles. 
Sansha
Sansha is a newer company, founded in 1985, however, they are credited with inventing the split-sole ballet shoe. While they don't have as many years under their belt as some of the other popular companies, they made a name for themselves by using their passion for dance to improve on the old and giving dancers more freedom in the process. 
They offer a range of flat and pointe shoes and are a good place to look for less common materials such as vegan leather and mesh. They also offer a range of nudes in some shoes. 
All three of these brands offer high-quality shoes for decent prices and are worth looking at when you are purchasing your ballet shoes.
On Sale
This Bloch Dansoft ballet shoe has a full sole, giving a beginning dancer more stability as they work on all of the new moves involved in ballet dancing. Both the outer and the soles are made from leather, which makes them durable and long-lasting, as well as extra grippy and more supportive than a canvas shoe. 
There is a single elastic strap to keep the shoe secure, and the shoe has a slip-on design. Lastly, the cotton lining inside the shoe allows for extra breathability and comfort. All around, the Block Dansoft ballet shoe will give you all of the extra support you need when you are just getting started. 
Who is This for: Beginning dancers, dancers who need extra support, and anyone looking for a durable shoe that will last for a long time. 
User Experience: Users say that the shoe is good quality, and great for a beginner who might not dance every day. Many say to make sure to order at least 2.5 steps down from your normal shoe size as opposed to the 2 sizes down recommended by the seller. 
Verdict: The Bloch Dansoft ballet shoe is a great option for a beginning dancer in terms of quality, comfort, and support. 
Capezio Women's Daisy Ballet Shoe
Leather ballet shoe with pre-attached elastic strap and adjustable ties at front
Features "This belongs to: " satin ID tag at interior,Bar-tacked elastic...
Constructed of soft leather upper and Full chrome tanned suede leather outsole...
Daisy print on cotton lining and sock lining or unisex non-print lining for...
The Capezio Women's Daisy ballet shoe is a durable, full-leather shoe with a suede full-sole. The full-sole offers extra support, as does the extra traction afforded by the leather outer construction. There is a lightly padded footbed and the added security of a wide permanent strap to keep you feeling comfortable and secure while you dance. Additionally, the pleats have been hammered to maintain solid, smooth floor contact.  
Who is This for: Women at any level who prefer the stability of a full sole, or who need a little extra padding for comfort. 
User Experience: Dancers say the shoes are good quality and fit great – as long as you pay attention to the sizing chart. 
Verdict: These are great shoes for durability, support, and comfort. 
Capezio Men's Romeo
Elastic may be pre-attached at the heel
Split-sole
Moisture absorbent brushed polyester/cotton lining
Patented seamless, sculpted arc
The Capezio Romeo ballet shoe for men is leather with a suede split-sole for flexibility, a cotton and polyester lining that helps absorb moisture and increases breathability, and a supportive arch that will help keep your foot comfortable and secure while you train. The shoe can be worn with or without a strap; one is included that can be removed or attached based on your preferences. 
Who is This for: Men looking for a ballet shoe that is durable and versatile with a supportive arch. 
User Experience: Users say that it is one of the best options currently available for male dancers, and find it to be lightweight and comfortable. 
Verdict: These shoes are largely reasonably priced, and good quality – however, if you have pronation issues, you might need to permanently attach the strap.
Intermediate and advanced dancers who have gained confidence in their movements might prefer to upgrade from a full sole to a split-sole ballet shoe for extra flexibility. The Theatricals Leather Split-Sole shoe is a great option for these dancers who are no longer beginners. They are leather shoes with breathable cotton lining, and a single elastic strap. 
They also come with a suede sock liner, for added security, and are comfortable and durable for a long-lasting great choice. 
Who is This for: Those looking for a more flexible dance shoe, or who are hoping to upgrade from a full-sole shoe to a split-sole shoe. 
User Experience: Dancers love the comfort and great quality. However, some users say they are meant for narrow feet, so those with wider feet might not find them to be a good fit. 
Verdict: People with narrow feet will find these shoes to be comfortable and flexible as they work on their ballet moves!
SANSHA Pro 1 Leather Ballet Slipper
Women should select one size up from street shoe, men's size is accurate to...
Hand stitched front sole construction
No external stitching, pre-curved front sole
Soft cotton lining
The Shasta Pro 1 is a great leather ballet shoe option that is available for both men and women. The Sasha Pro is offered in black and pink, and a range of sizes.  
It is fully leather with a split-sole and an adjustable cross-strap. It has full internal hand-stitching, and a cotton lining for breathability. It is supportive and attractive enough for both practice and performance making it a versatile option for both men and women. 
Who is This for: Men or women looking for a durable leather shoe that can be used across a multitude of ballet activities. 
User Experience: Users found these shoes to be of good quality and comfortable, but the sizing was a bit confusing for people in the US because the shoes are listed in European sizes. 
Verdict: These are a quality, flexible and durable option if you are looking for a good leather ballet shoe. 
Danzcue Adult Split Sole Canvas Ballet Slipper
Sizing: sizes fit 1/2 size smaller than street shoe size. Order 1/2 - 1 size up...
Suede sole; Canvas upper and cotton lining
Pre-sewn cross elastic straps
Split sole and elastic imported; Elastic drawstring
Canvas ballet shoes are a good option if you are worried about foot odor, or want a shoe that will mold to your foot shape. They are also quite easy to find if you do not want to buy a full leather shoe for moral reasons. The Danzcue canvas ballet shoe is a great option for a canvas shoe, with secure cross-straps and a grippy suede split-sole. 
Who is This for: This Danzcue shoe is great for the dancer who wants the benefit of a molded ballet shoe, and the security of a double strap. 
User Experience: Dancers felt that the shoes were good quality for the price, but that the canvas was not as stretchy as some other canvas shoes. 
Verdict: A great shoe for a casual dancer looking for a comfortable, breathable ballet shoe option. 
No products found.
With hundreds of reviewers rating this shoe highly, the average of a $20 price tag makes the Bloch Performa an incredible value. 
It is a comfortable canvas shoe with a grippy leather sole, great arch support and even built-in heel shock absorption. The two crossed elastic bands create a more secure fit, and the canvas itself is stretchy enough to mold to your foot for the most personalized fit. 
Who is This for: Anyone looking for the shoe with the most value for the price. The split sole is great for flexibility, but might not be as stable as a full sole for the most beginner dancer. 
User experience: Dancers rave about the comfort, lightweight feel and how durable the shoe is. People also appreciate that they offer multiple shades of nudes. 
Verdict: These are great shoes for the price, with lots of solid features from shock absorption to stretch canvas. 
IJONDA Adult Ballet Pointe Shoes Hard Toe Dance Shoes Pink...
Size: Please use the size chart updated in September 2022 as the standard...
Sole: Special synthetic sole for pointe shoes, slip-resistant and wear-resistant...
Vamp: Mid-length upper and wide box are handcrafted to provide strong support...
Lining material and toe pads: Premium canvas insole is made of comfortable and...
Ijonda women's satin pointe shoes are constructed with synthetic leather soles and satin uppers. The ribbon comes in at twenty-four inches, and the toe box is wide. They can accommodate a toe pad if you size up, and won't break the bank if you are just graduating into pointe shoes and want to make sure they are for you before you invest in a more expensive pair. 
Who is This for: Beginning pointe dancers, and anyone who is ethically opposed to real leather. 
User Experience: Users say the shoes are good quality and appreciate the silicone insert that is provided with the product.
Verdict: These are great beginning pointe shoes in terms of price, quality and comfort. 
---
Ballet Shoes Buyer's Guide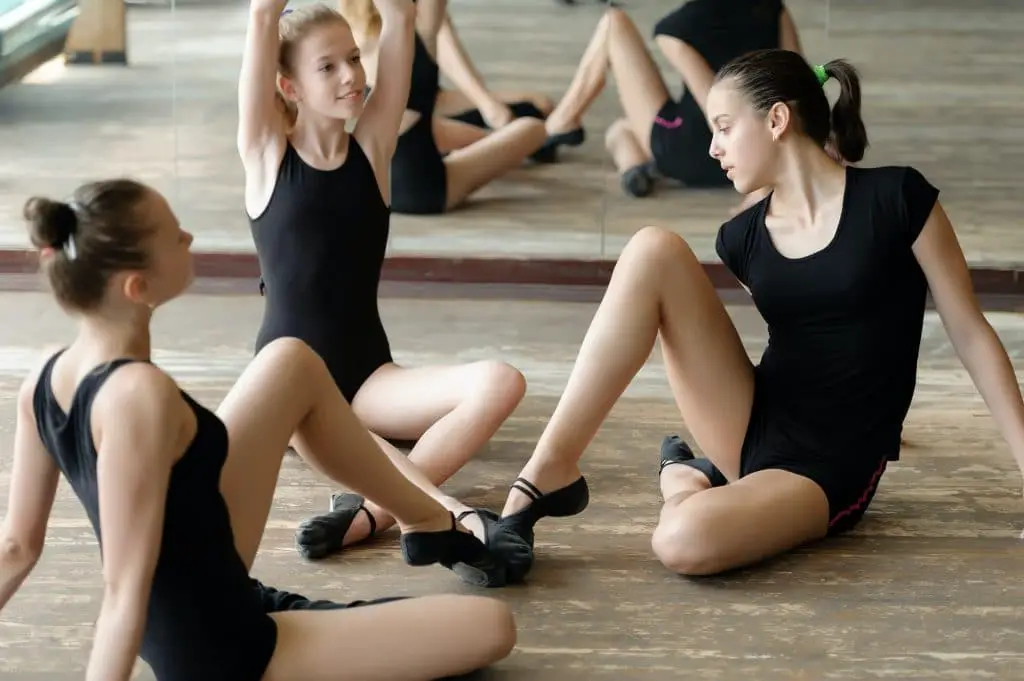 If you are just venturing into the world of ballet, one of the most important things you must decide is which ballet shoes to buy. These shoes will support you as you start your dance journey, and you need to find a pair that meets all of your needs while not breaking the bank. 
As a beginner, the choices associated with ballet shoes can be overwhelming. Luckily, once you know what the difference is between split-soles and full-soles, or canvas and leather shoes, you will find that making your decision becomes easy!
Beginning ballet dancers will benefit from a full-soled ballet flat with supportive features like double straps and leather outers. The full-sole offers extra stability, the double straps will help you feel more secure, and leather (or synthetic leather) shoes are more grippy to help keep you steady.
If this doesn't sound like exactly what you need, you will find that there are many shoes that mix and match the different features. It is easy to find something perfect for your needs at a reasonable price. 
How to Choose Ballet Shoes 
While many people wear ballet shoes and those inspired by them as an everyday shoe, buying a ballet shoe that supports you for dancing is a bit different. However, choosing the right ballet shoes doesn't have to be hard. Here is a step-by-step list to narrowing down your choices and making it super simple to find the shoe that is right for you!
Step 1: Canvas vs Leather
You will primarily see leather and canvas ballet shoes offered, and each has different benefits and features: 
Canvas: 
Form-fitting and often stretchy
More breathable than leather
May have suede or leather soles
May have split or full soles
Often lightweight
Leather: 
Durable 
Extra grip and support
Often have cotton linings to assist with breathability
May have split or full soles
Here is a short and to-the-point video that talks a bit about the difference between a canvas ballet shoe and a leather ballet shoe from the brand Bloch. 
In this video, you can see that: 
The canvas shoe is low-profile, lightweight and form-fitting
The leather shoe is heavier than the canvas, has a drawstring to make the shoe more form-fitting, and has a higher-profile. 
Overall, you can see that the canvas and the leather shoes are both good choices, but some features may appeal to you more than others. For example, if you want a shoe that will last for a long time, you might want to go for leather. If you want a shoe that is going to mold to your foot and feel barely-there, you will want to opt for a canvas shoe. 
Step 2: Split Sole vs Full Sole
Split-sole shoes and full-sole shoes are pretty much exactly as they sound: Split-soles gap at the mid-foot and arch, with pads just on the heel and toe. Full-soles run the length of the shoe with no gaps. 
Whether you choose to get a ballet shoe that has a full-sole or a split-sole depends on your needs as a dancer. If you have stability issues or are just starting out, a full-sole can give you more stability and grip while you are learning your new dance moves. 
Split-soles are favored by more experienced dancers because they offer a larger range of flexibility. 
Step 3: Determining Your Size
Ballet shoes often run smaller than street shoes. What size you should get often depends on the brand, but as a general rule of thumb, you should size down an average of 2 sizes from your regular street shoe size. 
For example, if you are a size 8 in your street shoes, you might be a 6 in ballet shoes. 
However, this does vary depending on the brand. Therefore, you should: 
Get a fitting in a store if possible
If buying online, pay attention to reviews and the sellers sizing suggestions
Some brands are true-to-size and some may require you to size down 2.5 sizes or more
Double-check the return policy in case you need to exchange for a smaller or larger size
Ballet shoes should fit snuggly and comfortably on your feet and will stretch out over time. 
Step 4: Colors and Straps
Ballet shoes have historically been offered primarily in pink, a light-nude color and black. Some retailers are finally supplying a larger variety of nude colors as well. Traditionally, men wear black ballet shoes, but both men and women's shoes now come in a variety of colors. 
If your ballet school does not have rules about the color shoes that must be worn, you are free to choose any color available. 
Straps on flat ballet shoes tend to be either: 
A single strap of a varying width
Two straps of varying widths crossed
Removable or permanent 
The crossed straps tend to give you a bit more security, as do the permanently secured ones. Single straps are very common, and some shoes have removable straps that you can add or take away depending on your preference. 
If you are just starting out, the security of a permanent crossed strap is the way to go. However, a single strap that is permanently attached is also a reasonable option.
If you have pronation issues, you will want to have a strap to keep your foot from rolling inwards or outwards while you dance and causing injury.
When to Replace Your Ballet Shoes
No matter how high-quality your ballet shoes are, there will come a time when you will have to replace them. Here is a comparison of how long leather ballet shoes last versus canvas ballet shoes: 
| | |
| --- | --- |
| Material of Ballet Flats | Average Lifespan  |
| Canvas Flats | 6 Months |
| Leather Flats | 9 Months |
This is the average lifespan of canvas and leather ballet flats with consistent dancing. If you are a more casual dancer, you can get more time out of both. Pointe shoes are very unique and their lifespan is actually reduced to dancing hours – some may only last 3 hours of dancing!
Canvas, and especially leather, are durable fabrics and are used intentionally because ballet dancing is rough on your shoes. But holes in your material are not going to be the first sign that your shoes need to be replaced. Instead, look out for: 
New and unusual foot pain 
Increased sole flexibility
Elastic strap wear 
The main indication that you should replace your shoes is that they no longer feel supportive. You may notice that your soles are much floppier than they were when you first purchased them, that your elastic band no longer has elasticity, or that you are experiencing unusual foot pain during or after dancing. All of these indicate a lack of support, and you should replace your shoes immediately. 
Key Takeaways
Finding the perfect ballet shoe for your needs should be a labor of love. It is important to remember: 
Full-sole shoes offer the most stability
Leather outers are slightly more durable than canvas
You will have to replace your shoes at least once a year
You can expect to spend an average of $20 on a high-quality ballet flat
Loveatfirstfit.com is a participant in the Amazon Services LLC Associates Program, an affiliate advertising program designed to provide a means for sites to earn advertising fees by advertising and linking to Amazon.com. We may earn a commission when you buy through links on our site.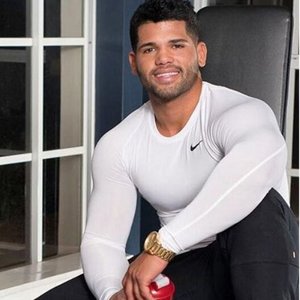 Austin is the author of loveatfirstfit.com and a personal trainer with extensive knowledge in nutrition. Austin is passionate about helping others to find a suitable healthy lifestyle and feel good about themselves. Austin's goal is to help people push their limits and achieve their physical performance.
Last update on 2023-02-13 / Affiliate links / Images from Amazon Product Advertising API