There is more to men's dress shoes than just the 8 types we covered above. Each type of dress shoe can also come with various stylistic details. The 4 main stylistic details found in men's dress shoes are: wholecut, plain toe, cap toe, brogue.
In the following sections, we are going to look into these stylistic details one by one. In addition, we will see how different stylistic details can work with different types of dress shoes.
Wholecut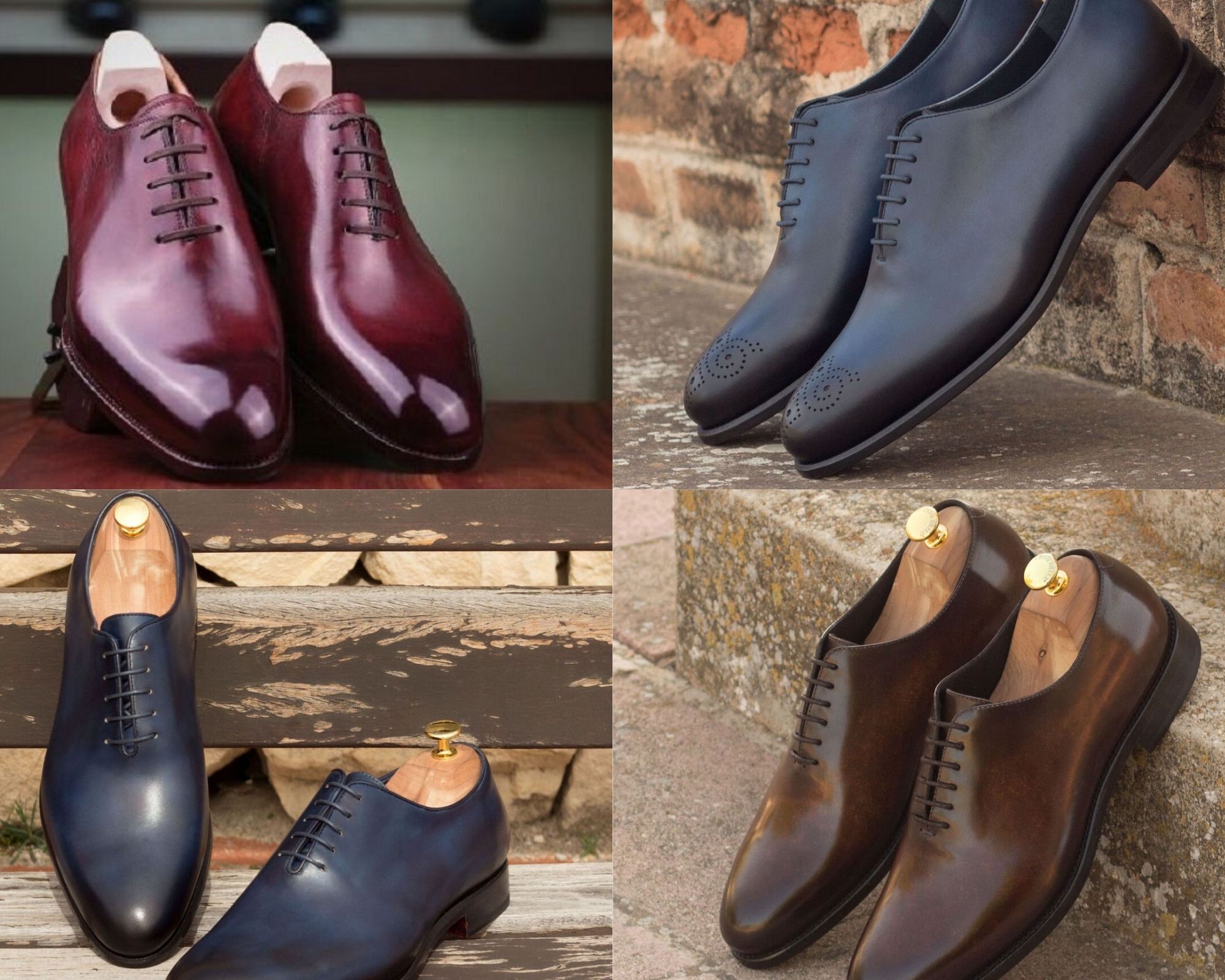 For the past few years, wholecut shoes have been getting more and more popular. As its name implies, a wholecut shoe is a shoe with an upper that is made from a single, flawless piece of leather. So how is that different from other styles?
Typically, dress shoe uppers are made from sewing together multiple pieces of leather. You can easily see stitches on a typical Oxford shoe or dress boot – those stitches show you the places where two pieces of leather are sewn together.
A wholecut shoe upper is made from one single piece of leather, which eliminates the presence of most stitches on the upper. This gives wholecut shoes a very clean and minimalist look. This sleek, clean look is what sets wholecut shoes apart.
Some people use the term "wholecut" to refer to Oxfords exclusively. But the stylistic detail of wholecut is not limited to Oxfords. More and more often, we are seeing the wholecut style appearing in other types of dress shoes. For example, there are wholecut monk shoes, whole cut dress boots, whole cut Chelsea boots, and so on.
Seamed vs. Seamless Wholecut
In terms of construction technique, there are two types of wholecut shoe: seamed and seamless.
This is the most common type of wholecut shoe. It is characterized by a vertical seam that runs down the heel counter at the back of the shoe. That seam is where the leather upper closes in on itself. This type of wholecut shoes can be made either by hand or by machine. Seamed wholecuts tend to be less expensive than seamless wholecuts.
Seamless wholecut gets rid of even that single seam on the heel. The entire upper is perfectly smooth and seamless. This type of wholecut shoe can only be made by hand and it requires a very high level of craftsmanship. As a result, seamless wholecuts are more expensive. Typically, you can only find them offered by high end shoemakers. Many are offered as made to measure or bespoke products.
Wholecut Shoes Leather Requirement
In general, wholecut shoes are more expensive than their non-wholecut counterparts for 3 reasons:
Without the ability to stitch together multiple pieces of leather, a wholecut shoe requires a single larger piece of leather, which is more expensive than several smaller pieces of leather.
When you are making a shoe out of several small pieces of leather, you can cut around imperfections and blemishes. You can't do that with a wholecut shoe. For a wholecut shoe, you need a high quality, large piece of leather that is free of blemishes and has a consistent texture. This further increases the cost.
From a technical point of view, wholecut shoes are among the most challenging to make. They require a high degree of craftsmanship. The manufacturing process is also more time consuming. Seamless wholecut shoes are even more challenging and can only be made by hand.
If you appreciate good craftsmanship and you are a connoisseur of the art of shoemaking, wholecut shoes are a great choice for you.
And if you are a fan of bespoke tailoring, you should consider seamless wholecuts. Pairing a bespoke suit with a pair of bespoke seamless wholecut Oxfords is quite simply the epitome of sartorial sophistication.
How to Wear Wholecut Shoes
Wholecut shoes are simple. They are minimalist. There are no stitches to interrupt the surface flow of the shoe uppers. This simplicity and minimalism give wholecut shoes an air of understated elegance.
They are not loud, not ornate. They do not call attention to themselves. This quality makes wholecut shoes a perfect way to "dress up" an outfit. They can be worn with a formal business suit or a smart casual jeans and sweater outfit. Here are some pairing ideas for you:
Black patent seamless wholecut Oxfords with a tuxedo
Burgundy wholecut monk shoes with a navy suit
Chocolate wholecut Derbies with olive wool dress pants
Black wholecut Chelsea boots with black moleskin pants
Brown or beige suede wholecut Chukka boots with raw indigo straight leg jeans
While a pair of wholecut shoes can "dress up" an outfit, wholecut shoes themselves are also more formal than their non-wholecut counterparts. For example, wholecut Oxfords are more formal than regular Oxfords. Wholecut monk shoes are more formal than regular monk shoes.
Keep this in mind when you are picking your shoes for the occasion. You do not want to be overdressed. For instance, if an occasion calls for casual dress, a pair of wholecut Oxfords may be too formal. Instead, consider a pair of brogue Oxfords (more on that later.)
On the other hand, a pair of wholecut patent black Oxfords are good enough for all but the most formal white tie events that require formal pumps. Here are some examples:
Plain-toe
Plain-toe means there is no embellishment on the toe area of the shoe, resulting in a smooth and uninterrupted front area. Similar to wholecuts, plain-toe shoes have a clean and sleek look that gives out an air of elegance. While plain-toe shoes are not as formal as wholecuts, they are more formal than other styles such as cap-toes or brogues.
Just like wholecut, plain-toe is a stylistic element that can be found in different types of dress shoes. For example, there are plain-toe Oxfords, plain-toe Derbies, plain-toe Chukka boots, and so on.
Plain-toe Oxfords are appropriate for formal business settings such as banking or corporate law. In most cases, they are also formal enough for tuxedos.
For business casual, a pair of plain-toe Oxford may be a bit too much. For these occasions, you might want to choose something a tad less formal such as cap-toe Oxfords, Derbies, or monk shoes. Here are some example:
Cap-toe
In cap-toe shoes, an additional piece of leather, known as the toe cap, is stitched on top of the toe box.
Cap-toe shoes are less formal than plain-toe shoes. That can also make them a bit more versatile. For example, while plain-toe Oxfords would be too formal to be worn with jeans, cap-toe Oxfords do not have that problem.
Cap-toe can be found in many different types of shoes. You can have cap-toe Oxfords, cap-toe Derbies, cap-toe monk shoes, etc.
Some ideas on pairing cap-toes with clothing:
Black cap-toe Oxfords with unwashed indigo jeans
Burgundy cap-toe Chelsea boots with skinny tweed pants
Brown cap-toe monk shoes with whiskered bootcut jeans
Tan cap-toe Chukka boots with gray khakis
One thing to keep in mind, you should not wear cap-toe Oxfords with tuxedos. It is not appropriate. Here are some examples:
Brogue
Brogues traced their roots to a type of outdoor shoe in Scotland and Ireland made from untanned hides. These shoes were made to be worn by farmers to wade through waterlogged terrain such as a bog. To that end, they had perforations on their uppers to drain out water after the wearers stepped out of water. In s sense, they were the original water shoes!
The English word "brogue" comes from the Gaelic word "bròg" which means "shoe."
Nowadays, no one wears brogues for treading through marshes anymore and the perforations have evolved to be purely decorative.
Some people consider brogue a separate type of shoe that is mutually exclusive to other types such as Oxford and monk shoe. That is not quite correct. Brogue is defined by the decorative details found on the shoe upper. You can have the brogue details on all types of shoes: brogue Oxfords, brogue Derbies, brogue monk shoes, brogue Chukka boots, etc.
Different Styles of Brogue
Brogue can be found on cap-toes, plain-toes, or even wholecuts. While there can be countless variations of brogues, traditionally 6 main styles of brogue are commonly seen: full brogue, blind brogue, austerity brogue, half brogue, quarter brogue, and longwing brogue.
Full brogue has a pointed toe cap with 2 extensions ("wings") that run along the sides of the shoe. This pointed toe cap with wings is called the "wingtip." There are perforations on the wingtip.
Full brogue makes a shoe more casual. For example, a full brogue Oxford is more casual than a plain-toe or cap-toe Oxford.
A blind brogue is a full brogue without the toe cap. In other words, it is a plain-toe shoe with full brogue-like perforations that give the illusion of a wingtip toe cap.
An austerity brogue is a full brogue without the perforations on the toe area. It is basically a shoe with a wingtip toe cap but no broguing, so technically it is not a brogue but is still called a brogue. Yeah, naming can be weird.
Half brogue (or semi-brogue)
Half brogue is like a full brogue, but instead of a pointed wingtip toe cap, it has a regular straight toe cap. There are perforations in the middle of and along the edge of the toe cap.
Half brogue is more formal than full brogue.
Quarter brogue is like a half brogue but without the decorative perforations in the middle of the toe cap. There are still perforations along the edge of the toe cap.
Quarter brogue is more formal than half brogue.
Longwing brogue is a full brogue with the "wings" of the wingtip toe cap extending all the way to the back of the shoe, meeting in the middle of the heel.
As mentioned, brogue can be found in different types of shoes: brogue Oxfords, brogue monks, brogue Chelseas, etc.
Here are a few examples:
Putting It All Together
In this article, we have covered the 8 main types of dress shoes for men: Oxford, Derby, monk shoe, Chelsea boot, dress boot, Chukka boot, formal pump, and loafer. We have also looked at the 4 main stylistic details: wholecut, plain-toe, cap-toe, and brogue.
Even though these shoes are all considered dress shoes, they have varying degrees of formalness.
Without a doubt, a formal pump is the most formal shoe you can get for men, followed by an Oxford.
Both formal pump and Oxford are generally considered formal shoes.
The other 6 types of dress shoe – dress boot, monk shoe, Derby, Chelsea boot, Chukka boot, loafer – are considered semi-formal shoes.
In terms of stylistic details, wholecut is the most formal. A patent black wholecut Oxford with no broguing can double as an evening shoe. Plain-toe is less formal than wholecut but more formal than cap-toe.
Cap-toe Oxford is formal enough for the most conservative business settings but should not be worn with tuxedos. Brogue is the most informal, which means it is great for casual wear and for adding an extra edge to an outfit.
Loveatfirstfit.com is a participant in the Amazon Services LLC Associates Program, an affiliate advertising program designed to provide a means for sites to earn advertising fees by advertising and linking to Amazon.com. We may earn a commission when you buy through links on our site.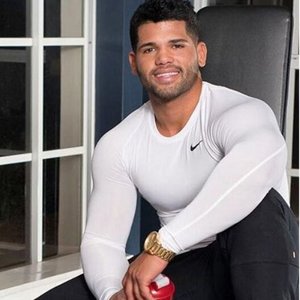 Austin is the author of loveatfirstfit.com and a personal trainer with extensive knowledge in nutrition. Austin is passionate about helping others to find a suitable healthy lifestyle and feel good about themselves. Austin's goal is to help people push their limits and achieve their physical performance.