If you're concerned about your feet (genuinely concerned), you'd be bothered about your garden shoes as much as your plants. Think of the last time you were dressed to attend your best friend's party or an important social event. You probably wore an expensive outfit, makeup, and then rocked a matching shoe.
Would it be the same if you were preparing for the start of a farming season? It certainly should. As you get your overalls, sun shades, and gloves ready, your shoes shouldn't be left out. Why do garden shoes matter?
Your garden has dangerous areas that could be infested with insects, and you need to get to those corners. Shoes are mainly for safety, and I don't mean any random shoe you see at a roadside market; I mean a sturdy, comfortable, and washable gardening shoe.
This post looks at some of the most comfortable gardening shoes you'll find in stores.
Unisex Garden Clogs
Amoji Garden Clogs Garden Shoes Shower Slippers Sandals Yard...
Please do not put these shoes in high temperature environment or strong...
Multi-Use:You can use the shoes for house slippers when you relaxing in you...
Portable:ultra-lightweight,a shoe weight from 100-120g which convenient for you...
Multi-age can be used:you can purchase it for youself as garden shoes or house...
Unisex garden clogs are the perfect fit for gardening. Whenever its gardening season, planting, weeding, harvesting, and all other gardening terms run through the mind of a gardener. You would never go wrong with clogs not only because they protect your legs, but they're beautiful too.
A quality clog protects your feet from mud, farm pests, and maybe stagnant water. This kind of clogs come in different fascinating basic colors that are washable. Ideal for all seasons and land type, you cannot say no to the comfort they offer. What better way to start the planting season than getting a pair of unisex garden clogs?
---
Chooka Boots
Chooka Women's Waterproof Plush Chelsea Bootie Chelsea...
Durable waterproof boots | fashion meets function with these ankle high booties....
Comfort | all day wear with the moisture- absorbent plush lining, elastic gore...
Traction | Rubber outsole with added traction, self-cleaning tread pattern
Ankle bootie | approx 5.5 inch height allows for year round wear
Chooka boots are gardening shoes for ladies. They're stylish and easy to wear. The slight heel makes you feel like you just walked into pageantry and probably won the contest.
It doesn't matter if you're planting, watering, weeding, or just paying a visit to your garden, you can use them. Their solid underfoot helps you navigate through muddy and sticky grounds.
Even if you have some pushing task, it equips you with the stamina, so you don't slip. What is a glamorous shoe if it can't be properly washed? It permits soap and water washing, including air drying. Ladies prefer this boot because it amplifies their feminine nature.
---
Sloggers
Sloggers Women's Waterproof Rain Garden Shoe Comfort Insole,...
Includes Sloggers' exclusive "All-Day-Comfort" insole for maximum comfort.
Heavy duty lug tread for excellent traction.
Fit info: Whole sizes only. Fits true to size. Half sizes order up. For a...
Hose off or wipe with wet cloth. Removable insole, soak and air dry to clean.For...
Sloggers are brightly colored and excellent for outdoor gardening, especially during the rainy season. They protect your whole feet and can be removed at ease. One of the major problems most gardeners face is a slippery ground during the rainy season, and sloggers make navigating around the garden seamless.
They are also comfortable and light, like the other garden shoes I mentioned earlier. They may not survive activities such as stepping on a garden fork or walking on rock areas.
Sloggers may not permit you to wear them for a long time because you'll feel discomfort in around your heel area after wearing it for hours. Cleaning a pair of sloggers is easy as it permits washing and air drying.
---
Tall winter snow boot
The tall winter snow boot is a versatile outfit used for many purposes, including gardening. They're classy and are the best pick for women who want to look good while working for fun or cash. The winter season is usually chilly, but it doesn't stop you from tending to your plants.
The rubber sole on the boots makes you comfortable and shields your feet from the brazing weather on the outside. Although it was initially designed for farmers in Oregon, female gardeners the world over have adopted it and rocked it with matching overalls.
Regardless of their beauty, uniqueness, and style, they are heavy, and you could feel slight discomfort when you slip your feet into them.
---
Garden Clog Shoes
Crocs Unisex Classic Clogs (Retired Colors), Bronze, 10 US...
CROCS FOR EVERYONE: With a color and style for every personality, the Classic...
LIGHTWEIGHT AND FUN: The Crocs for men and women feature lightweight Iconic...
WHAT SIZE SHOULD I BUY?: These men's and women's Crocs offer a roomy fit and we...
DESIGNED TO FIT: These slip-on clogs are easy to take on and off, while being...
These perforated clogs are one of the best gardening shoes for men. With a low budget, you can get one for yourself and get going.
For farmers with lean resources, this shoe could be a savior to get the cost of a shoe off their neck. You can easily slip your legs into this variety of clogs and run into your garden, especially during an emergency.
Everyone hates to feel irritated down there – me inclusive. You could get a smelly foot from wearing shoes for too long because air does not circulate up to the feet. Perforated clogs allow for breathability and have other uses too.
They are lighter than some other designs of gardening shoes and are easy to wash. So that you know, they can be worn as slippers around the house and shower shoes.
---
Hunter Gardener Clog
This shoe was originally manufactured for hunters around the 1800s but has since been adopted for gardener use. It has a handcrafted natural rubber that aids flexibility and comfort. Its interior is warm and made of synthetic rubber.
Slipping in and out of this shoe is the most convenient thing you've ever done in your garden. Thanks to its high grip, the wet or muddy ground doesn't get close to your feet. The soles are rugged and easily release mud and dirt that stay around the corners of the shoe.
They can be washed with water, air dyed, and polished if it is made of leather. It comes in various colors and sizes, and men and women can rock it boldly to their gardens.
---
Muck Boots
On Sale
Some insects are so smart that they hide beneath the soil, and you don't get to see them with your bare eyes. These pests wait for you to step on them before they wreak havoc on your feet. Do you have to wait for them to do that? Muck boots are what you need to combat the effects of unseen feet enemies.
Even if you perceive that your garden is safe, your feet need to be protected from the scourging summer sun. It has a dirt-resistant exterior that keeps your feet clean and dry. During summer, this boot keeps your feet cool, and during winter, you get a warm company.
They are 100% insulated, and you would not feel the harshness of the weather outside. Are you worried about your movement in the garden?  It's no longer a problem because this shoe is light and can be worn by everyone – including your 5-year-old.
---
Pub Garden Boots
Clogs are among the most famous garden shoes because they are lightweight and flexible. Some gardeners, however, do not love light shoes. You may not know, but most of them prefer heavy-duty boots. Well, if you like them heavy, you should try pub garden boots. 
They're men's shoes, but women can wear them too. Pub boots are made of water-resistant leather designed to keep your feet dry and safe from external aggression. The sole of this shoe is one of the most outstanding features since it allows you to walk on all types of grounds. Remember that they are heavy, and if you're a fan of clogs, you may not like them.
---
Crocs rain boots
On Sale
Crocs Kids' Handle It Rain Boots , Navy, 6 Toddler
Make A Splash: Crocs Handle It Rain Boots For Girls And Boys Keeps Those...
Easy On And Off: Oversized Handles Make Them Easy For Kids To Take These Boots...
What Size Should I Buy?: These Kids' Rain Boots Offer A Roomy Fit And We...
Easy To Clean: The Croslite Material Makes These Rain Boots Extremely Easy To...
Crocs are gardening shoes and have a rain boot variant. As expected, rain boots are higher than the usual boots. They cover up to the knee and measure 12 inches from the arch.
Depending on your garden location, you can have deep mud around some areas, and you need to tend to your plants still. Even a heavy downpour wouldn't stop you from accessing your garden when you have the right shoes.
Rain boots are a must except you don't want to plant during the rainy season (is that possible?) they could cover up to your knees, but some are not as heavy as you think. I said some because you would see products made of heavy materials. Like several garden shoes, you're free to choose from a variety of colors available.
---
A Word from Love At First Fit
As you prepare to resume for the next planting season, don't forget these garden shoes. You could get a new pair if the old one is worn out. How about getting more than one pair and alternating them?
Before you purchase a shoe, consider your comfort, ease of wearing, quality, safety, and style. If you see a shoe that meets these criteria, then why not? A happy foot is a happy you, and wearing the right shoes is a sign you love and appreciate those legs.
Loveatfirstfit.com is a participant in the Amazon Services LLC Associates Program, an affiliate advertising program designed to provide a means for sites to earn advertising fees by advertising and linking to Amazon.com. We may earn a commission when you buy through links on our site.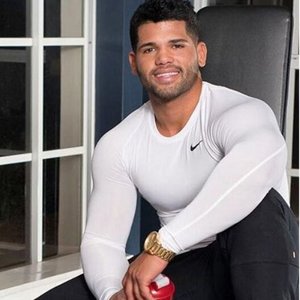 Austin is the author of loveatfirstfit.com and a personal trainer with extensive knowledge in nutrition. Austin is passionate about helping others to find a suitable healthy lifestyle and feel good about themselves. Austin's goal is to help people push their limits and achieve their physical performance.
Last update on 2023-02-13 / Affiliate links / Images from Amazon Product Advertising API