One of the toughest decisions to make is choosing the right gym better, Crunch Fitness or Gold's gym. These two are very similar gyms and have many things to offer.
Certain facilities and amenities may only be available at some locations of Crunch fitness. The Gold's gym is one of the oldest gym chains found in the country and has much experience in this industry.
Making the right decision can be difficult; that's why you've come to the right place. Here is a complete guide to making it easier for you to decide.
Gold's Gym vs. Crunch Fitness: Which Is Better?
When choosing a gym, there are many factors that can play a very important role in making the right decision. Whenever going to choose a gym, never make this decision in haste, especially when there are two gyms to choose from.
You need to have a look at both the gyms in detail. That way, you will get to know it better.
| | | |
| --- | --- | --- |
|   | Gold's Gym | Crunch Fitness |
| Cost | | Winner |
| Contract Length | Tie | Tie |
| Equipment | | Winner |
| Environment |   | Winner |
| Rules and Policies | Tie | Tie |
| Amenities | Winner |   |
| Locations | Winner | |
| Hours | Tie | Tie |
Just as we previously mentioned, Gold's gym and Crunch fitness are two very similar gyms. The Gold's gym has bigger locations and better equipment to offer its members.
The environment at Crunch fitness is more like a community. Due to interactive group classes and other sessions, members get a better chance to know each other.
Both the gym offers month-to-month or yearly contracts. That is why there is a tie between both gyms, as the contract structure is somewhat similar.
Gold's Gym vs. Crunch Fitness: Membership Cost
There is a reason why this factor comes in the beginning. For most people, the cost of membership comes for plays a very important part. That is why you need to have a look how the membership structure of each gym. It will help you understand the costs and what you are getting in such costs.
| | | |
| --- | --- | --- |
|   | Gold's Gym | Crunch Fitness |
| Monthly | $29 | $9.99 |
| Yearly | $348 | $100 |
| Initiation Fee | $74 | $30 |
This is a basic, one-year contract-based membership cost structure for both gyms. Both the gyms require you to pay an initiation fee, but there is a difference in how much you would pay in the first month.
For example, for Gold's gym membership, you would need to pay around $103 in the first month. After that, you will only be charged $29. But if you go for the annual plan, you will need to only make a one-time payment of $348.
Crunch Fitness, on the other hand, requires you to pay a total amount of $48.32. This includes the monthly, initiation, and one-time annual fee.
Gold's Gym vs. Crunch Fitness: Facilities & Amenities
After understanding the membership cost structure, the next thing you think is, is it worth paying such an amount? That is when you should look at the facilities and amenities you can enjoy after paying such an amount.
At different locations, you can find various amenities. The land area of the gym location plays an important role in offering all the amenities.
| | | |
| --- | --- | --- |
|   | Gold's Gym | Crunch Fitness |
| Basketball | ✓ | ✓ |
| Pool | ✓ | |
| Personal Training | ✓ | ✓ |
| Sauna | ✓ | |
| Squash | | |
| Towel Service | | ✓ |
| Kids Club | ✓ | ✓ |
| Group Fitness Classes | ✓ | ✓ |
Gold's gym has bigger locations, and that is one of the reasons why you can find a pool there. It helps you cool down and relax after a good workout session. Make sure to use it as much as you can as a part of your membership plan.
Yes, Crunch fitness does have a basketball court available for their members to use. But it doesn't come under your membership plan. You will have to pay extra to use the basketball court.
Gold's gym once used to have a towel service but permanently removed this service. It was a decision taken right after the first wave of the pandemic.
Gold's Gym vs. Crunch Fitness: Hours
There are many locations you will find Gold's gym across the country. On weekdays most of the locations are open from 5 AM to 11 PM. On the weekends the times are from 7 AM to 7 PM.
For Crunch fitness, the timings are the same as Gold's gym. But on some holidays there may be limited timings. But you will be informed about the timings during such days. 
But 5 AM to 11 PM during weekdays is great timing. It gives you a lot of time to get your workout done after a long, tough day at work.
Gold's Gym vs. Crunch Fitness: Locations
Gold's gym and Crunch fitness are two of the big names you will get to hear in the fitness industry. A number of locations play a very important in understanding how successful the gym chain is. But if you have a multi-club access membership, then every location is open for you to use.
Gold's gym is not only famous in the US but also around the world. It has more than 700 locations in the world. Out of these 700, you can find 250 clubs of Gold's gym in the US.
Crunch Fitness, on the other hand, only has around 300 clubs across the US, Canada, and Australia. For Crunch fitness multi-club access membership plan may not be useful for signature and exclusive clubs.
Gold's Gym vs. Crunch Fitness: Classes
Both the gyms offer different classes to offer their members something different and new to learn. This helps their member develop and improve their health in every way.
| | | |
| --- | --- | --- |
| Classes | Gold's Gym | Crunch Fitness |
| Zumba | Yes | Yes |
| Cardio | Yes | Yes |
| Yoga | Yes | Yes |
| Kickboxing | Yes | Yes |
| Spinning Cycles | Yes | Yes |
These group classes will help you interact with new people and make friends in your gym. This way, you will have some people who you can enjoy working out with.
Gold's Gym vs. Crunch Fitness: Personal Training
Personal training sessions help when you need to learn about something new and you think there is room for improvement during your workout. Both gyms have highly qualified and experienced trainers.
The Gold's gym offers a 50 minutes personal training session for $60 to $100. At Crunch fitness, the personal training session starts at about $100 per hour.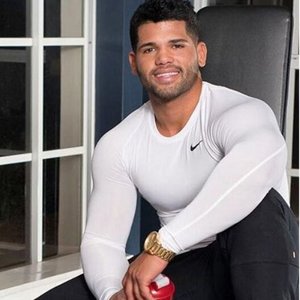 Austin is the author of loveatfirstfit.com and a personal trainer with extensive knowledge in nutrition. Austin is passionate about helping others to find a suitable healthy lifestyle and feel good about themselves. Austin's goal is to help people push their limits and achieve their physical performance.