For beginners, entering the gym can be intimidating due to uncertainties about exercises, intensity, and workout effectiveness. Knowing how to plan for each session, maintaining focus, and emphasizing diet, sleep, and recovery post-workout are the most important strategies to make the most of your efforts. As a personal trainer with experience in helping beginners overcome common challenges, these tips below are what helped my clients find success in their workout journey.
Before You Start
One of the common things that beginners often regret a few months into their training is not having a starting picture to compare their progress. Most beginners don't want to photograph their initial physique that shows their limited muscle definition and extra body fat.
Nevertheless, revisiting this photo during your journey serves as excellent motivation and allows you to appreciate your progress. While daily glimpses in the mirror might not reveal substantial changes, especially gradual ones, a photo taken on a specific date can provide significant value.
What to Do in Your First 30 Days
I recommend to all my new clients that they aim for 2-3 weekly workouts in their first month. Achieving this goal helps them create a solid routine that can stick in the long term. It might be a bit challenging at first, especially if you're just starting out, as you'll need to find the time to go to the gym, exercise, and then get back home.
Make a Clear Schedule: Right off the bat, decide on the days and times you'll be working out. Consistency is key, so having a set routine makes it easier to stick to your goal.
Start with Easy Workouts: At the beginning, opt for workouts that aren't too overwhelming. Shorter sessions that you can fit into your schedule will make it more achievable.
Mix Up Your Routine: Variety keeps things interesting. Combine different types of workouts like cardio, strength training, and flexibility exercises. This prevents boredom and targets different muscle groups.
Find an Accountability Partner: Partner up with a friend or family member who's also into fitness. Sharing your goals with someone can boost your commitment and give you that extra push.
Track Your Progress: Keep a workout journal or use a fitness app to log your workouts. Seeing your progress on paper can be incredibly motivating and help you stay on course.
Celebrate Your Wins: As you complete each workout, acknowledge your accomplishment. Small victories lead to big successes. You can reward yourself with a movie night or having your favorite snack, after completing a certain number of workouts.
If your workouts need to fit around your work schedule, you might need to prepare a gym bag and some meals in advance. But, like any habit, practice makes perfect. Managing to complete 12 workouts in 30 days not only gives your muscles the right amount of training for growth, but it also allows you to establish a new time management system that works for you.
Take It Easy in Your First Couple of Weeks of Training
Beginners tend to push themselves excessively during their initial workout, which isn't recommended. For the first two weeks, don't push your limit to avoid muscle fatigue on all exercises. Control your emotions and give your body time to adapt to the new training, which will reward you with the best result in the long run.
Set Realistic Goals: Think about what you want to achieve – whether it's getting fitter, stronger, or just feeling better. Having a target in mind will keep you motivated.
Start Slowly: Don't go all out from the get-go. Begin with workouts that don't make you feel like a train wreck afterward. Slowly amp up the intensity and duration as you get more comfortable.
Warm-Up and Cool-Down: Give those muscles a heads-up with a proper warm-up. And when you're done, don't forget to cool down with some stretches. Your body will thank you.
Mix Cardio and Strength Training: Same goes for workouts. Blend some heart-pumping cardio with a bit of strength training. That'll cover all the bases.
Proper Form: Doing exercises right is like hitting the bullseye. If you're unsure, ask for help or watch videos. Bad form can lead to bummer injuries.
Track Your Progress: Keep tabs on your progress. A workout diary or app helps you see those small victories that add up over time.
Rest and Recovery: Your success is defined by your recovery management. It's not just for lazy days. Your body needs it to repair and grow. So, snooze well, my friend.
Starting as a beginner means building up from scratch. Basic exercises performed with moderate to hard effort can yield positive results. Although these early gains are short-lived, it's crucial not to adopt an overly aggressive approach. Most beginners who found success in workouts tend to be better at controlling their emotions and balancing intensity with gradual progression.
5 Simple Routine Exercises for Beginners
Aim for a mix of full-body movements that target different muscle groups. Opt for bodyweight exercises initially to build a solid foundation, incorporating compound movements like squats, push-ups, and lunges for overall strength and stability.
Include a core exercise like planks and a cardiovascular element such as jumping jacks for added energy and endurance. Ensure proper form, gradual progression, and listen to your body's cues for optimal results while avoiding overexertion.
Squats: These are fantastic for building lower body strength, working your quads, hamstrings, and glutes. Plus, they help with improving your overall mobility and balance.
Push-Ups: Essential for upper body strength, push-ups target your chest, shoulders, and triceps. They also engage your core for stability.
Lunges: Ideal for strengthening your legs and enhancing your balance. Lunges work your quads, hamstrings, and glutes individually, helping to prevent muscle imbalances.
Plank: A go-to for core strength and stability. Planks engage your abs, back, and even your shoulders, giving you a strong foundation.
Bodyweight Rows: These work your back, biceps, and shoulders. They're great for improving posture and counteracting the effects of sitting too much.
As a beginner, start with low repetitions so you can focus on proper forms. Gradually increase the reps or intensity as you become more confident after a few weeks.
Efficiently Limit Your Workouts Under 1 Hour
Beginners often encounter two common challenges. Firstly, maintaining consistency with their gym routine can be tough, especially when they feel they lack the time for three or more workouts a week. Distractions at the gym can be bad for your workouts. Both distractions can be taken care of by adopting a well-structured workout routine designed for beginners that fit within an hour.
Outline Your Workout Routine: Knowing what exercises you'll do and the order you'll do them in helps avoid time-wasting decisions mid-workout.
Do Not Skip Warm-Up: Dedicate 5-10 minutes to a dynamic warm-up. This prepares your muscles for the workout and ensures you use your actual workout time efficiently.
Limit Distractions: Avoid social media at the gym to maintain focus and intensity during your workout. Keep your mind focused between sets, prioritize efficient rest, and enhance your mind-muscle connection for better fitness outcomes.
Keep It Simple: Stick to a few key exercises each session and avoid fancy or complicated exercises. This reduces setup and transition time between exercises.
Keep Rest Short: Limit rest periods between sets to around 30-60 seconds. This maintains your heart rate, keeps the intensity up, and shortens your overall workout time.
Stay Hydrated: Have a water bottle nearby to stay hydrated, but avoid lengthy breaks. Hydration is important, but too many breaks can extend your workout time.
Once you've established a rhythm of completing three hour-long workouts per week and are executing your exercises efficiently, consider adding 1 extra day for your weekly workout. This progression will boost your results and consistency which is crucial for your success.
Review Your Soreness Based on Your Workouts
If you're new to working out, it's helpful to write down some notes after each session. Write about any difficulties you had, things that helped you throughout your workouts, and how sore you feel after.
Get a Notebook or App: Choose a physical notebook or a mobile app to record your workouts. Select an option that suits your preference for easy and consistent use.
Date and Time: Start each entry with the date and time of your workout. This provides context for your sessions.
Workout Details: List the exercises, sets, reps, and weights for each exercise in your routine. Include any variations or modifications.
Performance Notes: Write down how you felt during each exercise. Did you struggle with a particular weight or rep count? Did you notice improvements in strength or form?
Rest and Recovery: Record details about your rest periods between sets and exercises. Note any factors affecting your recovery, such as sleep quality and nutrition.
Soreness Levels: After your workout, assess your soreness levels on a scale from 1 to 10 (1 being no soreness, 10 being extreme soreness). Note which muscle groups feel the most sore.
Next Day Assessment: The day after your workout, revisit your journal. Rate your soreness levels again and compare them with the initial assessment.
Feelings and Energy: Describe your overall energy level and mood during the workout. Did you feel motivated, tired, or excited? This adds emotional context to your entries.
Reflection and Adaptation: Over time, review past entries to identify patterns, progress, and areas for improvement. Adjust your workouts based on insights from your journal.
While many workout apps focus on keeping track of sets, reps, and weights, I suggest beginners (and everyone who lifts) take an extra step and write a short summary of their workout. This information comes in handy when looking back the next week, helping you repeat the effective parts and improve on the not-so-good ones.
What Helps With Muscle Recovery and Growth
Diet
When aiming to enhance muscle growth and expedite recovery, protein plays a pivotal role. For newcomers, I advise targeting an intake of 0.8 grams of protein per pound of body weight daily. Once this baseline is consistently met, progression to 1 gram per pound daily can be considered.
The rationale behind this is that protein serves as the fundamental building block for all bodily tissues, while also being a crucial element for hormonal production. Optimal sources encompass lean meats such as chicken, lean beef, and pork, along with eggs, fish, and Greek yogurt. Depending on dietary preferences, protein supplementation might be necessary to augment overall intake.
Protein Shake
Should you manage to attain adequate protein levels sans protein powder, supplementation becomes unnecessary. However, drawing from my nearly two decades of experience as a coach and trainer, I've observed that a substantial portion of beginners typically fall short of the recommended protein intake for muscle development.
Protein powder serves as an adjunct to amplify protein consumption. It condenses protein from diverse sources, allowing for rapid mixing with liquids. Whey protein is my suggestion (unless lactose poses an issue) due to its affordability and widespread availability. Below, I've compiled a list of budget-friendly protein powders that uphold quality standards.
For optimal choices, most protein powders should furnish 20-30 grams of protein per serving, while staying under 200 calories. If a protein powder fails to meet these criteria, I advise against selecting it.
Creatine
I strongly advise all weightlifters to consistently incorporate creatine supplementation year-round, as it has demonstrated both safety and remarkable efficacy in promoting muscle growth and enhancing strength across all skill levels.
A daily intake of 5g of creatine, specifically in the form of creatine monohydrate, is recommended, as other formulations claiming superior potency or innovation are merely attempts to extract your funds. Easily accessible at health food stores, ensure the ingredient list exclusively features "creatine monohydrate" for optimal results.
Caffeine
Caffeine stands as a potent workout supplement suitable for lifters of all levels, offering heightened mental focus and increased energy levels during training. Although not obligatory, occasional consumption of caffeine through sources like coffee or sugar-free pre-workouts can be advantageous when an extra boost is required.
However, beginners should exercise caution against becoming excessively reliant on pre-workout stimulants, as these can mask underlying issues with sleep, nutrition, and recovery. While caffeine can enhance performance, its addictive nature means that consistent use can lead to tolerance, necessitating higher doses for the same effect. Thus, it's advisable not to use caffeine every session to prevent receptor downregulation, allowing your body to maintain its responsiveness without constant reliance on caffeine.
How To Know If Your Workouts Are Working
For beginners, measuring progress and assessing workout effectiveness is essential. This practice provides tangible evidence of improvement, offering motivation and direction. It helps ascertain if chosen workouts yield desired results, aiding in adapting strategies for optimal growth. Regular evaluation ensures informed decisions, fostering confidence and commitment to the fitness journey.
Track Performance: Keep a log of weights, reps, and workout times. Gradual increases indicate progress.
Body Measurements: Measure your waist, hips, and more. Shrinking measurements suggest fat loss and muscle gain.
Photos: Snap front, side, and back views regularly. Visual changes help assess physique transformation.
Strength Gains: Note lifting improvements. Heavier weights and more reps signify increased strength.
Endurance: See if you're able to do longer workout durations with reduced fatigue. If so, this would be a clear sign of improved stamina.
For beginners, I recommend committing to 2 weekly workouts in the first 30 days. Focus on elevating performance within sessions, seeking weekly rep increases (same weight), or adding sets progressively. Monitor weight progression too.
Track weight, and measurements, and take photos. Relying solely on weight overlooks nuances between fat and muscle changes. Measurements indicate growth areas. For instance, if weight rises but waist/hips decrease, limb gains might have occurred. Combine photos with data for a comprehensive progress overview.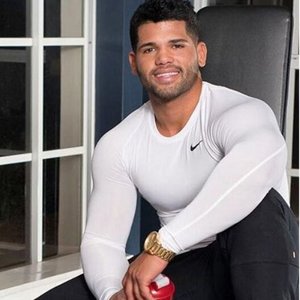 Austin is the author of loveatfirstfit.com and a personal trainer with extensive knowledge in nutrition. Austin is passionate about helping others to find a suitable healthy lifestyle and feel good about themselves. Austin's goal is to help people push their limits and achieve their physical performance.