As a beginner to playing soccer, it is hard to know how much to spend on soccer cleats. You may wonder if it is important to invest in a nice expensive pair. Or can you get away with saving a little bit of money for a pair of cleats that will still allow you to perform well? There are many different types of cleats out there for a wide range of prices, so it is important to be informed on how much you should spend on average for your soccer cleats.
Tip: If you are not playing in the professional leagues, there is no need to break the bank for a pair of overly expensive soccer cleats.
What are Soccer Cleats Made of?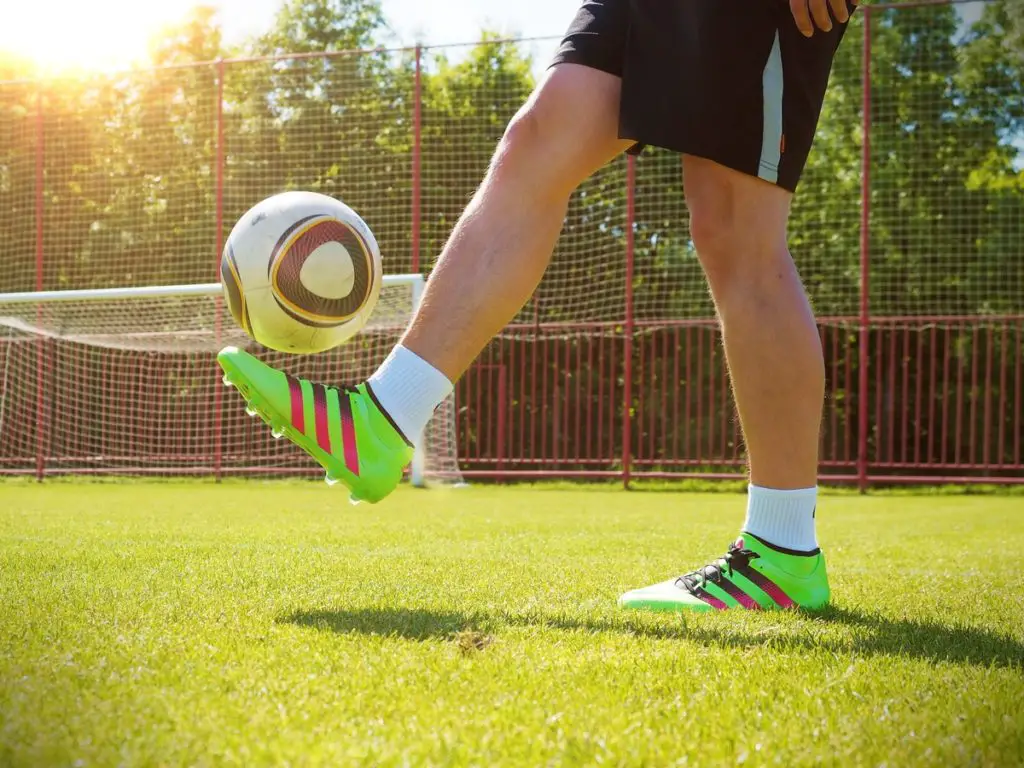 Soccer cleats are made with leather, and some are made from synthetic material. The leather cleats tend to be a bit more expensive and often are more comfortable on your feet.
Keep in mind that whether you have a cheap pair of cleats or an expensive brand, your soccer cleats will not make you a better or worse player. Some will simply provide a higher quality material that is more durable to help with performance.
For example, the more expensive cleats will be a little lighter on your feet because of the way that they are made versus a pair of cheap cleats. With lighter weight cleats, you may be able to run at a slightly quicker speed or make fast motions without having to worry about the burden of a big, bulky cleat.
How Much Should I Spend on Soccer Cleats
Whether you spend $30 on a pair of cleats or $150 is up to you. If you are a beginner and not sure if it is a sport that you are going to want to stick with, then I would recommend starting with a $20-$30 pair of cleats.
If you are playing on a school team competitively, then maybe that is when you will want to upgrade to a $50-$70 pair of cleats.
If you are in the competitive leagues, then it is more common to spend a couple of hundred dollars to have a sturdy, durable pair of cleats that are top of the line.
Are expensive soccer cleats worth it?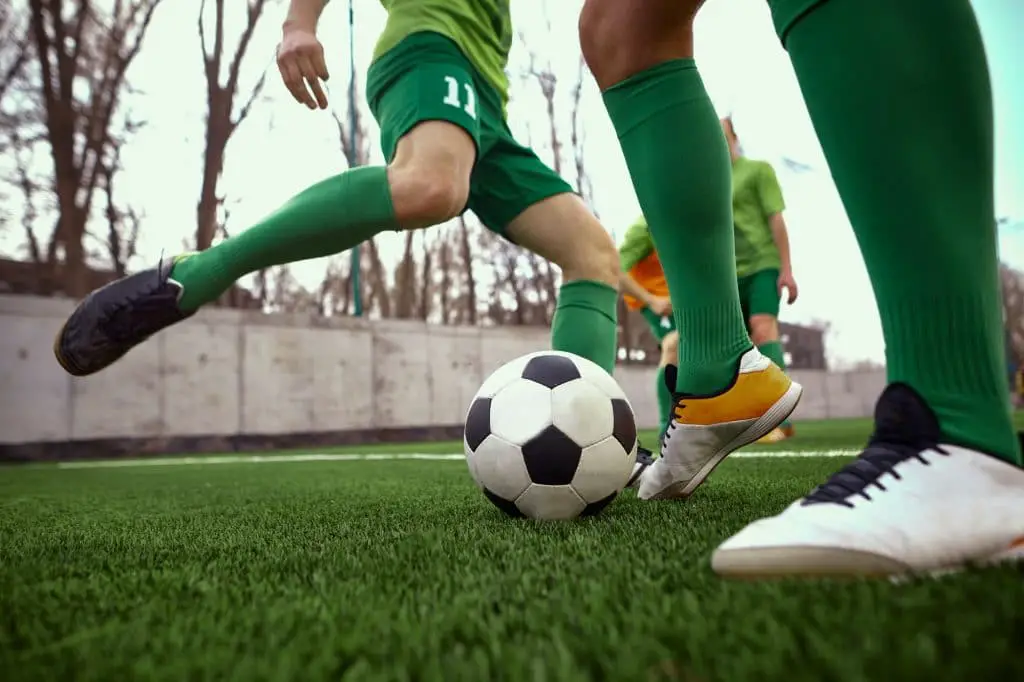 The amount of money you spend on your soccer cleats depends on what level you are playing and if it is a sport that you see yourself sticking with, whether it be a travel league, school team, or professionally.
Personally, I would not invest in a pair of cleats more than $40 or $50 if I knew that soccer was a sport that I wanted to try out or just play for a season. If you are someone who knows that you will want to stick with the sport season after season, then by all means it is worth it to invest in a good pair of cleats that may be slightly on the more expensive side.
The more expensive soccer cleats will also provide a bit more comfort, so if you are someone that can't stand your feet hurting after a game or practice, then it may be smart to invest in a pair of cleats that is a bit more expensive.
And if you are playing in college leagues or for professional teams, then the high-end cleats are definitely worth the $150-$200 investment because you want to be able to perform well with a pair of reliable and durable cleats.
Therefore, find out which type of level you are playing at competitively, and that will help you to decide on how much to spend for a pair of soccer cleats.
Leisure, beginner, recreational leagues: $20 – $40 price range for soccer cleats
School, travel leagues, intermediate levels: $40 – $70 price range for soccer cleats
College, advanced levels: $60 – $100 price range for soccer cleats
Professional leagues: $150 – $200 price range for soccer cleats
---
Best soccer cleats under $200
Here are a couple of recommendations for soccer cleats that are under $200. These soccer cleats are considered to be on the expensive side.
Adidas Unisex Copa Mundial Firm Ground Soccer Cleats
On Sale
adidas Performance Men's Copa Mundial Soccer...
Legendary soccer cleats for stability on firm natural ground
Leather upper with premium K-leather in the forefoot for comfort and flexibility
Move with explosive speed and traction on dry natural grass with the Firm Ground...
Die-cut EVA midsole for lightweight comfort
These Adidas cleats are a great option for a good quality cleat that is below $200 but still durable and reliable. The average price for these cleats is about $110. They are made of 100% leather with a synthetic sole. They provide stability when running and making quick movements.
---
Nike Vapor 13 Elite Fg Firm-Ground Men's Soccer Cleat Aq4176-606
Nike Vapor 13 Elite FG Soccer Cleats (Numeric_9_Point_5)
360-degree Flyknit construction wraps your foot for a second-skin fit. New...
A new ultra-thin NIKESKIN overlay gets you closer to the ball for a precise...
The lightweight forefoot plate features a Nike Aerotrak zone with micro grooves....
Insole with NikeGrip technology
This pair of nike cleats is a great option that provides a secure feeling on your foot and one-piece lining for a light feel. They are great for speed and fast movements, reliable in both wet and dry weather. The studs allow for quick acceleration. The average price of these cleats is around $180.
These options will provide you with high-quality cleats for a price under $200. They are highly recommended for players in college or advanced leagues.
---
Best soccer cleats under $100
There are a lot of great options for soccer cleats listed under $100. Here are a couple of highly-rated recommendations. These soccer cleats and considered average price and good quality.
Adidas Men's Predator 19.3 Firm Ground Soccer Shoe
These Adidas cleats go for around $70. This is a great option for those looking for a good reliable shoe that is not too expensive. It is made from 100% synthetic material with a synthetic sole.
They are lightweight and designed to be used on firm ground. They are great for outdoor use and can be for women, too (one size below the men's size shown).
---
Adidas Men's X 7.2 FG Soccer Shoe, Grey/Real, Coral/Core Black
This is a highly recommended pair of cleats if you are looking for a durable shoe with rubber soles. It is made from synthetic material and costs about $95. The cleats are designed to be lightweight for those players that focus on speed and agility and allows for fast acceleration.
As you can see, it is possible to purchase a pair of durable, high-quality shoes for a little bit less than the high-priced top brands. These are ideal for intermediate levels, such as high school players and some advanced travel teams.
---
Best soccer cleats under $50
If you are playing soccer at a beginner level or just do not want to invest too much in a pair of cleats, then a pair that costs under $50 will suit you just fine. Here are a couple of brands that are recommended.
Adidas Men's Predator 20.3 Firm Ground Soccer Shoe
The Adidas Men's Predator Firm Ground Soccer Shoe offers a soft textile design and hugs your foot for a secure feel. The forefoot has raised elements to allow for an extra curve on the ball.
This is a good quality shoe for a great price if you are looking to spend under $50. The average price of these cleats is $40.
---
Adidas Unisex Copa Gloro 20.2 Firm Ground Soccer Cleats
This pair of Adidas cleats feature a ridged leather vamp with a leather tongue and elastic strap for a very comfortable fit. These are great because they can also be worn by women if selecting a size below the price shown for men.
The shoes have a synthetic sole and a regular fit. This pair of cleats go for about $42. So, this is a great option if you are looking for good quality, reasonably priced shoes.
---
Can soccer cleats be used for other sports?
| | |
| --- | --- |
| Sport | Yes/No |
| Baseball | Yes |
| Softball | Yes |
| Football | Yes |
| Rugby | Yes |
Baseball: Although soccer cleats can be used for baseball, baseball cleats cannot always be used for soccer. Baseball cleats often have metal studs on the bottom, which are not allowed in soccer games because of the constant contact with other players. So be sure that you are selecting a pair of soccer cleats with a molded stud design, not metal.

Softball: Like baseball, soccer cleats can be used for softball, but softball cleats cannot always be used for soccer. Softball cleats also can have the metal stud design, which is not ideal for soccer games/practices.

Football: Soccer cleats can be worn for football, although they are not recommended. Soccer cleats tend to have a low-cut design, making them ideal for speed and fast foot movements on the ball. Football cleats tend to be a higher cut to provide ankle support. So even though you can get away with wearing soccer cleats for football, it is not too common to wear football cleats for soccer.

Rugby: Like football, rugby cleats are normally a higher cut type of cleat. Rugby players need ankle support because it tends to be a more aggressive game. You can wear soccer cleats to play rugby even though it is not recommended. And rugby cleats generally are not recommended for soccer players either because of their high cut design.
As you can see, soccer cleats are a very versatile type of cleat. They can be worn for almost all ball sports played outdoors on grass. Even though it is recommended to purchase the type of cleat that is best suited for each different type of sport, it is not against the rules to wear cleats that are intended for soccer to play other sports such as football, baseball, softball, and rugby. Although, be aware that baseball and softball cleats are not allowed in soccer games because of their metal studs. Football and rugby cleats are not recommended for soccer players, but if they do not have a metal stud design, then they will not be disqualified from playing.
Related: What Type of Cleats Are Best for Lacrosse?
Indoor Soccer Cleats vs Outdoor
The price range for indoor soccer cleats is generally lower than a standard outdoor cleat. Like regular cleats, the type of indoor soccer cleat will not change anything about the game that you are playing other than possibly affecting your performance. For example, a cheap/overused pair of indoor soccer cleats might cause you to slip on the turf, or they may have a stretched out, loose design making the shoe not as secure around your feet.
So, make sure that when purchasing, you are choosing a style and design that is of good quality. The price range of the shoe that you are purchasing should be determined based on the level that you are playing at. So, look for shoes that are similar to that of the price range of outdoor soccer cleats, but a little less than what you would pay for outdoor cleats.
A Word from Love At First Fit
As you can see, there are many different options for various brands and styles of soccer cleats. And the prices can vary based on the quality and material of the shoe.
You want to make sure to choose a type of cleat that matches up with your skill level. If you are a beginner, you may want to aim for a cleat less than $50. If you are at an intermediate level, then you will want to purchase cleats that are less than $100 but above $50.
If you are at an advanced or professional level, you probably want to go with a closer to a high-quality cleat that is closer to $200. 
Also, keep in mind that if you are one that participates in other sports, you can most likely get away with wearing your soccer cleats for other sports like football, baseball, softball, and rugby.
Related: Can You Use Football Cleats for Soccer?
Loveatfirstfit.com is a participant in the Amazon Services LLC Associates Program, an affiliate advertising program designed to provide a means for sites to earn advertising fees by advertising and linking to Amazon.com. We may earn a commission when you buy through links on our site.
Last update on 2021-09-17 / Affiliate links / Images from Amazon Product Advertising API