24Hour fitness and Anytime fitness are two of the best gym chains you will find across the US. They both are perfect mid-level gyms that you can go to.
24 Hour fitness is one of the best options as it offers flexible membership plans compared to Anytime fitness. Among athletes and professionals, 24 Hour gym is a bit more popular due to its Hours and personal training.
24 Hour Fitness vs. Anytime Fitness: Which Is Better?
There is no doubt that these two gyms are ranked very closely, which might confuse someone when they are looking for a gym to join. Some factors might be important for you but not for others.
That is why you need to look into both of these gyms more closely.
| | | |
| --- | --- | --- |
|   | 24 Hour Fitness | Anytime Fitness |
| Cost | Winner |   |
| Contract Length | Winner |   |
| Equipment | Winner |   |
| Environment |   | Winner |
| Rules and Policies | Winner |   |
| Amenities | Winner |   |
| Locations |   | Winner |
| Hours |   | Winner |
24 Hour fitness may be the winner of most factors, but that doesn't mean Anytime fitness is a bad gym. The 24 Hour fitness is a better option for you if you are looking for an affordable option with lenient policies and rules.
While Anytime fitness is a perfect option for those looking for a community-oriented environment at a gym.
24 Hour Fitness vs. Anytime Fitness: Membership Cost
Some say 24 Hour fitness and Anytime fitness have similar membership costs. But the membership structure plays a very important role and how they offer it.
 If you understand the membership structure properly, it will be easier to understand where you can save more.
| | | |
| --- | --- | --- |
|   | 24 Hour Fitness | Anytime Fitness |
| Monthly | $44.99 | $38.99 |
| Yearly | $25 per month | $407.99 |
| Initiation Fee | $0 | $49.99 |
Some costs may differ from one location to another, but these are the basic prices you will find in most locations. Both the gyms do charge for additional services that you may want to use.
These costs are for general training. Charges may apply for personal training. Visit a location and have a detailed discussion with the supervisor. They will guide you and make a flexible and best contract for you.
If you are looking for a cheaper option 24 Hour fitness is better. There is no initiation fee, and you can go for a yearly plan and still pay monthly. It is better than paying a big amount at once.
24 Hour Fitness vs. Anytime Fitness: Facilities & Amenities
Anytime Fitness and 24 Hour fitness have similar amenities and facilities for you. At many locations, you can find pools, basketball courts, and saunas to relax and cool down.
Every location has different amenities, so choose the one with all the amenities and facilities. This will help you enjoy your gym time more.
Most people now choose gyms and fitness centers after considering the additional amenities they can enjoy. That is why this is an important section for many.
| | | |
| --- | --- | --- |
|   | 24 Hour Fitness | Anytime Fitness |
| Basketball | Yes | No |
| Pool | Yes | No |
| Personal Training | Yes | Yes |
| Sauna | Yes | No |
| Squash | Yes | No |
| Towel Service | Yes | Yes |
| Kids Club | No | No |
| Group Fitness Classes | Yes | Yes |
This is why many people opt for 24 Hour fitness, as paying slightly more can get them access to many amenities. The gym is not only about working out anymore. Additional amenities and facilities excite members and are required after a good workout session.
24 Hour Fitness Removing Amenities
In recent years 24 Hour fitness removed some of its amenities due to safety and hygiene concerns. They used to offer towel services, but since the pandemic has hit, they have removed it completely. This is a good decision to keep the hygiene and safety of members as a priority.
Anytime Fitness Members Challenges and Event
One thing about Anytime fitness is that they have worked a lot in creating a community of all their members. Since most of the Anytime fitness centers are small, it gets easier for every member to interact and get to know each other.
Every year Anytime fitness hosts multiple events and challenges exclusively for its members.
24 Hour Fitness vs. Anytime Fitness: Hours
24 Hours fitness is open 24 hours a day throughout the week. In some cities, they may not be operating 24 Hours due to restrictions by the local government.
Most Anytime fitness locations also operate 24 hours a day. So you can choose any time to go and enjoy your workout peacefully.
24 Hour Fitness vs. Anytime Fitness: Locations
24 Hour fitness once used to have more than 500 locations across the US. Now around 280 locations are operating throughout the country. Therefore, you can easily 24 Hour fitness center in any state.
Anytime fitness has around 5,000 fitness centers operating in more than 40 countries. So, an Anytime fitness membership would be a perfect option if you travel a lot.
24 Hour Fitness vs. Anytime Fitness: Classes
24 Hour fitness and Anytime fitness offers team and group classes to their members as a part of their membership. It brings a great opportunity for members to get to know each other and enjoy classes in a comfortable environment.
Different classes are happening the entire day.
| | | |
| --- | --- | --- |
| Classes | 24 Hour Fitness | Anytime Fitness |
| Zumba | Yes | Yes |
| Cardio | Yes | Yes |
| Yoga | Yes | Yes |
| Spinning Cycles | No | Yes |
| Body Conditioning | No | Yes |
| Pilates | Yes | Yes |
| Team Workout | Yes | Yes |
| Martial Arts Cardio | No | No |
It would be best if you check the locations for classes as some locations may not carry out all the classes. And it would be great if you could be a part of most classes. It offers something new to learn and improves your lifestyle.
24 Hour Fitness vs. Anytime Fitness: Personal Training
Both 24 Hour fitness and Anytime fitness offers personal training to their members. However, members new to the fitness world need personal trainers at the start so they can understand everything.
Workout is something where a slightly wrong posture can injure you. So always go for personal training when you are new.
1. 24 Hour Fitness Personal Training
They offer you an option to look at the portfolio of all the trainers they have available. You can then choose the trainer you think would suit you the best. Personal training here at 24 Hour fitness starts at around $85 per hour.
No free personal training session is available for new members.
2. Anytime Fitness Personal Training
New members get one free personal training session. If you are looking for more, you have to pay around $50 to $70 per hour for a personal training session.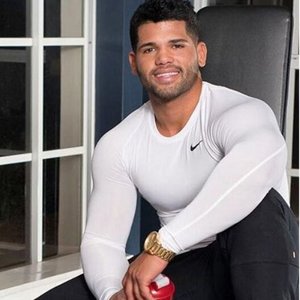 Austin is the author of loveatfirstfit.com and a personal trainer with extensive knowledge in nutrition. Austin is passionate about helping others to find a suitable healthy lifestyle and feel good about themselves. Austin's goal is to help people push their limits and achieve their physical performance.