Sometimes you are just tired of being a cog in a giant machine and want to stand out from the crowd. Other times, you want a confidence boost. Either way, a red dress is exactly what you need.
Shoes that Look Good With a Red Dress
Shoes that look good with red dress are pumps, sandals, high heels and wedge heels. You can pair up these shoes in red, black, nude and white to spice up your red dress and look stunning.
Choosing a red dress is an easy choice. What is more difficult is to decide on what shoes to wear with your dress. The qualities that make red such a great color for a dress – boldness, fearlessness, mystique, allure – also make red a tricky color to pair shoes with.
You do not want shoes that are so loud that they compete with your dress for attention. At the same time, you also do not want shoes that are so quiet that they get drowned out by your red dress.
You will likely find yourself wearing a red dress for a wide range of occasions, from the very casual to the very formal. It is important to match your shoes to the occasion. Here are some examples.
Red Dress with Pumps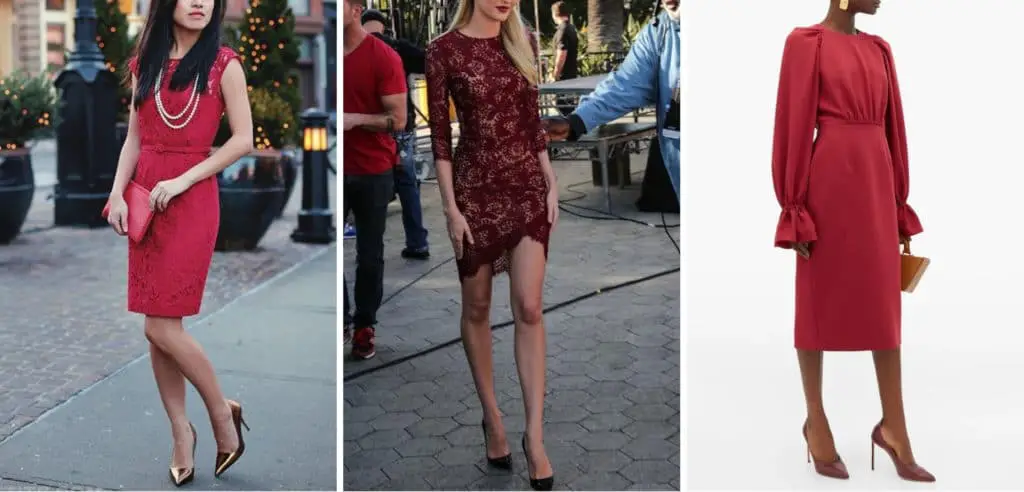 If you are dressing for something formal or fancy, there is no better choice than pumps. Pumps give out an air of formality and power. They are sexy and mysterious. They also make your legs look longer and slimmer.
However, there is a downside to pumps. Pumps with heels too high can cause a whole host of foot problems such as bunions, plantar fasciitis, and inflammation of tissues. Heels that are too high can also cause chronic knee pain, hip pain, and back pain by placing too much stress in those areas. Prolonged wear of high heels will cause your Achilles tendons to tighten, weaken, and shorten, putting you at a greater risk of Achilles tendinitis.
So, how high is too high? Avoid anything with a heel more than 2 inches.
Also, avoid pumps with toe areas that are too tight. You do not want your toes to be squeezed for hours on end, unless you want to risk getting hammered toes or plantar fasciitis.
Tip: To make your pumps more comfortable, buy aftermarket foam or gel insoles and put them inside your pumps.
Some outfit ideas:
For a holiday party: a red sheath dress with a pair of red closed toe pumps
For a romantic date: a red mini dress with a pair of black peep toe pumps
Our Pump Top Picks:
Calvin Klein Women's Brady Pump
Jessica Simpson Women's Cambredge Pump
Naturalizer Women's Anna Pumps
More Selection: Women's Pumps
---
Red Dress with Sandals and Wedge Heels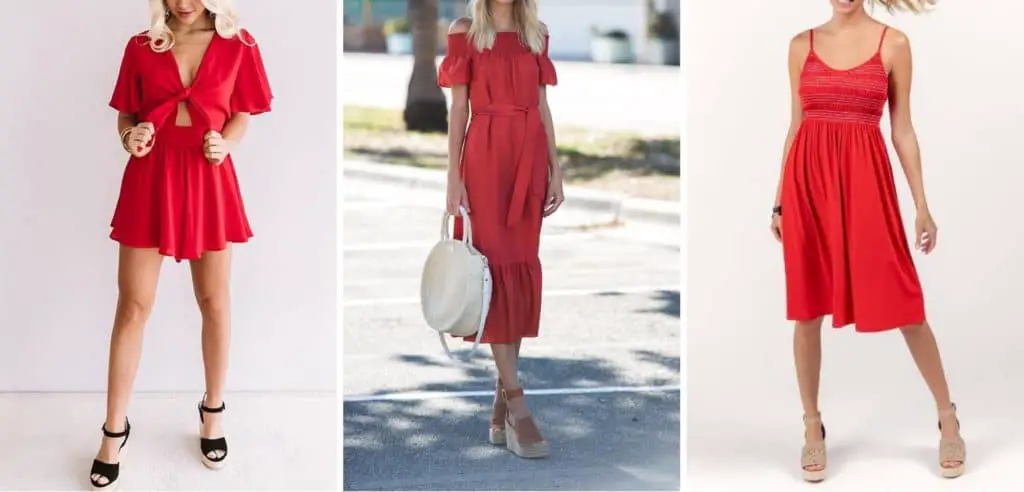 Sandals are the quintessential summer shoes. There is nothing better than wearing a lightweight cotton dress and a pair of sandals in a lazy summer afternoon, strolling on a beach, and feeling the sun and the ocean breeze on your feet.
While some sandals can be pretty unkind to your feet, there are sandals that are very comfortable. What you want are sandals with a soft cushioning sole, soft straps, and a wide toe box.
Some outfit ideas:
For a day on the beach: a red cotton Gigi dress with a pair of off white sandals
For a summer night out in town: a red tube dress with a pair of black wedge sandals
Our Sandal Top Picks:
Seraih Womens Lace up Platform
Kenneth Cole REACTION Women's T-Strap
More Selection: Women's Wedge Sandals
---
Pay Attention to Comfort
As we have mentioned, the shoes you wear can have a big impact on your health. Unhealthy shoes can cause a whole host of problems including bunions, hammered toes, plantar fasciitis, Achilles tendinitis, knee pain, hip pain, and back pain.
In general, look for shoes with these qualities:
Heels no more than 2 inches
Wider toe boxes – roomy enough for your toes to spread out naturally
Good cushioning to absorb the impact of your foot strikes
Good breathability
Good arch support if you have flat feet
---
Color Coordination Explained in Under 1 Minute
Red is a somewhat tricky color to pair with because red is so prominent and powerful. You have to worry about clashing colors and overwhelmed colors. Fear not, though. Some colors are just a natural match with red. Let us look at some of the shoe colors that would go well with your red dress.
Red Shoes and Red Dress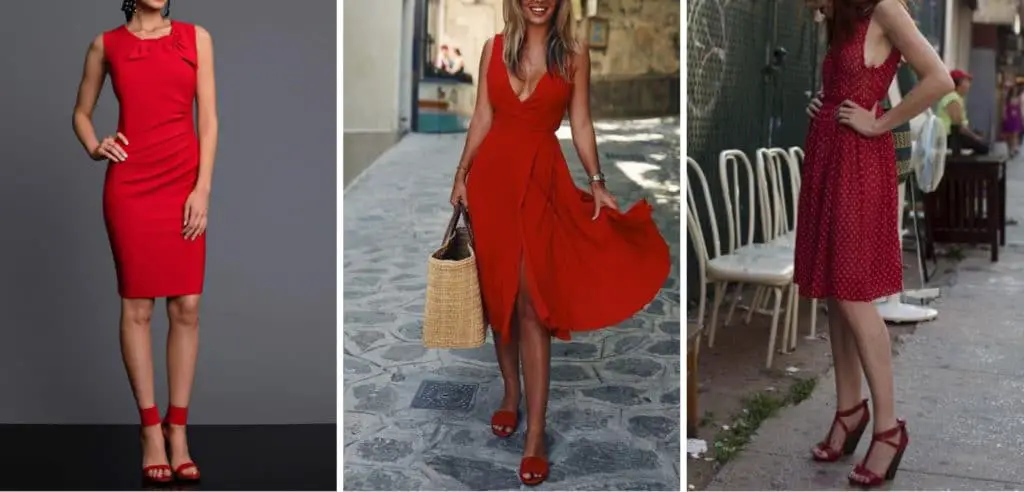 When it comes to pairing with a red dress, a pair of red shoes are the safest and easiest choice. With a red dress and red shoes, you do not have to worry about any clash of colors. And the monochromatic look can be very sophisticated and eye-catching.
But at the same time, you need to be careful about not overdoing this "matching color" theme. You do not want to be seen as trying too hard. You want to project a certain air of spontaneity to break up the monotony of a red on red outfit.
A way to spice up this monochromatic look is to pair your red dress with shoes that are in a completely different shade of red. For example, wear a pair of burgundy pumps with a bright red sheath dress.
Our Red Shoe Top Picks:
DREAM PAIRS Women's Lexii Fashion Stilettos Open Toe Pump
TOMS Women's Classic Wedge Sandal
Clarks Women's Leisa Cacti Slide Sandal
---
Black Shoes and Red Dress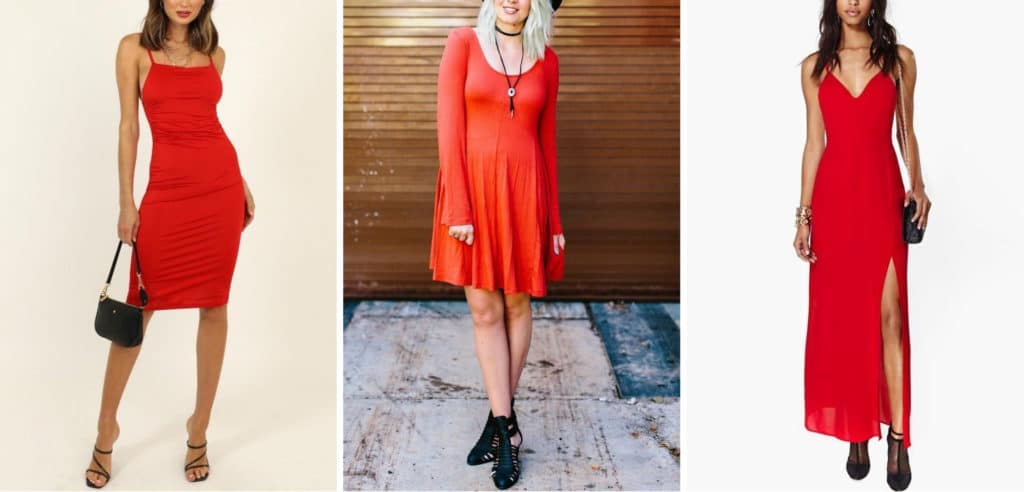 Red and black is a classic color pairing. It is sophisticated, mysterious, and powerful. But it can also be rebellious and edgy.
If you want to play it safe, pair your red dress with a pair of classic black pumps. That is an outfit that will take you anywhere.
On the other hand, if you are in the mood of being adventurous, go with something different. Pair a red slip dress with a pair of black Chelsea boots. Or a red pinafore dress with black canvas sneakers. Experiment and find your own style!
Our Black Shoe Top Picks:
LifeStride Women's Hinx 2 Wedge Sandal
Clarks Women's Taylor Shine Chelsea Boot
---
Nude Shoes and Red Dress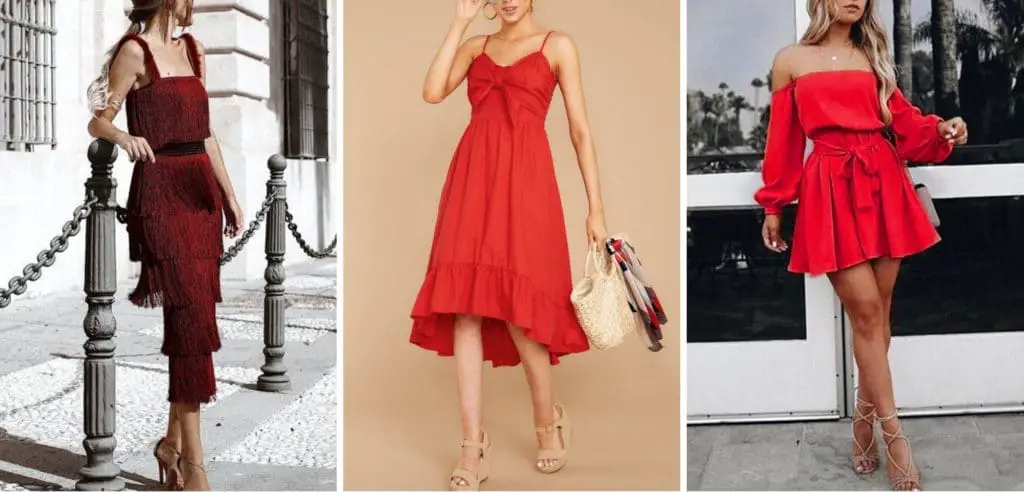 Nude is also a great color to pair with red. For one thing, nude is a neutral color, so it will not clash with your red dress. For another thing, nude shoes that are similar in color to your skin tone will make your legs look long and slim. Basically, you get the benefit of high heels without having to wear high heels. Who wouldn't want that?
Try pairing nude loafers with a burgundy wrap dress. Or nude ankle boots with a crimson mini dress.
Our Nude Shoe Top Picks:
Sam Edelman Women's Yaro Block Heel Sandals
Clarks Women's Annadel Ivory Wedge Sandal
NINE WEST Women's Fifth9X9 Pumps in Dred
No products found.
---
White Shoes and Red Dress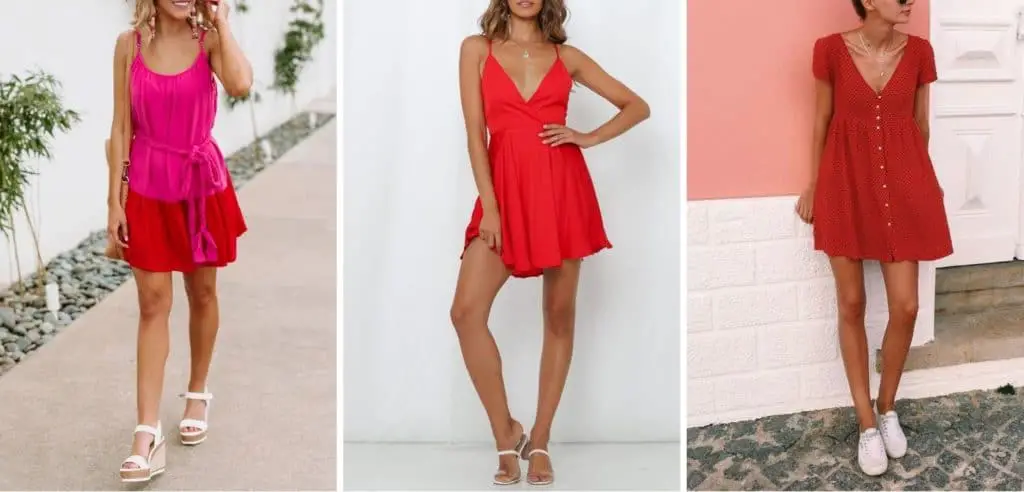 Red and white is another classic color combo. And white is also the perfect color for summer.
White can be very sophisticated or very casual. It all depends on the details and how you wear them.
You can go for a contrasting juxtaposition and pair a red cocktail dress with white sneakers. Or you can go for a more whimsical and vintage look and wear a red empire waist dress with a pair of white Oxfords.
Our White Shoe Top Picks:
adidas Originals Women's Nizza Platform Sneake
Skechers Women's Beverlee – High Tea Wedge Sandal
---
Key Takeaways
Before you go off to find the perfect shoes to wear with your favorite red dress, just keep a few key things in mind:
Red dresses are bold, powerful, sexy, and flirty. You should choose shoes that play up to those strengths of your red dress.
Dress for the occasion. Pumps and loafers are great for formal or fancy events. Sandals, Chelsea boots, ankle boots, and sneakers are perfect for more casual settings.
Comfort and health are important. Avoid shoes with heels higher than 2 inches or toe boxes that are too narrow. Look for shock-absorbing cushioning. Opt for shoes with good arch support if you have flat feet.
Some shoe colors that go well with red dresses include red, black, nude, and white.
Loveatfirstfit.com is a participant in the Amazon Services LLC Associates Program, an affiliate advertising program designed to provide a means for sites to earn advertising fees by advertising and linking to Amazon.com. We may earn a commission when you buy through links on our site.
Last update on 2023-02-13 / Affiliate links / Images from Amazon Product Advertising API