Crunch Fitness membership is worth it regardless of your training goals. Whether you prefer strength training, group fitness, or cardio, Crunch has everything you need.
One drawback is that not all amenities are included with all membership plans, but the cost of a membership is reasonable at most locations.
Crunch Fitness equipment, features & amenities
Crunch Fitness has pretty much everything you need to get in a great workout. No matter which location you are in, it's guaranteed you can find a ton of cardio equipment. Whether you want to run or pedal, there's something for everyone. 
As opposed to other gyms, Crunch Fitness doesn't sway one way or the other when it comes to cardio versus weights. It doesn't necessarily cater toward powerlifters or treadmill-heads, so no matter which category you fall into, you'll find something that interests you.
Crunch Fitness also has no shortage of group fitness classes. However, you need to keep in mind that the basic plan doesn't include this. You'll need to sign up for one of the higher tiers if you want to work out in a group.
But you'll find classes for pretty much anything you can think of at Crunch. Some of the most popular include:
Pilates
Yoga
Kickboxing
HIIT
Zumba
Bodyweight circuits
Classes are offered every day of the week throughout the day, so you can find something that works for your schedule.
Anyone looking for a gym they can swim at needs to make sure there is a Crunch Signature location near them. In addition to finding a pool and/or sauna, you can also find live DJs, free Wi-Fi, and towel service.
Again, you'll need to find a Crunch Signature gym if you want to utilize child care services. Kids up to the age of 13 years can hang out while you work up a sweat. It will cost you a little extra to drop your children off, but it can be well worth it. 
It's too bad not all locations offer this service. However, if you're a parent with a Crunch Signature near you, then you should sign up at that spot to utilize the service.
Many Crunch Fitness locations offer tanning services. You can work up a sweat and then hop in a tanning booth for a little while to give yourself that extra glow.
Just because you're working out indoors doesn't mean you can't look like you've been in the sun all day.
Crunch Fitness is also known for its HydroMassage service. After a tough workout, you can treat your muscles to a relaxing massage. It's the perfect way to end a rough session.
Pros
Even if you're not interested in taking classes, you may still want to sign up for one of the higher tiers so that you have access to everything Crunch Fitness has to offer. While classes can vary depending on location, you can generally find some unique offerings.
Your fitness regimen is supplemented with a comedy routine, so you're cracking up while working out those muscles. Laughing is the best medicine, so you can benefit your health twice as fast!
Cons
Crunch Fitness gyms tend to be pretty huge. After all, most locations have an abundant supply of cardio machines, weights, and classrooms. If you're new to a gym, then it may seem a bit overwhelming at first. Luckily, this seems to be a minor issue. Once you get used to your location and know where everything is, it will become a lot more manageable
How much does Crunch Fitness cost?
The price structure for Crunch Fitness can get a little wonky if you don't know what you're looking for. Plus, prices can vary depending on location. Ultimately, there are three tiers you need to be aware of.
The base price will run you anywhere between $9.95 and $19.95 a month. This only gets you access to one single location, so you need to make sure you can consistently go to that one gym if you sign up at this level.
With a base membership, you get access to cardio equipment, weights, and other machines. You also have access to the lockers, online nutrition resources, power half-hour circuit training, and a free t-shirt. The peak membership tends to cost $21.95 a month.  Finally, the peak results membership usually costs $29.95 a month.
Alternatives to Crunch Fitness
Blink Fitness
Blink Fitness is similar to Crunch Fitness in terms of price, but it has a slightly more laid-back atmosphere. It caters to people who enjoy cardio workouts even though you'll find barbells, squat racks, and other strength equipment there as well. 
Two drawbacks of Blink Fitness are that it doesn't offer in-person group classes and it doesn't have a lot of amenities. But if you don't care about classes or upscale amenities, I recommend checking it out.
24-Hour Fitness
Like Crunch, 24 Hour Fitness has squat racks, lifting platforms, and high-quality barbells and bumper plates. You'll find similar amenities such as saunas and pools and 24-hour Fitness, and it also has basketball courts. 24-Hour Fitness is open 24 hours a day, so it's a good option for people who want the ability to work out whenever they want.
Gold's Gym
Gold's Gym has fun group classes, a large number of cardio machines, and a great selection of free weights. You can usually find squat racks and deadlift platforms at Gold's, and it has a large functional training area as well.
While the amenities vary by location, most Gold's Gym clubs also have basketball courts, swimming pools, saunas, childcare services, tanning beds, and smoothie bars.
Conclusion
Crunch Fitness is an excellent gym whether you have strength-based or endurance-based goals. The staff is friendly, the group fitness instructors are motivating, and you can do almost any kind of work out there.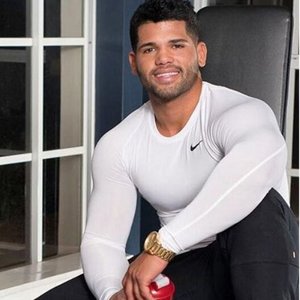 Austin is the author of loveatfirstfit.com and a personal trainer with extensive knowledge in nutrition. Austin is passionate about helping others to find a suitable healthy lifestyle and feel good about themselves. Austin's goal is to help people push their limits and achieve their physical performance.