Almost all gyms offer personal trainers to help their members reach their fitness goals. Of course, the cost of a trainer depends on many factors, such as the type of training, location, and much more.
If you are looking to train at LA Fitness, you have come to the right place. Here is everything you must know about its personal trainers.
Does LA Fitness Have Personal Trainers?
All LA Fitness locations have personal trainers to help people reach their fitness goals. Personal trainers are available to all members, but you will pay an extra fee to get trained from them. That is because LA Fitness offers a Pro Results Personal Training Program to members.
The program includes a personal trainer, a customized timeline to achieve fitness goals, a body composition test, and much more. Besides that, a personal trainer can create meal plans and assist you with any other fitness needs.
Of course, if you want to opt for a personal trainer, you must understand if they are any good.
Related: Average Cost Of A Personal Trainer
Does LA Fitness Have Good Trainers?
LA Fitness offers good personal trainers to its members. Each trainer has relevant certifications and experience in the field to help you reach your fitness goals.
You will receive meal plans, individual workouts with proper attention, and the trainer will work with you to help you reach your ideal weight. LA fitness has had many success stories in personal training.
So, you can choose a personal trainer to get your ideal body in no time. Of course, there are a few options you can choose from to make the right decision.
LA Fitness Personal Trainer Sessions Options
The options you have will depend on the LA fitness location and what they offer. However, all personal trainer sessions will provide you with monthly goal setting, meal planning, weekly progress reports, personal fitness evaluation, etc.
The sessions are customized to the individual, which is why there is no set program. All you have to do is select a personal trainer and specify your goals to them.
Once you do, they will help you in achieving these goals in no time. Of course, you must also know the cost of the personal trainer before deciding.
LA Fitness Personal Trainer Cost
| | |
| --- | --- |
| Session Length | Average Cost |
| Half an hour | $25 to $50 |
| An hour | $40 to $90 |
| Ninety minutes | $60 to $120 |
The average cost of an LA Fitness personal trainer can vary depending on the location. However, most of them charge $45 for a half-hour session or $60 for an hour session.
The cost will also vary depending on the number of sessions, trainer experience, and much more. The more sessions you book, the more your price will reduce.
Besides that, after you pay for your gym membership, your initial fitness assessment will be free. The club also offers a fitness app to its members that you can use to stay motivated while training.
LA Fitness Personal Trainer Cancellation & Refunds
Unfortunately, personal training at LA Fitness is non-refundable unless your training agreement or the state has a three-day cancel in the full clause. You can also try your luck and speak to the personal trainer directly.
On the other hand, you can always show evidence if you can't take training anymore due to medical reasons. When you do, the trainer might offer a refund or accommodate you in some way.
Besides that, you will not get a refund or cancellation. You can talk to the personal training manager if you have a genuine reason and you want to cancel your personal training sessions.
Is LA Fitness Personal Trainer Worth It?
LA Fitness personal training is worth it if you are a member of the gym and need additional benefits in the club. Many people have fulfilled their weight and body goals after opting for personal training by LA Fitness.
The trainers are good and will help you throughout your fitness journey so you can finally have the body you want. They will help you track your nutrition and create workout plans accordingly so you can get the most out of it.
So, if you have LA Fitness near you in your state and you want to lose weight, you can opt for their personal training program. All the trainers have relevant certifications and experience, which is why they are fantastic.
Once you start training, you will love the amazing results in no time. That is because you will finally fulfill all your fitness goals.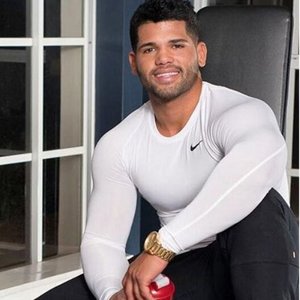 Austin is the author of loveatfirstfit.com and a personal trainer with extensive knowledge in nutrition. Austin is passionate about helping others to find a suitable healthy lifestyle and feel good about themselves. Austin's goal is to help people push their limits and achieve their physical performance.