Do you have a preference for expensive running shoes or are you on a tight budget? There are pros and cons to both. If you're on a tight budget, then your best bet might be to purchase inexpensive running shoes until eventually being able to afford more expensive ones.
The average running shoe cost is around $75. So if you can find a good one under $50, it's considered a steal. Just because the cost of something is higher doesn't mean that it's worth the extra money. So before investing in any expensive running shoes, you try out some cheaper ones first.
Some of the best brands for running shoe are:
Brooks
ASICS
Nike
Saucony
Mizuno
New Balance
Hoka One One
Altra
Most of these companies also make budget-friendly running shoes. If you're just starting out and not sure if you will continue running as a long-term excise, consider buying a lower priced running shoes. If you became an advanced running and decided to run in the long term, you can then shop for an upgrade.
Related: Top 8 Best Brands for Running Shoes (Trusted by the Public)
Cheap running shoes can wear out quicker than expensive ones. In a year or two, you might be replacing your cheap running shoes with a new pair, whereas good quality shoes can last longer. If you don't want to spend all that money on an expensive pair of running shoes right away, try ones that are inexpensive and replace them often.
Some inexpensive running shoes are made with a lot of cushioning – this can be beneficial when it comes to absorbing shocks and giving your joints a break.
It's worth noting that cheap running shoes aren't always as good as expensive ones; sometimes they can be cheaply made and actually do less for your feet than high-quality branded ones would.
Related: What is the Average Price of Running Shoes?
ASICS Men's Gel-Venture 7 Running Shoes
On Sale
ASICS Men's Gel-Venture 7 Running Shoes, 9, Peacoat/Piedmont...
Ortholite X-40 Sockliner: This premium sockliner features higher rebound...
Rearfoot GEL technology cushioning system: Attenuates shock during impact phase...
Ortholite X-40 Sockliner: This premium sockliner features higher rebound...
Rearfoot GEL technology cushioning system: Attenuates shock during impact phase...
Your feet will be thankful for these ASICS Gel-Venture 7 Running Shoes. The outsole is made from a high-density rubber to provide durability, stability and grip on any surface you run on while the FluidRide assistance cushioning system would make sure that you are comfortable with every step you take.
ASICS Gel-Venture 7 Running Shoes are very comfortable and fit perfectly. My last several pairs of running shoes were Nike's which were more expensive but didn't hold up as well as these did.
They have good arch support, they are lightweight and comfortable. I use them for running and general everyday wear. The only complaint I have with these shoes is that the left shoe fits a little tighter than the right shoe. This isn't a huge deal, they still fit fine but it's just something I noticed over time.
I bought these shoes about a year ago and they're still in great condition. They have just the right amount of support and they are very comfortable to wear. These are the best cheap running shoes you can find and I would recommend them to anyone looking to buy a new pair of running shoes.
Saucony Women's Cohesion 10 Running Shoe
Saucony has created an excellent, everyday go-to shoe with the Saucony Cohesion 10. The lightweight, breathable mesh upper is amazingly comfortable and avoids the need for a break-in period. It also offers stability, despite a neutral fit. It could be argued that the Saucony Cohesion 10 is missing bells and whistles, but it's hard to imagine any runner being disappointed with Saucony's latest running shoe.
The Saucony Cohesion 10 delivers what is needed for a neutral everyday trainer; lightweight cushioning, flexibility and durability. As the first release from Saucony's lightweight Natural Running line, they have set the bar high for future releases. The Cohesion 10 barely feels like a 6-ounce shoe, yet it still maintains adequate protection and support for daily training and racing.
During my test run, I appreciated the natural, breathable upper and found it to be incredibly comfortable. The rigid midsole absorbs shock and drives in each stride, keeping me in a place where I could feel my feet landing and pushing off. The outsole design is very durable and adds flexibility where needed; the soft mesh offers extra breathability while still providing support for impact absorption.
PUMA Men's Tazon 6 FM Running Shoe
On Sale
PUMA Men's Tazon 6 FM Puma Black/ Puma Silver Running Shoe -...
CONTEMPORARY DESIGN: Seasonal fracture graphic on this Tazon Cross-Trainer for a...
RELIABLE PADDING: Stable cushioning for running and training needs.
SMOOTH AND SNUG: Sleek, streamlined silhouette with synthetic leather upper and...
SHOCK ABSORPTION: EVA in the heel absorbs impact for added support and comfort.
PUMA Men's Tazon 6 is so lightweight and comfortable. The laces are the perfect length for my feet, not too long and not too short. Plus it comes with an extra pair of shoelaces in case the other ones break.
I was a little bit skeptical about these shoes because PUMA is not a mainstream running shoe brand, but after wearing them for a day I must say that these are the best shoes that I have ever bought.
The only thing that I found wrong with this shoe was that in the toe area there were some small pinprick holes but they did not go through the fabric and they are not noticeable unless you look up close.
PUMA Tazon 6 is definitely recommended for anyone who is looking for a lightweight and comfortable running shoe for such a low price.
New Balance Men's Fresh Foam Arishi V3 Running Shoe
New Balance Men's Fresh Foam Arishi V3 Running Shoe,...
No-sew engineered mesh upper for breathable comfort and a seamless fit
Fresh Foam midsole cushioning technology for superior comfort and support
Ships with an NB Response 1.0 Performance Insert for extra padding and support
8 mm drop
Sleek, supple and utterly responsive. The New Balance Fresh Foam Arishi V3 is designed for the runner who desires a shoe that offers a natural run. It has been said that "great shoes should enable you to walk and talk on clouds."
Well, Arishi will make you feel as light as air. It's so light and responsive, it'll have you floating down the road. The Fresh Foam midsole gives you the "full ride" and helps to propel you forward through the foot strike with a springy bounce.
This version of Arishi comes with an updated fit for women who want a more narrow fit in the forefoot while enjoying the same plush cushioning that is synonymous with Fresh Foam.
The upper gets an update in this version, too, sporting a sleek and seamless construction that hugs your feet comfortably. Plus, this version of Arishi is built on a more responsive platform, which allows for a closer connection to the ground.
adidas Women's Cloudfoam Pure Running Shoe
On Sale
adidas Women's Cloud foam Pure Running Shoe,...
Stretchy, mesh running shoes with extra cushioning for all-day comfort
Stretchable mesh upper for breathability
Combined Cloudfoam midsole and outsole for step-in comfort and superior...
Cloudfoam memory sockliner molds to the foot for superior step-in comfort
In the last few months I've been wearing and running in these shoes, I've been very impressed with them. They have been a great fit for my feet and they have helped me reach some of my best training times.
The shoes are super lightweight, which is great for long distances. The foam cushioning is fantastic and really makes a difference on longer runs. They are super comfortable to wear off the track too as they have excellent grip for trails or pavements too! They also come in so many brilliant color variations.
The first thing you will notice when putting these on is how well they fit. During your running, you'll notice that it feels like floating in the cloud. If you're looking for a pair of trail shoes, but don't want a trail running shoe, then this is the pair for you! You won't be disappointed.
Under Armour Men's Surge 2 Running Shoe
Under Armour Men's Surge 2 Running Shoe, Pitch Gray...
NEUTRAL: For runners who need flexibility, cushioning & versatility
Lightweight, breathable mesh upper
External heel counter for additional support & structure
Enhanced cushioning around ankle collar for superior comfort
Under Armour continues to evolve with its line of running shoes. The Men's Surge 2 Running Shoe is designed to move in unison with your feet without sacrificing comfort or support. It features a bootie construction that wraps from the toe box to the heel, and no-sew overlays for a seamless feel. Weighing only 11 ounces, these shoes are perfect for those looking for lightweight shoes without compromising stability or durability.
From my test runs on these, I noticed they gripped my feet like never before, but without sacrificing any comfort. I felt like I could run faster with them because of how much more stable they made me feel.
I'm used to having to break in my shoes before they feel comfortable but this wasn't the case with the Luna Glides. I put them on and went for a 6 mile run right away (they were stiff at first but that's all it took), no blisters or anything.
I've tried numerous types of shoes (high top, low tops, stability) but these are the best. They're light enough to feel fast while not being flimsy at all and the mesh upper really does a good job keeping my feet cool during long runs.
Nike Men's Air Zoom Pegasus 34 Running Shoe
Over the years I have tried many Nike products and also tried many other shoe brands as well. I wanted to try these Nike Air Pegasus 34 because of the comfort feature which is hard to find among other shoe brands similar to these shoes.
One of my friends, who is a runner, recommended these shoes to me. He has been using them for over 5 years and says that they are the most comfortable running shoes he has ever used. I can totally see why he loves this shoe so much. The cushioning and overall feel of Nike Air Pegasus 34 Running Shoes are like no other running shoe out there.
These Nike Air Pegasus 34 Running Shoes work well for me during both short and long runs. I run six days a week (with some short walks in between) and I can wear these shoes for at least 45 minutes, with no pain in my feet. I was worried that they might be too tight, but they are really very comfortable – while providing great support.
They're not just comfortable, but also very stylish. The tight mesh outer creates a nice aerodynamic fit that helps with speed without feeling constricted like most of the other running shoes out today.
Related: Does Nike Make Good Running Shoes? Facts & Comparison Chart
adidas Men's Lite Racer Adapt 3.0 Running Shoe
Adidas Men's Lite Racer Adapt 3.0 Running Shoe is a great running shoe at an affordable price. The lightweight material makes it ideal for exercising or walking outdoors.
It also has a sock-like collar that offers extra support and protection against debris, while the outsole is made of rubber to provide durability and traction on different surfaces.
The shoe features an energy-returning adaptive midsole foam that enhances bounce and rebound movement for an optimal running experience.
It's also made of breathable mesh that offers excellent air circulation, keeping the feet cool and dry even during long hours of wear. This shoe is a great choice for those who are looking for a comfortable and lightweight shoe to wear when exercising.
Saucony Men's Cohesion 14 Running Shoe
On Sale
Talk about a shoe that can keep up with your high-powered lifestyle. The Cohesion 14 has a breathable mesh upper for comfort and durability, and its low-profile design for optimal energy return off the ground.
It has great cushioning and support to keep your feet feeling good mile after mile, while the asymmetrical upper delivers a superior fit that doesn't irritate your foot.
Saucony Men's Cohesion 14 Running Shoe has extra-grippy rubber wraps around the outsole for added durability and traction—your daily grind won't slow you down with these running shoes.
Under Armour Men's Charged Pursuit 2 Running Shoe
Under Armour Men's Charged Pursuit 2 Running Shoe, Black...
NEUTRAL: For runners who need flexibility, cushioning & versatility
Engineered mesh upper is extremely lightweight & breathable, with strategic...
Foam padding placed around your ankle collar & under the tongue for an...
Comfort sockliner molds to your foot with padding in the heel for ultimate...
This running shoe is an addition to the Under Armour Men's Charged Pursuit line. It has features that make it perfect for beginners, intermediate and pro level runners.
The upper is made of Charged Cushioning that helps with shock absorption and allows for natural give.
The most notable feature of this shoe is its wide forefoot which makes it much more stable and comfortable to wear as you go through your stride cycle than previous models of shoes from Under Armour.
These shoes have a snug fit with a mid foot strike. The upper has been made a bit wider and the underfoot fits well, with no blisters or rubbing.
The sole is made of Charged Cushioning which helps with shock absorption and allows for natural give. I would highly recommend this shoe to anyone and have already recommended it to my friend who is looking for his first pair of running shoes.
Related: How Much of a Difference Does Running Shoes Make?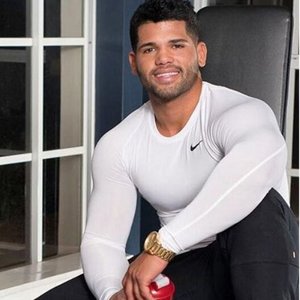 Austin is the author of loveatfirstfit.com and a personal trainer with extensive knowledge in nutrition. Austin is passionate about helping others to find a suitable healthy lifestyle and feel good about themselves. Austin's goal is to help people push their limits and achieve their physical performance.
Last update on 2023-02-13 / Affiliate links / Images from Amazon Product Advertising API