While bootcut jeans are commonly regarded as a progeny of the bell bottom jeans of the 1960s and 70s, their genesis actually came much earlier than that.
You can trace their root all the way back to the US military in the early 19th century, when sailors in the United States Navy started wearing pants featuring wide legs.
The first mention of these pants in the literature can be found in 1813, when Commodore Stephen Decatur Jr. wrote about United States Navy sailors who wore "blue trousers with bell bottoms." "Bell bottoms" here were actually more akin to what we call bootcut legs today.
From its United States Navy origin, Bootcut pants crossed the Atlantic to spread to Great Britain and became part of the British Royal Navy standard uniform in the mid 19th century.
Back in the United States, jeans were invented by Jacob Davis and Levi Strauss in 1871 as workwear for the workers in the Gold Rush. Shortly after, bootcut jeans became popular among cowboys and ranch workers in the West.
During the Swinging Sixties mod years, bootcut jeans became popular among the fashion crowd and were often paired up with Chelsea boots. In the 70s, bootcut jeans gave way to bell bottom jeans. It wasn't until the mid 1990s that bootcut jeans made a comeback, only to fade away once again in the mid aughts.
Back to the present day. As we already mentioned bootcut jeans are on the up and up these days. Now is a good time to add this style to your wardrobe. One question you may have: what shoes to wear with bootcut jeans?
When it comes to shoes that go with jeans, many men just automatically fall back on their default choice: sneakers. But in the case of bootcut jeans, your first choice should be something else – boots. That's right, bootcut jeans are not called bootcut for nothing. They are designed to be worn with boots.
Tip: If you are unsure about what shoes to wear with bootcut jeans, go with boots.
In the sections below we are going to look at the various types of shoes (some are boots, some are not) that go well with bootcut jeans.
Chelsea Boots with Bootcut Jeans
Chelsea boot was created by Queen Victoria's shoemaker J. Sparks-Hall in the 19th century as a riding and walking boot for the upper crust of British society.
It quickly became a favorite among horse riders. Queen Victoria was said to be a fan herself. From that point on Chelsea boot continued to gain in popularity and eventually became a fashion staple in the West.
But it wasn't until the 1960s that Chelsea boot caught the public's imagination and became a cultural icon. It came to symbolize the aesthetics of the Swinging London and the mod scene.
These boots were worn by every one of note in the era, from the Beatles to the Rolling Stones to Pink Floyd.
This mod heritage of Chelsea boots' makes them the perfect match for bootcut jeans which also came into worldwide prominence in the 60s.
If you are after a more sophisticated look, choose a pair of Chelsea boots in black. Pair that with bootcut jeans with a slight leg flare in black or raw indigo, and you could look like you have just stepped out of a mod band.
For a more casual vibe go with brown Chelsea boots. A pair of bootcut jeans in a medium wash with or without whiskers would look great here.
Do not wear Chelsea boots with torn or distressed bootcut jeans. Chelseas are too sleek to be worn with anything distressed.
Our Top Picks for Chelsea Boots:
Nunn Bush Men's Otis Classic Chelsea Boot with Comfortable KORE Lightweight Walking Technology
---
Carlos by Carlos Santana Men's Mantra Chelsea Boot
---
Dr. Martens Unisex 2976 Crazy Horse Chelsea Boot
---
Ferro Aldo Sterling MFA606325 Men's Casual Chelsea Slip on Ankle Boots
---
Chukka Boots with Bootcut Jeans
Just like bootcut pants, Chukka boots were born in the military. They were created during World War II as desert boots for the British soldiers in the North African Campaign.
Chukka boots are generally not as sleek as Chelsea boots but make up for that with a ruggedness that is missing in Chelseas. Chukkas are very versatile. They are a great foundation for any man's wardrobe.
For a dressy look, opt for Chukka boots in black or oxblood with thin leather soles. Wear that with a pair of raw unwashed bootcut jeans.
For ruggedness, choose Chukka boots in brown or tan suede with thick rubber soles. This goes well with light wash or distressed bootcut jeans.
For chunkier Chukka boots, go with bootcut jeans in heavier denim weight. Preferably over 16 oz.
Also for chunkier Chukka boots, feel free to roll up the legs of your jeans to counterbalance the chunkiness of your boots.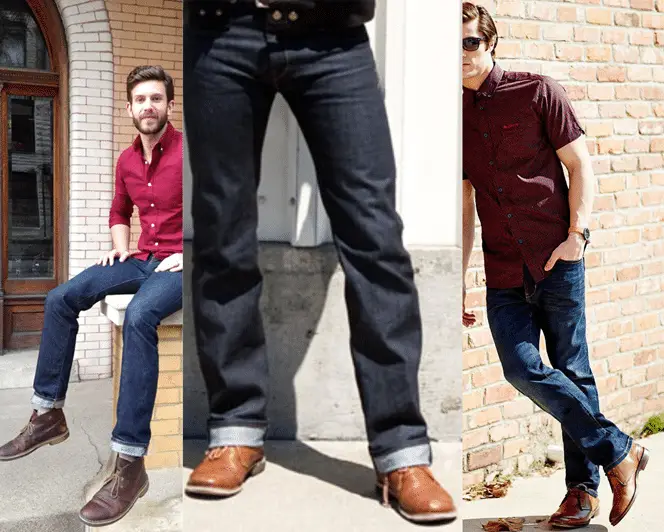 Our Top Picks for Desert Boots and Chukka Boots:
Bruno Marc Men's Classic Original Suede Leather Desert Storm Chukka Boots
---
Vivobarefoot Men's Gobi Ii Classic Desert Ankle Boot
---
Nunn Bush Men's Cam Moccasin Toe Chukka Boot
---
Kenneth Cole REACTION Men's Klay Flex Chukka Boot
---
Hiking Boots with Bootcut Jeans
Given bootcut jeans' root in 19th century naval sailors and ranch hands, they can be considered the original workwear.
That makes them a perfect match for work boots and hiking boots. These boots are very versatile and pair well with most jeans.
There are just a few things to keep in mind when choosing the right pair of work boots or hiking boots to go with your bootcut jeans:
Try to highlight the workwear heritage of your outfit by opting for chunkier work boots.
Work boots or hiking boots in darker colors (dark brown, oxblood, black) match well with bootcut jeans in dark washes (raw, indigo, gray.) Try to steer clear of black bootcut jeans though as they are a bit too sleek for work boots or hiking boots.
In the same vein, for distressed bootcut jeans or bootcut jeans in lighter washes, go with work boots or hiking boots in lighter colors (light brown, tan.)
Balance is important. If your bootcut jeans are made of heavyweight denim (16 oz. or more) pick a chunkier pair of work/hiking boots to offset that weightiness.
Another way to achieve balance: roll up the legs of your bootcut jeans until they hang just above the top of your work/hiking boots. The resultant cuffs act as a good counterforce to your boots.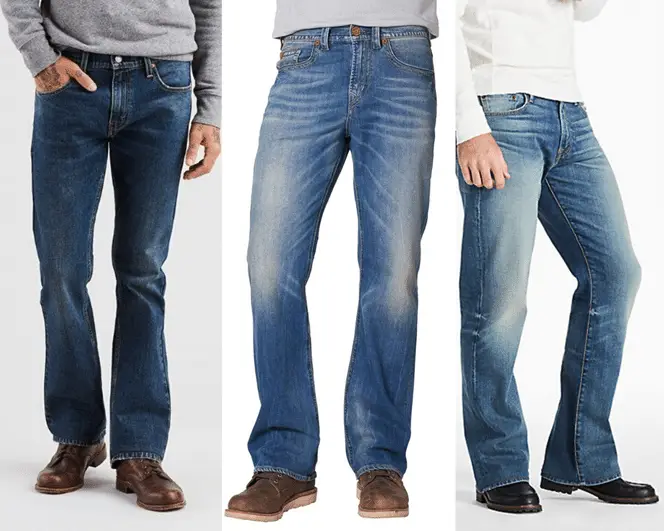 Our Top Picks for Work Boots and Hiking Boots:
Timberland PRO Men's Gridworks Moc Soft Toe Waterproof Industrial Boot
---
Caterpillar Men's Second Shift Steel Toe Work Boot
---
NORTIV 8 Men's Waterproof Hiking Boots Lightweight Mid Trekking Shoes
---
Columbia Men's Newton Ridge Plus II Waterproof Hiking Boot, Breathable, High-Traction Grip
---
Derby Shoes with Bootcut Jeans
Derby and Blucher shoes are very interesting choices for bootcut jeans. Derbies and Bluchers are dress shoes similar to Oxfords but they are a tad more casual.
That added casualness give them the extra attitude needed to stand up to denim jeans.
That is what makes Derbies and Bluchers such interesting choices here. The juxtaposition between Derbies'/Bluchers' formalness and bootcut jeans' workwear origin gives off an air of slight incongruity that adds layers to the wearer.
If you want to go this route of juxtaposition, there are a few things to keep in mind:
There is a spectrum of formalness for Derbies and Bluchers. Black Derbies/Bluchers are on one end (the formal end) of that spectrum. Suede Derbies/Bluchers in light colors are on the other end (the casual end) of the spectrum.
Choose black Derbies/Bluchers if you want to pair with bootcut jeans in darker washes (black, indigo, raw.)
Choose tan suede Derbies/Bluchers if you want to pair with bootcut jeans in medium or light wash
For the adventurous type mix black Derbies/Bluchers with torn bootcut jeans to inject some playfulness into your outfit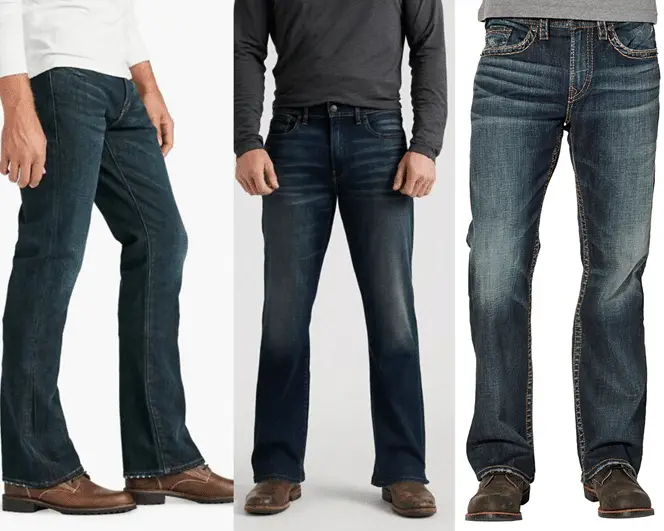 Our Top Picks for Derby Shoes and Blucher Shoes:
JOUSEN Men's Oxford Plain Toe Dress Shoes Classic Formal Derby Shoes
---
Cole Haan Men's Henry Grand Blucher Cap OX Oxford
---
MORAL CODE The Brice: Premium Men's Leather Wingtip Blucher Formal Dress Shoe
---
MORAL CODE The Mayson: Men's Leather Oxford Semi Brogue Blucher Dress Shoe
Loveatfirstfit.com is a participant in the Amazon Services LLC Associates Program, an affiliate advertising program designed to provide a means for sites to earn advertising fees by advertising and linking to Amazon.com. We may earn a commission when you buy through links on our site.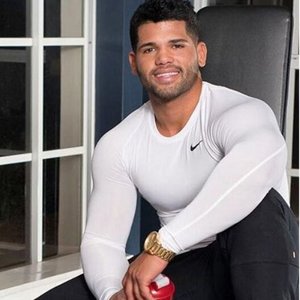 Austin is the author of loveatfirstfit.com and a personal trainer with extensive knowledge in nutrition. Austin is passionate about helping others to find a suitable healthy lifestyle and feel good about themselves. Austin's goal is to help people push their limits and achieve their physical performance.