Have you ever wondered what are the best shoes to wear with jeans? Everyone loves jeans, they are casual yet versatile. You can wear them for all sorts of occasions, be it a day in the office, a day on a hiking trail, or a night out at a bar. One problem with this casualness and versatility is that people seem to think there are no rules as far as jeans are concerned.
They can wear whatever they want with whatever jeans they have on. We have seen many men committing this cardinal sin of style repeatedly. Not to mention uncouth. In this article, we will focus on the topic of shoes and jeans pairing. We are going to show you how to choose the right shoes for the right jeans.
What Shoes Look Good with Jeans for Men?
When it comes to the casualness of the various cuts and washes of jeans, the looser the cut the more casual. Men's jeans look good with Chelsea and Chukka boots if you're going for a fashionable. High-top sneakers offer an athletic and casual look. Loafers and Wingtips can look classy and elegant.
Cut: In increasing casualness:
Slim cut
Straight cut
Relaxed cut
Loose fitting
Wash: In increasing casualness:
Black
Raw (unwashed)
Dark wash
Light wash
Acid wash, distressed jeans
Of course, when it comes to fashion, there is no such thing as an absolute rule. For the more adventurous men out there, feel free to pair up shoes and jeans from the opposite ends of the spectrum of casualness if you are gunning for that ironic and incongruous look. Just be sure you know what you are doing.
Chelsea Boots With Jeans for Guys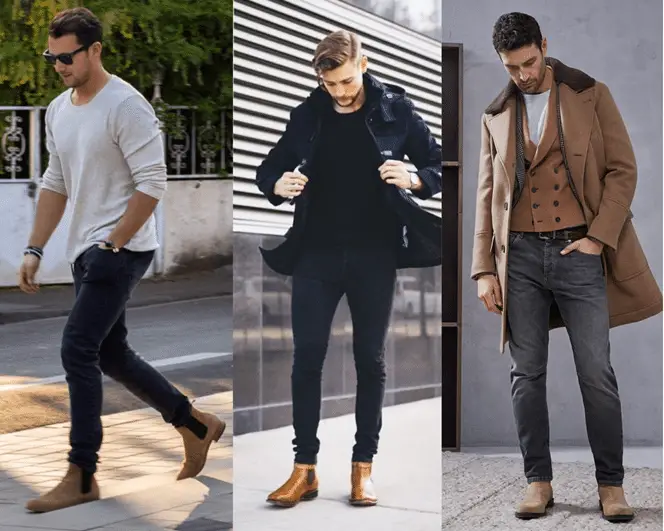 Chelsea boot is probably my best shoes to wear with jeans. They're known today as an iconic symbol of the 1960s mod scene of Swinging London. It even got its name from London's Chelsea borough, where it was worn by everyone from the Rolling Stones to Jean Shrimpton.
But the root of Chelsea boot actually went much further back than the 1960s. It was created by Queen Victoria's shoemaker J. Sparks-Hall in the 19th century. The boot was widely adopted for walking as well as horse riding.
Chelsea boot has a very sleek and streamlined form. That can give Chelsea boots a very formal look. This is not a boot you should wear with distressed torn jeans. Instead, pay homage to its Swinging Sixties heritage.
Underscore a pair of black Chelsea boots with a pair of skinny unwashed jeans in black or dark gray. Brown Chelsea boots are considerably more casual than the black ones. They would look good with medium wash whiskered jeans.
Chukka Boots With Jeans for Guys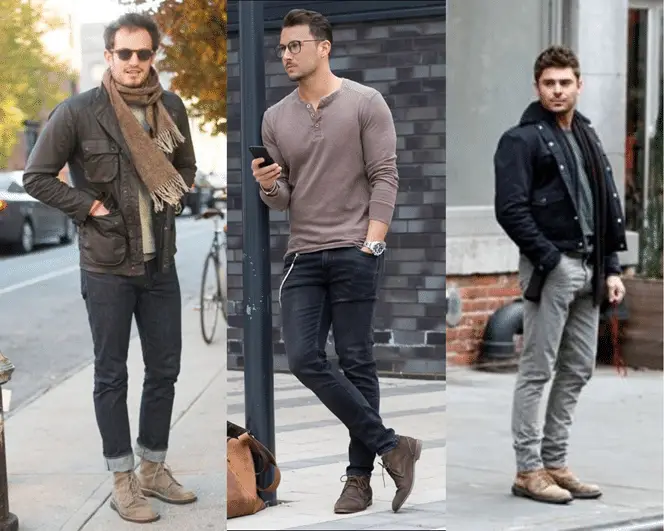 Like many of the shoes examined in this article, chukka boots can also trace their root back to Britain. In this case, their root lies in the desert boots worn by the British soldiers in the North African Campaign of World War II.
Chukka boots or desert boots are usually made from calfskin or suede, and often in sand color. They are chunkier, more rugged, and more casual than Chelsea boots.
Chukka boots are very versatile. They go well with pretty much every style of jeans, and that's why they are also considered as one of the best shoes to wear with jeans. Dark or light, skinny or relaxed, distressed or raw – it doesn't matter, they all look good with chukka boots. As with other boots, feel free to roll up your jeans to uncover your chukkas.
Wingtips With Jeans for Guys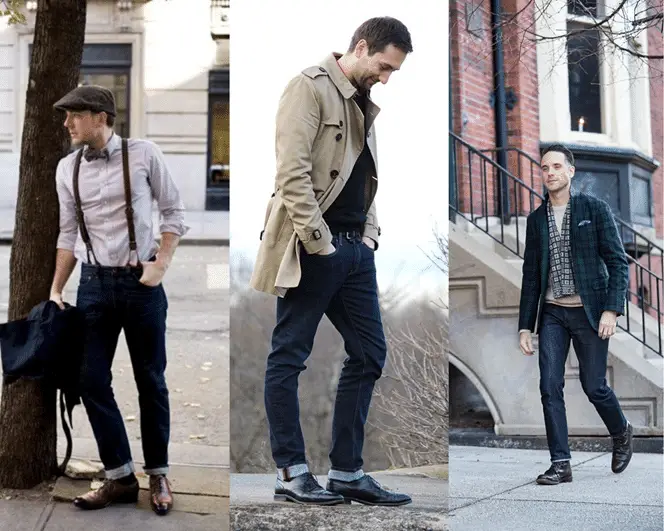 Wingtips are also known as Brogue shoes. They are considered dress shoes just like Oxford shoes. But they are quite a bit more casual than Oxfords, and that's why they are often considered as one of the best shoes to wear with jeans. They are Oxfords with a certain attitude, so to speak. Wingtips trace their origin to shoes in Ireland and Scotland made of untanned hide.
They were designed for farmers there to tread through muddy and waterlogged fields. The perforations on wingtips were originally intended to enable water to drain away from the shoes when the wearer stepped into sodden terrains.
Since they are dress shoes, wingtips are usually not the first thing that comes to people's minds when they are looking for some shoes to pair up with jeans. However, they are actually a great choice for those self-assured men who are looking to add an extra edge and verve to their outfits. Wearing wingtips with jeans is also a great way to stand out from the crowd.
Penny Loafers With Jeans for Guys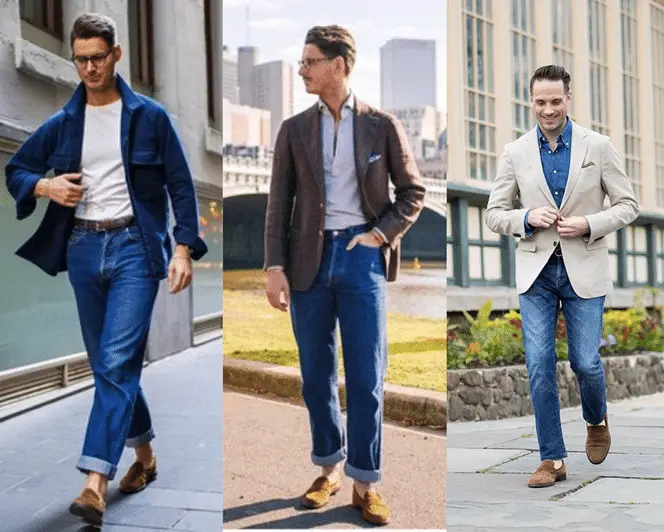 Penny loafers are one of those extremely versatile shoe styles that you can wear anywhere with anything and not look out of place. While the first loafer (the "Wildsmith Loafer") was created in London by the bespoke shoe company Wildsmith Shoes in the 19th century for the landed gentry and the royal family of Great Britain, penny loafer was actually an American invention created in the United States in the 1930s by the shoe company G. H. Bass of Wilton, Maine.
Its Maine root penny loafer has since come to symbolize the quintessential preppy and Ivy League ideal of footwear. More recently, penny loafers have also found increased popularity among the streetwear crowd.
One thing to be careful with penny loafer is that it leaves a large part of the top of your foot uncovered. As a result of that, you do not want to wear wide-leg jeans with penny loafers or it would make your feet look weird and out of balance. Instead, opt for a pair of jeans that are tapered in the legs. Penny loafers also tend to go better with jeans in darker colors: black, indigo or raw are all great choices here.
Monk Strap Shoes With Jeans for Guys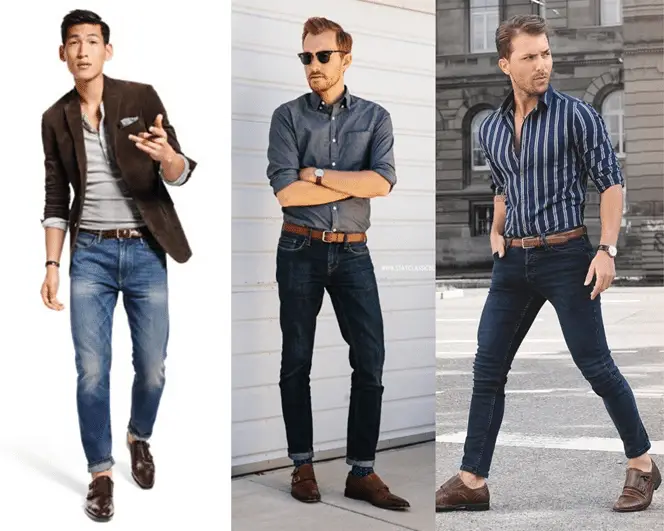 Monk strap shoe has been gaining popularity as one of the best shoes to wear with jeans. rapidly in recent years. No one really knows why. My theory is that it is because it has just the right amount of formalness – less formal than a full Oxford but more formal than a Derby or a Wingtip. It also gives you just the right amount of edge and dash.
The exact origin of monk strap shoes has already been lost to history. Legend has it that a medieval monk at a monastery in the Alps in the 15th century created the first monk strap shoes when he made a special style of sandals.
A pilgrim to the monastery visiting from England saw this new style of shoes and became so enamored that he brought a pair back home with him. This new style of shoes caught on quickly in England, and from there it spread to the rest of the Western world like wildfire.
From their ancient mythical origin, the monk strap shoes have become an integral and indispensable part of any modern gentleman's shoe wardrobe. To this day, monk strap shoes still retain a certain mystique of old-world sophistication. Build on this mystique by pairing monk strap shoes with a pair of slim cut raw black jeans or slight boot cut dark indigo jeans. Brown or suede monk shoes also go well with medium wash whiskered jeans with cuffs.
High Top Shoes With Jeans for Guys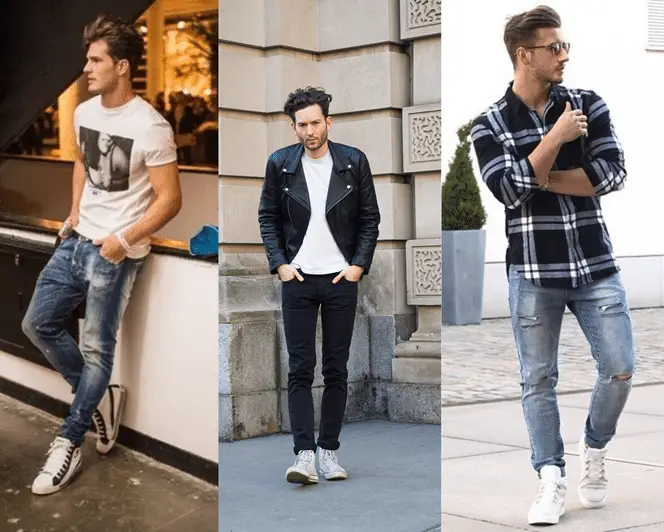 High-tops are so hot right now, and this craze has shown no sign of abating. People line up for hours around the block just to get their hands on the latest drop of high-tops. Once you have acquired your prized pair of high-tops, the question becomes what pants do you wear them with (assuming you are going to wear your high-tops instead of just keeping them around as collectibles.)
The key to wearing high-tops with jeans is to make sure they are not covered by your jeans. You can either go with cropped jeans or just roll up your regular jeans to just above the top of your sneakers. Make sure the cuffs aren't so thick that they form a fat bunch above your ankles. You can also tuck your jeans into your high-tops.
For slim fitting high-tops (such as Converse Chuck Taylor All Star) opt for a pair of slightly loose fitting jeans to counterbalance the slim silhouette of the shoes. For bulkier high-tops (such as Nike Air Max Goadome) go with a pair of slim cut jeans. In either case, light wash or dark jeans would look equally good.
Hiking Boots With Jeans for Guys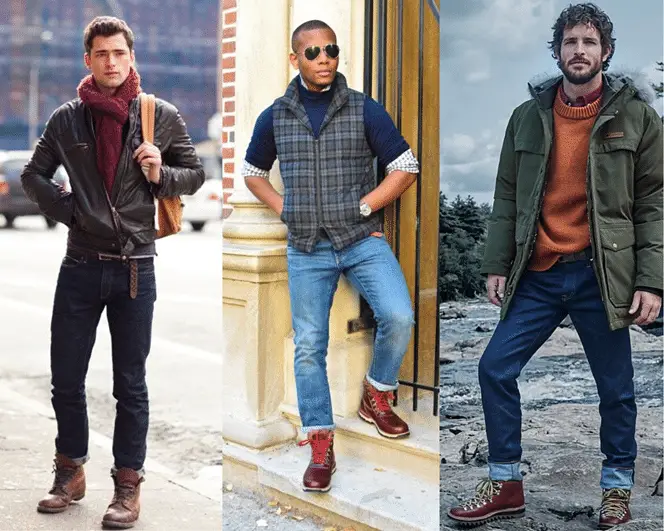 I love these chunky work boots and hiking boots. They have a weightiness and a gravitas that is usually missing in other styles of footwear. Not to mention they also serve the important function of protecting your feet against environmental hazards and rough terrains. The good news is you don't need to be a lumberjack or a blue collar hunk to adopt these boots as your uniform.
One good way to accentuate these boots is to play up their outdoor and workwear origins. That means pairing them up with raw unwashed or dark indigo denim. The texture is also important. Opt for thick, heavyweight cloth.
Avoid jeans that are too skinny or tight. Go with a pair with slightly wider legs. These boots also work well with cuffs, so feel free to roll up your jeans and show the world your boots.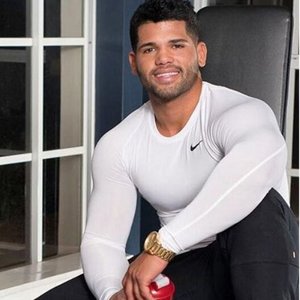 Austin is the author of loveatfirstfit.com and a personal trainer with extensive knowledge in nutrition. Austin is passionate about helping others to find a suitable healthy lifestyle and feel good about themselves. Austin's goal is to help people push their limits and achieve their physical performance.