All tennis shoes are designed to support the movements of a tennis player, but does this mean it doesn't matter which ones you choose? We looked at shoe features and customer ratings to determine the 15 best tennis shoes on the market at different price points.
Whether you need support, durability, a responsive fit, or all of the above, you will be able to find a great shoe on this list that meets all of your needs.
Tennis shoes that fall in this price range are going to give you the most in terms of high-quality materials, high-use durability, and will provide the largest number of supportive features. You might find that shoes at this price range will be slightly more weighty than less expensive shoes, but if you are an aggressive or serious tennis player, a lightweight shoe will probably not be your priority.
Instead, you will want a shoe that will last through the most hours of intense play, be the most supportive of your specific needs, and be the most responsive. Many of these shoes make up for a little extra weight with superior reinforcement and a full-sock fit that will mold to your foot and allow you to concentrate on your game instead of your shoes.
What you get for cheap tennis shoes ($50-$75)
Form-fitting is not a priority in this price range, but unless you are a high-intensity player, this should not impede your playing. You will definitely be able to find appropriate stability and support for all tennis movements for this price range, and often extra perks as well.
Tennis shoes in this price range tend to focus on a specific need, typically comfort or breathability. You can definitely find shoes that have a little bit of everything, just not at the same level as those that come in at a higher price-point. If you are a casual player, you can easily find a shoe for under $75 that will meet your needs.
What you get for average tennis shoes ($100-$150)
In this price range, tennis shoes tend to vary between being a little more form-fitting, or being a little more lightweight. With a variety of options, you can weigh your needs and find a shoe that will offer plenty of support, and still check other boxes for you.
You will still see a lot of extra reinforcement in some of these shoes, and many will provide a durable, lasting option for those who fall somewhere in between a casual and serious player.
What you get for expensive tennis shoes ($150-$200+)
Tennis shoes that cost between $150-$200 or more are considered top of the line. The brand of most of these shoes has high popularity and trust in the tennis community.
The shoes in this price range will give you the edge you're looking for in competitive tennis. If you are on budget and are a beginner or intermediate tennis player, you may want to consider cheaper ones. However, if you have the budget and are an advanced player, tennis shoes at this price range are recommended.
Related: What is the Average Price of Tennis Shoes
Adidas Solecourt Clay Shoes
With 94% of purchasers on the Adida's website recommending them, the Solecourt Clay Shoe is a very safe bet for the soft-surface player. They are reinforced in the areas that need it and have an outsole specifically designed for play on clay courts.
While they do not have a sock-fit, they are still snug and offer increased cushioning around the ankles for extra support. These shoes also offer extra stability in the midsole and chassis, as well as through a molded heel counter that helps hold your heel in place.
What We Like:
Durable outsole
Midsole Support
Molded heel counter
High-impact area reinforcement
NikeCourt Air Zoom Vapor X Knit
No products found.
Breathable knit
Full-sock fit
Reinforced in high-wear areas
Responsive cushioning
These are one of the newer nike shoes to be released, but they already have good reviews coming in. They are designed with hard courts in mind, so if you are looking for a durable shoe that has all of the high-end qualities, but you also need a lot of breathability, this could be the shoe for you.  
The Air Zoom Vapor X Knit won't skimp on stability, a snug-fit, or durability. According to reviews on the website, it does seem to be a shoe that is best suited for a narrower foot with a pronounced arch, so keep that in mind if you have a wide or flat foot.
ASICS GEL-Court FF 2 Tennis Shoes
Gel cushioning for extra shock absorption
High-impact areas have extra reinforcement
Toe guard
Full-sock fit
The main draw of the ASICS Gel-Court FF 2's is the gel cushioning system. In addition to the typical high-end offerings of durability through extra reinforcement, and a full-sock inner that allows for a snug fit, these shoes come with extra shock absorption that you don't see in many other tennis shoes.
These are great if you often play on hard surfaces like cement, need additional cushioning and support for intense play.
ASICS Court FF 2 Novak Tennis Shoes
Form-fitting upper
Responsive midsole
Toe protector
Agility aides built-in
While the Court FF 2's do not offer the same gel cushioning system as the Gel-Courts, that is not the only difference between the two. If gel cushioning is not your thing, you might find that the construction of the regular Court FF 2's is worth your while.
They make up for less shock absorption with special foam midsoles geared towards responsiveness, and they support agility via a design that increases the internal twist of the shoe. Overall they are also slightly lighter than the Gel-Courts.
Wilson Amplifeel 2.0 Tennis Shoe
4D support chassis
Inner sock construction
Designed for all court surfaces
Outer made of durable, high-density materials.
Wilson's are great shoes all around if you are playing on multiple court surfaces. The Amplifeel 2.0 is designed to play on both hard and soft courts, offering both durability and appropriate traction for both.
Like most of the shoes in this price range, these shoes have a built-in sock that will give you a snug and personal fit, but unlike the others, this shoe has a specialized chassis system that is made to allow for more supported movements such as pivoting.
Adidas SoleCourt Boost
The counterpart to the SoleCourt Clay, the SoleCourt Boosts are great if you play on hard court surfaces, or both hard and clay surfaces.
They incorporate a herringbone tread on the outsole, a snug fit and special toe-wrap material to keep your shoes from wearing out too fast.
They are also known for their molded heel counter for stability as well as a plastic chassis and a responsive midsole.
Adidas SoleCourt Parley
The big draw to any Adidas brand Parley collaboration shoes is that they are environmentally conscious without sacrificing support and durability.
While some supposed eco-friendly shoes are not durable enough to last through tough gameplay, the SoleCourt Parley is reinforced in high-wear areas and is strong enough to withstand the worst toe-dragger you know.
They are also still going to have the features you know and love from an Adidas tennis shoe, including all of their stability features like the molded heel counter and TPU chassis.
ASICS Court FF Novak
The FF Novak is focused primarily on shock absorption, but that is a big deal when you are playing tennis. No matter what court you play on, you want your shoe to take the brunt of the impact when you land each step, or after you have served the ball.
To accomplish maximum shock absorption, they combine their Flytefoam and Gel technologies. In addition to this, they have also worked in durability features so your shoe will last longer than you expect. From the toe guard to the specialized outsole, this shoe is well worth the price tag.
In this price range, tennis shoes tend to vary between being a little more form-fitting, or being a little more lightweight. With a variety of options, you can weigh your needs and find a shoe that will offer plenty of support and still check other boxes for you.
You will still see a lot of extra reinforcement in some of these shoes, and many will provide a durable, lasting option for those who fall somewhere in between a casual and serious player.
Wilson Kaos 3.0 SFT Tennis Shoe
Lateral webbings and bootie fit for midsole support and comfort
Increased arch stability
Soles made from abrasion-resistant materials
High-traction on all court surfaces
The Kaos 3.0 SFT is one of the slightly more affordable tennis shoes that still offer a full-sock fit. With this shoe, you won't have to compromise on a snug fit and still benefit from a design that promotes stability and flexibility.
This shoe was built to be used on both hard and soft court surfaces, making it ideal for someone who doesn't want to be confined to one court for the duration of their shoes. If you are someone with higher arches, you might also appreciate the extra arch stability that comes from the special chassis system.
Related: Top 10 Best Running Shoes for High Arches
Nike Court Air Zoom Zeros
Half-bootie fit
One-piece upper
Middle of the outsole reduced to lose weight
Extra protection on the toe pad
The Air Zoom Zeros were actually the first NikeCourt shoes to feature a full-length Zoom Air unit, increasing responsiveness and cushioning. While these shoes only offer a half-sleeve bootie, there are plenty of features found in this shoe that make it worth your while.
It is designed to offer a smoother heel-to-toe transition, and this shoe has also found a way to decrease weight while still offering reasonable durability, by coring out the middle of the outsole.
Nike Zoom Cage 3
Responsive cushioning
Full bootie construction
Added traction with modified herringbone pattern
External heel clip
The Zoom Cage 3 has some of the Air Zoom Zeros features, like responsive cushioning, and removing unnecessary parts of the outsole to decrease the weight. Still, it differs in some key areas. It has a full-bootie snug fit versus the half-sleeve of the Zoom Zeros and features an external heel clip to add extra security.
It includes some of the benefits of the Zoom Air unit, concentrated in the heel instead of running the full length of the shoe. Both are great shoes, and both bring something different to the table.
ASICS Solution Speed FF
Sock-liner for breathability
Gel cushioning system for shock absorption
Toe protector for durability
High-impact outsole areas reinforced
If you are looking for something especially supportive, the ASICS Solution Speed FF might be the way to go. Built with the needs of a high-impact tennis player in mind, this shoe is all about durability and shock absorption. It combines the midsole construction of the Court FF 2, and the gel cushioning system of the Gel-Court FF 2, and somehow comes in at a lower price point than either one.
This is probably because it is not built for a responsive and snug-fit like the more expensive shoes, but if you are looking for something less expensive that will still support your feet and last, it could be worth the compromise.
K-Swiss Hypercourt Express 2
Lightweight
Breathable
Comfort-focused midsole
Sock liner for a secure fit
The selling point of the Hypercourt Express 2 is its midsole design, which was built for comfort over everything else. It comes in as a bit more lightweight than the original and maintains breathability and fit.
It is also one of the only other shoes in this price range that offers a full-sock for a snug fit. Beyond that, the Hypercourt Express 2 will offer you the basics of durable upper materials, rubber outsoles, and a lace closure.
New Balance FuelCell 996v4
With a high heel-toe drop for stability (8mm), a responsive sole, and extra support in key areas, the FuelCell is a great option for the regular tennis player.
This shoe is focused on durability, with a knit upper that both stretches and supports and that was designed to last as long as possible. It also includes an outsole structure that is both grippy and strong.
FuelCell is the name of the foam that stretches the full length of the midsole and gives you the extra oomph you are looking for.
Adidas Ubersonic 3.0
Like most Adidas tennis shoes, the Ubersonic 3.0 has the coveted outsole and tough toe for durability. It has a full-length midsole for support and cushion as well, making it quite the contender.
The interesting thing about the Ubersonic 3.0, though, is its lightweight Sprintframe, that is designed to keep you feeling weightless but stable.
If you are looking for something that isn't going to weigh you down, but will also keep you feeling secure, this shoe should be on your list.
Fila Axilus 2 Energized
The Axilus 2 Energized increases arch support with a fitted sock-liner. Two areas of the shoe are molded, including the forefront cage and heel cup, providing you with extra stability.
Considered to be breathable and lightweight, this shoe works with you and not against you, increasing your agility through responsive fit and something called "energized rubber" cushioning that assists in propelling you whichever way you are trying to go.
Form-fitting is not a priority in this price range, but unless you are a high-intensity player, this should not impede your playing. You will definitely be able to find appropriate stability and support for all tennis movements for under $100, and often extra perks as well.
tennis shoes in this price range tend to focus on a specific need, typically comfort or breathability. You can definitely find shoes that have a little bit of everything, just not at the same level as those that come in at a higher price-point. If you are a casual player, you can easily find a shoe for under $100 that will meet your needs.
Nike Court Lite 2
Padded collar and tongue for comfort
Foam Midsole
Great outsole traction
Durable uppers
The Court Lite 2 is designed for play on hard courts and is geared toward a new player. It focuses on supporting common tennis movements through outsole pattern and great traction.
It is a durable and comfortable option, with padding on the tongue and around the ankle and heel, a supportive midsole foam material, and long-lasting uppers. Combining synthetic and leather upper materials helps to create a more lightweight shoe as well.
ASICS Gel Dedicate 6
Breathable upper
Midsole shock absorption
Gel forefront for comfort
Mid-foot stability system
The Gel Dedicate 6 is the supportive winner of this price point. It increases shock absorption with a specially designed midsole, focuses the Gel technology to the front of the shoe for cushioning, and aides stability with a trademarked molded component that is situated under the mid-foot area.
This shoe is one of the only ones at this price point that includes a sock liner for a more snug fit but has made it removable if sock liners aren't comfortable or necessary for you at this time.
Adidas CourtJam Bounce
Lightweight
Abrasion-resistant outsoles
Mid-foot support
Durable outsole
If you are looking for a balance between durability and lightweight, the Court Jam Bounces might be the best of both worlds. They offer important mid-foot support with the namesake Bounce cushioning, but overall are focused on the material.
They offer durable, abrasion-resistant outsoles for a longer-lasting shoe, and reinforcement via a Thermal Plastic Unit in the mesh upper to maintain breathability without sacrificing durability. Overall, a good wallet-friendly option for the casual player who wants to get the most out of their shoe.  
Prince Advantage Lit
Breathable mesh panels and upper
Insole shock absorption
Arch stability
Rubber extends to the sidewall
Specifically designed for the serve and volley focused player, the Advantage Lite by Prince boasts lots of breathability. These shoes not only have synthetic uppers but have included mesh panels as well, for a very airy shoe.
They have arch stability and insole shock absorption that increase comfort and provide structure to the shoe and have the added benefit of extra rubber extending along the sidewall to help make the shoes durable for lots of playtime. Overall, though, the draw to the Advantage Lite is its over-the-top breathability.
Adidas GameCourt
Comfortable, cushioned midsole
Lightweight-feel
Great for serve and volley players – forefront shield
Breathable mesh upper
With over 100 reviews and close to a 90% recommendation rating on the Adidas website, the GameCourt is an inexpensive but still high-quality tennis shoe option.
They combine reinforcements in some areas, with abrasion-resistant materials in others, and come with the signature durable Adiwear outsole. They also boast a midsole designed for both cushion and comfort, a lightweight feel, and breathability through a mesh upper.
Highly rated in the areas of both comfort and quality, this shoe is a great budget option for the casual player.
New Balance 696v4
With the same durable outsole as the FuelCell 996v4, you should get a lot of wear for your money with this tennis shoe. Beyond that, there are not of extra bells and whistles to the 696v4, but sometimes simple is best.
With great reviews on their website citing comfort, great traction, and stability to boot, it is definitely worth a look.
Some reviewers also mention they are lightweight, so if you are looking to get some speed-enhancing lightness with the addition of a durable outsole, look no further.
K-Swiss Bigshot Light 3
Developed to perform equally on both hard courts and clay courts, the BigShot Light 3 gets high marks for stability and comfort.
It utilizes EVA foam, (known both for its moldable properties, comfortable feel and stable features) not only in the midsole but also as a sock-liner.
If this doesn't sound like it would feel nice, just check out the reviews – People are raving about the feel of the shoe, even those who play long matches or people who have preexisting foot problems.
Adidas Adizero Club
With great lateral movement support, the Adizero Club Zero boasts a sock-like feel similar to the sock-liners of more pricey tennis shoe options.
They are considered to be lightweight but still have durable features such as the specialized rubber outsole that most Adidas sport. Supportive and responsive EVA foam midsoles are also a great feature of this shoe.
Best of all, they are a crowd favorite, with purchasers highly rating them on comfort and quality.
What to Look for In Tennis Shoes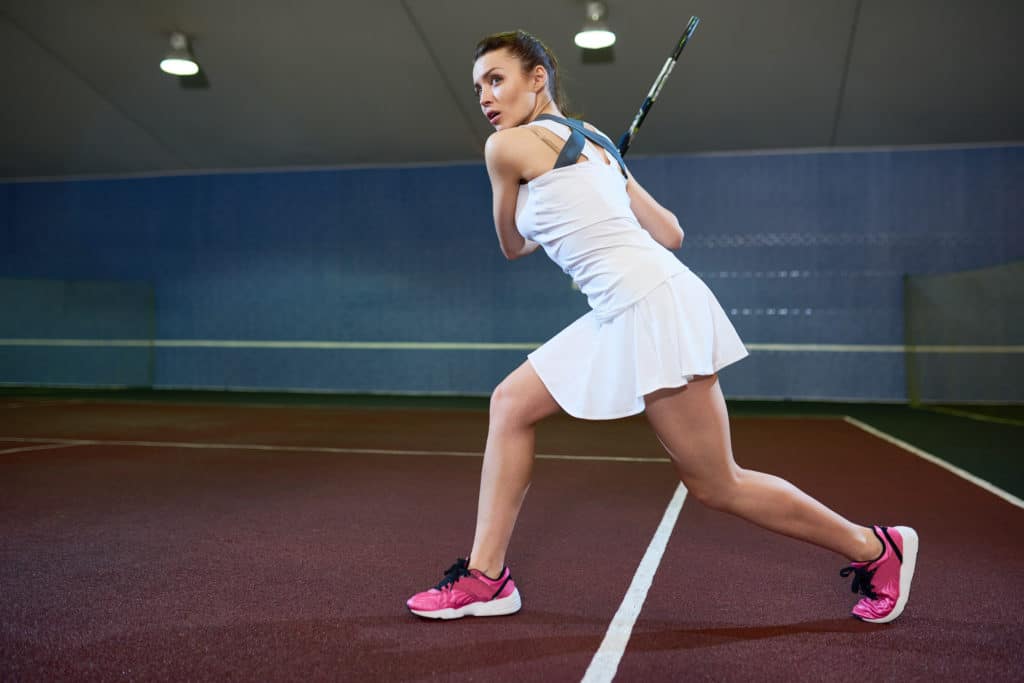 The majority of shoes are made up of three main components with extra supports and add-ons as needed. These three components are the upper, the midsole, and the outsole. We're going to cover more on each standard component below.
Know your Foot Type
Everyone has a different foot type, although most people fall into one of three categories to varying degrees. These categories are: pronated, supinated, and neutral.
Pronated feet typically wear more on the inside of the shoe. If your soles are consistently worn on the inner parts of your feet, then you'll want to look for a tennis shoe that has support for pronation.
Supinated feet will usually wear the most around the outside of the heel. If you have a supinated stance, then you're going to need a shoe that has an extremely durable outsole that won't wear down as quickly.
Neutral feet typically wear down shoes the most evenly. If you have consistently even wear on all of your shoes, then you can wear almost any type of tennis shoe. Just make sure that the shoe offers plenty of lateral support and good shock-absorption.
Wide and Narrow Tennis Shoes
Most professional shoe manufacturers these days offer a range of shoe widths for each model they produce. The normal size for a men's shoes is "D." "D" is the standard size for men. They also come in "2E" which is wide, and "4E" which is extra wide.
Women's shoe sizes usually come in size "B." "B" is the standard size for women. They also come in "D" which is wide, and "2A" which is narrow. Essentially, the standard (or medium) size for "D" for men and "B" for women. It is important to note whether or not you have wide or narrow feet. Otherwise, a standard shoe is either going to be way too tight or way too loose for you.
Check the Fit in your Tennis Shoes
Once you've picked out your shoes, you need to make sure that they fit right. If you get the wrong fit, all of the features and benefits we've just talked about will be pointless. In order to get the perfect fit, you need to know more about yourself. You'll want to learn your foot shape, length, and overall size. You will also need to know whether or not the shoe you're looking for comes in different widths. Here are some tips to help you while you're testing out shoes at the store.
The shoes should fit comfortably on both feet (it may be too snug on one foot if one of your feet is bigger).
You should have a half an inch of space between your longest toe and the tip of the shoe's toe cap.
Your heel and midfoot should be snugly fitted inside the shoe. Remember, they should not feel uncomfortably tight inside the shoe. They only need to be snug enough to keep them from moving.
Do not force your foot inside of a shoe. If you are not easily able to get the shoe on, it will probably cause you foot, knee, and even back pain to wear the shoe around.
If you have a shoe that should fit you but doesn't, try adjusting the lacing pattern to see if that helps. Sometimes a different pattern can get rid of uncomfortable pressure points on your feet.
Key Attributes in Tennis Shoes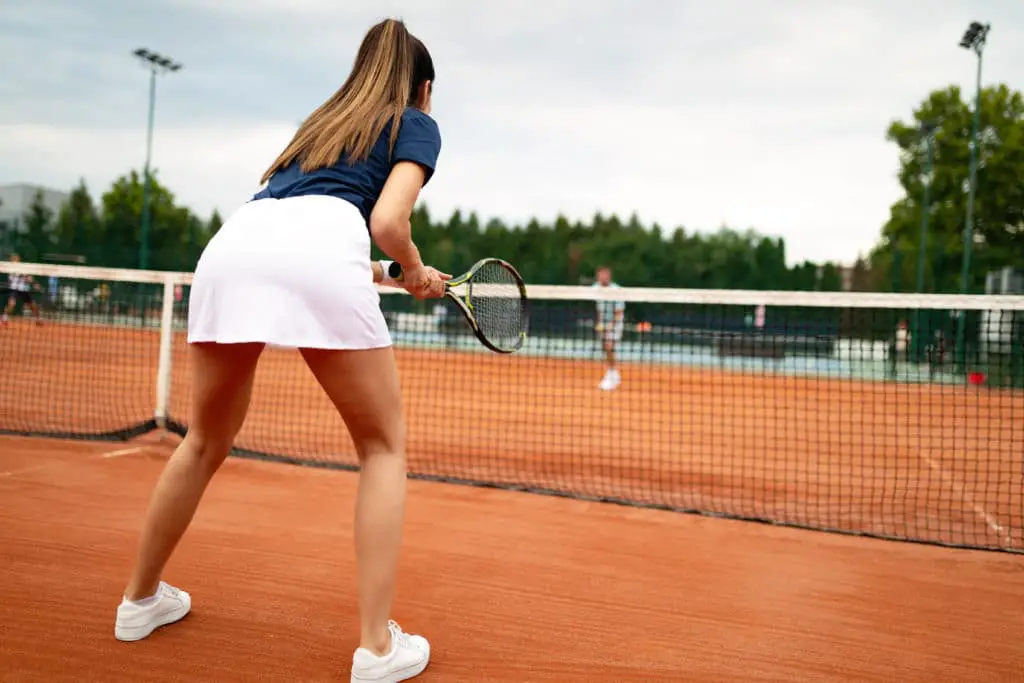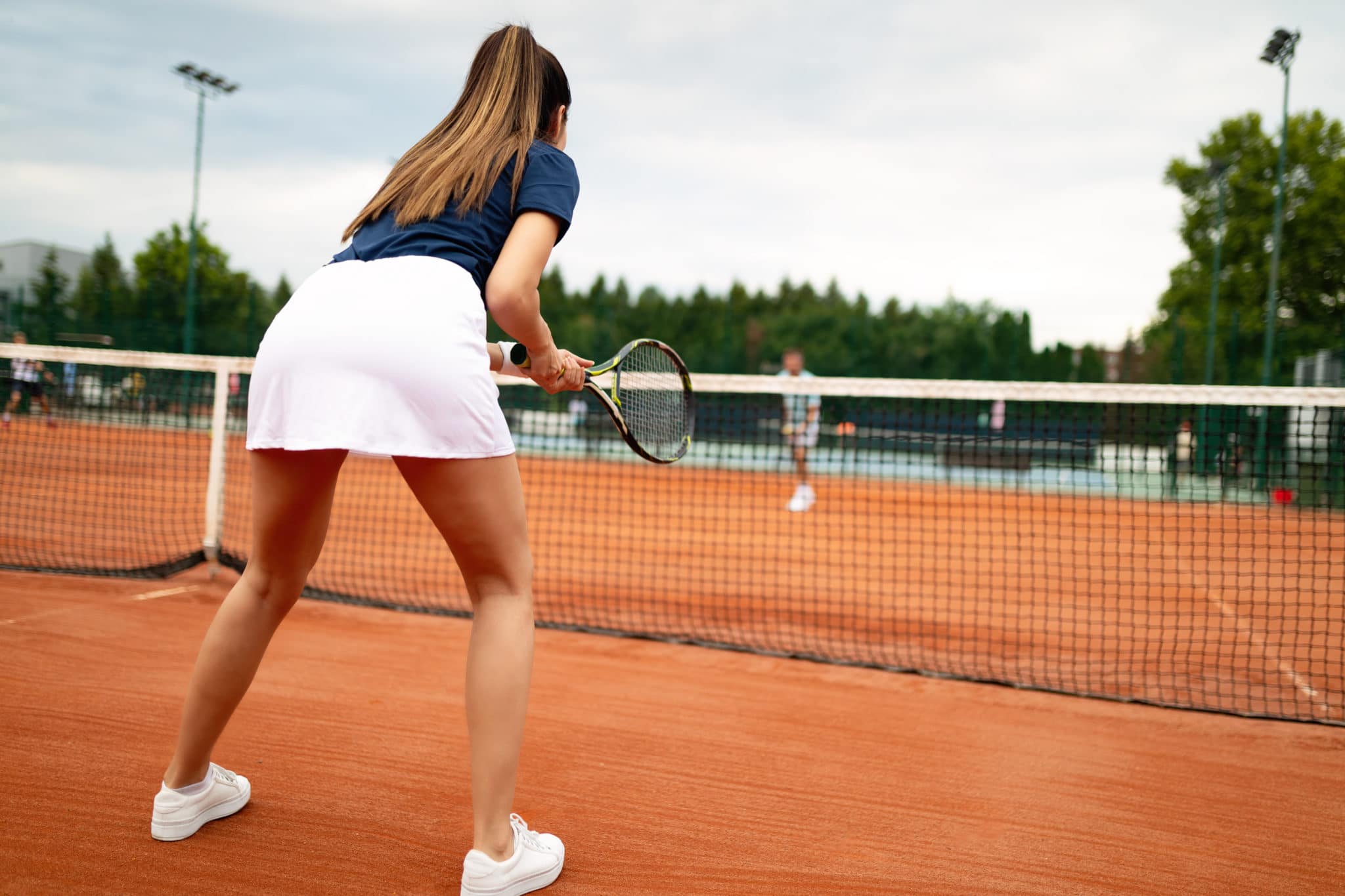 A good pair of tennis shoes can make your break your game. You have to perform all kinds of quick, pivoting motions while on the court. You also need to be able to jump, lunge, and run easily and comfortably. Your tennis shoes need to be able to support your movements no matter which way you go.
A good pair of shoes should have heel support, shock-absorption, and excellent traction to avoid slipping. They should also feature a quality construction that will allow you to get your money's worth out them. The last thing you want is to buy a brand new pair of tennis shoes that wears down after just a handful of matches.
While it's easy to list all of the features, it is also important to really know what each of them means. Let's dive deeper in and take a look at what each feature is and how it should work to help improve your tennis shoe experience.
Related: What you Need to Know Before Starting Tennis Lessons
Stability in Tennis Shoes
In Tennis, there are tons of side-to-side movements. It is so important to have a shoe that will keep your feet and ankles safe when you're making those sharp, pivoting movements to chase the ball. A good pair of tennis shoes will use plastic and synthetic materials to support the uppers of the shoe. They should also have a good set of outriggers on the sides to prevent your feet from rolling in or outward.
The main purpose of the plastic-supported uppers is to help keep your foot locked into place. If your feet are allowed to bounce up and down in your shoe, then they aren't getting the full benefit of the support system offered by the shoe. For a shoe to be stable, it means that your foot must be stable inside of it.
Cushioning and Shock-Absorption in Tennis Shoes
Tennis involves being light on the balls of your feet. This can mean sudden stops and starts on the both front and back of your foot. A good tennis shoe will need cushioning on the heel and the ball of your feet to help absorb sudden impacts.
Remember that shock will travel from one end of your foot to the other. This means that a good shoe will also need shock-absorption in the midsole to prevent any shocks and bumps to be transferred into your arches. This will help to keep your feet safe from injuries as you play.
Heel Supports in Tennis Shoes
Tennis shoes should keep your heel firmly planted to the bottom of the shoe for support. If your heel can roll and twist inside the shoe, then you are more prone to injuries. Good tennis shoes will usually have a padded collar around the ankle to prevent the foot from turning inside the shoe. An added benefit of this is that it also helps prevent ankle injuries, not just heel injuries.
Good heel support is very beneficial to help prevent chronic pains such as Plantar Fasciitis. This is usually caused by repeated shock and strain the ligament that runs across the bottom of your foot.
Durability in Tennis Shoes
As most tennis players know, the sport of tennis can be very hard on a pair of shoes. Most tennis courts are a very hard and abrasive surface. This serves to give players a good grip, but it can wreak havoc on the soles of your shoes. Good tennis shoes are abrasion-resistant. They typically have solid toe caps made out of rubber to prevent them from wearing down. They also usually have very sturdy outsoles that can withstand the constant scraping on the court.
Some tennis shoe manufacturers (especially the ones who supply professionals) offer a warranty on their outsoles that guarantee a replacement for you if your shoes wear out or get damaged within six months. This guarantee is a good sign, as it means the shoes are built to take a beating.
Weight and Feel in Tennis Shoes
Good tennis shoes should feel light, not bulky. There are many synthetic materials on the market today that can replace older, bulkier materials. In general, this leads to a lighter, more comfortable shoe. Tennis shoes also feature breathable uppers to keep you cool while you play.
Tennis shoes are generally broken into two types, speed shoes and stability shoes. Speed shoes are as lightweight and minimalist as possible to help give you that extra little bit of quickness and agility on the court. Stability tennis shoes focus on keeping your feet comfortable and safe while you play. They offer an excellent base to help prevent injuries.
Upper
The upper of a shoe is the covering on the top of your foot. It usually features laces that attach the tongue to the collar to secure your foot. Most tennis shoes feature a lightweight synthetic or mesh upper that promotes breathability.
Lacing
A good lacing system is very important. Tennis shoes have lacing systems that are designed to stay snug under pressure. They can be easily adjusted to get your ideal fit. If your laces were to come loose during a match, it could throw off your whole game. This is why a good lacing setup is so important.
Toe caps
Most tennis shoes feature a very durable toe cap. This is the rubber or reinforced cap that is placed on the end of your shoes to cover your toes. Tennis toe caps are generally very sturdy to keep them from falling apart too soon. It is very common for tennis players to drag their toes across the court, so these durable caps are very important.
Midsole cushion
Having good cushioning in the midsole helps immensely with a shoe's shock-absorption properties. Shock from the heel or the ball of your foot is transferred through the midsole, so it needs to have a solid amount of cushioning.
Midsole support
The midsole of your foot requires a lot of support to keep the arch comfortable during strenuous activity. Most tennis shoes utilize something called a midfoot shank which runs under the arch of the foot. It helps to keep the arch stabilized and supported. Some shoes feature more high-priced quality materials that will add even more support.
Outsole
The outsole is what connects your feet to the ground. Tennis shoe outsoles are typically specialized for the style of court they are to be used one. Clay court shoes have deeper treads, where hard court shoes have less depth.
Vamp
The vamp is the front section of the shoe that folds when you stand on the balls of your feet. It needs to be very flexible and soft. Sometimes vamps are also perforated for more flexibility and breathability.
Heel Counters
These are inserts that go into the back side of the shoe to keep the heel from twisting. This adds extra stability and support to your heel. These are typically made of plastic or composite.
Outriggers
Outriggers are an add-on to the outsole. They just out from the outside of the forefoot to give the player a more stable base to push off from.
Related: Difference Between Sneakers Tennis Shoes
The Bottom Line
Whether you are looking for extra shock absorption, the most durable shoe in your price range, or the versatility of a shoe that is designed for all court surfaces, there is truly something for every need at every price point.
The most important factor in any athletic shoe is the safety that comes from having the correct support, and you can rest easy knowing that all of these shoes are designed to support you fully on the court.
Tennis Shoes for Different Surfaces
Whether you're shopping for men's or women's tennis shoes, there are a lot of different factors to consider. You'll need to know your foot shape and size, how you play, how you run, and what kind of materials you want to have. You are also going to want to know the typical playing surface that you'll be using. These factors will help you to decide on the perfect shoe for you.
While it may be surprising, there are actually a lot of different types of tennis courts. Professional shoe manufacturers make shoes that are specialized to each type of court. There are also a lot of tennis shoes on the market that are built with a one-size-fits-all mentality. These shoes feature non-marking outsoles that are well-suited to any type of court. Most entry-level tennis players usually prefer this kind of shoe.
What is Hard Court in Tennis
Rough and rigid surface
Acrylic coating for better bounciness
They can vary in speed
What Tennis Shoes to Wear for Hard Courts:
Stability for side-to-side movements
Durable uppers
Shock-absorbing cushioning in the heel and midfoot
Durable tread with a non-marking outsole
What is Clay Court in Tennis
Made of hard bricks, stone, or shale
Higher, slower bounces make it harder for a serve-dominant player
A better court for baseline players
What Tennis Shoes to Wear for Clay Court:
Dirt-avoiding tread pattern (also known as herringbone)
Tight-fitting, leather, mesh, or synthetic upper to keep debris out
Extra lateral support to prevent sliding on slippery clay
Non-marking outsoles with added tracking to prevent slipping
What is Tennis Grass Court
Hard packed dirt and grass
The fastest variety of tennis court
Better for serve-and-volley style players
Less impact for players
Low and fast bounces are more common
What Tennis Shoes to Wear for Grass Court:
Built to amplify the bodies' natural cushioning
Non-marking rubber outsoles for protection
Thick lugs in the soles to prevent slipping on wet grass
Lower soles keep the player closer to the ground
What is Carpet Tennis Court
Almost as fast as a grass court
Made with a textile-covered rubber nylon matting over concrete
Low and fast bounces
What Tennis Shoes to Wear for Carpet Court
Lightweight materials to help the player achieve more speed
Lots of lateral support to prevent injury from quick starts and stops
Flatter soles with less tread to allow for even more speed on a carpet court
Also Read: How Much Do Tennis Lessons Cost?
Loveatfirstfit.com is a participant in the Amazon Services LLC Associates Program, an affiliate advertising program designed to provide a means for sites to earn advertising fees by advertising and linking to Amazon.com. We may earn a commission when you buy through links on our site.
Last update on 2023-02-13 / Affiliate links / Images from Amazon Product Advertising API