Cross training shoes aren't specialized for just one activity. They are ideal for the athlete that wants to do a full range of exercises. As their name implies, these shoes are multi-purpose training shoes that can be used in running, sports, calisthenics, yoga, and more:
If you want to use running shoes at the gym, they are best used for treadmills. You can also use running shoes at the gym if you are using machines or cables, but if you lift heavy weights or cardio that requires versatile movements like dance classes, it is not worth the risk and you should consider investing in training shoes.
HIIT Classes – Cross training shoes can be used for any indoor and outdoor classes.
Bodyweight Training/Strength Training – These shoes offer plenty of flexibility and breathability for any movements you need to do.
Short Interval Runs – For longer runs, you may want a shoe with more cushioning. Cross training shoes are ok for a short run, but if you're going for long runs, we recommend you to invest in a pair of running shoes because they do make a big difference.
Weight Lifting – As we mentioned before, cross training shoes are designed to avoid compressing under heavy loads.
Companies that make the best cross training shoes are brands like New Balance and Reebok. Although not as mainstream, NOBULL is also a good brand and highly popular cross training shoes brand.
Related: Top 8 Best Running Shoe Brands that are Trusted by the Public
The Ryka Women's Influence cross training shoes are breathable and lightweight, yet offer a great deal of support and come in a wide variety of colors and style.
Two of the best features of this shoe are the dual-density foam midsole that cushions every impact and the traction outsole that includes a footprint design and pivot points to aid movement.
This shoe is best suited for those who will not only be running, but doing activities that requires pivoting, such as dance aerobics or basketball, as this particular model of shoe is much more stable and prevents tripping.
These shoes have helped users to keep their balance, even with HIIT (high-intensity interval training) movements such as twists or curtsy lunges.
Others have mentioned that the cushioning is well-dispersed throughout the shoe, from the heel to the toes, to minimize impact and ease the symptoms of conditions such as plantar fasciitis.
The design of the Reebok Women's HIIT Training Shoe is a bit more understated than the Ryka shoes, as they come in more neutral shades of black, white, grey and a light pink.
The best aspect of these shoes is the mixed grip pattern on the bottom of the shoe that provides traction in all directions for even the most explosive HIIT movement.
These shoes are best suited for people who use HIIT as their primary form of exercise, as they were specifically designed for that activity. HIIT includes many lateral movements that are not needed if you are completing a normal run outside.
Typical running shoes might not be able to support and stabilize you for a HIIT workout the way that HIIT training shoes can.
That these shoes are exceedingly comfortable, even with conditions such as wide feet, bunions, previous injuries, over- or underpronation (movement of your foot when you run) and high arches. Others said that the shoes have exactly the right amount of cushioning and a high level of traction.
Related: Best Running Shoes for High Arches
The Reebok Women's Nano X shoes are colorful, breathable and highly stable. They are the recipient of the 2020 Shape Sneaker Awards.
The best part about the Reebok Women's Nano X shoes is their versatility—they are comfortable and flexible during all of the shuffling, running, jumping and explosive movements involved in a cross-fit or HIIT workout.
These shoes are best suited for people who need a versatile and stable shoe for activities such as climbing and HIIT workouts. They might not be lightweight enough to make the best running shoe.
This shoes fit well and that the toe box has plenty of room for wide feet. However, some people mentioned that the shoes are a bit rigid and could use a little more cushioning. Others said the shoes are a bit heavier than other cross training shoes, but quite good for balance.
The ALTRA Women's Solstice XT have an understated style, coming in neutral shades of black, white and an earthy tone of red. These shoes are designed specifically to fit a woman's foot, instead of being adapted from a men's shoe, and they are lightweight, breathable and durable.
One of the best features of this particular shoe is that it is a minimalist shoe designed to encourage proper running form by keeping your forefoot and heel the same distance from the ground.
This enables your toes to spread naturally as you run to promote stability and comfort, especially for inclines and downhill portions.
This shoe is best suited for those who frequently like to add in runs and sprints to supplement their cross-fit or HIIT workouts during the week, although they are not the most ideal choice for long runs. Grooves in the midsole help the foot to flex and improve performance and speed.
Many people recommended the versatility of these shoes and mentioned that the toe box is roomy enough for wide feet, especially if you order half a size up from your normal size. Others said that they are highly comfortable and great for painful foot conditions such as plantar fasciitis.
The ASICS Women's Gel-Venture 7 shoes are available in quite a wide range of styles and colors, making it a great choice for those who like plenty of options to choose from. These shoes contain a moisture management sockliner to ensure that feet stay cool and dry.
One of the best aspects of these shoes is the high level of support and the structure that helps your feet stay in their natural line of motion, increasing the efficiency of your stride.
This shoe is best suited for people who enjoy running in the outdoors on rougher terrain, as they are designed specifically for trail running.
These shoes include GEL technology and an EVA foam midsole that conforms to the shape of your foot to offer maximum shock absorption and cushioning while increasing rebound, providing an energetic feeling no matter how far you run.
These shoes are comfortable even on long runs and help with conditions such as underpronation and plantar fasciitis. Others said that they are easy to clean if they get dirty.
These Nike Women's Air Max Bella Trainer 2 shoes are every bit as stylish as Nike shoes usually are, available in shades such as black, pink, gray and maroon. They are also constructed to be easy and quick to put on and take off.
The best aspect of these shoes is the high level of comfort and traction that they provide. They also keep your feet cool and look stylish.
This shoe is best suited for those who enjoy short runs and exercise classes, as they are breathable and provide multidirectional traction and midfoot lockdown for stabilization.
People from gym community expressed how comfortable these shoes are for daily use and how well they fit, especially if you order half a size up.Other people valued the stylish look of the shoe and the ability to wear them for many different occasions.
The Reebok Women's CROSSFIT Nano 8.0 Flexweave shoes have a casual, yet stylish appearance and come in an extremely large variety of shades from basic colors such as black and white to icy blue and burnt red.
The shoes are stretchy and supportive, providing flexibility and stability. They also offer a high level of cushioning and comfort.
The best feature of this shoe is that it is durable enough for high-intensity workouts and provides a great deal of ankle mobility.
This shoe is best suited for those who enjoy weightlifting and HIIT workouts.
These shoes are much better for stability workouts than for long-distance running, as they are not light and streamlined and built for running. Many people mentioned that they fit well and prevent slipping.
Even people with high arches recommended these shoes for cross training. However, some people with a wide flat foot said they were not the most comfortable for them.
The New Balance Women's CUSH+ 715 V4 shoes are only available in a few styles, but there are still several colors to choose from, including black, gray, light blue and light pink. The flex grooves in the forefoot allow your feet to move naturally and freely.
The best aspect of the CUSH+ shoes are that they include a memory sole comfort insert and CUSH+ technology to provide the maximum amount of cushioning. They are also highly breathable.
These shoes are best suited for people who would like a comfortable shoe to walk around in as well as to exercise in. They also come in wide sizes for those whose feet are not especially narrow.
Many user says that these shoes are comfortable even with conditions such as arthritis or overpronation and that they are lightweight, yet supportive. Many people appreciated the stylish appearance of the shoes and the compliments they receive when they wear them.
The NOBULL women's training shoes are a simple, yet aesthically pleasing line of trainers and they come in mostly neutral colors such as gray, black, white, navy and hunter green, with the exception of a shade of burnt orange. These shoes would complement any outfit for casual use as well as exercise.
What makes these shoes great is the high level of versatility—they are designed to be worn indoors or outdoors with the perfect amount of traction, support and flexibility. They are also quite durable and breathable, able to withstand running, climbing, sliding and lifting.
This shoe is best suited for those who need a versatile shoe for many different kinds of workouts, from weight lifting to rope climbing. They are ideal for HIIT classes.
People appreciated the wide and roomy toe box of these shoes, but mentioned that they are not the best shoes for long runs.
These shoes are available in almost every shade of black, gray and white imaginable, with small color highlights on certain models. They are breathable and durable, using compression molded foam in the midsole to lock in the midfoot and provide a good level of stability.
The best aspect of these shoes is that they are comfortable for long periods of time, even if you are a nurse who is on your feet for more than 12 hours a day.
This shoe is best suited for people with neutral pronation when they are running, who need a blend of cushioning and flexibility. They are ideal for weight lifting, short runs or HIIT workouts.
These shoes help alleviate knee and ankle pain and are perfect for those who have wide feet. However, some people mentioned they are a bit heavier than other shoes.
The Nike Women's Flex Trainer 9 shoes are available in a stylish array of colors, from white, gray and black to pink and red. They are designed to provide a high amount of traction, support and flexibility.
The best feature of these shoes is that they are exceedingly lightweight, as the foam midsole is durable and versatile enough to also act as the outsole. They also include rubber in areas that are prone to wearing out, which increases their durability.
These shoes are best suited for people who enjoy low-impact workouts such as weightlifting and circuit training.
These shoes could use a bit more arch support and are not ideal for long runs or high impact. Many people said that the toe box is roomy and comfortable, but that the tongue area sometimes rubs the top of the foot.
The PUMA Women's Tazon 6 sneakers come in basic shades such as black, white and gray. They are heavy-duty shoes, but there are pockets of mesh for breathability.
The best feature of these shoes is their sturdiness and durability, with a rubber outsole for grip. They fit snugly across the midfoot with a cushioned midsole to lend maximum stability and shock absorption to your runs.
These shoes are best suited for those who enjoy working out the majority of their time. They are also great for people who have to work on their feet for long periods of time because the supportiveness alleviates foot and back pain.
These shoes are an ideal blend of support and cushioning, making them perfect for movements such as turning and jumping. However, some people mentioned that their shoes fell apart somewhat after a few months, especially the tongue and heel area.
Although most of the Under Armour Women's HOVR Rise shoes come in neutral colors such as black, white and gray, there are also two dusky pink and purple shades.
The HOVR Rise shoes also offer a mesh upper for breathability and a dual-external heel counter and rubber outsole for more stability during multidirectional movements.
The best aspect of these shoes is that they are specifically designed to provide a "zero gravity feel" by eliminating impact and returning energy after each step through foam technology.
These shoes are best suited for runners with neutral pronation who need cushioning without an overly high drop. They are also ideal for cross-fit workouts and explosive movements such as burpees and box jumps.
Users appreciated the style and lightweight feel of the shoe. Others mentioned that they are ideal for flat, wide feet with conditions such as bunions and provide a good level of stability.
The adidas Crazyflight shoes have an understated, but high level of style, with the primary shoe color being white, but blue or red accents on the mesh parts and sole of the shoe. They provide a breathable and lightweight feel.
What makes these shoes great is the rubber outsole that offers a supreme grip and level of traction for pivots, jumping and turns while playing sports. They are versatile for activities that require a great deal of lateral movement.
They are best suited for athletes who play sports such as volleyball, as they are cushioned and provide an ample amount of energy return to your feet, while keeping them stable and letting them breathe.
Users liked the comfort, durability and breathability of these shoes. Others mentioned that the shoes fit very well, although some said that the shoe was a little tight on the heel of their foot.
The adidas Cloudfoam QT Racer shoes are perfect for those who have trouble making up their mind, as these shoes only come in one color: gray. However, the 100 percent knit textile top gives the shoe a stylish look, and it comes with the classic adidas stripes on the sides.
The best feature of these shoes is the memory foam cushioning that makes every step feel cloudlike.
These shoes are best suited for people who will be going for short walks on even terrain or wearing shoes around the house.
Several reviews show that there could be a bit more arch support in these shoes and that they might not be suitable for those with high arches. The memory foam is comfortable to step on but does not provide much support.
Some people mentioned receiving defective or fake adidas shoes when they tried to order the Cloudfoam QT Racer shoes, as they appeared to be cheaply made and quickly fell apart.
Others said that this particular model of shoes might be better for wide feet as opposed to narrow feet.
When to Replace Them
The typical lifespan of most shoes is about 100 hours of high-intensity training. You may find that you get more time out of them, depending on how hard you exercise and what surfaces you exercise on.
This will all depend on how well the shoe is constructed, as well as how often you wear the shoe outside of your training sessions.
Some shoes, such as CrossFit and weightlifting shoes may last longer due to their extra padding and bracing inside the shoes. The more structure your shoes have, the less likely they are to break down during use.
Check out the bottom of your shoe. If the middle is starting to heavily crease, and the heel and forefoot are thinning out, then it may be time to buy a replacement pair.
Try squeezing the sole of the shoe. The sole is designed to compress on impact, so if you find that your shoe is barely giving when you squeeze it, the sole is over-compressed. This is another indicator that it is time for a replacement.
Here are some more things to keep track of if you are wondering whether or not to replace your shoes.
1. They are over 6-12+ months old or you've been using them frequently
Your training shoes life span depends on what type of user you are. If you work out three days a week, your shoes won't wear out as quickly as someone who works out five days a week. If you use them for jogging or running, it will wear out so much faster than regular gym workouts. The level of usage can be categorized like this:
Heavy users: approximately 150-200 miles – consider shopping in 6 months
Average users: approximately 300-500 miles – consider shopping in 6-12 months
Light users: approximately 1000 miles or more – consider shopping in 12-24 months
2. Your feet, knees, or joints hurt after a workout.
If you start to feel pain from using your shoes, you'll want to get a new pair fast. These issues are only going to get worse the longer you wear your shoes.
As your shoes wear down, they start to provide less shock absorption. This puts more strain on your feet and knees. It can also translate to the hips and all the joints and ligaments through your legs. It can even lead to lower back issues if left unchecked!
3. You're starting to get blisters from them.
Blisters are a bad sign. If you've been getting them right from the start, then you probably bought the wrong pair of shoes. However, if you've never gotten them before, it means that your shoes have worn out and need replacing.
These factors are completely dependent on intensity and workout style. You may find that you've had your shoes much longer and they still work fine.
Shoes are always subjective. A shoe that works great for one person may be terrible for you. Find the shoe that fits your foot and feels great when you move. It's always a good idea to visit your local shoe store and try on as many pairs as you can to find your best fit.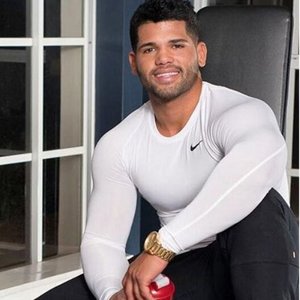 Austin is the author of loveatfirstfit.com and a personal trainer with extensive knowledge in nutrition. Austin is passionate about helping others to find a suitable healthy lifestyle and feel good about themselves. Austin's goal is to help people push their limits and achieve their physical performance.