Whether you are a casual or advanced runner, you are going to be putting a lot of specific wear and tear into your running shoes. Running is hard on shoes no matter what surface you run on or how many miles you put on your shoes each week, and you want to make sure you choose a shoe that will not only stand up to your workout but also fully support you as you do it.
There are also many running shoe brands to choose from, and it can be hard to decipher not only which companies are making quality products, but also which company makes the right product for you. Nike is a popular brand of shoes that most people have heard of, but does that mean they are making a good product?
When you take into account high-quality, environmentally friendly materials, advanced cushioning and response systems, and overall durability, Nike does make good running shoes, but not every Nike running shoe is going to fit your needs.
There are many things that come together to make a good running shoe. From support to durability to things that are personal to each individual like width or over/under pronating support, a lot of factors need to be looked at to determine if Nike makes a good shoe for your needs.
What Support do you Need in a Running Shoe?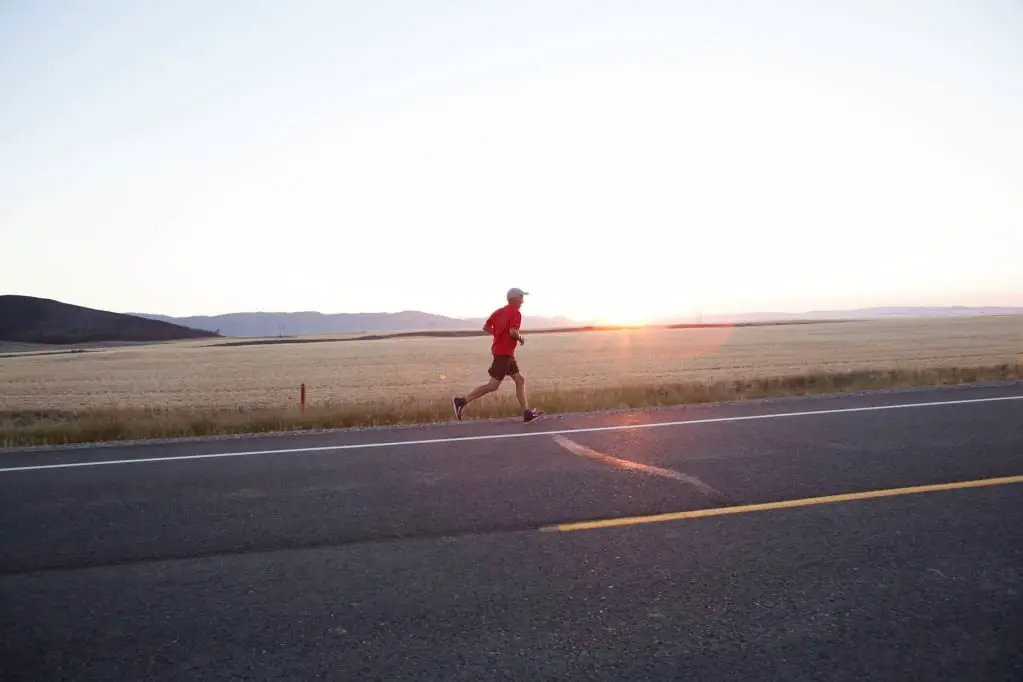 Running is characterized by repetitive forward movement. Unlike sports like dancing or tennis, which demand a lot of lateral (side-to-side) steps, running generally only requires you to move forward, typically with your heel leading each step.
In order to support you while you run, most running shoes are designed with a few things in mind:
Shock absorption
High heel-toe drop
Stability for over or under pronating
Heel counter for stability when your step lands
Flexibility, primarily under the ball of the foot
Shock absorption assists with the repetitive motion of running, and flexibility under the ball of the foot allows the shoe to move most responsively to your individual foot's flex.
A solid heel counter will add extra stability for landing steps, while a high heel-toe drop (over 7mm) can give extra support to your heels as they make first contact with your running surface with each stride. Stability should also be built in to help prevent over or under pronating, which is when your ankle sways too far in or out as you run.
Many of your running concerns and support needs are met by nike shoes. As you can see in the table below, nike incorporates waffle pistons for shock absorption, a high heel-toe drop on many of their designs, and stability in the form of a solid heel collar, a variety of widths, and dual midsoles.
| | | |
| --- | --- | --- |
| Running Movement Concerns | Support for Movements | Nike Running Shoes |
| Repetitive movements | Shock absorption | Waffle pistons on some designs, Zoom Air Unit in others. |
| Heel-led strides | High heel-toe drop (over 7mm) | Many nike running shoes fall between 8mm to 10mm |
| Over or under pronating and other stability issues | Stability and shape of the shoe | Air Zoom Structure shoe built for stability Variety of widths for many Nike shoes Dual midsoles in many designs |
| Responsiveness | Cushioning and flexibility | Variety of Nike-specific foams for cushion and bounce Zoom Air Units either in the forefront of shoe or running the full length of the shoe |
| Unstable landing | Heel counter | Heel collar around Achilles tendon in some designs for heel support |
Overall, nike shoes tend to be good for those who want extra cushioning, and prefer a high heel-toe drop. You might also find things in nike running shoes that you won't in others, namely the Zoom Air Unit, which is said to increase responsiveness, as well as cushion impact and increase speed.
What are the Best Materials for Running Shoes?
Running shoes are generally comprised of the following materials:
Synthetic leather
Mesh
EVA / dual-density EVA
Polyurethane
Carbon or blown rubber
Uppers are generally comprised of mesh and/or synthetic leather. The mesh functions for breathability and the leather (usually synthetic), adds durability to the shoe. The midsole of the shoe is generally some combination of EVA, polyurethane, or brand-developed materials or combinations of materials. The end goal of new combinations and developments is to work to create the lightest and most durable midsole.
The outsole is generally either carbon rubber, which is also the material that tires are made of, or blown rubber which has more flexibility and less weight than carbon rubber but is not as durable.
When you buy a more expensive running shoe, you should be getting a shoe that is made of better materials than a cheaper shoe, ideally materials that are lightweight but very durable.
Nike's two main brand-specific materials mentioned on many of their running shoes are:
Flyknit outers
The Zoom Air Units
According to nike, Flyknit is comprised of lightweight yarn that does not compromise on strength and is knit together in different patterns across a single upper. Tighter knits cover areas that need more support. Different weaves cover areas that need more flexibility or breathability.
The Zoom Air Unit is a cushioning system. Within the Zoom Air Unit, "fibers compress to cushion impact, before quickly springing back to their original state, generating an explosive, powerful response off the ground." (nike Zoom Air: The Technology of Fast).
Within the nike running shoe, the Zoom Air Unit works to help you increase speed, by giving you an extra boost and helping you move more quickly into your next stride. In some nike running shoes, such as the Air Zoom Elite 8, the Zoom Air Unit is concentrated in the front of the shoe for the push-off. In other shoes, it runs the length of the shoe.
So, does nike come through with the best materials for the price? nike seems to be aiming at creating the most lightweight, durable running shoes. How long these materials will actually hold up to regular running seems to be up to some debate, but it really seems to depend on the individual shoes.
Flyknit does seem to be a durable material that works to enforce areas that see higher wear. Shoes like the nike Joyride Run Flyknit have added rubber to the outside or high-wear zones.
One of the biggest factors in determining the durability of a shoe is the outsole. Flat, full outsoles can be found on several nike brand running shoes, including the nike React Infinity Run Flyknit. They function better for durability than shoes with outsoles that have more pronounced pieces, as the flat outsoles wear more evenly and as a result will last longer.
It is worth noting that nike seems to be committed to using or developing more environmentally friendly materials. Environmentally preferred rubber is used in over 70% of nike shoes, and they have also opted to use more organic materials; this is something to consider when you think about the environmental impact of replacing worn-down running shoes.
How Much Does Nike Running Shoes Cost?
One major drawback for many people is the cost of nike running shoes. Below, we have put together a chart with the average prices of nike, Adidas, and New Balance.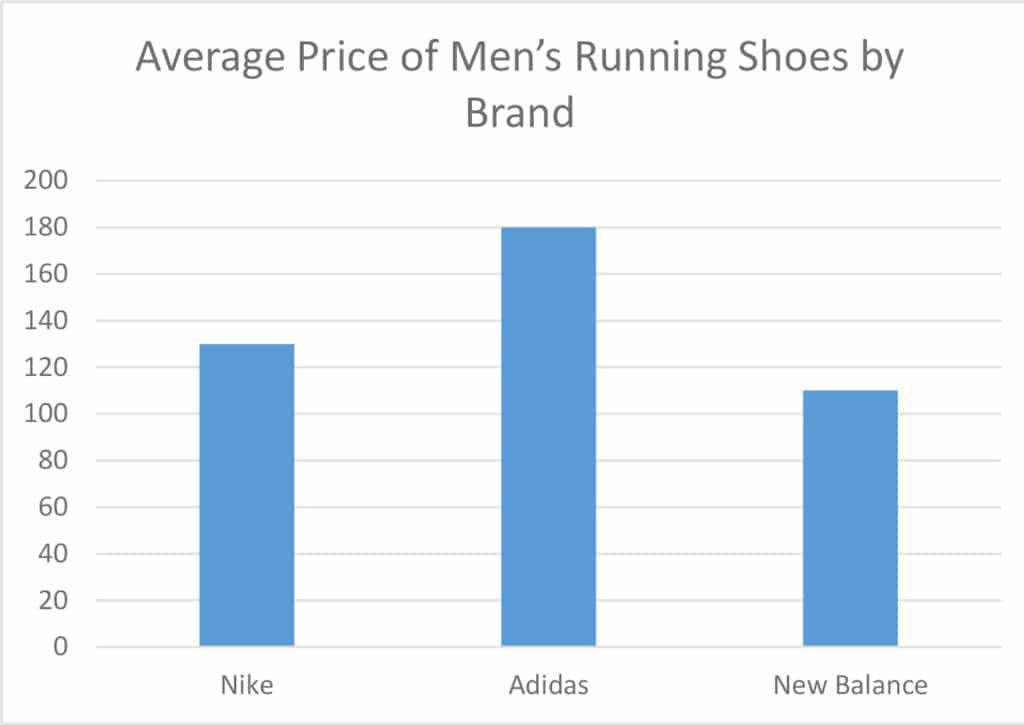 When comparing these three popular brands of running shoes, you can see that the price of a nike running shoe averages out around 0, with prices ranging from $60 – $250. Adidas comes in with the highest average of about $180, with prices ranging from $60 – $220, and New Balance averages around $110, with a range of about $70 – $200.
nike prices tend to average out in between both Adidas and New Balance, but that doesn't necessarily make a $130 shoe affordable. You will notice, however, when looking at the offerings on these three websites, that nike does offer less at the very high end of the scale, while Adidas has many shoes set at the $200 price point.
Price becomes especially important when you need to replace your running shoes. Generally speaking, running shoes should last you between 300 and 500 miles.
When Should I Replace my Running Shoes?
When you consider the price and the potential for needing a replacement shoe, do Nikes stand up? They can if you choose the right shoe. Whether you are a casual or a serious runner, you will want a shoe that will last you as long as possible. Make sure that if you choose a nike, you choose one that has the extra durability features to meet your needs, such as a shoe with a flat and full outsole.
| | |
| --- | --- |
| How Often You Run | How Often to Replace Your Running Shoes |
| Casual Runner 10-12 miles per week | Every 7 months to 1 year |
| Average Runner 20 miles per week | Every 4 to 6 months |
| Serious Runner 30-40 miles per week | Every 2 to 3 months |
nike does make a good running shoe. However, make sure that you take into account that not every nike running shoe is made equally. Some will provide you with the shape and cushion you need, but not have a full outsole, meaning you are sacrificing some longevity.
Regardless, because of the overall quality of nike shoes, as long as you are aware of your needs and the features you want in a running shoe, you can definitely find a nike running shoe that will be great for you. 
Source:
https://u.osu.edu/nikeshoes/raw-materials/
https://www.nike.com/w/mens-running-shoes-37v7jznik1zy7ok
https://www.newbalance.com/men/shoes/running/
https://www.adidas.com/us/men-running-shoes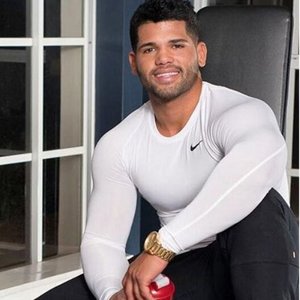 Austin is the author of loveatfirstfit.com and a personal trainer with extensive knowledge in nutrition. Austin is passionate about helping others to find a suitable healthy lifestyle and feel good about themselves. Austin's goal is to help people push their limits and achieve their physical performance.