Many gyms and fitness centers nowadays have pools. LA Fitness is a popular gym chain that has 700+ clubs in the US and Canada.
If you're wondering whether this gym chain has a pool, you're in the right place. Here is all that you need to know about it.
Does LA Fitness Have A Pool?
LA Fitness is a famous gym chain that offers pool facilities to its members. Most locations of this place have pools for members. However, not all of them provide the same perks. That is why it is best to know all the information beforehand.
The pools at LA Fitness can be used for recreational purposes and have been there for many years.
Besides that, some branches host Aquafit classes in them as well. This is for all people who are interested low impact body workouts.
If you're interested in using the LA Fitness pool, you must equip yourself with sufficient information. For example, it is good to know which locations of this fitness club have pools.
Which LA Fitness Locations Have A Pool?
Most LA Fitness locations such as Robinson Town, Harbor City, and Torrance sites have an indoor pool. These are typically used for exercise classes during the morning.
After the classes are done, they divide the pool into three lanes for lap swimming. Besides that, some locations of LA Fitness also have outdoor pools.
The outdoor pools resemble public ones in appearance and are mainly for recreational purposes. However, some locations do have lanes in this type of pool as well.
Thus, you should always call the branch to get the most accurate information. It is also best to know the pool hours to save yourself an unnecessary trip.
What Are The LA Fitness Pool Hours?
The LA Fitness pool is available for use during the operational hours of the gym. Here are the typical timings that you should keep in mind:
| | |
| --- | --- |
| Day | Pool Hours |
| Monday to Friday | 6:00 am to 2:00 pm |
| Monday to Friday | 3:00 pm to 9:00 pm |
| Saturday to Sunday | 8:00 am to 4:00 pm |
These are the regular pool hours of most LA Fitness clubs. However, the timing can vary depending on the location.
Besides that, the timing for kids and adults is different. To find them out, you will have to contact LA Fitness.
You should also note that you will have to follow some rules when using the pool at this fitness club.
What Are The LA Fitness Pool Rules?
The fitness club has not disclosed particular rules on its website. However, the general regulations apply to them. These include:
Everyone should wear swimsuits or swimming trunks
No eating is allowed near the pool deck
Every individual must bring their own towel
Gym showers are not to be used for grooming purposes
Young children should be supervised by one adult
Another key thing to note is that not all people can use the pool amenities at LA Fitness. Thus, you should not visit the place unless you meet their requirements.
Who Can Use The Pool At LA Fitness?
LA Fitness is a club that operates on a membership system. So only members and their families have access to the pool and other facilities.
If you are an adult member, then you can use the pool at LA Fitness. Besides that, kids can also swim in this fitness club's pools.
However, keep in mind the pool hours if you wish to use them. Additionally, members can bring guests with them if they have activated the LA Fitness guest pass.
Some locations of the gym chain also have outdoor community pools. The public can use these on weekends and summer vacations.
The size of the pools at this club can vary. If you swim in a particular style, it is good to know the length of the pool.
How Long Is The Pool At LA Fitness?
Most LA Fitness pools are 25 yards long. This is equivalent to junior Olympic size pools. They mainly accommodate three lanes for swimming.
The temperature of the pools is kept at 80 degrees Fahrenheit to 84 degrees Fahrenheit. So they are comfortable for all users.
Are Pools Open At LA Fitness In 2023?
Pools are open at LA Fitness in 2023. All members can use them during particular hours. Besides that, the adult and kid timings can sometimes coincide. The club has been offering pool facilities for many years now.
The pools at LA Fitness can vary from indoor types to community ones. This is why you should call the particular branch for accurate information.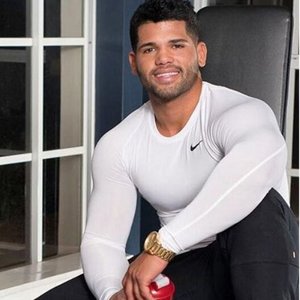 Austin is the author of loveatfirstfit.com and a personal trainer with extensive knowledge in nutrition. Austin is passionate about helping others to find a suitable healthy lifestyle and feel good about themselves. Austin's goal is to help people push their limits and achieve their physical performance.