Many gyms in the US with high-end designs have saunas for their members. Even some reasonable fitness clubs also offer them.
LA Fitness is a popular gym chain that you may be wondering about. If so, then you've come to the right place. Here is what you need to know.
Does LA Fitness Have A Sauna?
LA Fitness is a family-friendly gym that has a sauna. They have this service available at select locations only. So you should not expect all clubs of this chain to have a sauna. Both men and women can enjoy this amenity if their LA Fitness branch has the facility.
This fitness club has traditional saunas at particular locations. Apart from that, they have separate steam rooms as well.
Steam rooms are available in most locations of this gym chain. However, saunas are a third-party service that is limited to some sites.
The saunas are mainly in men's and women's locker rooms. Even steam rooms are situated there. You can distinguish between them by the rule card placed on the door of the respective chamber.
LA Fitness has more than 700 clubs in Canada and the US. The sauna facilities vary depending on the location.
Which LA Fitness Locations Have A Sauna?
In the US and Canada, only select locations of LA Fitness have a sauna. They have not disclosed the particular branches on their website. So you will have to contact them for more information.
Robinson Town and Hawthorne locations are two of the famous sites of this fitness club with saunas. If you live in other areas, then you should contact the gym chain for information.
Many gyms have a sauna, but their types can vary significantly. That is why it is best to know which type is present at LA Fitness.
Does LA Fitness Have Infrared Sauna?
This popular fitness club does not have infrared saunas. They do not have this type available for use at all of their locations. The reason behind this is that infrared saunas are highly expensive.
LA Fitness is one of the most reasonable fitness clubs in the US. That is why they don't offer costly services so that their membership fees remain low.
Additionally, the fitness center has some rules in place when it comes to using saunas. It is best to know the rules to avoid membership violations.
What Are The LA Fitness Sauna Rules?
LA Fitness has various sauna rules in place to ensure the safety of the people using them. Here are the guidelines that you should abide by:
Elderly individuals, pregnant women, infants, and people with medical conditions are not recommended to use the sauna. This is, of course, if they have not consulted with their physicians
Unsupervised children below the age of 14 are not allowed
Putting liquid on rocks is prohibited
People who prefer to listen to music should bring their headsets with them
No one under the influence of drugs or alcohol is allowed
Besides that, only certain people can use the saunas at LA Fitness. Thus, it is good to know their policy.
Who Can Use The Sauna At LA Fitness?
Saunas at LA Fitness are a third-party service that is available to members only. So unless you are a member of this club, you cannot use the sauna.
Young kids can use the sauna only if they are supervised by an adult. The service is available during the business hours of LA Fitness.
Guests can also use the sauna if they come with a member and has the LA Fitness guest pass.
How Big Is The Sauna At LA Fitness?
The exact size of the LA Fitness sauna is not known. However, it is a small room that can accommodate up to three people. The space may be adequate for four individuals as well, but not more.
Typically, saunas at LA Fitness operate on a thirty-minute timer. This is to prevent over-exposure to heat.
Are Saunas Open At LA Fitness In 2023?
The saunas at LA Fitness are open at their selection locations currently. You can visit the club if you are a member. Be sure to find out their operational hours before going there. The facility is available to both men and women.
LA Fitness does have an infrared sauna, so you should look for other clubs if you want this service. This gym chain only has the traditional type for users.
Besides that, every member has to follow the rules in place. Otherwise, they will not be allowed to use the sauna.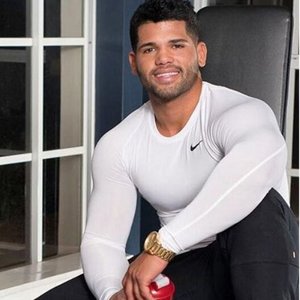 Austin is the author of loveatfirstfit.com and a personal trainer with extensive knowledge in nutrition. Austin is passionate about helping others to find a suitable healthy lifestyle and feel good about themselves. Austin's goal is to help people push their limits and achieve their physical performance.