Pilates is a form of exercise that requires controlled movements and aims to build strength and improve your alignment. While workouts can be modified to reflect the abilities of any person, you will always feel like you are getting a workout during your Pilates class– and you will probably get sweaty. Some classes encourage or require that you wear shoes or socks with grips for traction purposes.
So what are grip socks for pilates? Grip socks are socks that have built-in traction in the form of rubber patterns on the soles. The key feature of grip socks is that they keep you stable while you workout.
You have many options when it comes to finding the right grip socks for your Pilates class, and whether they are required by your instructor or not, you might find that the benefits of a good pair of grip socks are worth the purchase.
Related: 10 Best Grip Socks for Pilates
Types of Grip Socks
There are many different styles of grip socks, and each style has something different to offer. You can typically find a grip sock that has the combination of all the features you are looking for, depending on your personal fashion preferences and your general needs.
While all of these socks offer something different, each of the following have one thing in common: they all have a rubber grip pattern on the bottom.
Ankle Sock
Sock ends at the ankle
Has the look of a regular sock except for rubber grip pattern on bottom
Sock with straps
Typically ends at ankle, or has the look of a no-show sock (ends below shoe line)
Sock with straps
Typically ends at ankle, or has the look of a no-show sock (ends below shoe line)
Straps will be in various forms and designs, generally over the mid-foot
Increased breathability
Sock with toe-sleeves
Five individual toe-sleeves to allow for toe spreading
Toe sleeves may be the only feature or may be combined with other features such as straps
Open-toed socks
Either fully open front end of sock, or individual toe-sleeves that are open-ended (like fingerless gloves)
May be combined with other features.
If you want the look of a basic sock with no bells and whistles, you can easily find that in a plain ankle sock with rubber grip on the bottom. However, there are other options to consider as well that could benefit your Pilates practice.
If you are hoping to have more breathability or just less sock in general, finding a grip sock with straps, or a low-cut grip sock might be the way to go.
Socks that have a feature that allows for toe movement, such as open-toed socks or toes with sock-sleeves, are always good for Pilates classes. Grip socks that allow for toe movement allow you to both improve the spread of your toes, and help you balance while you are doing certain moves or exercises.
Grip Socks Sole Types
If you have been looking at your grip sock options, you have probably noticed the range of shapes and patterns that make up the rubber grip on the sole of each sock.
| | | |
| --- | --- | --- |
| Rubber Grip Type | Benefits or Concerns | Example Sock |
| Full sole grip | Provides best traction and security | Toesox Half-toe Grip Socks   Grip is present from the toe-end of the socks up to and around your heel |
| Partial sole grip | Because only part of your sole will have traction they can be less secure   Sometimes grip is concentrated at the ball of foot, sometimes there is some on the ball and heel but it does not run the length of the sole | YogiSocks Non-Slip Grip Socks   Combo swirl and dot grip concentrated on ball and heel of foot only |
| Herringbone, swirls, or combination patterns | May be less uncomfortable on sensitive feet   Can cover a larger portion of the sock without causing discomfort | Ozaiic Socks   Various Patterns on sole of sock including toes |
| Dots | Usually raised – can be uncomfortable for some, if you have sensitive feet   Can provide better grip due to being raised | Gaiam Grippy Yoga Socks   Dot pattern across full sole |
The grip that works best for you will probably come down to two things: how sensitive your feet are, and how much stabilizing you need.
Partial sole grip coverage might be more comfortable if you don't like to walk on rubber grip, but it could result in less traction during your Pilates class.
If you need more grip but you have sensitive feet, finding a herringbone or swirled pattern might work best for you.
Dots are probably amongst the best overall grip for traction, so if you don't mind the bumps (or you think you can get used to them), dots do a great job of keeping you from slipping. They are also the most common pattern and the easiest to find.
Are Grip Socks Worth it?
You may be wondering how much grip socks cost. While they can be much less expensive than a new pair of cross-trainers, you may still want to weigh the benefits versus the cost, especially if your Pilates studio does not require you to wear them.
Grip socks range in price depending on the brand and number of features offered.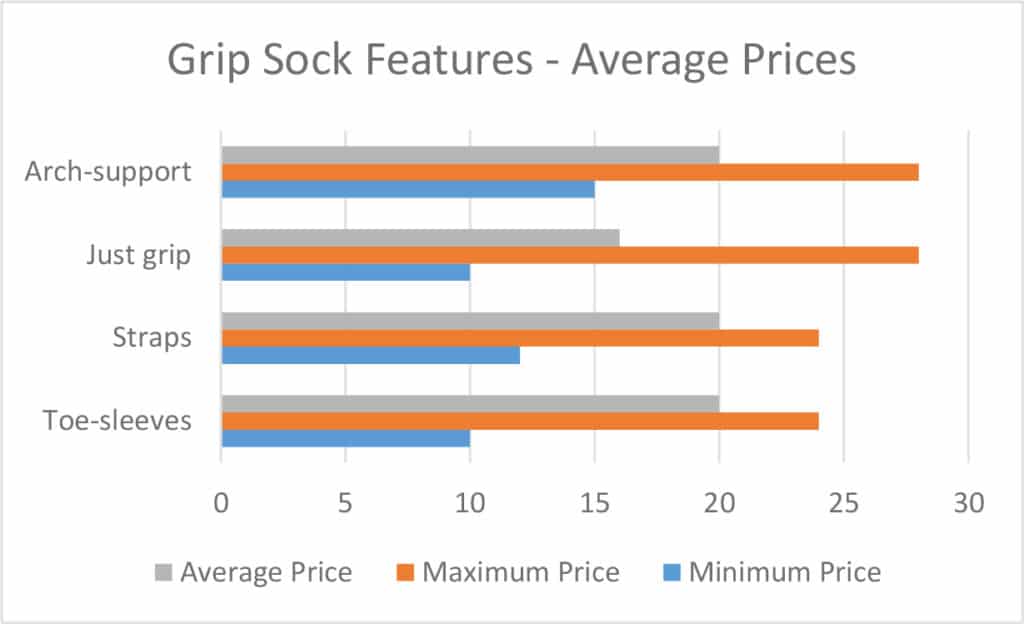 Depending on what features you are looking for in your grip sock, you can pretty easily find a sock that is reasonably priced and meets your needs.
Socks that are just grippy and have no extra features span a decent price range of as low as $10, to almost $30. Arch support features, straps and toe-sleeves all seem to be available most commonly at the $20 point, but you can sometimes find them as low as $10-15.
Brand-name grip socks from brands like Alo Yoga, Bombas and Athleta also range from $12 to $24, which is comparable to the prices you see in most non-name-brand grip socks.
If you feel that grip socks are necessary for support or hygiene while you do Pilates, you will find that it is possible to find a pair for an affordable price. Any basic grip sock from a local store will do if you aren't looking for extras like arch support or straps.
Grip socks for Pilates are great for providing traction and stability and keeping your feet protected during class. Many are made even more useful with features like arch support, cushioning, and allowances for a more breathable sock. Even if your class does not require grip socks, there are plenty of great reasons to look into purchasing a pair to keep you safe and get the most out of every class.
Are Grip Socks Required for Pilates?
While some Pilates classes require their students to wear grip socks, yours may not. If this is the case, you may want to look into some of the reasons to wear grip socks to your next Pilates class.
Benefits of Grip Socks
Increases your traction
Creates a barrier between your foot and the floor or equipment
Some have extra cushion support
Features like fitted heels and arch support
Some are anti-microbial and/or moisture-wicking
The main and most obvious benefit of wearing a grip sock is the grip, but it might be unclear as to why you would need the extra traction.
Traction or grip is going to keep you safer during class. Pilates is no easy workout no matter what skill level you are at, and you will probably find yourself getting sweaty. Having the extra security of a grip sock is going to help you maintain good form and also help keep you from sliding or falling if your mat gets slick.
If you are using the gym's equipment, or having to walk around barefoot where many others have walked barefoot before you, socks have another benefit. Even if your gym has a top-notch cleaning and sanitizing routine you still might want to have a barrier between your foot and everything it touches.
Other features you might find in a grip sock that could benefit you include extra cushion, compression arch support, and fitted heels.
A fitted heel is going to help keep your sock on so you don't have to worry about pulling it up as you focus on your workout. Extra cushion or compression arch support was help with shock absorption, and also provide support and comfort while you exercise.
Wear Grip Socks for Hygiene
Many fungi, bacteria and viruses are easily spread if you make skin contact with them, and they are especially present on the floors and equipment at gyms.
Therefore a grip sock is beneficial not just for keeping you sturdy as you workout, but also to keep a protective barrier between your bare feet and the floor or mats.
Finding a grip sock that has anti-microbial or anti-bacterial materials is also possible – and gives you an extra layer of protection. Things made of anti-microbial materials work to either kill or block both bacteria and viruses they come into contact with, while anti-bacterial materials only kill or block bacteria.
Due to the number of people who traffic most gyms, it is advisable to always wear socks or shoes to keep you as safe as possible. Grip socks made of anti-microbial or anti-bacterial materials serve the dual purpose of protecting your feet and giving you necessary traction.
Related: Top 9 Best Yoga Shoes
Source:
Loveatfirstfit.com is a participant in the Amazon Services LLC Associates Program, an affiliate advertising program designed to provide a means for sites to earn advertising fees by advertising and linking to Amazon.com. We may earn a commission when you buy through links on our site.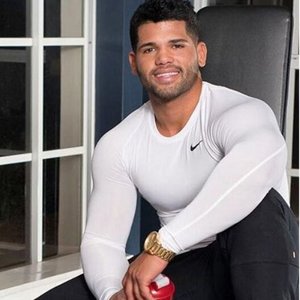 Austin is the author of loveatfirstfit.com and a personal trainer with extensive knowledge in nutrition. Austin is passionate about helping others to find a suitable healthy lifestyle and feel good about themselves. Austin's goal is to help people push their limits and achieve their physical performance.