Many believe that picking a stick is the most important decision field hockey players make when choosing their gear.
Considering the game revolves around running around and using those sticks to wallop a little ball, it's no wonder players carefully consider the length, weight, and other specifications of their field hockey sticks.
Choosing the appropriate high-quality shoe is critical for field hockey players to reach their peak performance. The shoes for field hockey emphasize the importance of traction and feature a balance between lightness and stability.
The best shoes to wear for field hockey are cleats for grass fields and turf shoes for turf fields. A turf field is basically made with artificial grass. Soccer cleats have longer rubber studs and are common footwear for field hockey on grass fields. On the other hand, turf shoes are commonly used for field hockey and they have smaller rubber studs.
Field hockey players need a clear picture of the shoes they need in mind with a sizable number of models and variations to sort through. This article will serve as a guide for field hockey players looking to find their best shoes. In it, we'll cover:
Shoes by surface
Qualities to keep in mind
Breaking down the brands
Three websites to get you started
Best Selling Field Hockey Turf Shoes
Turf shoes are ideal for various sports, such as lacrosse, field hockey, softball, and soccer. There are several brands that produce high-quality field hockey shoes. Below are the top 3 best-selling field hockey turf shoes from New Balance, Adidas, and Under Armour.
New Balance Men's Freeze LX V3 Turf Shoe
New Balance Men's Freeze LX V3 Turf Lacrosse Shoe,...
FRESH FOAM midsole cushioning is precision engineered to deliver an...
Synthetic/mesh material
Nubbed rubber outsole provides lightweight traction on turf
Forefoot film cover for toe drag protection and improved pivoting ability
adidas Men's Ligra 7 Track and Field Shoe
adidas Men's Ligra 7 Track and Field Shoe,...
Men's shoes built for all indoor sports, made of recycled materials
Regular fit; Lace closure for snug fit
Mesh upper offers breathability; Synthetic leather toe cap for abrasion...
Multidirectional outsole provides grip on indoor surfaces
Under Armour Men's Spotlight Turf Lacrosse Shoe
Under Armour Men's Spotlight Turf Lacrosse Shoe, White...
Woven upper provides a lightweight, sock-like fit, with woven-in TPU coated...
Full-length bootie construction with molded ankle collar for greater structure,...
TPU heel unit & coating on toe box for enhanced protection & durability
High rebound SuperFoam insole provides optimal shock absorption & comfort
Best Selling Field Hockey Cleats
These cleats are great for field hockey, as they feature a supportive ankle and arch support, as well as impact cushioning to help support you as you sprint for loose balls. Below are the top 3 best-selling field hockey cleats from New Balance, Adidas, and Under Armour.
New Balance Men's Rush V3 Low Cut Cleats
adidas Adizero Lacrosse Cleats
Under Armour Men's Command Mc Lacrosse Shoe
Under Armour Men's Command MC Lacrosse Shoe, Steel...
Engineered synthetic upper for lightweight, durable performance
Die cut EVA sockliner built to reduce cleat pressure for enhanced underfoot...
Molded TPU cleat plate provides a lightweight ride & superior traction on any...
Best Selling Field Hockey Cleats for Kids
On Sale
Vizari Kids Stealth FG Outdoor Firm Ground Soccer...
Upper: Two-color textured synthetic upper. Strong and durable with anti-stretch...
Outsole: Two-color molded rubber for comfort and traction. Stitched to upper for...
Perfect for Boys and Girls. Sizing runs from 8C Toddler to Big Kid Size 6
High Quality Kids Soccer Shoes / Cleats With a Low Cost
brooman Kids Firm Ground Soccer Cleats Boys Girls Athletic...
Upper textured makes better ball control.
Adjustable and durable hook and loop closure for great fitting, no need to tie...
Rubber molded cleats with rotational traction configuration allows stability and...
Soft padded tongue can fit his/her instep well and reduce foot friction.
What to Look for in Shoes for Field Hockey
Once we understand the general sort of shoe needed, we can begin thinking about the different qualities and compositions field hockey shoes offer. The specifics of the outsole, the shoe's durability, and the comfort and overall support of the shoe are the three key qualities you want to pay attention to when looking for your shoe.
The outsole of the shoe determines the traction the shoe has to offer. As we've discussed, the sort of outsole depends on where the game is played – but both are designed to offer the most traction for their respective surfaces. Field Hockey is a game played at full speed, where one moment you're digging in and the next you're pivoting quickly. Both types of shoes need to be made reliably and be durable enough to withstand a lot of wear and tear.
To continue that thought – durability often determines how long a shoe lasts. Cutting, starting and stopping, getting stepped on, logging multiple miles per game, and practicing field hockey players put their footwear through the wringer. Look for shoes with quality materials, sufficient padding, and support, and offer enough protection to the ankle.
Padding and support must be appropriate for the player's individual preference. Some prefer a lot of cushion, a high top for complete ankle coverage, or a certain type of laces. Player preference, in other words, has a lot to do with the difference in qualities offered by shoes. Different feet have different needs, and the appropriate support varies as a result.
When it comes to fit – pick a shoe that's a tiny bit looser than you might normally go with. Many players will wear thick or double socks when they play, which largely fills whatever gap is felt. This both adds additional support and protects against blisters while also helping to secure shin guards in place.
As with any other article of clothing, it's important to dig into the customer reviews and pay attention to each shoe's ratings when evaluating. When it comes to athletic footwear, many athletes fear fretting over the seemingly endless pool of shoes to sort through, and once they do, they're eager to share their find with their peers.
Learning what other athletes have to say about a shoe they've worn and competed in can give you a glimpse of what to expect, good or bad.
Top field hockey shoe brands
As with any athletic shoe, there are a number of brands competing for the hearts, minds, and wallets of field hockey players. Brands big and small offer different styles and innovations, and there are a wide variety of shoes for players to choose from. Here are four we think stand out in the crowd.
Asics
Largely considered one of the best designers of field hockey shoes, Asics shoes are worn by players all over the world and might not be the first brand to come to mind (they make extremely popular running shoes, too). Asics field hockey shoes are lightweight and reliably built – plus, the company specializes in reliable cross-training footwear. They offer some of the best traction available and are ideal for turf play.
Adidas
You name the shoe, and Adidas offers a version just as good or better than any other option. With a wide variety of shoes designed for turf, Adidas also has great offerings for grass play. Rubber cleats designed specifically for field hockey are best, but virtually any of Adidas rubber cleated options – especially those for lacrosse or even soccer – work well.
Kookaburra
For passionate players that don't want a name-brand shoe or clear, brands like Kookaburra can be counted on for producing high-quality and high-performance footwear. They offer affordable shoes and cleats that look great and are made with reliable materials. The shoes are made by and for field hockey players that know what makes a great shoe.
Grays
Like Kookaburra, Grays offers shoes that are designed by people who know and love the game. Grays are very popular in Europe and can be a bit difficult to track down online, but are worn by many foreign players for a good reason: Their shoes are lightweight, durable, and stylish.
Three stores to begin your search
With an understanding of key qualities and what the market has to offer, all that's left to do is to get started hunting for the best field hockey shoe for you. Check out these three stores to get started!
Amazon – As with everything else you could imagine, Amazon is an ideal marketplace to search for diverse offerings. With many different brands and unique styles, if you're looking to sort through a wide varsity, Amazon is a great place to start.
Total Hockey – Total Hockey has been acquired by Pure Hockey. Field Hockey is a sport with many dedicated players and fans, and sites like Total Hockey serve as places of community. Total Hockey offers a range of shoes from both big and small brands that can be thought of as a collection of players' favorites.
SportShop – A go-to resource for field hockey players. Plenty of styles, comprehensive shoe reviews, and clear rankings of their most popular offerings – this site provides field hockey players with confidence that they're making informed decisions.
Where do you play Field Hockey?
Is the field being played on made of grass? Is it made of turf instead? What kind of turf? The type of surface you play on dramatically changes the type of shoe you'll need to be at your best.
Generally, the sport is played outdoors. Many players that are high school-aged or younger will find themselves playing on fields made of grass and dirt, as many older recreational players will as well. Some high schools and most college and professional play take place on fields made of either field or synthetic turf.
You'll need different types of shoes for both grass and turf fields. While there is nuance in the many details different models of shoes boast, this is the key detail you want to verify before purchasing a shoe.
You need to buy a shoe with rubber cleats if you are playing on a field made of grass. The distinction of the sort of cleats is on purpose; many leagues that take place on grass fields will verify that players are wearing rubber cleats before allowing them to play. This is to keep players safe! Rubber cleats can dig into the elements better than any shoe can, and ensure that traction is gained safely while being less dangerous than a metal cleat.
You need to buy what's known as a turf shoe if you are playing on a field made of either field or synthetic turf. With a much finer and resilient surface, rubber cleats do not dig in well to turf surfaces, and can ultimately not be relied any more on turf than they can be on a gymnasium floor. Turf shoes gain traction, provide stability and safety, and use a variety of traction outsole patterns to account for player preference.
It's also important to note that some players do not always wear field hockey shoes – which is a bit confusing since this is such a no-no for other sports. On grass, both soccer and lacrosse cleats are popularly worn and can be counted on for much of the same performance. On turf, cross trainers are common and reliable, as long as they have the appropriate traction. 
Loveatfirstfit.com is a participant in the Amazon Services LLC Associates Program, an affiliate advertising program designed to provide a means for sites to earn advertising fees by advertising and linking to Amazon.com. We may earn a commission when you buy through links on our site.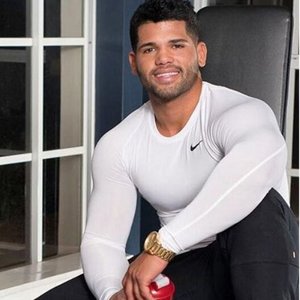 Austin is the author of loveatfirstfit.com and a personal trainer with extensive knowledge in nutrition. Austin is passionate about helping others to find a suitable healthy lifestyle and feel good about themselves. Austin's goal is to help people push their limits and achieve their physical performance.
Last update on 2023-02-13 / Affiliate links / Images from Amazon Product Advertising API