Choosing the gym for your workout and fitness can depend on the goals you want to achieve. Annual gym membership in the US is over $500 for the initial year.
However, after the initial year, the cost reduces as you don't have to pay the initiation fee. World Gym is one of the popular gym chains in the US and globally. The World Gym offers affordable membership to its users.
Every location of World Gym is independently owned and operated, so there might be a difference in price at every location. However, if you want to become a World Gym member, you are in the right place. Here is all you need to know about it.
How Much Is World Gym Membership?
World Gym membership costs $59.95 per month with a $50 enrollment fee. There is no contract and it is month to month. If you want to pay 14 months in full, it will cost you $720 and you basically will pay for 12 months plus 2 free months ($119.30 savings).
After the first month, the cost would come down to around $50 – $80 per month depending on the additional services you avail of with your membership.
On the contrary, if you are planning on canceling your gym membership, you must submit a 30-day notice before leaving. In addition, if you are in agreement, there would be a cancellation charge depending on your agreement.
After submitting the notice, you would only be a member for 30 days, and then your membership will be terminated. Therefore, understanding the initiation fee structure is advisable before opting for the World Gym Membership.
World Gym Initiation Fees
The initiation fee is charged when you get yourself registered for the membership. After that, you would only require to pay the monthly payment and the initiation. Unfortunately, the World Gym membership is only for a specific location; they don't offer a membership that can provide access to various World Gym locations.
| | |
| --- | --- |
| Initiation Fee Structure | $25 (only in the first month) |
Know that the initiation fee structure is clear, let us discuss the different levels of membership the World Gym offers. The membership levels would help you decide the membership plan that would suit you the best.
World Gym Membership Levels
World Gym doesn't offer various membership levels such as Gold, Silver, Bronze, etc. However, their membership is straightforward for the member to understand. Mentioned below are the membership the World Gym offers.
| | |
| --- | --- |
| Monthly Basis | Between $25 and $60 per month |
| One-year Term | Between $30 and $80 per month |
| Paid in Full For 12 Months | Between $250 and $300 |
The World Gym offers these three levels of membership. You can select any tier you want and think would be the right choice. There won't be any initiation fee charged for the Paid In Full plan.
Of course, additional services and amenities there would be some changes. That is why it is essential to know and understand what amenities and facilities would be included in the membership.
What Does World Gym Membership Include?
As a World Gym Member, you would have unrestricted access to all the exercise equipment. The gyms are full of various, advanced equipment and you have access to use all of them.
Every member likes World Gym because they include every amenity in the membership for free. Showers, Trainers, Group classes, Lockers, and many more.
The group classes are various kickboxing, yoga, spin, and many more. In addition, new courses are introduced now and then to entertain every member and ensure they don't miss the opportunity.
Being one of the most popular gyms and fitness chains, the World Gym has the best-trained staff and highly skilled trainers to help members throughout their workout sessions.
However, for some services, there are some charges applied.
Charged Services/Amenities
| | |
| --- | --- |
| Tanning | Between $ 10 and $20 per month |
| Childcare/Daycare | Between $10 and $25 per month |
There are saunas and steam rooms available in some locations that members can use to cool down. But, of course, the best thing will be adding a family member if you are looking for a company during your workout.
Adding A Family Member to World Gym
Having a family member with you in the gym is fun and keeps you accompanied during a workout session. Going to various equipment levels and challenging each other keeps you motivated and pumped.
For a family member, the World Gym offers a plan to add a family member to the plan.
| | |
| --- | --- |
| Family Member Plan | Between $35 and $60 |
Opting for this plan, the World Gym gives you and your family members access under the same membership. However, it is only available for any family member above 18.
To keep yourself updated, visit their official website and put in the location you visit. Then, of course, you can always get your family member to opt for the membership plan.
However, before taking a guest with you, there is a simple process that you may have to follow. Understanding the guest pass process would be essential for a successful guest entry into the gym.
Does World Gym Have a Free Guest Pass?
The World Gym offers a one-day free guest pass. This could also be associated with a one-day free trial. World Gym offers these so individuals looking for a gym membership can visit and get a chance to look around.
Before going for the guest pass, always call the gym and register the guest. Please provide all the information they seek for the guest to register them in their system successfully.
The guest passes are also available at the front desk if you don't have a member to accompany you. The World Gym also offers a 3-day guest pass, but that is charged, and you have to buy that.
To make the right decision, always compare the membership costs of various clubs to get a better idea.
World Gym Membership Cost Comparison
To understand which club would suit you the best, compare different costs to give you a better idea:
| | | |
| --- | --- | --- |
| Gym Name | Monthly Fee | Initiation Fee |
| 24 Hour Fitness | $44.99 | $0 |
| World Gym | $30 | $25 |
| Life Time Fitness | $69 | $49 |
| Anytime Fitness | $38.99 | $49.99 |
| Equinox | $168 | $100 |
| Gold's Gym | $29 | $74 |
You can select any of these gym memberships, depending on your budget. So, be sure to choose now and enjoy your fitness journey.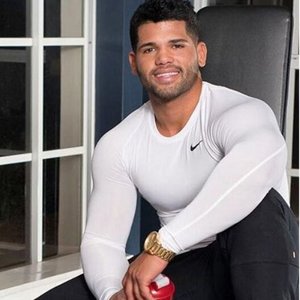 Austin is the author of loveatfirstfit.com and a personal trainer with extensive knowledge in nutrition. Austin is passionate about helping others to find a suitable healthy lifestyle and feel good about themselves. Austin's goal is to help people push their limits and achieve their physical performance.