Working out in a gym is recommended for 14 years of age, according to a renowned bodybuilding website, because puberty has set in and natural development has stopped by that time.
Many gyms allow minors to join as long as their guardians provide their permission and pay and accept the membership costs.
Can A 14-Year-Old Workout At A Gym?
Yes, but only if accompanied by an adult. At 14 years of age, working out at a gym is perfect, as puberty has set in and natural development has ceased.
Only an adult or a personal trainer should accompany a 14-year-old to the gym. Many gyms require anybody under the age of 16 to be accompanied at all times by an adult.
24-Hour Fitness for 14 Year Old
What sets 24 Hour Fitness apart is that most of their clubs allow children as young as 14 years old. And, of course, parental supervision is required while children exercise.
If the minor is a member or a visitor, and their parent or guardian signed the financial guarantee and membership agreement, they may utilize the 24-hour facilities without being accompanied by a parent or guardian.
24 Hour retains the right, in its sole discretion, to demand that a minor be accompanied by a parent or guardian.
Life Time Fitness for 14 Year Old
Children as young as 14 can attend the weight room with parental supervision and a consent form.
Junior members are permitted to utilize the exercise floor and free weights, but they are not permitted to become major members of the club.
A junior member must be accompanied by a parent or guardian who has a membership, after which they will be able to use the gym as part of the membership.
Planet Fitness for 14 Year Old
Yes. Children as young as 14 can work out at Planet Fitness as age 13 is their minimum age requirement.
However, Planet Fitness stipulates that children of 14 years old must be accompanied by a parent or guardian. The latter must sign two documents authorizing the minor's use of the gym:
It's also worth noting that Planet Fitness requires that children aged 14 be accompanied by a parent or guardian at all times. Furthermore, the parents must be Planet Fitness members or Black Card visitors of the young member.
Gold's Gym for 14 Year Old
Children of the age of 14 can attend Gold's Gym if accompanied by an adult. Most Gold's Gym clubs allow children over the age of 13 to work out.
Parents must accompany their children to the gym. In general, Gold's Gym is one of the top gyms for 14-year-olds.
Are There Kids-Only Gyms?
Some workout centers, such as:
These, like their adult-only counterparts, cater to a younger audience, allowing children to run, jump, tumble, and climb to their hearts' content, as well as engage in more typical exercise courses seen at a gym.
You can even come across smaller equipment that is suitable for kids and teenagers.
What Should 14-Year-Old Do In Gym? 
They might want to concentrate on strength or muscle-building workouts instead. Lifting heavy weights should be avoided if your child is less than 15.
Encourage them to use healthy alternatives like elastic tubes and bands, as well as body weight workouts like squats and pushups.
Weight Lifting for a 14 Year Old At The Gym
A workout for a 14-year-old who is weightlifting should focus on the essentials while still being enjoyable.
Beginners should begin with body-weight exercises like pushups, squats, and wall sits. 14-years-olds who are more advanced can use free weights or machines to strengthen their muscles.
Many people, regardless of age, strive to be physically active daily. However, when it comes to 14-year-olds who want to start weight training, it's normal to wonder if it's safe and how to get started.
The good news is that most teenagers can benefit from a fitness routine that incorporates resistance training, aerobic activity, and competitive or leisure sports.
Recommended Strength Training For 14-Year-Olds
14-years-olds can participate in sports and organized exercise programs that incorporate muscle and bone-building exercises.
Under the guidance of a skilled adult, weight training can build strength and help avoid sports injuries.
Resistance exercise, which is utilized in strength training, helps to increase muscular strength and endurance.
This boosts lean body mass and speeds up metabolic rate, which is especially useful for overweight children. Regular strength exercise is beneficial to cholesterol levels, heart health, and bone strength.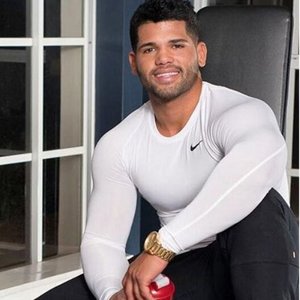 Austin is the author of loveatfirstfit.com and a personal trainer with extensive knowledge in nutrition. Austin is passionate about helping others to find a suitable healthy lifestyle and feel good about themselves. Austin's goal is to help people push their limits and achieve their physical performance.