If your yoga class allows shoes, or if you have a foot condition that requires extra support, what shoes to wear to yoga? Let's take a look at 3 popular choices:
Type of Footwear
Features
Price
Yoga "skins" shoes
Look like wraps.
Lightweight
Breathable
Very Thin
Cheaper
Athletic shoes
Good support
Firm
Great for gym yoga class
More Expensive
Toe type shoes
Lightweight
Minimalist shoes
Allows toe movement
Average
The strappy, "skin" type of yoga shoes allow for more support than going barefoot for someone with minor foot conditions, while not completely compromising their ability to connect to the ground. They are the most breathable of the three and provide grip and traction.
VIFUUR Barefoot Yoga Socks Slip-on
VIFUUR' slip-on yoga socks are the best sellers in Amazon for both water sports and yoga. They are super flexible and almost feel like there is no weight to it. The sole is made of very thin flexible rubber and it its very comfortable.
It is not ideal for walk in rough area as it does not have protection on the toe area and back of your heel, but it's awesome for water sports and yoga as it has an excellent anti-slip protection, and it's like a grip socks but fit like a shoes.
HMIYA Barefoot Yoga Socks
These are super comfortable and lightweight. Think of it as a thicker socks but it's a shoe, it's almost like you're not wearing anything on your foot. It was designed as aqua socks but it great for yoga classes.
It has a thick anti-slip sole but it is not bulky at all. You can easily fold them like a burrito and take it with you in your gym bag. These are very popular among season yoga girls who are hygiene conscious and do not want to touch the floor with their barefoot.
FitKicks Foldable Minimalist Yoga Shoes
These shoes are perfect for travel slippers, walk around the pool, and yoga class. The good thing about these shoes is that they can be worn as casual walking shoes, where other aqua "skin" shoes are not very good at walking on pavement.
They are easily washable in the washing machine and will last a long time. The only thing is it does not have good arch support. If you need arch support we recommend you to try sneakers for yoga below.
---
Some companies have designed shoes that have the look of regular athletic shoes but were made with yoga in mind. They offer the most support and were made to be more flexible and lightweight than your average athletic shoe.
TIOSEBON Women's Athletic Shoes
TIOSEBON women's shoes has one of the best breathability among the athletic shoes for yoga. If you're used to wear shoes with barefoot, these are ideal during hot weather due to their nice breathability.
If you have wide feet it is recommended to order a half size bigger. If you are size 8.5, go for size 9 and it will fit you well. It has knit mesh fabric upper and it won't rub against your feet so you won't get blisters.
adidas Women's Cloudfoam Shoes
These shoes are vegan as they are made of fabric and rubber, and don't have animal-derived components. It fit very well with a mesh upper that's stretchy and has an amazing step-in feel to it. It's ideal for barefoot and perfect for outdoor yoga.
In terms of the fit, if you're between size 8.5 and 9, it is recommended to go for 8.5. Especially if you go sockless or thin socks for your yoga class. This pair of shoes has positive feedbacks for protection from getting blisters.
Skechers Women's Flex Appeal 3.0 Sneaker
Skechers women's flex appeal 3.0 has rubber sole and they are lightweight with supportive midsole. It is not ideal for running and other sports activity, but it's great for walking your dogs and casual shopping.
In comparison to Skechers Flex Appeal 2.0 it has better pattern design, so pebbles and ground debris don't get stuck under the shoes. However, 2.0 seem to be slightly lighter than 3.0, but not a noticeable difference. It is a great choice to casual walking and outdoor yoga class.
---
Shoes that have slots for each of your toes are a good middle ground between these three options. They find a balance between offering extra support and still allowing for toe movement and grounding.
WHITIN Women's Minimalist & Barefoot Shoes
This minimalist & barefoot shoes is perfect for yoga. It is lightweight, has zero drop, and make you balance well and help better maintain posture during your yoga session. As it is a minimalist toe shoes, it will wrap your feel well and give you a secure fit.
Unlike Joomra minimalist shoes, this one fits true to size. Some users report that they wear size 9.5 for athletic sneakers but they wear size 9 in other shoes. They bought WITHIN size 9 and it fitsperfectly.
Oranginer Women's Barefoot Minimalist Shoes
These shoes have the wide toe box design, which let your toes relax and spread out naturally. Many people wore this shoe had feedback to comfort and it felt like grip socks instead of a heavy and bulky cross trainer shoes.
It has the synthetic mesh upper which offer you the breathability when you are stretching during yoga. This minimalist shoes is recommended for people who want a little bit more cushion than aqua skin shoes.
JOOMRA Women's Minimalist Barefoot Shoes
This rubber sole minimalist shoes are great for people who does not want to wear a cushioned cross training shoes to their yoga class. It has tick topline that wraps your feet well, and it won't wiggle around during your yoga session.
The downside is that it does not have a lot of support, but that's because it's minimalist shoes and you're using it in yoga, not trail running. It also fits slightly bigger so if you're size 8.5, it is recommended to buy it at size 8.
Can You Wear Shoes for Yoga?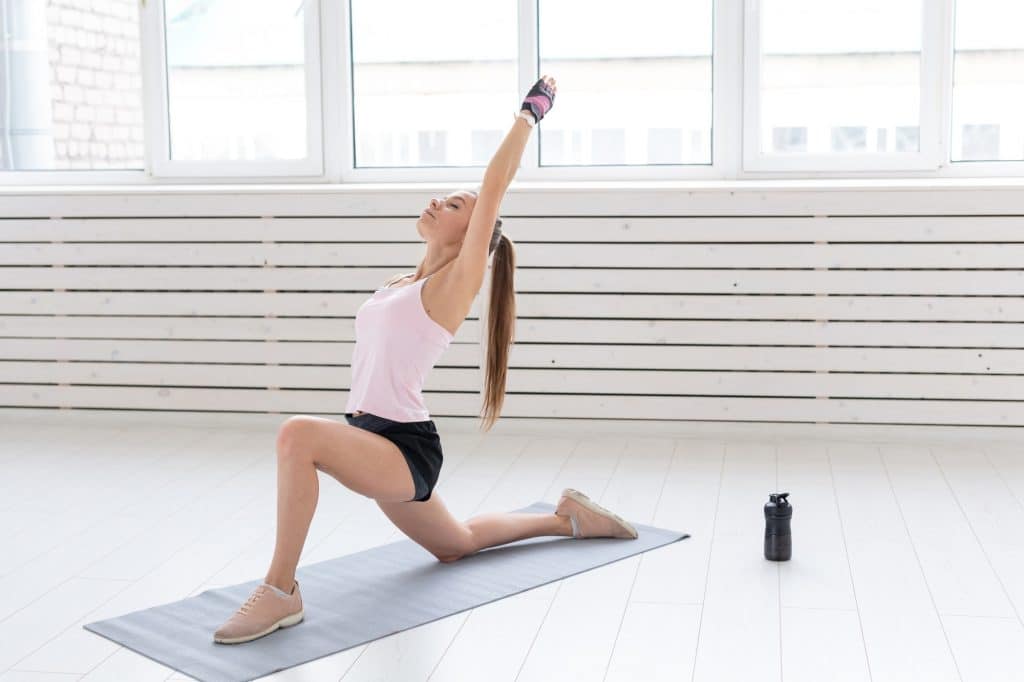 There are many reasons you might be wondering if you can keep your shoes on during yoga. You might have foot issues that require support, want to ensure you get the most out of your yoga class, or are experiencing pain or discomfort when you put pressure on your bare feet.
You could have concerns about making skin contact with a loaner mat from the studio. Maybe your feet get cold, or you are just plain self-conscious about them. You also may have noticed that everyone at your yoga studio takes their shoes off, and you aren't sure if you're allowed to leave them on.
The studio should be ok with you wearing the shoes in class, especially when you have preexisting medical issues or injuries. You should be able to wear shoes if you would not be able to take the class without the support they provide.
If you can wear shoes in your class, you will need to know which shoes will best support the movements of yoga. If shoes are unacceptable at your studio, there is a middle ground between shoes and bare feet that your yoga instructor might be more open to.
Your yoga studio might not be too keen on you wearing shoes to your yoga class. This might be for two main reasons:
The outside dirt and contaminants on your shoes
It is viewed as disrespectful to the studio
Yoga studios typically discourage the use of shoes, because they don't want contaminants tracked into space where you are about to lay on the floor. But it can also have to do with where yoga came from.
Yoga is believed to have been practiced as far back as 5,000 years, starting in India. As with some Eastern cultures, it is considered disrespectful to wear your shoes into a home or place of worship. Thus many current yoga studios follow this rule and consider removing shoes in the lobby as a sign of respect for the culture and studio.
Of course, modern-day yoga studios in the West are more open to making allowances. That said, If your class is firmly against shoes, you might find that socks are a good middle ground. Let's take a look at what types of socks are available and what benefits do they offer.
| | |
| --- | --- |
| Type of Sock | Qualities That Make it Good for Yoga |
| Socks with grips on the sole | Traction |
| Socks with individual toe slots | Toe movement |
| Barre or pilates socks | Straps, traction, cushion, some have toe slots |
| Compression ballet socks | Ankle and arch support, open toes |
Related: 10 Best Grip Socks for Pilates
Related: 4 Types of Grip Sock that will Benefit You
If you would like to wear socks to your yoga class, you should probably check with your instructor to see if they have any requirements first.
If you are given free rein, some general things to look for in a yoga sock are traction and freedom of toe movement.
You will probably want to wear socks that have a grippy element on the soles, so you do not slip and slide around your mat while you're perfecting your warrior one pose or downward dog.
A sock that allows for toe movement is important because toe dexterity and freedom of movement are essential to yoga. Socks that have individual slots for each toe might be uncomfortable for some people, so finding an open-toed sock might be a good compromise.
Another option is getting socks that were specifically made for yoga. Many yoga clothing and supply companies make socks that have grippy bottoms, straps, and/or individual slots for each toe.
Shoes to Wear to Yoga in Winter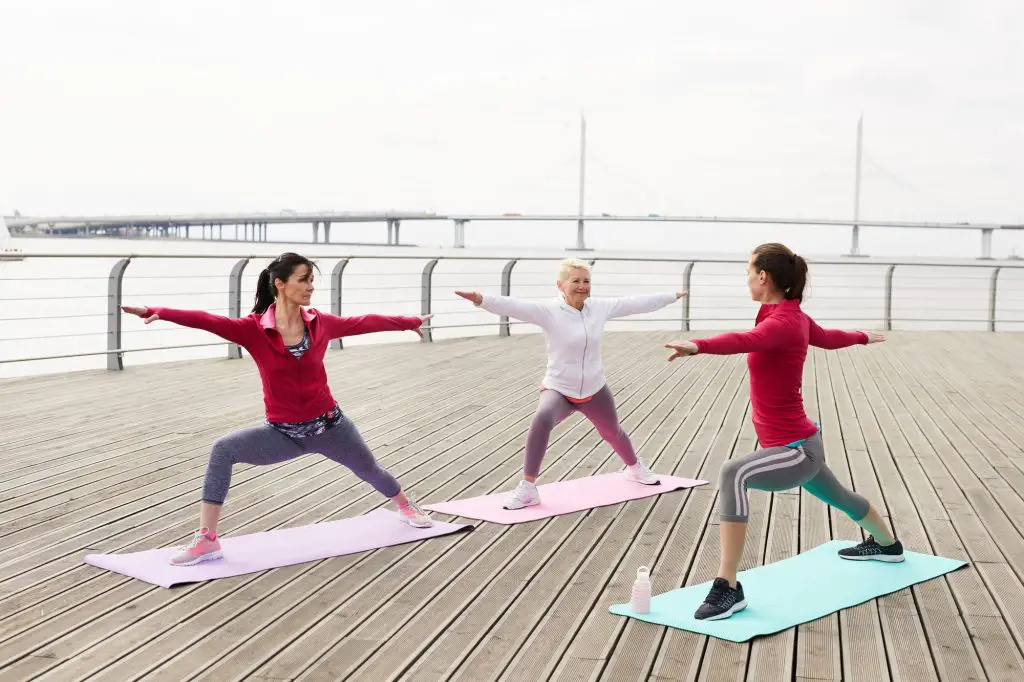 If you do wear shoes to your yoga class, something to consider is that you will probably need a pair that you put on when you get into the lobby of your studio. Most yoga studios require that you remove your outside shoes in a waiting area, before entering the yoga room itself, so as not to track in dirt.
If you get cold feet and are worried about being uncomfortable during class in the colder months, a pair of yoga socks can be a great way to keep your toes warm without compromising the benefits of going barefoot.
If you have preexisting foot issues and need the extra support of shoes, an athletic shoe made with yoga in mind is the next best option, as it offers the most coverage and support. It will keep your foot warmer than other yoga shoes.
Understanding Outdoor Yoga Classes
| | | |
| --- | --- | --- |
| Concern | Should I Wear Shoes? | Best Shoe Options |
| Outdoor Yoga | Only if you would feel more comfortable | Athletic yoga shoes or cross trainers if they are clean, yoga specific shoes if they won't leave the mat |
| Cleanliness Of Yoga Studio | Not necessarily, equipment should be disinfected between uses | Any grippy sock or shoe that covers the entire foot |
| Discomfort | No, unless you have a preexisting condition, or pain persists. | If you have persisting discomfort, a supportive shoe like an athletic yoga shoe. |
Outdoor classes are sometimes held at public parks. Doing a yoga class at the park barefoot might make you feel a little exposed, but if you are on a mat, you probably don't have anything to worry about. You also won't want to step with your dirty shoes onto your mat. If you need to, any shoe will do.
If your main concern is cleanliness, check with your studio about their communal mat disinfecting procedures. Any decent studio won't be reusing mats without cleaning them first, but you can avoid the whole issue by purchasing and bringing your mat to class.
When you are new to yoga and working out barefoot, you might experience some discomfort at first. Eventually, any foot pain should subside as your foot gets used to the exercises, just like any other sport. However, if the pain continues for an extended period, you should get checked out by a doctor and potentially find a supportive athletic yoga shoe.
Why you Should Consider Going Barefoot if Possible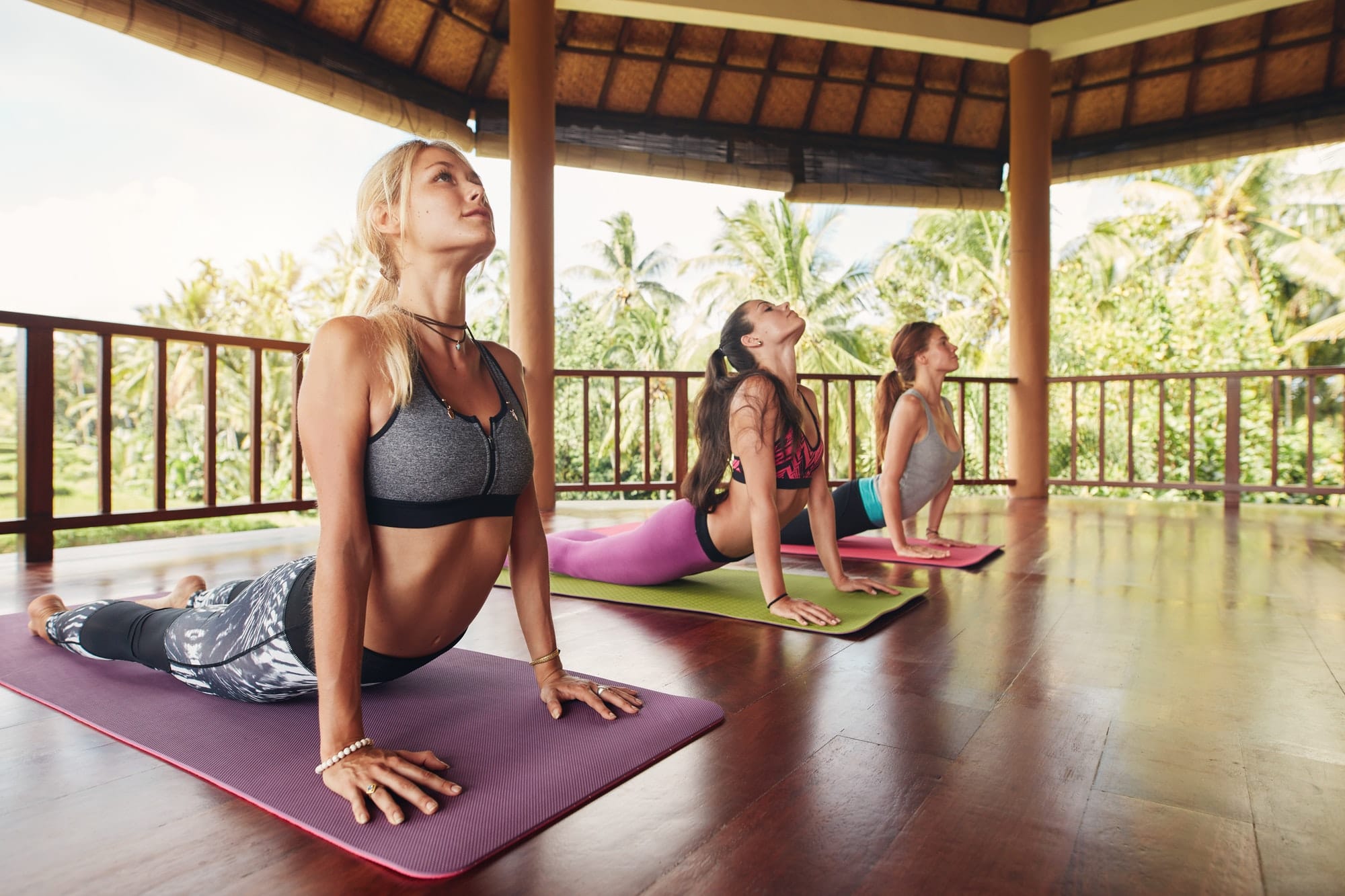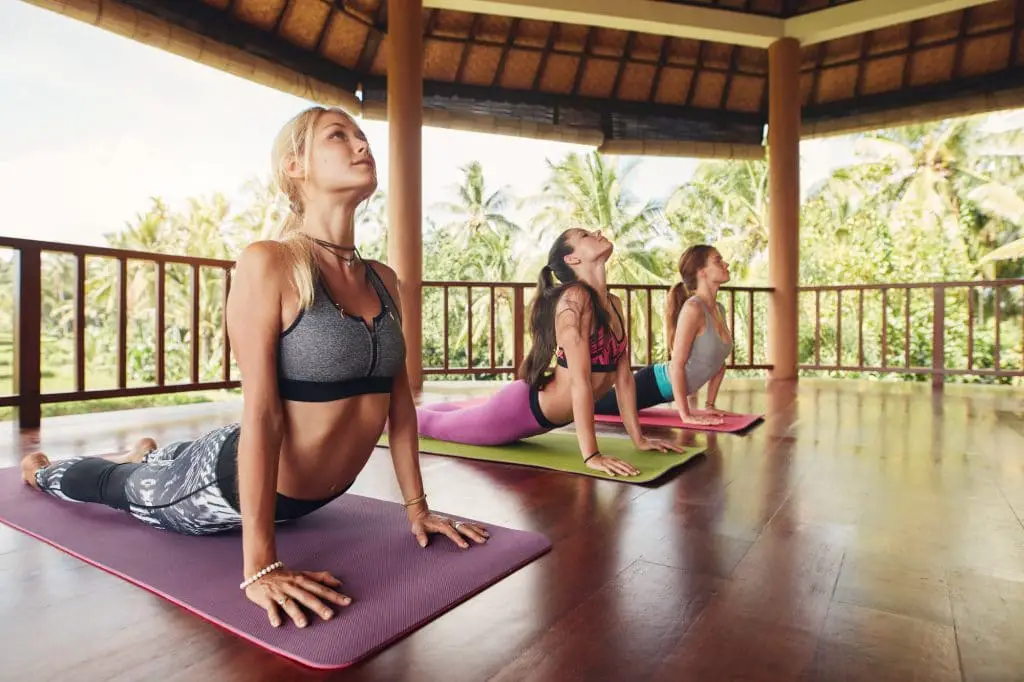 If you do not have a medical reason to wear shoes to yoga, you should look at the benefits of going barefoot before you buy a yoga shoe.
Just like cross training shoes have a thinner sole that helps you feel more grounded while you workout, going barefoot provides grounding by allowing your foot to directly connect with the floor in it's most natural state.
Bare feet provide the best balance and assist with alignment.
Arch and toe movement is essential to yoga, and you have the most freedom of movement when your feet are bare.
If you've done a yoga class before, you've probably heard a teacher instruct you to spread your toes. If you don't go barefoot often, or you're new to yoga, this can feel next to impossible. But, with practice, it will get easier, and there are benefits to working on your toe dexterity.
Your toes are integral to your balance. Spreading your toes gives you a wider base with which to balance, and makes moves like tree pose, where you stand on one foot, easier to achieve.
Beyond class, anything you might be doing with your feet, from walking to climbing stairs, is going to be affected by your toe flexibility.
You are probably aware of how something goes wrong with one muscle or joint, the rest of your body adjusts to accommodate your injury, and how that accommodation can cause even more issues in other areas.
Similarly, never addressing the weaknesses of your toes can potentially lead to issues in other areas of your body, including Achilles heel or knee tendinitis.
Related: Which Shoes to Wear with Yoga Pants
A Word from Love At First Fit
Overall, preexisting issues or injuries can mean that the support of a shoe is essential for you to reap the benefits of yoga. If this is the case, make sure you talk to your yoga instructor before you start class. They will let you in on the rules of the studio and acceptable foot support choices, and can also help by modifying poses to your needs.
Otherwise, take a chance and take off your shoes for yoga.