Many people who prefer to swim indoors get memberships at clubs and fitness gyms. For example, many adults in the US go to LA Fitness for pool amenities.
24 Hour Fitness is another famous fitness chain in the US. If you are wondering whether they have a pool, you're in the right place. Here is what you need to know.
Does 24 Hour Fitness Have A Pool?
24 Hour Fitness is the second largest fitness chain in the US that offers a pool to members. Most locations of this club have an indoor pool that people can use for lap swimming. Besides that, the fitness center provides Aqua classes in their pools too.
The first branch of 24 Hour Fitness opened in 1983, but they didn't have pools at that time. It was after the business became successful that they incorporated this facility into their membership.
It has been many years since this fitness center has been offering a pool. However, not all locations of the chain have them.
Which 24 Hour Fitness Locations Have A Pool?
The locations of 24 Hour Fitness that have pools depend on the club type. This chain has three types of clubs: active, sport, and super-sport. The last two categories are high-end and have a pool.
Meanwhile, the pool facility in active clubs vary. Some of them offer a pool while others do not. That is why if you want this service, you should opt for a well-developed club.
Some of the locations of 24 Hour Fitness that have a pool include most California clubs, Las Vegas sites, and much more.
It is best to contact the center before signing up for membership if you want pool service. The hours of this service also vary.
What Are The 24 Hour Fitness Pool Hours?
The pools at 24 Hour Fitness locations operate during the business hours of this gym chain. Most of the clubs of this center are open 24 hours a day. So in some places, people can use the pool at all times.
However, the timings of some clubs can alternate depending on the management. So the pool hours can vary depending on the site. That is why it is best to contact your 24 Hour Fitness club about the timings.
Besides that, you should note that the club has some rules in place regarding its amenities. Knowing the regulations would help you from making mistakes.
What Are The 24 Hour Fitness Pool Rules?
There are quite a few rules regarding pool amenity at 24 Hour Fitness. Here are the top things you should keep in mind:
Everyone is required to shower at the club before using the pool
Lifeguards are only available at a few locations, so you should not enter the pool if you are not a good swimmer
No one is allowed to jump lanes while in the pool
No horseplay is tolerated in the pool
During rush hour, lap swimmers are given priority over recreational ones
Besides these rules, some locations have their own regulations in place too. That is why you should check in with your club's management if you want to learn more.
Additionally, not everyone can use the pool facility at this fitness center.
Who Can Use the Pool At 24 Hour Fitness?
Only members of this gym chain can use their pools. Mainly, adults are allowed to use the amenity for lap swimming. You can also enroll in the Aqua classes for water workouts.
Minors are not allowed to enter the pool at 24 Hour Fitness. Besides that, they must come with an adult supervisor to the club.
Adult guests can also use the pool at 24 Hour Fitness. This is only if they have a pass and come with a member.
If you're wondering about the size of 24 Hour Fitness pools, you should continue reading.
How Long Is The Pool At 24 Hour Fitness?
The pool at 24 Hour Fitness is about 25 yards. This is the same size as a Junior Olympics pool. So people can easily use it for lap swimming.
However, not many people can use the pool simultaneously. This is because all of them have only three lanes. Thus, only a fixed number of people can perform lap swimming at a time.
Are Pools Open At 24 Hour Fitness in 2023?
The pools at 24 Hour Fitness are currently open for members. You can use the facility if you go to your nearest club. The only thing to keep in mind is to follow the COVID-19 protocol.
Most pools of this fitness center operate from 5 am to 9 pm daily. Some of them are functional 24 hours a day too. The timings depend on the location of the club.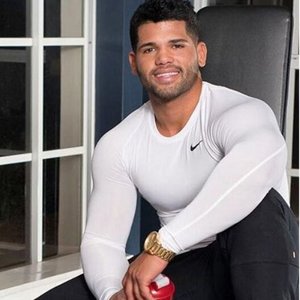 Austin is the author of loveatfirstfit.com and a personal trainer with extensive knowledge in nutrition. Austin is passionate about helping others to find a suitable healthy lifestyle and feel good about themselves. Austin's goal is to help people push their limits and achieve their physical performance.