One of the best strategies you can go for during weight loss is replacing calorie-packed drinks with zero-calorie drinks. They make it easier for you to lose weight and provide you with other ingredients you are looking for. For example, Bang energy drinks can be a perfect option.
If you are considering drinking Bang to help you lose weight, there are many things that you should be aware of and keep in mind the entire time. Any mishap can cause serious health issues, and we wouldn't want that to happen to you.
Here is a complete guide about Bang as it helps you lose weight.
Does Bang Help You Lose Weight?
Due to the high content of caffeine and zero calories in Bang drinks, they may help you lose weight if you drink them as a pre-workout to boost energy, and replace drinks with calories, sugar, and carb.
combine them with exercise and a balanced diet. However, Bang individually doesn't help much in losing weight. But if you drink it as a pre-workout, it works effectively.
Bang reduces your appetite for a short period, which helps control your diet. The best thing about Bang is that is it a zero calories energy drink that helps you achieve your goal.
Bang drinks contain many ergogenic ingredients, such as amino acids and creatine. It helps reduce fatigue and improve the workout intensity of an individual. In addition, amino acids help reduce muscle damage and soreness, so you don't feel tired the next day.
The creatine that Bang contains alone doesn't help much. But if you drink Bang and then work out, it helps build muscle mass and improve metabolism.
Types of Bang That Is Good For Weight Loss
Most of the Bang energy drinks you will find have similar base ingredients. However, due to the popularity and benefits of Bang in contributing to weight loss for many people, they have introduced many different flavors and drinks.
Here is a list of different Bang types that are good for weight loss.
| | |
| --- | --- |
| Flavors | Uniqueness of It |
| Original Bang Energy | Patented Super creatine0 sugar |
| Bang Stimulant Free | 0 caffeine |
| Bang Keto Coffee | Perfect for the Keto diet20g protein1,000mg of MCT oils |
| Bang Master Blaster | Pre-workout Mix |
| Bang Shots | 1.5oz shots contain everything that a full can does |
These are the best 5 types of Bang energy drinks that you can go for weight loss. These work the best in helping you lose weight due to their ingredients.
Make sure to read the ingredients of any flavor you choose to confirm that you aren't allergic to anything. Otherwise, Bang can have serious side effects, and you wouldn't want that to happen.
How To Drink Bang To Lose Weight?
The best way to drink Bang to lose weight is before your workout. The intensely packed ingredients will help you a lot in your workout; improve your intensity and recovery.
For a taste of change and something new, you can try the different types of Bang that we mentioned above. But it is better to know how often you should drink Bang.
1. How Often Should You Drink Bang In A Day?
The ideal number of cans you should drink is 1-2 daily. One can of Bang be consumed before a workout, and the other you can drink during lunch or breakfast. High caffeine makes it better to avoid it during nighttime as it can cause problems while sleeping.
2. How Much Is Too Much Bang?
Anything beneficial for you can also be dangerous if consumed excessively. Drinking more than two cans a day can badly affect your body, which would be the last thing you want. There should be nothing that could affect your health during weight loss.
However, if you don't like Bang due to any reason, there are some similar alternatives that you can choose from.
Bang Alternatives That Are Better For Weight Loss
There are many alternatives you can go to for weight loss. Here is a list of them that could help you make a better decision.
1. Red Bull Total Zero
Red Bull is the most popular energy drink globally. Be it any part of the world, and you will easily find Red Bull there. The Total Zero variant of Red Bull is a perfect alternative to Bang as it contains zero calories and zero sugar.
The caffeine content is comparatively lower than Bang. Red Bull Total Zero contains 80mg of caffeine, amino acids, and a few vitamins.
2. Monster Zero Ultra
This is perfect for you if you are looking for energy with no calories and sugars but with a mild taste of caffeine. The Monster Zero Ultra contains 140mg of caffeine.
And if you are a fan of Monster, this is the healthier option for you and is sugar-free.
3. Adrenaline Shoc
The Adrenaline Shoc is a better energy drink to help you lose weight. It is a high-performance drink that improves your cognitive health, energy level, and physical endurance.
Each 16 fl. Oz can is filled with amino acids, electrolytes, and vitamins. It is one of the best energy drinks to have before your workout. It gives a stronger boost that helps you achieve your optimum level of boost.
4. Xtend
Xtend is an energy drink packed with ingredients that help with muscle growth and recovery. It is a drink specially designed for athletes and high performers.
Some of the beneficial ingredients it contains include electrolytes, BCAAs and taurine. Make sure to have a can before your workout to make sure you have the energy and improved intensity to work.
5. Aspire Energy
If you are looking for a natural approach to your energy drink selection, the Aspire Energy drink is the perfect option for you. It helps boost exercise intensity and cognitive performance.
It contains natural caffeine content of around 80mg per can. In addition, it contains L-Carnitine and vitamin C.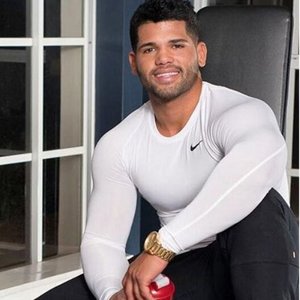 Austin is the author of loveatfirstfit.com and a personal trainer with extensive knowledge in nutrition. Austin is passionate about helping others to find a suitable healthy lifestyle and feel good about themselves. Austin's goal is to help people push their limits and achieve their physical performance.