Ozaiic Women's Non-Slip Grip and Strap Socks
On Sale
Yoga Socks for Women Non-Slip Grips & Straps, Ideal for...
HOLD YOUR POSE WITH EASE - You will feel confident, stylish and protected with...
INCREASE BALANCE AND STABILITY - Our barre socks are also great for when you do...
NICE BALLET-INSPIRED DESIGN - You will love your ballet style socks for studio...
EMBRACE THE SOCKS REVOLUTION WITH COMFORT! - If you hate the feel of toe socks,...
A high-quality way to assure you can hold your pose with ease, these remarkable socks include 100% silicone gel grips on the bottom.
Comfortable and incredibly supportive, these wonderful women's socks fit your feet perfectly from front to back and all throughout their form.
A gorgeous ballet-inspired design, no other style of socks in your wardrobe provide the level of stability these do.
What We Like:
Created in a one-size-fits-all design, these women's socks fit any woman's foot from size 5.5 to 11.
Available in several colors and quantities to choose from.
Made from natural combed cotton to absorb sweat and protect against bacteria.
---
Shashi Star Women's Sparkle Grip Socks
Shashi Charcoal Glitter Mesh Non Slip Ergonomic Socks...
What Makes SHASHI Special? Our Mesh socks are perfect for any type of activity....
We Give You A Reason To Show Off Your Feet! Aside from making fantastic yoga...
Prevent Falling: Our Pilates socks can prevent falls on slippery wood and stone...
Grip Support: Mesh top design provides breathability and comfort during...
Designed to fit each foot specifically, these amazing socks provide an incredibly custom fit and true comfort unlike any other non-slip sock design on the market.
Full coverage grips on the bottom add stability to each step and the sparkle mesh panel on top adds a bit of dazzle and panache you're sure to love every inch of.
Created from COOLMAX moisture wicking fabric in order to keep your feet cool and dry, these socks are great for wearing on their own or underneath ballet flats if desired.
What We Like:
Available in a fashionable array of colors to choose from.
Each sock comes with a mesh storage pouch for easy access and transport if needed.
A simple way to show off your personal style, and do so as safely as possible.
---
Muezna Anti-Skid Pilates Socks
On Sale
Muezna Non Slip Yoga Socks for Women, Anti-Skid Pilates,...
Newest Design: Stylish design on the instep and anti-skid frictions on the...
Better Material: The Combed Cotton and 100% Silica Grips have better effect in...
Protect Anyone from Nasty Falls: These Anti-skid socks are also perfect for...
Gift Bag is Free: Packed in a nice bag for usually storage, also helping to keep...
Truly fashionable fitness socks that feature a stylish design as well as high-quality construction; created from combed cotton and 100% silica grips, these socks are meant to last through frequent usage with ease.
Designed to provide an anti-skid, non-slip surface to walk upon, these socks are great for yoga, Pilates, barre, bikram, Ballet and more.
Made to offer better ventilation than other anti-skid sock styles, these socks come in a medium thickness and keep your feet dry all day long, throughout every single wear.
What We Like:
Available in various colors to easily match your workout gear every day of the week.
The socks come in a carrying bag to assure transport to your Pilates gym is as simple as can be.
Great for use by pregnant women and the elderly as well.
---
Elutong Non-Slip Pilates Socks
ELUTONG Pilates Yoga Non Slip Skid Socks 4 Pack Ballet Barre...
NON-SLIP GRAIN DESIGN-Featured non slip dots on the bottom of the socks. They...
High Elasticity Socks: Women's grip socks fits women shoe sizes 5-8.Package...
STAY CLEAN AND COVERED: Elutong fully covered design socks protect your feet...
ALL PURPOSES IN ONE: Ideal for not only yoga, but also pilates, barre,...
Ideal for use during yoga, Pilates, barre, ballet or dance classes of any kind, these truly comfortable and highly elastic socks let you move freely while safely keeping you on your feet.
Offering amazing grip for absolute stability on bottom; these socks provide the perfect amount of tread at key contact points for your foot onto the floor.
Boasting a natural cotton blend that keeps your feet cool, there is also a compression ribbed arch that provides all day comfort, any season of the year.
What We Like:
Available in women's sizes 5-8 and an array of fashionable colors as well.
Designed with a heel grip inside the sock to keep it in place during movement.
The perfect gift for any Pilates or yoga loving woman in your life.
---
Tucketts Toeless Non-Slip Socks
Tucketts Allegro Toeless Non-Slip Grip Socks - Anti Skid...
WHY DO I NEED OPEN TOE GRIP SOCKS? Tucketts patented toeless grip socks allow...
PROVIDES STABILITY, GRIP, and BALANCE. Free toes, lightweight knit, and superior...
COMFORT, STYLE AND QUALITY. Tucketts socks are made in Colombia with a blend of...
SUSTAINABILITY IS OUR PASSION. Since day one, it's been our goal to cause the...
Featuring a patented toe-free design, these unique and high-quality socks allow for true freedom of movement during barefoot exercises.
The only way to get the stability of a non-slip sock while still retaining a barefoot feel, every inch of these socks is meant to offer you security and comfort all at once.
Machine washable and designed for frequent, or daily use, these absolutely solid non-slip socks keep their tread so you stay connected to the floor or mat you're practicing on.
What We Like:
Great for use during Pilates, yoga, barre, dance, martial arts, gymnastics and more.
Available in women's sizes 6-9 and an array of fashionable color options to choose from.
The soft strap and well-stitched heel assure you're comfortable all over.
---
Hylaea Half-Toe Non-Slip Socks
Hylaea Yoga Socks for Women with Grip & Non Slip Toeless...
THESE SOCKS ARE PATENT-PENDING NOW. Toeless Yoga Socks: Exposed half toes socks...
Anti-Skid Socks: The non-slip silicone gel grips on the bottom, keeping you...
Better Material: Made of Combed Cotton, better effect in Sweat Absorption and...
Eco-friendly Yoga socks, keeps your feet dry. Elastic fabrics that are very...
Allowing you to better feel the floor while moving as safely as possible, these remarkably well-made socks offer a half-toe front and a non-slip bottom and heel as well.
Ideal for adding enhanced stability to your yoga, barre or Pilates working; not only are these non-slip socks made from combed cotton; they also feature silicone grips also great for hospital patients, the elderly and more.
Providing better tactile feel and balance than any other non-slip sock style, these half-toe socks are designed to keep you cool, comfortable and confident from the first move of your workout until the very last.
What We Like:
Available in a range of sizes and colors to best fit your feet and your sense of style.
Made to keep your feet dry and feeling their best every single time you go work out.
Incredibly stylish and versatile in both form and look.
---
Cooque Non-Slip Grip Socks
Cooque Yoga Socks for women with Non-Slip Grips&Straps - for...
Pure Cotton Material: Made of 100% natural cotton fibers, these yoga socks are...
Criss-cross strap design: This grippy yoga socks features a unique criss-cross...
Anti-skid Non-slip Design: Our yoga socks features full coverage anti-skid...
Multiple Uses Socks: Our barre socks can be used not only for yoga but also for...
Created with a non-slip grips on the bottom that are evenly distributed from front to back, these incredible socks keep you from sliding and skidding across studio or gym floors as you move.
Great for use not only just during yoga or Pilates, these multi-purpose socks are also wonderful for use during barre, kickboxing, ballet and more.
Manufactured from 100% combed cotton material, these well-made socks are designed to absorb sweat, keep your feet dry, and to wrap around feet comfortably as well.
What We Like:
Made to fit any woman's foot between sizes 5 and 10.
The open top provides breathability and comfort.
Instantly add stability and balance to any barefoot activity you take part in.
---
Unenow Unisex Grip Socks
On Sale
unenow Unisex Non Slip Grip Socks with Cushion for Yoga...
Non-Slip Grip Design: Featured non slip dots on the bottom of the socks. Unisex...
High Elasticity Socks: High elastic non skid sticky grippers socks are available...
Stay Clean and Covered: Home & hospital socks provide a barrier between your...
Multi-usage: No matter what kind of exercise you do, non slip grippers socks for...
A magnificent and truly multi-purpose pair of socks, this high-quality unisex design allows anyone to stay on their feet no matter what barefoot activity you're doing.
Perfect for use during Pilates, yoga, barre and more; these amazing socks are also great for use in at-home health care, for pregnant women, or the elderly if needed.
Designed with a highly elastic form and anti-skid grips all over the bottom, every inch of these remarkable grip socks is made to assure you aren't injured in any way as you move across any surface.
What We Like:
These socks keep your feet dry, covered and feeling comfortable all day long if needed.
The grips on bottom are made from high-quality silicon material so they won't crack no matter how often they're worn.
Easy to pull on and created from breathable combed cotton material.
---
Hicdaw Women's Non-Slip Skid Socks
On Sale
Hicdaw 4 Pairs Yoga Socks for Women Pilates Socks Non Slip...
🧦Package Include- Pilates socks with grips for women are a total of 4 pairs...
👣Non-slip Socks Design- The socks with grippers for women non-slip points are...
👟Yoga Socks for Women - Grip socks for women pilates use high-quality combed...
👡Contemporary Design - Sticky socks barre adopt the popular ballet design,...
A long-lasting pair of combed cotton socks with non-slip points all over the bottom; these stylish socks keep your feet on the ground no matter what surface you're stepping upon.
Great for wear during yoga and Pilates workouts, these wonderful women's socks also work well for at-home or hospital use if necessary.
Truly comfortable and amazingly breathable as well, from top to bottom these non-slip socks provide absolute comfort you'll want to wear all day long; not just at the gym.
What We Like:
Suitable for a woman's foot, between size 5.5 and 7.5.
The sweat absorbent and anti-skid form keep you on your feet.
Simple to slip on and the perfect addition to your workout.
---
Wander G Women's Non-Slip Socks
On Sale
Yoga Socks Non Slip Skid Socks with Grips Pilates Ballet...
TWO SIZES: Small-Medium fits Women's shoe size 4-8, Large-X-Large fits Women's...
NON-SLIP GRIP: Featured non slip dots on the bottom of the socks. They offer...
PREVENT FALLING: The socks can prevent falls on slippery wood and stone floors....
ABSORB SWEAT AND KEEP DRY: Womens yoga socks provide a barrier between your foot...
The perfect way to prevent falls as you do your Pilates workout or barre routine; this incredibly comfortable pair of socks keeps you steady and comfortable for as long as you need.
Designed to absorb sweat and protect your feet as well, when you slip on a pair of these non-slip socks you can be sure your feet will stay dry and cozy no matter what.
Boasting undetectable grip on the bottom that you never feel as you take each step, these socks offer amazing cushion with risk of slipping or sliding at all.
What We Like:
Available in two size options to choose from to best fit your feet.
The open top provides breathability to repel sweat and odor of any kind.
Created from premium, long-lasting cotton material.
Loveatfirstfit.com is a participant in the Amazon Services LLC Associates Program, an affiliate advertising program designed to provide a means for sites to earn advertising fees by advertising and linking to Amazon.com. We may earn a commission when you buy through links on our site.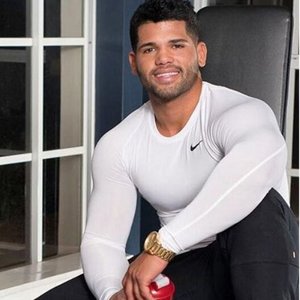 Austin is the author of loveatfirstfit.com and a personal trainer with extensive knowledge in nutrition. Austin is passionate about helping others to find a suitable healthy lifestyle and feel good about themselves. Austin's goal is to help people push their limits and achieve their physical performance.
Last update on 2023-02-13 / Affiliate links / Images from Amazon Product Advertising API