Most chefs know that the kitchen can be a hazardous working environment. There are sharp knives and plenty of hot surfaces to get burned on. The biggest risk factor for any chef is the slick floors. In a professional kitchen, there is always the chance of water or oil getting onto the floor during the cooking process.
This can build up and lead to a seriously slick floor. If you aren't careful, you can find yourself slipping and sliding. This will increase your risk of hurting yourself with those hot surfaces and sharp knives that we talked about earlier.
The best way to prevent these risks is with a reliable pair of shoes made specifically for working in the kitchen.
Shoes that are comfortable and non-slip are most suitable for chefs and kitchen workers. Find a pair that has good arch support and is made with a rubber outsole. This will help you mitigate the impact and lessen the pressure on your feet when you walk.
A solid pair of chef shoes can play a huge role in your workday in the kitchen. Comfort, support, breathability, and safety are all concerns on the job.
You probably spend all day on your feet, working in a hot kitchen with slippery floors, hot liquids, and sharp objects.
You're going to want a shoe that is durable, comfortable, and safety-conscious. To that end, we've put together a list of our ten favorite chef shoes in 2020.
Merrel Jungle Moc
The Merrel Jungle Moc is a stylish option for any chef. It features a durable synthetic leather upper that makes it fully waterproof. This shoe also has a special membrane that allows moisture and sweat to escape your feet, but it keeps water and moisture from getting inside your shoes. This membrane also helps to prevent unwanted odors in your shoes.
The Jungle Moc has elastic insets to help keep your foot snugly in place, and all the traction you will need to keep from slipping in the kitchen. With a 3mm rubber lug depth, these shoes can grip almost any surface. You won't be slipping on oil, water, or grease while you're wearing these. They also feature the Merrel Air Cushion inside of the heel. This gives the wearer some added shock absorption.
Why you need this shoe:
Deep lugs for added traction.
Merrel Air Cushion for shock absorption.
Stylish design for the kitchen.
Special membrane to keep your feet cool and dry.
Elastic insets to prevent your feet from slipping in your shoes.
Dansko Professional Mule
The Dansko Professional Mule can be used by anyone working in a kitchen environment. They're built with comfort in mind, knowing that the wearer is going to be standing and walking for long shifts every day.
These shoes have a very rounded toe that has a rocker on the bottom to help support your feet while you walk. This support helps to prevent the fatigue usually caused by standing for long periods of time. The padded collars of the shoes help to prevent chafing and ensure a good fit while you work. Leather uppers also provide durability and support.
The Mule also features an open cell foam footbed. This design allows you to get excellent airflow to your feet. The Mule also comes equipped with a reinforced toe box to help keep you safe. If something falls on your feet, they'll help to protect you. The sole of the shoe is made with rubber and has a non-slip tread to provide good traction on any slick surface.
Why you need this shoe:
Reinforced toe box for safety and security.
Padded collars to promote comfort and proper fit.
Leather uppers for added durability and water resistance.
Higher heel for added cushioning while walking.
Ideal for any kitchen use, not just for chefs.
Skechers Work Soft Stride
Another multi-purpose shoe, Skechers Work Soft Stride shoes are very stylish. They're made with leather uppers that feature stitching to help promote breathability. For even more airflow, these shoes feature perforated paneling around your feet.
The shoes feature padded collars and tongues to help ensure a snug and comfortable fit and you walk and stand. The insole is removable and can be easily replaced with orthopedic or specialized insoles to help accommodate whatever you need for your feet.
Skechers is a very well-known brand, and their special, non-slip tread meets some of the highest requirements for a work shoe. The sole of the shoe is actually designed to be replaced once it has become unusable. This will save you from having to buy a whole new shoe.
Why you need this shoe:
Extreme breathability from stitching and perforated paneling.
Removable sole for easy replacement.
Durable leather design.
High-quality non-slip tread.
Comfortable fit from padded collars and tongues.
Keen Men's PTC Oxford
A low-profile shoe, the Keen Men's PTC Oxford is designed with comfort in mind. These are lightweight shoes that have a removable, plush, memory foam footbed.
They have excellent shock-absorption qualities to help prevent foot pain after long hours of standing and walking. It isn't just the foot sole that is padded. The whole inside of the shoe is lined with padding that helps to keep your foot comfortable all day long.
They have a non-marking and water resistant outsole that features slip resistant tread. The midsole is molded EVA and has moisture-wicking capabilities to keep your feet cool and dry as you work. These shoes come in 5 different widths to accommodate any foot size. This is ideal if you have a very narrow or very wide foot that won't fit properly in a standard shoe.
Why you need this shoe:
Extreme, all-around cushioning for maximum comfort.
Removable footsole for easy cleaning.
Moisture-wicking capabilities.
Lightweight design for added comfort.
5 widths for the perfect fit.
Skechers Softie
Another work shoe from Skechers, the Softie features a very stylish design. Softies are comfortable, but also durable. They have a leather upper and lace-up to give them the appearance of sneakers.
The laces also help to keep your foot snugly in place inside the shoe. Just like most Skechers' shoes, they feature padded collars and tongues for maximum comfort.
Skechers Softies have a removable insole that can easily be replaced with whatever specialized insole you need. They also have a high heel and very thick rubber outsoles for traction on most surfaces. The thickness of the sole and heel also means more shock absorption throughout the day. With Skechers, you'll be getting shoes from a trusted and well-known company across the globe.
Why you need this shoe:
Stylish design to fit any situation.
High heel for added comfort and shock-absorption.
Removable insole.
Padded collar and tongue for extra comfort.
Durable leather upper for comfort and style.
Birkenstock Profi Birki
Hailing from Germany, the Birkenstock Profi Birki features a polyurethane footbed that contours to the shape of the user's foot. This footbed is removable and can be washed in hot water.
The inside of the shoe is lined with fabric to help keep sweat off of the feet. The outsole of the shoe is made entirely out of polyurethane and features a non-slip sole that is grease and oil resistant.
Birkenstock Profi Birki shoes are made with all animal-free materials. The footbed features microfibers that allow your foot to breathe. They also let your foot flex naturally for superior comfort while you stand and walk around. The heel of the shoe is raised to promote a proper walking stride. They also have an extended toe as an added safety feature. These shoes come with a five-year warranty.
Why you need this shoe:
Designed with animal free materials.
Microfiber footbed for breathability and flexibility.
Raised heel to promote a proper gait.
Extended toe for safety on the job.
5-year warranty.
Crocs Bistro Clogs
Crocs are all about comfort. They are a very well-known brand that is sold all over the world. Crocs Bistro Clogs are much roomier than a lot of chef shoes. They have a relaxed fit to help your foot breathe on the job.
These shoes are made of lightweight, relatively soft materials that take on the shape of your foot. Because of their lightweight nature, these shoes also then to be very flexible. The insole of the shoe is made of Croslite foam. This foam is lightweight and features a soft footbed to help keep your feet comfortable all day long.
The outer portion of the shoe is made completely out of molded plastic. This means no glues and adhesives to worry about. Cheap glue can cause a shoe to separate after usage. Crocs Bistro Clogs have added material around the toes to help protect your feet from falling objects and hot liquids. The shoes are washable with soap and water and come with a 90-day warranty.
Why you need this shoe:
Lightweight and flexible design for comfort while walking.
Soft-cushioned insole for comfort while standing.
Added protection around the toe of the foot.
Molded plastic outsole.
Easily washable with soap and water.
Dickies Slip-Resistant Work Shoe
Another well-known brand, Dickies has been making work shoes and apparel for almost 100 years. The Dickies SR4015 are excellent shoes to wear around the kitchen. They feature an athletic style slip-on functionality that will keep your foot snug and secure all day.
They use premium leather uppers that have good breathable qualities. Then, the shoe is covered with a moisture-wicking fabric to keep you dry. The outsole of the shoe is designed with slip-resistant rubber and features a patented tread design that meets the highest standards for non-slip tread.
These shoes feature memory foam insoles for extreme comfort on the job. They also have padding around the ankle to help prevent you from chafing. It has elastic inside the help keep your foot gripped snugly to the shoe. The Dickies SR4015 are excellent shoes for any level of chef, and they have a well-known brand name to back them up.
Why you need this shoe:
Moisture-wicking fabric to keep away water and odors.
Memory foam insoles for added comfort.
Padded collar to help prevent chafing.
Patented tread design.
Breathable leather uppers.
SensFoot SW-051
MOZO is all about traction. MOZO Sharkz has molded rubber compound outsoles that use a micro channel tread pattern to roll away grease and slippery liquids. They also feature elastic to make the shoe easier to slip on while providing a snug fit.
MOZO Sharkz use synthetic leather uppers to make them water resistant and stain resistant. While the majority of the shoe is molded polyurethane, it features vents to allow your foot to breathe on the job.
These shoes also provide plenty of comfort with removable insoles. You can even customize your shoes with multiple insoles to help you achieve the perfect fit. MOZO Sharkz even comes with a three-month warranty.
Why you need this shoe:
MOZO Sharkz are 100% vegan shoes. They're made with no animal products at all.
Micro-channel tread pattern to drain away slippery liquids.
Regular and wide-fit options.
Side vents for breathability.
Removable insoles for added comfort.
What makes chef shoes different?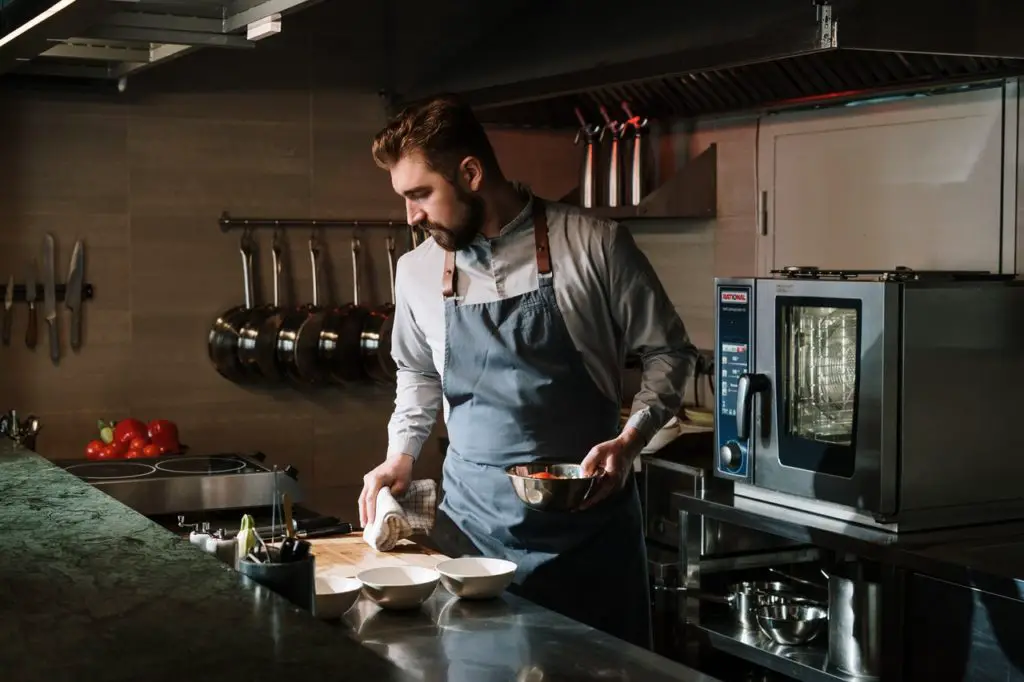 Each of these shoes is an excellent option if you work in or around the kitchen on a daily basis. Just remember to choose a shoe that checks off everything you're looking for. It's also a good idea to go in and try some shoes on to see what feels right for you.
Some shoes offer multiple widths, so you should find out if you have narrow or wide feet. That way, you'll get the perfect fit each time. If you don't know where to start, always look for shoes that are non-slip, and are made with breathable materials.
As we've mentioned, chef shoes are not the same as all work shoes. Working in the kitchen comes with a whole list of risks that chef shoes need to help prevent. As such, they require special features that help keep you safe during working hours.
Non-Slip Soles
For anyone working in a kitchen environment, non-slip shoes are a must. You'll encounter slick surfaces every day from oil and liquid spills. A regular shoe might even track that oil or liquid out of the kitchen, causing you to slip wherever you go. Non-slip soles allow the water to pass around the shoe, rather than getting underneath it and compromising your balance.
What makes a good non-slip shoe?
Deep tread and grooves that provide plenty of friction while you walk
Softer materials that help to grip the ground rather than sliding over it
Circular patterns on the tread for a better grip on wet surfaces.
Tapered Outsole
Chef shoes are shaped specifically to avoid injuries to the feet. The outsole (or the bottommost part) of the shoe tapers to prevent the wearer from tripping on the job.
Cushioned Insole
As most chefs and kitchen workers are on their feet all day, it is extremely important to have a comfortable pair of shoes. Chef shoes feature a cushioned insole that will help to support the feet through an entire workday.
Waterproofing
Most chefs know that working in a kitchen can lead to spills of oil or water. Getting water on your shoes can actually be pretty disastrous for a chef working long hours on the job. If water penetrates the shoes, it will eventually get into the wearer's socks and soak them. Wet socks will then lead to blisters and extreme discomfort.
Luckily, a good pair of chef shoes comes with a water-resistant covering! They won't allow water to soak into them, and instead, let the water roll off the top and down onto the floor.
Puncture-Resistant
We talked briefly about the dangers of sharp objects earlier. You may have been thinking more about cutting a finger while chopping some food, but unfortunately, this isn't the only way to get injured! A knife left too close to the edge of a counter can pose a serious risk if it were to fall and hit your shoe. Make sure to look for a puncture-resistant pair of chef shoes.
Steel-toed
Just like with knives, heavy boxes sometimes get placed too close to the edge of a counter or shelf. A good pair of chef shoes will have a steel toe that will protect your feet from damage. Steel-toed shoes provide a rigid structure to the front of the shoe that won't crush or break under heavy impacts.
Breathability
Lastly, a good chef shoe should be breathable. Working in a restaurant usually means long hours, and many kitchens tend to be very warm environments. Having a shoe that lets your feet breathe will help to keep you cooler and more comfortable during work.
Who needs chef shoes?
The most obvious answer is, chefs! Whether you're the head chef, sous chef, line cook, or fry cook, you're going to want a good pair of chef shoes. Any job that has you in the kitchen, working around spills, sharp objects, and hot stoves is the perfect job for chef shoes. Some kitchens may even require that you be able to carry around heavy objects. The last thing you will want is to hit a patch of oil and slip! Here are some other jobs that might require chef shoes:
Waiters & Waitresses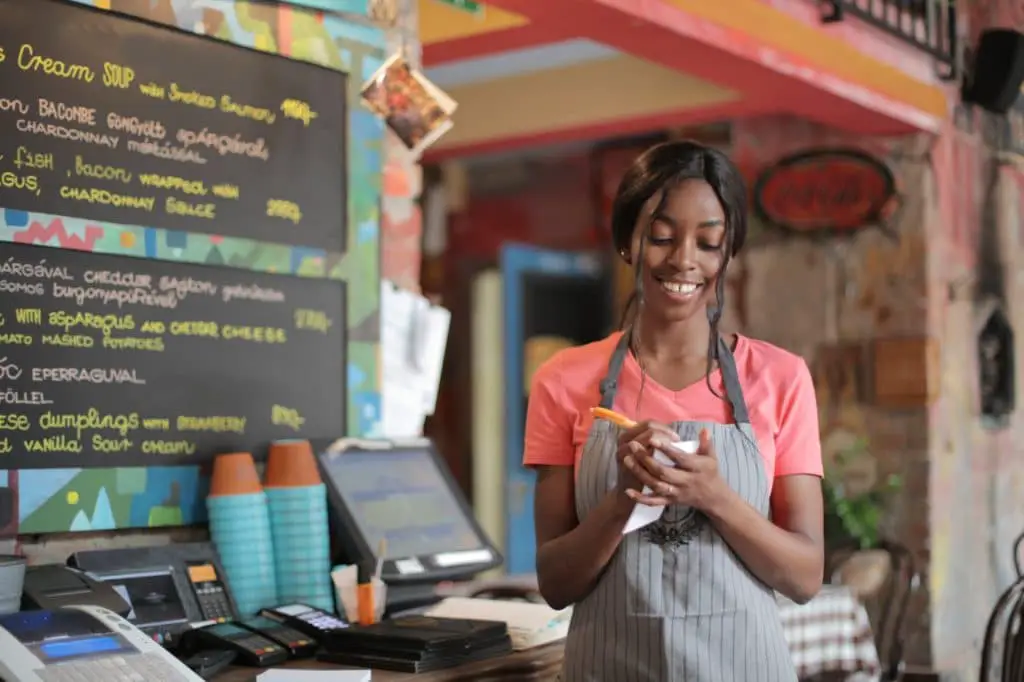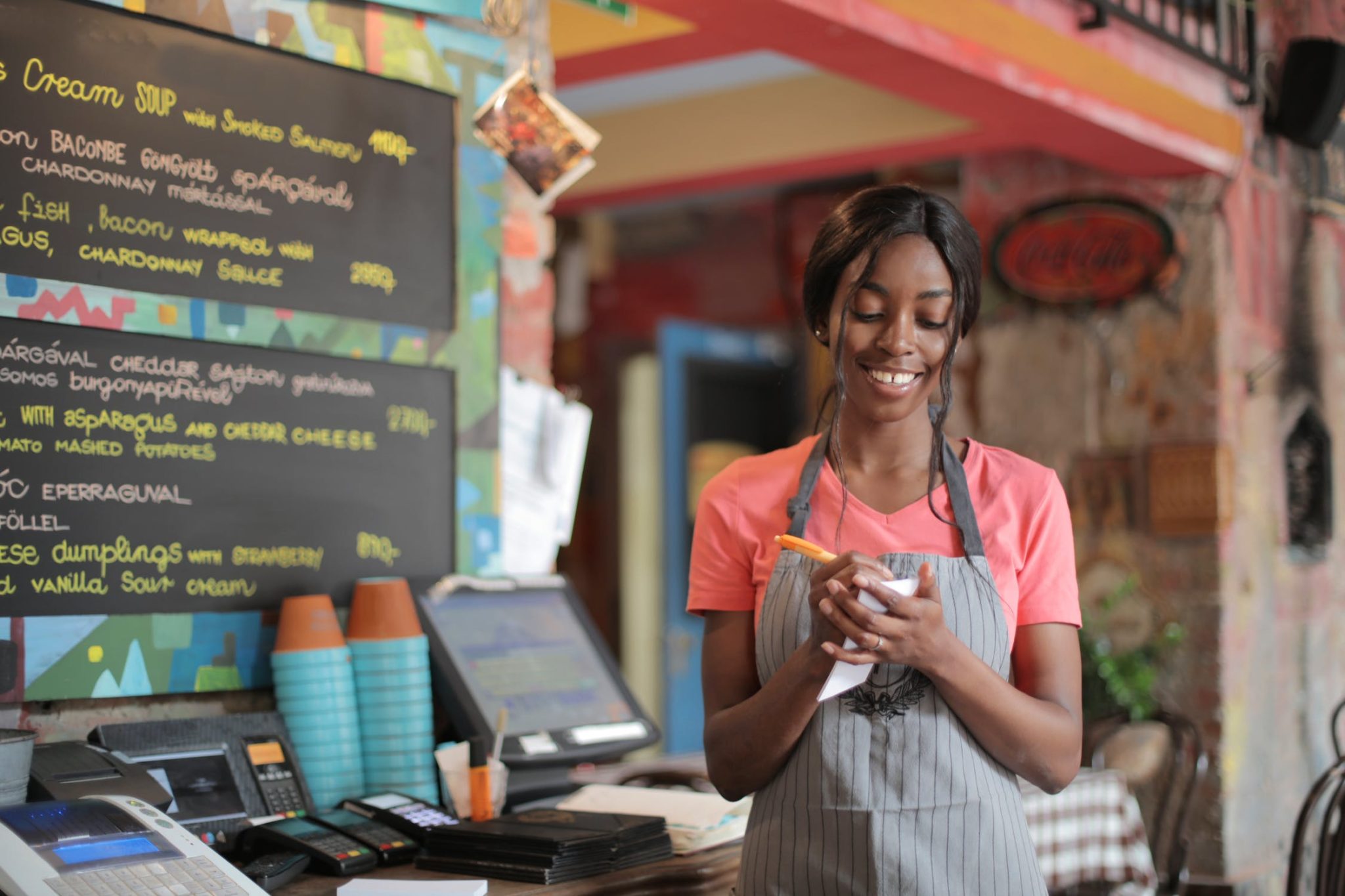 Are you a server at a restaurant? You might actually benefit from chef shoes as well! Most servers have to walk through the kitchen quite frequently during their shift. Carrying a heavy tray of food is hard enough, but trying to carry one over a slick floor is even harder! Chef shoes will provide a non-slip tread that will help you keep your footing.
Bartenders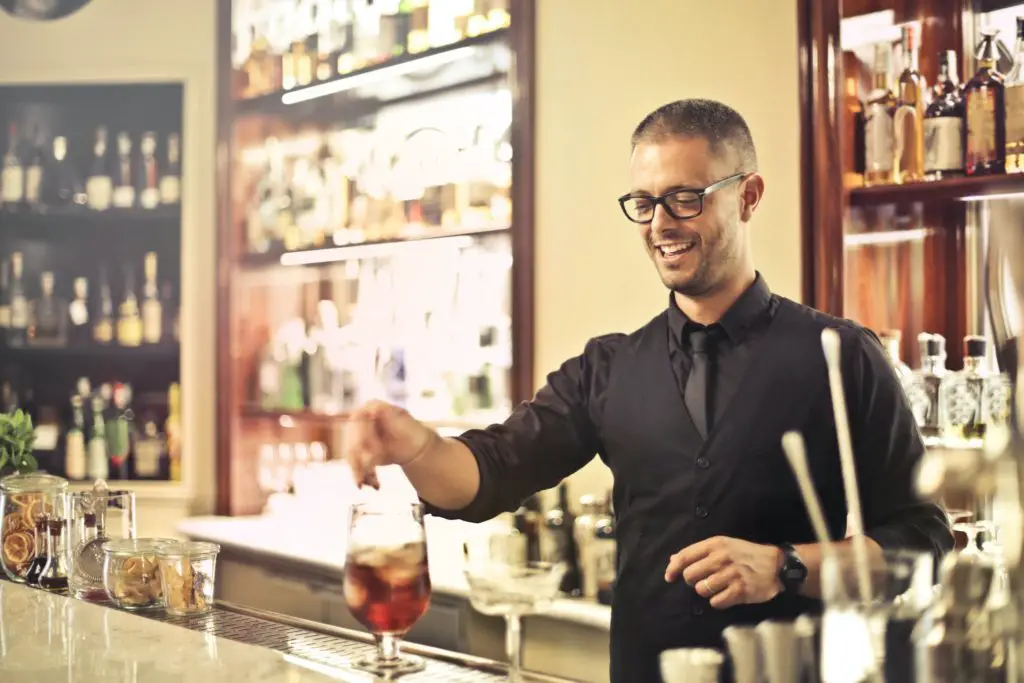 Tons of restaurants have their own bar in them, and many bars actually serve food as well. In this environment, it is more than likely that a bartender will have to come through the kitchen during their shift. Bars are also notorious for having slick floors from spilled liquids. This is where the non-slip and waterproof functions of the chef shoe really come in handy!
Hosts & Hostesses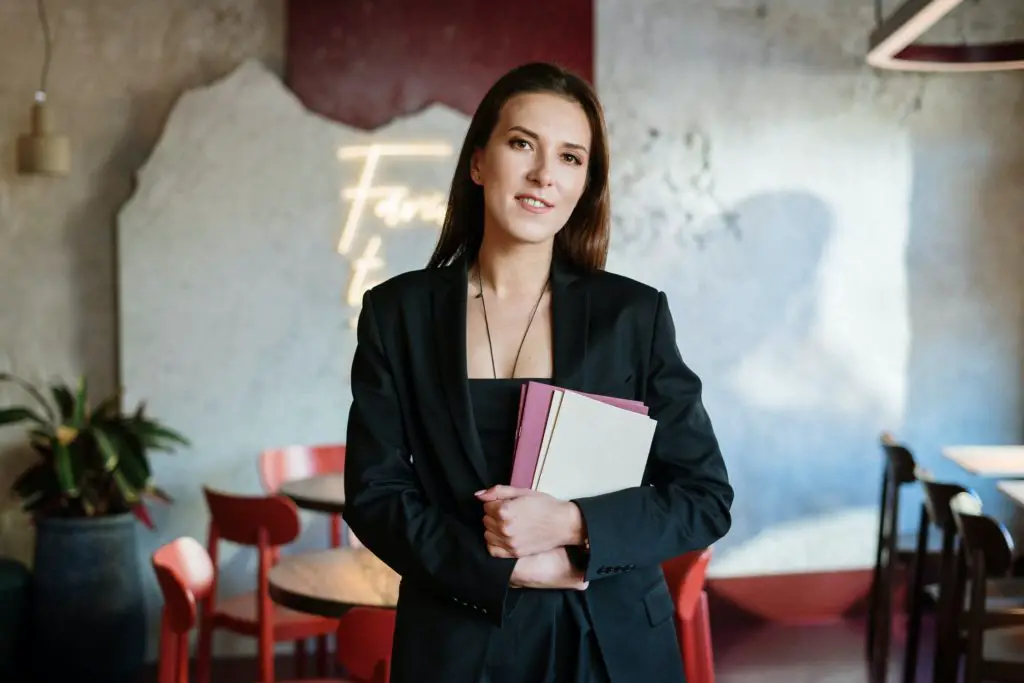 A host or hostess doesn't just show customers to their tables. They tend to have to help out all over the restaurant. They may have to cross through the kitchen and deal with slick floors. For someone who has to stand all day on a slippery surface such as a host or hostess, breathable and non-slip chef shoes are a must.
Busser
If you are a busser, then you'll be bringing dishes back into the kitchen all day. That can mean a huge risk for slipping and sliding on the wet and oily surfaces that make up the kitchen floor. Bussers do a lot of walking and standing, especially in wet areas. They'll want to look for an extremely waterproof shoe with really good non-slip properties.
Restaurant Workers with Foot Problems
If you suffer from foot issues such as high arches or Plantar Fasciitis, there are shoes that can help. Working on your feet all day can lead to pain and extreme discomfort if you suffer from any of these afflictions. It's important to look for a shoe that can help to properly support your feet as you walk and stand.
Restaurant Workers with Plantar Fasciitis
Plantar Fasciitis is typically caused by strain to the plantar fascia ligament in the sole of a person's foot. As such, it requires good support in order to prevent further strain. You should look for shoes that have the following qualities:
Rigid backs to support the ankle and prevent it from rolling too far.
An elevated heel with a thick sole to help reduce pressure on the plantar fascia.
Extra cushioning on the insole to provide support across the arch and ball of the foot.
Related: Top 12 Best Shoes For Plantar Fasciitis
Restaurant Workers with High Arches
If you have high arches, it means that your foot has a hard time absorbing and distributing impact while you walk. It also has a harder time with weight distribution as you stand. Here are some specifications you should look for if you have high arches:
A low heel to help keep the arch of your foot from stretching too much while you move around.
Plenty of toe room to help keep strain off of your foot. If your toes are jammed together, it can actually put more strain on your arch as you walk.
Extra support on the insole to keep your arch snug and comfortable all day.
Related: Top 10 Best Running Shoes for High Arches
Recommended Inserts
Yes! There are tons of insoles out there to help support your feet while you work. These insoles will fit almost any shoe and can be tailored to a variety of needs. There are lots of different brands that offer quality insoles for people everywhere.
Dr. Scholls – Probably the most popular brand of shoe inserts on the market, Dr. Scholls offers a variety of inserts in all shapes and sizes. You can even locate a fitting station near you to get a custom-sized insert that is tailor-made for your foot and gait.
---
New Balance – This one is another pretty well-known brand. New Balance has been in the shoe game for a long time, but they also make excellent insoles! They are more popular in the athletic industry, but they have plenty of inserts that will work excellently for work shoes.
---
Powerstep – Powerstep sells inserts that are specifically designed to support weak arches and prevent heel pain throughout the day. They sell at a good price point and can be cut to fit different types of shoes if one specific size doesn't quite fit your shoe.
---
Where to Buy Chef Shoes Online
Almost every popular shoe brand makes non-slip shoes for chefs and kitchen workers. Nike, Adidas, Skechers, and even Walmart sell them in their retail stores and online. You'll also be able to find tons of lesser-known brands on Amazon.
We can only recommend that you stay away from buying used shoes. A used non-slip shoe can have worn down tread that won't help to keep you safe on slick floors. The cushioning in shoes also tend to break down over time, leading to foot pain and discomfort.
When to Replace Your Work Shoes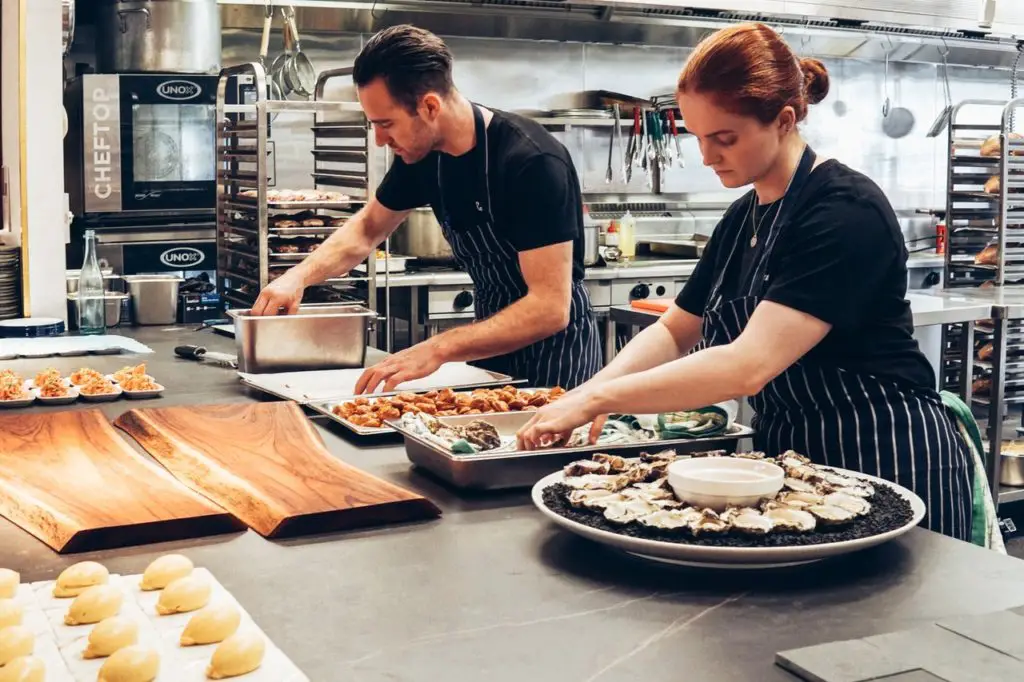 Knowing whether or not it's time to replace your non-slip shoes isn't too difficult. Most of the time, you just have to pick them up and look them over.
Check the tread
If the tread on your shoe is really worn down, then it's probably time for a replacement. The deep tread on these shoes is what keeps you from slipping. Having worn down and thin treads could lead to an accident on the job.
Connectivity
If your outsole (or tread) is coming loose from the rest of your shoe, then it's definitely time for a replacement. Having a loose outsole could cause you to catch your foot on something and trip. It could also compromise the waterproof nature of your shoes and allow liquids to seep into your socks.
Look for holes
Over time, the exterior of your shoes might begin to break down. Most likely, the treads will go before the tops of your shoes do, but it is a good idea to check this anyway. If you find any holes or tears on the top and sides of your shoes, it might be time for a replacement. Holes can lead to safety concerns on the job. If a sharp or heavy object were to fall on your foot, you wouldn't be as well protected!
Loss of waterproofing
Another sign of the exterior of your shoes breaking down will be if water or oil is getting into your shoes. If you notice that spills have started working their way to your socks, you'll want to start shopping around for a new pair of shoes.
As we said earlier, water in your socks can lead to blisters and extreme discomfort. If this is happening, you'll need to get a new pair of shoes fast!
It's always a good idea to go to your local shoe store and have a professional help you find the right size for your feet. When your shoes fit the right way, the chance of you slipping or injuries can be decreased significantly. You will also be much more comfortable throughout the day.
Keep in mind that non-slip shoes are slip-resistant but not infallible. You may still find that you slip slightly in some areas, so it's smart to always take precautions no matter what footwear you have on.
Loveatfirstfit.com is a participant in the Amazon Services LLC Associates Program, an affiliate advertising program designed to provide a means for sites to earn advertising fees by advertising and linking to Amazon.com. We may earn a commission when you buy through links on our site.
Last update on 2023-02-13 / Affiliate links / Images from Amazon Product Advertising API