For those who have high arches, the type of shoes you wear need to provide the proper support while being comfortable. Having high arches does not necessarily mean that you will suffer from more issues with your feet. But having the proper arch support may prevent issues from occurring that range from pain and discomfort to more serious issues such as plantar fasciitis.
What follows are the five best shoes for high arches divided into separate categories. If you are looking for the right place to start in shoes that offer the best support for your high arches, then these five selections are here for you.
Best Support for High Arches with Heel Pain – Orthofeet Lava Stretch
Orthofeet Innovative Diabetic Shoes for Men - Proven Comfort...
Comfortable orthopedic sneakers for men with arch support and heel cushioning...
Designed with a rubber sole for advanced grip and excellent stability, ensuring...
Orthofeet shoes have unmatched cushioning and benefit 20+ conditions including...
Includes premium orthotic insole and arch booster in every shoe for innovative...
An excellent pair of shoes, the Orthofeet Lava Stretch offers proper comfort that is combined with durable materials for a comfortable fit. The ergonomic sole is also lightweight and well-cushioned for maximum comfort. They come in different widths to accommodate your feet and the seam-free fabric lining is well-suited for those who suffer from diabetes or arthritis.
Who Is This For?
The shoes are mainly for those who suffer from or tend to develop plantar fasciitis due to having high arches. They are also perfect for those who suffer from discomfort due to hammertoes and bunions thanks to the wide toe box.
User Feedback
Most of the user reviews rave about the comfort the shoes offer their feet. The arch support combined with the wide toe box are features that some of the most talked-about in the reviews. Some have even spoken about the quick relief from the pain of plantar fasciitis after putting on the shoes.
Of the relatively few negative comments, most focus on the shoes not being any better than their old pair or not delivering on the promise the company made about the shoes.
Verdict
Overall, the Orthofeet Lava Stretch offers excellent support for those who have high arches and suffer from plantar fasciitis. They are also well-suited for those who have diabetes, arthritis, and need extra room in the toe box. The shoes are priced a bit high, but not unreasonable which makes them an excellent purchase.
Related: Top 10 Best Running Shoes for High Arches
---
Best Women's Walking Shoes for High Arches: Vionic Women's Cosmic
Vionic Women's Cosmic Calina High Top Walking Shoes - Ladies...
Leather or Leather and Novelty Leather Upper. Removable Mesh Covered EVA...
YOUR NEW FAVORITE SHOES: A most perfect casual high-top for fall, Calina boasts...
EVERYDAY SUPPORT: A podiatrist-designed footbed built into every pair of Vionic...
VIONIC SHOES: Vionic brings together style and science, combining innovative...
Boasting unmatchable support, you'll be happy to wear every day of the year; these amazing walking shoes include a podiatrist designed footbed that will perfectly cushion your feet every minute they're worn.
Designed with a foot-hugging strap that keeps your foot in place during movement, every inch of these Vionic Women's Cosmic Codie Metallic Slip-On Sneakers is made to hold your feet securely and comfortably all day long, every day.
Voted best women's walking shoes for high arches, these stunning sneakers feature a durable leather upper, a removable EVA footbed and a rubber outsole as well.
What We Like:
As trendy in appearance as they are snug and cozy in overall form.
Available in several classic colors as well as an impressive range of sizes to choose from.
Remarkably simple for anyone to pull onto their feet for wear.
---
On Sale
For those who must wear steel-toed shoes, but do not want to wear heavy, bulky boots, then the Skechers for Work 77055 may be right for you. The shoes themselves are sneakers that have a steel toe in the toe box for impact protection. Otherwise, they are visually indistinguishable from standard sneaker models of similar price.
Who Is This For?
The Skechers for Work 77055 are primarily made for those whose work requirement demand steel-toed shoes. This is to protect the toes from impacts at the job site. However, they are still well-suited for everyday use and can be worn both on and off the job site thanks to their comfortable fit.
User Feedback
For the most part the user feedback has been quite positive. The shoes themselves have held up over time thanks to being well constructed with good materials. While a bit bulkier and heavier than standard sneakers which is to be expected, they offer good high arch support and are perfect for those working jobs that require steel toes.
Of the negative reviews, most of them seem to focus on the relatively few numbers of defective shoes mostly because of poor construction. Or, not living up to the promises made by the company.
Verdict
The Skechers for Work 77055 are excellent shoes for high arch support for those who work in jobs that require proper toe protection. They are a bit heavy, but quite comfortable and made from durable materials will last a considerable amount of time with proper cleaning and maintenance. Plus, they come in different price ranges which allows customers to find the shoes that fit their budget.
---
ASICS Women's Roadhawk FF 2 Running Shoes, 7M, MID...
FlyteFoam Propel Technology - ASICS energetic foam formulation that provides...
Seamless Construction - The use of seamless materials reduces the potential for...
SpevaFoam 45 Lasting - Employs 45 degree full length SpevaFoam 45 lasting...
AHAR Plus Outsole - Strategically positioned in critical areas of the outsole,...
Boasting truly seamless construction unlike any other, these ASICS Women's Roadhawk FF-2 Sneakers are designed to prevent irritation and friction that traditional, seamed models are known to cause.
Amazingly lightweight and yet remarkably durable for wear as well; these high-quality sneakers are made to easily withstand daily wear in a sleek and fashionable form.
Complete with a FLYTEFOAM Propel midsole, these truly incredible running shoes provides a soft landing as well as an impressive bounce back that keeps you moving until your run is complete every single time you hit the road.
What We Like:
These shoes surround your feet with absolute support and exceptional breathability as well.
Available in a fashionable range of colors and both half and full sizes to choose from.
Designed with a platform feel and unmatchable comfort, these shoes were voted best women's running shoes for high arches.
---
ASICS Men's Gel-Cumulus 21 Running Shoes, 14, Black/White
I.G.S (Impact Guidance System) Technology - ASICS design philosophy that employs...
SpevaFoam 45 Lasting - Employs 45 degree full length SpevaFoam 45 lasting...
EVA Sockliner - Removable sockliner that provides cushioning performance.
FlyteFoam Lyte Technology - ASICS lightest weight midsole formulation that...
There is a marked difference between sneakers designed for everyday comfort and those designed for jogging or running. ASICS Gel-Cumulus 21 seeks to please both types with this entry. The shoe itself offers excellent cushioning along the arch, heel, and the balls of the feet. While being lightweight and durable.
Who Is It For?
This shoe is primarily for those who need high arch support and enjoy jogging or running. The lightweight design may sacrifice a bit of cushioning compared to other types of shoes, but these are made for movement and designed to be as light as possible while still delivering proper arch support.
User Experience
Customers who have purchased the shoes have for the most part found them to be quite comfortable, long-lasting, and supportive of their high arches. The cushioned support is the most noted feature when jogging or running for exercise. But they are also lightweight and quite comfortable as well.
Of the few negative comments, they were mostly focused on poor fit which may be due to not purchasing the right size or width of the shoe rather than something wrong with the shoe itself.
Verdict
The ASICS Gel-Cumulus 21 deserves the rave reviews it has received from customers. It is an excellent running shoe that provides plenty of support without being too tight. While you pay a little more for this particular shoe, it's well worth the price thanks to the excellent construction and durable, but breathable materials.
---
On Sale
Teva Women's Tirra Sandal, Black/Grey, 11
Sporty sandal featuring logo and multiple straps with hook-and-loop closures
Nylon stability shank
Traction outsole with water-channeling lugs
Compression-molded EVA midsole
Featuring all-day comfort and an easily adjustable fit, these remarkable sandals include a cushioned shock pad in the heel, a contoured EVA midsole for arch support and easy hook and loop closures that provide the perfect fit.
Created with a nylon shank that both stabilizes and supports your foot, every bit of these Teva Women's Tirra Sandals is meant to allow you to travel across even rough terrain with no risk of falling.
An amazingly rugged rubber outsole works well in wet conditions and supplied incredible levels of traction you simply won't get in any other style of sandals you can slip onto your feet.
What We Like:
Available in an array of color combinations and an impressive range of both full and half sizes for wear.
Designed with a Microban zinc treatment that prevents the growth of any odor causing bacteria.
Offering adjustable foot and ankle straps, these sandals fit any foot with ease.
Voted best men's sandals for high arches, these OOFOS Unisex Original Sport Sandals are designed to absorb more impact than any other traditional foam sandals on available for purchase.
Designed with a durable, patented footbed that truly cradles the arches of your feet from front to back; these sandals instantly reduce stress on your feet, ankles, knees and back.
Providing natural motion and absolute comfort, these magnificent men's sandals are also machine washable to assure you can keep them clean between wears as well.
What We Like:
Available in several stylish colors as well as a range of full and half sizes to choose from.
Made to be worn by anyone that loves their look, these sandals fit both men and women well.
Just the pair of sandals you need to stay as comfortable as possible from start to finish each and every time you slip them on.
---
Best Budget Friendly Shoes for High Arches – New Balance 481 V3
On Sale
New Balance has a wide range of budget shoes, but the V3 series is designed to provide better arch support for running or walking on trails. However, the shoes themselves are comfortable enough to be worn at home when not out on the trail.
Who Is It For?
Although designed for jogging or running, the shoes are for anyone who needs high arch support and want to pay as little as possible for good quality shoes. Although not the best for running, they are well suited for walking while cushioning and protecting the feet.
User Experience
Of the many users who commented about their experience with the New Balance 481 V3, most of them were quite pleased with their purchase. The shoes themselves were durable, rugged, and quite comfortable when on the trail. Given the low price, many considered them to be a strong value.
Of the relatively few complaints, most were centered on the actual sizes of the shoe. Some felt that they were too small for the size being offered. Truth be told, New Balance does have a history of size issues in a small number of their overall sales.
Verdict
For the price, the New Balance 481 V3 may be the best type of trail shoes for those who need high arch support. They are durably constructed from good materials, although as indicated you may want to go a little wider or longer on the size depending on past experience with New Balance.
---
Crafted from durable and comfortable 100% faux leather material, these LifeStride Women's Abigail Ballet Flats are designed to last through even daily wear with ease if desired.
Featuring a unique and stylish strappy overlay at the toe, these high-quality shoes are designed to provide extraordinary style without sacrificing even a bit of comfort to be able to look your best.
Voted best women's dress shoes for high arches, from top to bottom these stunning and cozy shoes are made to ensure you receive the perfect fit all over.
What We Like:
Designed with a soft insole, a smooth lining, and even easy-flexing soles as well.
Available in several classic colors as well as a range of sizes to pick from to best fit you and your feet.
A stylish and sought-after look that makes you want to wear them every single day of the year.
---
Brooks Womens Ghost 12 Running Shoe - White/Grey/Hollyhock -...
THIS WOMEN'S SHOE IS FOR: Neutral runners looking for a lightweight shoe and a...
SUPPORT AND CUSHION: The neutral support type provides high energizing...
BALANCED, SOFT CUSHIONING: BioMoGo DNA and DNA LOFT cushioning work together to...
SMOOTH, STABLE RIDE: No matter how your foot lands, our Segmented Crash Pad - an...
For men and women, the best overall shoes that provide support for high arches are the line of Brooks Ghost. By offering the proper support, they also offer excellent cushions to protect the heel and balls of the feet.
Who Is It For?
The shoes are primarily designed for jogging, but they are well suited for casual footwear thanks to their superb comfort.  They are also well designed from durable materials, which means that with the right care they will last.
User Experience
The customer reviews of the Brooks Ghost 9 have been uniformly excellent for both men and women. This may be due to the superb construction and lightweight design and materials that make them highly versatile for jogging, exercising, walking, or just lounging about the house. Nurses have commented on how the shoe provides support even when standing for several hours.
Of the very few negative reviews, most of them seem to focus on the shoe being the wrong size for the feet which is not a fault of the shoe design itself.
Verdict
Overall, this is a tremendous shoe for those who suffer from having high arches. The lightweight materials combined with a balanced design makes them perfect for walking, standing, jogging, running, or just wearing them around the home. They are priced somewhat higher than most of their competitors, but that seems to be a minor drawback thanks to the overall quality of the shoes themselves.
---
What Type of Shoes for High Arches?
Although not as common as flat feet in which no arch is present, there are many people who have high arches. Sometimes known by its Latin name of Pes cavus which means "hollow foot", people with high arches have unique challenges when it comes to finding the proper footwear. Although the condition itself is usually not symptomatic, it takes proper care to provide the right support for the arches while not compromising the other parts of the feet.
For those who have high arches, the good news is that a high percentage will need only a little more support and effort. In other words, many people live their entire lives with high arches suffering little to no pain as a result. But to ensure that happens to you, then you should take the time to find the best solutions to potential issues with your feet.
Although there is no exact number, it is estimated that millions of people in the US alone suffer from this condition. Women tend to outnumber men by over three to one in terms of who has high arches. While the condition itself may be caused by various medical conditions such as cerebral palsy, spina bifida, muscular dystrophy along with other neurological conditions, the most common reason is that high arches are inherited.
Symptoms
Without the proper support for the arches, those who have Per cavus will suffer from the following symptoms.
Pain when walking or standing
Hammer and claw toes
Poor balance and stability when walking, jogging, running, or standing
Greater chance of developing plantar fasciitis
Collapse of the arches to create flat feet
Those who have inherited high arches from their parents are far more likely to suffer from collapsed arches compared to those who received them due to a medical or neurological condition. However, for the most part the primary symptom will be pain and discomfort due to poor arch support.
Although most people who have high arches will never need surgery, there are some who suffer injuries serious enough to warrant such procedures. For some, there may be no alternative to surgery to correct issues and provide more internal support. But for most people the surgery option can be avoided if they care for their feet the right way. This means finding the right support and varying the exercise so as not to overwork the feet.
5 Attributes to Look for When Buying Shoes for High Arches
For those who suffer from high arches, there several factors to look for in shoes that provide maximum comfort and support when walking, standing, jogging, or running. When you search for the right pair of shoes, you should seek the following.
1. Arch Support
The primary factor that people with high arches should focus on when searching for the right shoes is arch support. The proper support of the arches will provide the necessary treatment to keep your feet balanced and lessening any pain that otherwise might develop. The amount of support you will need depends on the shape and height of the arch itself. But there are many different brands that offer a range of arch support options depending on the type of shoe that you choose.
2. Heel Cushioning
One side effect for those with high arches is the development of plantar fasciitis. This is a painful condition that can develop just in front of the heel bone. While there are different causes of this condition, one of the most common is the lack of proper cushioning. For those with high arches, more pressure is placed on this part of the feet.
You should seek out shoes that offer proper cushioning for the entire heel. This will help to slow, if not stop the development of plantar fasciitis when walking, jogging, or running.
3. Size & Width
Whether you have high arches or not, getting the proper size and width is important. While most people are familiar with the length of their feet, the width is important as well. If the shoe is not wide enough it may cause blistering to develop or make it uncomfortable to walk, jog, or run. If the shoe is too wide, then there is not enough support for the ankles which may cause sprains to occur.
Try different widths to see which one works best for your needs. It may take a little experimentation. Plus, some brands have different scales that they use for widths, so be careful when shopping online.
4. Insoles
If you have a severe high arch or the shoes you must wear such as for work or formal occasions are not available with the right support, then insoles may be the answer. They provide a quick fix that offers solid support for shoes that otherwise are suited for those with normal arches.
Insoles tend to work best in formal and casual shoes. For running shoes or cross-training shoes, you probably want to purchase custom versions that are designed for high arches.
5. Ankle Support
Another issue that some with high arches face is the greater chance for sprained ankles. This is because of the higher than normal elevation of the foot and the increased pressure it puts on the ankles themselves. If you have experienced several sprained ankles, then you may need to find shoes that offer greater support. High tops and boots provide some support for your ankles. Or at the very least they help prevent them from turning over as often.
Depending on the severity of your high arches, you may want to consult with your doctor about what is the proper course of action. You may be referred to a podiatrist who can recommend different types of shoes and insoles to help cushion and support your high arches.
For most people with high arches, shoes that provide the proper support should be sufficient to avoid any unwanted side effects such as plantar fasciitis. However, you will have to pay more attention to your feet as you jog, exercise, or if you have a job that requires standing for most of the day. While you're deciding on the shoes for your high arches, here are other options for you.
Loveatfirstfit.com is a participant in the Amazon Services LLC Associates Program, an affiliate advertising program designed to provide a means for sites to earn advertising fees by advertising and linking to Amazon.com. We may earn a commission when you buy through links on our site.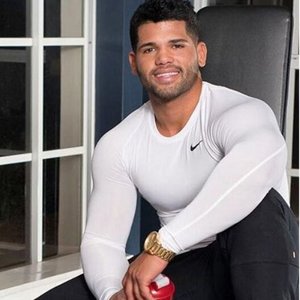 Austin is the author of loveatfirstfit.com and a personal trainer with extensive knowledge in nutrition. Austin is passionate about helping others to find a suitable healthy lifestyle and feel good about themselves. Austin's goal is to help people push their limits and achieve their physical performance.
Last update on 2023-02-13 / Affiliate links / Images from Amazon Product Advertising API