Golf seems simple, but to a beginner, it could be very bewildering. First, there is the lingo: albatross, birdie, poley, snake, and so on and so forth. Then there are the varieties of golf clubs. And then there are the pesky rules, the vexing techniques, and the complicated etiquette. It truly could be overwhelming to any beginner.
Next to those other details, one important aspect of Golf tends to get overlooked: golf shoes. That's right. Golf shoes are much more than a fashion statement.
Golf Shoes are recommended but not required to play on most golf courses. You are allowed to play golf in running shoes, tennis shoes, or sneakers on the course as long as you don't damage the turf, and the course allows it.
Should you pay attention to the shoes you wear on a golf course? Absolutely. The shoes you wear to play Golf are a significant part of the game of Golf and deserve your careful considerations.
Are golf shoes necessary? In most golf courses, they are not required.
Will golf shoes make difference for beginner golfers? No, not as much.
Will golf shoes make difference for advanced players? Yes, they will.
Golf shoes can seem excessive for a beginner—especially a beginner who is just a casual golfer. You have to pick the right one, buy them, carry them to the golf course, and change into them before each game. It is just another thing to forget and another complication in life that you do not need. You probably have friends who just wear sneakers to play Golf, and they seem perfectly fine. 
Related: How Long do Golf Shoes Last | How Often Should You Replace Golf Shoes?
How much will Golf Shoes Boost my Game?
Golf shoes are designed to make your golf game better. How? Fundamentally, when you make a golf swing, you are making a hard turn with your body: you turn your body back, and then you turn your body forward to swing at the ball. What you need to optimize such a twisting swinging motion is traction on the ground. The study has shown that wearing well-fit golf shoes can boost your golf performance by as much as 21 percent.

You want your shoes to be able to grip the ground firmly. That way, you can push your hardest against the ground and gain the maximum swinging momentum to hit the golf ball as hard as possible, resulting in the longest drive.
While sneakers may be good enough to give you sufficient traction for your runs, they are not up to snuff for Golf. What you need is a pair of golf shoes that are specially designed to give you maximum traction on the slippery grass of a golf course. Golf shoes that come with spikes let you grip the ground tightly and turn and swing with maximum force without slipping.
A golf magazine actually went to conduct a test of golf shoes and was able to confirm that proper golf shoes do indeed help your game significantly:
"It's no surprise spiked shoes came out of our test smelling of roses; they are the golfing equivalent of the Formula One car tyre. Our testers gained (over socks), on average 12 yards of carry from the tee, which is substantial. But it's the consistency we saw which tells us the right shoes play a huge part in creating the grip and traction you need."

(How much of a difference do golf shoes really make? Today's Golfer)
As you can see, wearing the proper golf shoes can save you the embarrassment of not being allowed onto a golf course as well as give you an easy way to boost your golf game. You have no reason not to wear them.
Benefits of Golf Shoes
Besides boosting your golf game, proper golf shoes also provide a whole host of advantages:
Comfort and Support: proper golf shoes provide stability and firm support for your arches. This extra stability and support not only improves your swing performance but also protect your feet from injuries or inflammation. Golf shoes also come with extra padding for shock absorption. This keeps your feet comfortable, enabling you to stand and walk on the golf course for hours without any foot pain.
Related: Best Golf Shoes for Plantar Fasciitis | for Golfers with Heel Pain
Sturdiness: golf shoes typically have wide-track rubber soles that make them very sturdy. They can handle walking countless miles over golf courses and withstanding the shock and strain of your golf swings without missing a beat. Other shoes like sneakers may not be so tough.
Breathability while being waterproof: many golf shoes are made with material such as Gore-Tex that is waterproof, but that also allows your feet to breathe. Some shoes also come with a footbed made with materials like polyurethane and charcoal that will absorb your foot sweat, keeping your feet extra dry and comfortable.
Different Types of Golf Shoes
There are a few types of golf shoes. Let's take a look at the 4 common types of golf shoes:
Classic Spiked Golf Shoes
These are typically black and white leather wingtips that come with tassels. We will cover more in depth on spiked and spikes golf shoes at the end of this section.
Spikeless Golf Shoes
These have been gaining popularity recently. They are typically street style, sneaker style lightweight shoes without spikes.
Golf Boots
For people who play golf in winter, they may need a better golf shoes that's warmer and well wrapped. Golf boots are designed to provide that comfortable and light weight fit. These boots generally offer protection under various weather conditions and rubber soles that provides extra slip resistance.

Golf Sandals
These are like the opposite of golf boots. Golf boots are perfect for cold weather, while golf sandals are perfect for hot climates.
Golf Shoes Materials
These are the materials commonly used in making golf shoes:
Leather: this is the most common material for golf shoes. It is breathable and water resistant to a certain degree.
Waterproof Linings: some golf shoes are lined with a waterproof film such as Gore-Tex. This makes the shoe waterproof while still keeping it breathable. The upshot is this will keep your feet dry even when playing on wet grass. However, waterproof linings tend to be warm, so they may not be the best choice for summer.
Synthetic: synthetic is a less costly alternative to leather. While it is cheaper than leather, it is not as breathable or as comfortable. It is also less durable.
Golf Spikes: spiked golf shoes give you extra traction for your swing. There are 2 main materials for spikes:
Plastic: the most common material for spikes. They are more lightweight and more comfortable than metal spikes. They are also gentler on the grass.
Metal: metal spikes are used by many pros. They give more traction than plastic. On the flip side, they are less comfortable and more likely to tear up the ground. Some golf courses ban metal spikes, so check before you wear metal spikes to a course.
The Classic spiked vs spikes shoes is a hot topic when it comes to golf shoes. Let's take a deeper look at this and get you prepped for the course.
Spiked vs Spikeless Golf Shoes | Which One is Better?
Choosing the right type of golf shoes is all about "finding your feet", given your personal preference and considering different course conditions.
With the development of technology, the differentiation that exists between spiked and spikeless golf shoes has grown narrower, leading amateur and professional golfers alike to own a pair, if not a dozen, of both. If so, what then are the main differences, and what makes one better than the other?
Spiked golf shoes, as the name suggests, feature spikes or cleats on the outsole, which are typically made out of soft plastic, since metal spikes are banned across many golf courses (around 1600 golf courses nationwide). Conversely, spikeless golf shoes usually have a flat sole, replacing the spikes with rubber studs or dimples.
Traction
Undoubtedly, the use of spikes in golf shoes has an impact on the traction provided while on course. This is especially true for these environments:
Wet conditions
Hilly terrains
Tough angles
It provides better lateral stability and grip, preventing you from slipping throughout your swing. Nonetheless, with shoes, such as the ECCO Cage Pro, the spikeless outsoles, featuring tread patterns resembling that of spikes, are capable of offering decent grip and feet support. If you're all about 'playing it safe' when picking the right golf shoes, spiked ones are far more adaptable to different playing conditions.
Comfort
As a rule of thumb, spikeless shoes offer more comfort, as a result of their casual design and lack of large spikes on the soles, resulting in your body weight being spread over a larger area. In addition, the absence of spikes also helps reduce the weight of the shoes, for lighter movements.
While traditionally, the comfort provided by spikeless shoes were favored over spiked shoes, recent improvements in sole technology and manufacturing have greatly benefited the sport. For instance, Adidas's Boost technology, applied to its range of spiked golf shoes, resulted in a level of comfort that is on par with many spikeless shoes.
That said, since playing Golf involves a fairly rigorous amount of walking around the course, manufacturers have taken considerable efforts to improve the level of comfort for both.
Versatility
Needless to say, one of the key benefits of spikeless golf shoes over their counterpart, is versatility. Spikeless shoes can be worn for various occasions, such as for work or shopping, and across various grounds, be it on the golf course, in the house or on the streets.
This level of flexibility means that a pair of spikeless shoes can go a long way, saving you the need to buy casual shoes and also removing the likelihood of damaging floors, unlike spiked shoes.
Nevertheless, an important consideration prior to choosing your preferred golf shoes is the dress code operated by the golf clubs that you attend. Equally, wearing spikeless golf shoes outside the golf course, especially on the firmer and more abrasive ground, such as bitumen roads, would wear the treads faster, requiring more frequent replacements.
Level of skills
Whether you are a seasoned golfer or you're just getting started, the type of golf shoes recommended can vary. Usually, for beginners and amateur golfers, the importance of having a solid foundation and grasping the basics is essential.
As a result, new players would be better off wearing spiked golf shoes, as they first learn to balance, lock-in, and develop their swing, without the slipping and excessive shifting.
Verdict
Considering the above, it is clear that both spiked and spikeless golf shoes have their benefits and drawbacks. Our recommendation would be to try both types of shoes, across various golf terrains, conditions, and angles of approach. As with everything, it is important that you identify your personal preference. 
Nonetheless, with the never-ending improvements in the shoe industry and in golfing, taking the example of the ECCO BIOM Hybrid, the gap between spiked and spikeless shoes, in terms of comfort, versatility, and traction, keeps getting narrower. It won't be long until both become equal contenders and are used interchangeably.
What is a Good Fit for Golf Shoes?
Fit matters a lot when it comes to your golf shoes. Unfortunately, up to 70 percent of golfers are wearing the wrong size of shoes.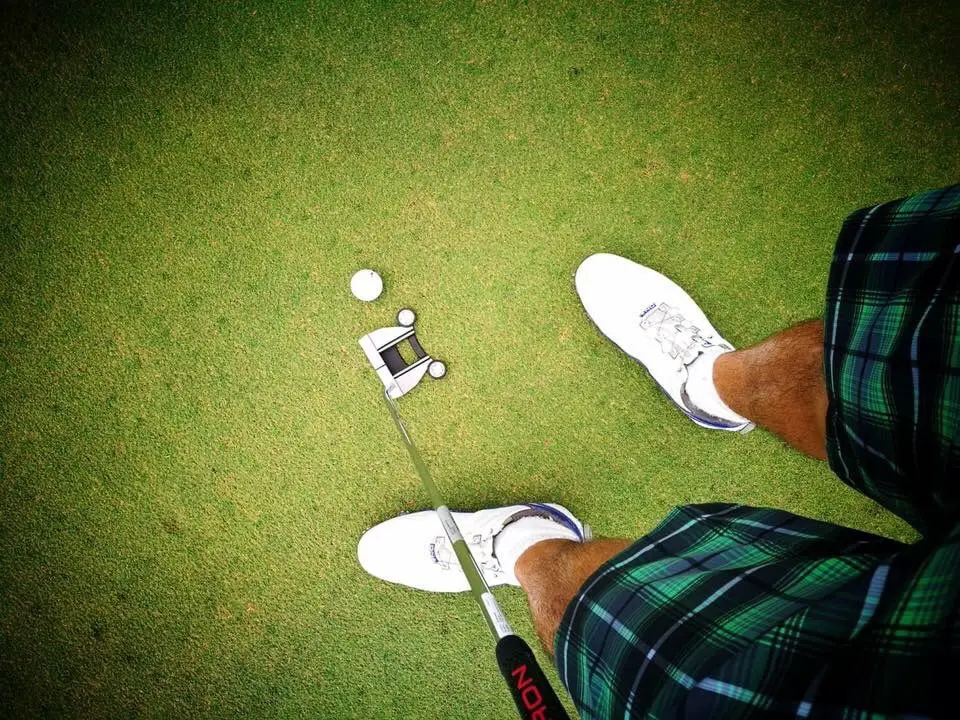 Wear the right size of golf shoes, and just like that, you have found the quickest and easiest way to improve your golf performance. But how do you find the right fit? Just follow these simple rules:
Width Sizing: when your shoe is tied, there should be approximately a thumb's width (5/8 inches) between the top eyelets. More space than that means your shoe is too tight. Less space than that means your shoe is too wide.
Length Sizing: inside your shoe, there should be approximately ½ inch of space beyond your longest toe.
Forefoot Appearance: the forefoot of your shoe (the part between the toe and the shoelace) should be smooth when the lace is tied. If that part is bunched up or rippled, it means your shoe is too big for your feet.
Wiggle Room: there should be enough room in the toe area for you to freely wiggle your toes inside the shoes
Walk Around: lace up the shoes and walk around. The shoes should fit snugly, and your feet should not be sliding or slipping around inside the shoes. If they do, you would likely get blisters when you wear the shoes playing Golf.

Wearing the right golf shoes in the right size is critical to your golf performance and your foot health. Let's recap what we have covered:
Proper golf shoes can give an immediate boost to your golf game
Golf shoes can also prevent and aid with foot and back pain
Various types of golf shoes in various materials are available depending on your needs and climate conditions
Fit is very important. Go through our step by step guide to find the right size for you
What Golf Shoes Do Pros Wear?
Nike
Tiger Woods
Rory McIlroy
Brooks Koepka
Hinako Shibuno
Jaye Marie Green
Jason Day
Tony Finau
FootJoy
Justin Thomas
David Toms
Adam Scott
Under Armour
Jordan Spieth
Francisco Gabellieri
Matthew Fitzpatrick[56]
Bernd Wiesberger
G-Force
Phil Mickelson
Bubba Watson
Shane Lowry
Danny Willett
Brandt Snedeker
Adidas
Sergio Garcia
Jon Rahm
Dustin Johnson
Tyrrell Hatton
Justin Rose
4 Golf Shoes Etiquette You Should Know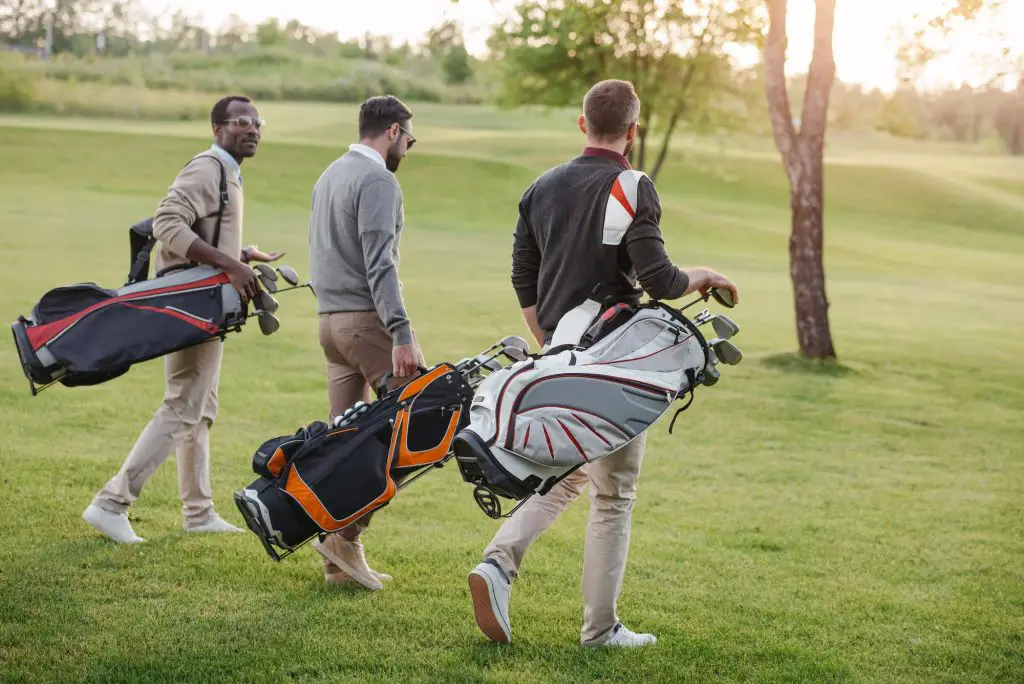 For sports such as Golf, the importance of etiquette, and maintaining etiquette, is more than just abiding by the "rules" or "tradition" – it is essentially l'art de vivre. There are certainly countless numbers of etiquettes when it comes to Golf, taking into account variations by clubs, a common debate often revolves around golf shoes. In essence, it is all about:
The unwritten rules (tradition)
The written rules (club etiquettes and USGA regulations)
The social perception
Many golf courses actually require proper golf shoes on their courses. So wearing the right golf shoes whenever you play will save you from the potential embarrassment of not being allowed on a golf course. Let's take a look at the 4 etiquette that both beginner and seasoned golf players should know:
Careful on Metal Spikes
Wearing the right type of golf shoes is crucial to your game, but you should also follow the golf course's regulations. As we've addressed in Spiked vs Spikeless section above, many golf clubs prohibit the use of golf shoes with metal spikes due to the damage that these can cause to the turf.
As such, the recommended types of shoes feature either plastic cleats or flat soles with rubber studs. Another must is to wear appropriate socks under the shoe, to ensure proper fit. Whereas no particular rules stand out with regards to the design, (golf shoes come in suede, leather, and plastic), it is always best to check with your club for any other provisions.
USGA Etiquette
Playing Golf, unlike any other sports played on turf, requires a level of commitment to the equipment and facilities offered by the club – after all, it isn't a sport accessible to everyone. As the USGA set out, golfers who cause damage on the green, as a result of their golf shoes, must take necessary steps to repair it. That said, divots are a common type of damage that can be fixed using a divot marker. This can easily be done by working the grass into the ground or patting it down.
Changing You Golf Shoes
An odd etiquette that has caused some commotion and division across the golfing realm is the mighty question, "Where do we get to change shoes?". Although for many, the answer seems to be obvious – at the boot of your car in the parking lot – things seem slightly more complicated. Depending on the golf course that you visit, it is always recommended to change into your golf shoes in the changing rooms. 
From a practical point of view, changing in the designated locker room is better, as it provides a sheltered environment should it be raining outside, it is more comfortable to sit in and compose yourself prior to the game, and it usually features a brush or pressurized air machine to clean the dirt and mud off your spikes. From a social standing perspective, some would say changing in the locker room adds a great deal of professionalism. Nevertheless, it is always best to check with the golf course regulations.
4. Matching Apparels with Shoes is Recommended
Although we are addressing golf shoes etiquette, you'd be surprised to know that the shoes you wear have an impact on the apparel that you intend to wear. Ideally, it is recommended to match your golf shoes with a golf polo and golf pants – be it color, brand, and style.
Mind you, when wearing long pants, your socks should match with the color of the pants, and consequently, light-colored socks should be worn with light-colored shoes. The opposite is also true.
If you're undecided about the types of shoes that you'd like to purchase, we'd recommend renting them out first. This will help you decide what fits best to your playing style, what your local golf course approves, and if you don't play often, it will help you save money.
The above golf shoes etiquette were not designed to discourage you from playing but rather as a way to continue the long-standing tradition and respect that has always existed in this circle. It has only been through this way that we can continue to enjoy the sport, the community, and the privilege that comes with it.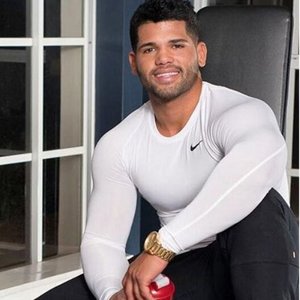 Austin is the author of loveatfirstfit.com and a personal trainer with extensive knowledge in nutrition. Austin is passionate about helping others to find a suitable healthy lifestyle and feel good about themselves. Austin's goal is to help people push their limits and achieve their physical performance.