HIIT stands for high-intensity interval training, which means the exercises are completed in bursts and there is not a lot of time to rest during these workouts. The main benefit of HIIT training is to build muscle, efficient calorie burning, and lose weight.
HIIT workouts typically involve 20-40 seconds of high-intensity exercises including burpees, ski jumps, pushups or other movements, and then a rest period of approximately 10 seconds. This cycle is repeated a varying amount of times, resulting in workouts that are as short as 20 minutes or nearly an hour long.
This pattern of intervals keeps your body working hard and boosts your metabolism, causing your body to continue burning calories for up to 24 hours.
With inexperience comes easily avoidable mistakes that might not be too obvious to beginners. High-Intensity Interval Training (HIIT) is a very different beast from other exercises like running or sports. If you don't match the footwear to the activity then you can end up with an uncomfortable experience at best or an injury at worst.
That's why you need shoes that are specifically designed for HIIT activities instead of any old running shoes you may have lying around.
What are the Best Shoes for HIIT?
New HIIT shoes should feel ready to work out in—if you feel like they need to be broken in or you feel pinching or rubbing, they are not the right kind of shoes.
Your foot also should feel snug and not slip around inside. You should feel connected to the floor, but still flexible enough to jump, turn and run. Here's what to look for in a HIIT shoe:
You need a fairly flat shoe with minimal arch support.
There needs to be support on the back and sides of the shoe as well as the front.
There should not be too much cushioning.
You need a shoe that gives you good traction.
The shoe should be breathable, possibly with mesh sides.
Name
Reebok Women's Crossfit Nano 8.0 Flexweave Workout Joggers,...
Reebok Women's HIIT Training Shoe, White/Black/seaport teal,...
Our Top Pick
PUMA womens Tazon 6 Fm Cross Trainer Shoe,...
Inov-8 Women's Bare-XF 210 v2 (W) Cross Trainer,...
Reebok Women's Speed TR Flexweave Cross Trainer,...
Preview
Name
Reebok Women's Crossfit Nano 8.0 Flexweave Workout Joggers,...
Preview
Name
Reebok Women's HIIT Training Shoe, White/Black/seaport teal,...
Preview
Our Top Pick
Name
PUMA womens Tazon 6 Fm Cross Trainer Shoe,...
Preview
Name
Inov-8 Women's Bare-XF 210 v2 (W) Cross Trainer,...
Preview
Name
Reebok Women's Speed TR Flexweave Cross Trainer,...
Preview
Best for HIIT: Reebok Women's HIIT Training Shoes
This pair is specifically designed for HIIT. Reebok is well know for making great triaining shoes for HIIT and this will get you through the repetitive beating of your foot. It has mesh upper and has comfortable feel from their lightweight cushioning.
Who is this for?
An intermediate to advanced HIIT women who's looking for durability and protection. If you do HIIT on a regular base, this pair of training shoes is for you.
User Experience
Most people who gave feedbacks on this shoes express how it is very difficult to find a suitable shoes for themselves. Girls with bunion problems and wide feet appreciates how well this shoes fit and it last a long training time without discomfort.
Verdict
It is a bit hard to find training shoes that are specifically designed for HIIT. This pair made by Reebok is probably one of the best ones out there. No shoes are perfect but this pair of shoes can be close to being perfect for HIIT.
---
Best for Crossfit: Reebok Women's CROSSFIT Nano 8.0 Flexweave
Reebok Women's Crossfit Nano 8.0 Flexweave Workout Joggers,...
DURABLE AND LIGHTWEIGHT MATERIAL: These flex weave woven sneakers provide...
EFFICIENT FOOT SUPPORT: These stylish trainers with new heel bootie construction...
COMFORTABLE AND STURDY DESIGN: This footwear features Toe Tection that provides...
HIGH-PERFORMANCE SPORT SHOES: Ideal for workouts and weightlifting
These shoes are designed for one thing and it's one thing they do very well: performance. No matter the level of intensity or complexity, these shoes will meet the requirements for any activity they are put to use to with flying colors.
Who is this for?
Women who are looking for the best, high performance option out there that don't mind paying the premium cost compared to other alternatives. Very specialized for HIIT activities and people with slimmer, flatter feet.
User Experience
Users appreciate the quality of these shoes as they are very well made and are not prone to failures or getting worn out. They are well regarded for the comfort to the point of having extra clothing like socks being considered unnecessary. Users have also reported getting compliments merely on the appearance of the shoes so their design and style are quite popular on their own.
FAQ: Can they be used for activities other than HIIT? A. No, comfortable in short bursts but too specialized for sports, hiking or running.
FAQ: Rubber or foam bottom? A. Rubber
FAQ: High arch support? A. No.
Verdict
These Reebok shoes are focused completely on efficiency, almost to the detriment of many other options or quality of life improvements. For any serious workout requirements, these will meet and match any expectation but at the cost of usability in any other type of activity. Also impractical to use for people with high arches or wider feet without extra accessories or alterations.
Related: Top 10 Best Running Shoes for High Arches
---
Most Beginner Friendly: Reebok Women's Flexagon Energy
Reebok Women's Flexagon Energy TR Cross Trainer, Grey/Pink,...
DURABLE AND LIGHTWEIGHT MATERIAL: These sneakers feature mesh upper that...
EFFICIENT FOOT SUPPORT: These stylish trainers feature an origami-inspired EVA...
COMFORTABLE AND STURDY DESIGN: This footwear with flex grooves in the outsole...
HIGH-PERFORMANCE RUNNING SHOES: Rubber sole provides strategic traction; Ideal...
These Reebok HIIT shoes are the perfect choice for people looking to try something new without having to worry about high costs. They are well made, sturdy and can handle any exercise with ease while still being relatively useful in activities other than pure HIIT.
Who is this for?
These shoes are designed for people looking for a low cost alternative to pricier, more specialized HIIT shoes that are available on the market. Also designed for beginners and people who prefer more straightforward designs and features.
User Experience
User reviews for this product tend to focus on areas of which it excels at: beginner friendly performance and a one shoe fits all mentality. They are recommended by all sorts of people with different priorities such as people new to HIIT, people with wider feet or who have higher arches as well as anyone looking for a low cost option that will do the job without breaking the bank.
FAQ: Do they use regular laces? A. Yes
FAQ: Are they lightweight? A. Yes
FAQ: True to size? A. They tend to run a bit smaller than advertised
Verdict
The Reebok Women's Flexagon Energy Tr Cross Trainer is the perfect shoe to get when starting out or are lacking any affordable priced alternatives.
They don't have as many specialized bells and whistles for HIIT but will do the job well without sacrificing too much of their usability in other activities users may also be interested in doing. An all-around great intro, budget friendly shoe with no major downsides.
---
Most Comfortable for Thin Foot: PUMA Women's Tazon 6 WN's FM
On Sale
This shoe is an all-around great option for people who care about the comfort of their footwear as much as they do about performance and comfort. This shoe is often sold out and they're quite popular among cross fit girls.
Who is this for?
These shoes are great for women who are looking for a well-made with great cushioning and arch support. They can perform HIIT well and can still be used for a few other activities outside of HIIT for added value. Also avoids being too costly compared to other top of the line options.
User Experience
Users appreciate these shoes for their high quality, stylish designs that can still bring their worth to the table when it comes to stressful HIIT activities that would break cheaper shoes. All around praised for their comfort as well as arch support while not costing too much money for it to be a problem. An all-around, good, solid intermediate design that can handle anything you throw at it.
FAQ: Are the soles rubber? A. Yes
FAQ: Do these shoes offer good arch support? A. Yes
FAQ: Are they comfortable for more casual, everyday use? A. Yes
Verdict
The PUMA Women's Tazon 6 WN's FM Cross-Trainer Shoes are well worth your time and money if you're not looking to spend too much money but aren't willing to settle for budget shoes.
They can also compliment many styles and outfits for great looks and compliments while still being able to perform competently in any HIIT activity you may be interested in. Comfortable with good cushioned insides and with great arch support for convenience.
---
Best All Rounder: Inov-8 Women's Bare-XF 210 V2
Inov-8 Women's Bare-XF 210 v2 (W) Cross Trainer,...
For speed training.
Lightweight natural fit: Updated materials, now lighter with better...
Flexibility: Meta-flex technology allows natural flexing in the forefoot and the...
Grip: The 3mm outsole composed of inov-8's patented sticky rubber compound and...
The Inov-8 Women's Bare-XF 210 V2 Sneaker is one of the best when it comes to perfectly balanced HIIT shoes that can handle any and all situations without sacrificing anything in return.
Who is this for?
For people who want a sturdy, stable shoe with great performance, looks, comfort and at a fair, reasonable price. Perfect for those who aren't willing to pay top price and want a no nonsense shoe that can perform any task with zero problems.
User Experience
Wearers of these shoes generally praise their usability and consistent reliability in any HIIT activity. They get compliments for their minimalistic look and design and their cost is easily considered to be worth it. The only criticisms tend to be around sizing issues; buyers should take extra care to pick the right size for their feet.
FAQ: Can these shoes be used for activities other than HIIT? A. No, their very specialized design makes them unfit for running or hiking.
FAQ: Can you wear them without socks? A. Yes, they are comfortable either way.
FAQ: Can the insoles for these shoes be removed? A. Yes.
Verdict
These shoes are the perfect fit that will bring everything you could need to the table without costing you a premium for added performance. They can handle any HIIT activity flawlessly and are comfortable and easy to use.
They look good and will last you a long time without having to worry about breaks or tears. A perfect option if you plan on only buying a single reliable pair that can do anything you ask of it.
---
Best Arch Support: Reebok Women's Speed Tr Flexweave
The Reebok Women's Speed Tr Flexweave Cross Trainers are high quality and dependable performance focused shoes that can handle any and all HIIT activity flawlessly at the higher price point.
Who is this for?
The Reebok Women's Speed Tr Flexweave Cross Trainer shoes are the perfect shoes to get for people looking for high performance use with the added benefit of arch support.
User Experience
These shoes are mainly purchased and used by people with high arch requirements who cannot use other, more minimalistically designed options for flatter feet. Praised for their stability, sturdiness and comfort without any specific criticisms of note.
FAQ: Are there any sizing issues? A. No.
FAQ: Can these shoes be used for running? A. No, they are focused mainly for HIIT.
Verdict
The Reebok Women's Speed Tr Flexweave Cross Trainer are the must have option for people who require arch support to work out properly without any pains or discomfort. High quality and reliable with an extreme focus on performance above all else.
Very plain looking but whether or not this is an issue will depend on the person buying them. All around a great option for anyone with a high arch to get.
---
Do I Need a Specific Type of Shoes for HIIT?
By now, you might have heard of HIIT workouts, and perhaps you are curious to try one. In addition to wondering exactly what one of these workouts involves, the burning question on your mind might be: can I wear my regular tennis shoes?
Many people wear running shoes for their first HIIT workout, but you need a specific type of shoe to be most effective for HIIT or any other specific kind of exercise. Cross-trainers, basketball shoes, minimalist shoes, or weightlifting shoes are ideal for different aspects of HIIT workouts.
Not only do you need necessary supplies such as water and comfortable clothing, but you also need the right shoes to be well-prepared for a certain activity. For example, you would not want to wear loafers for scuba diving or flippers for tennis. Likewise, running shoes are perfect for running, but the wide range of activities involved in an intense HIIT workout requires a different kind of shoe.
In this article, we will give you a rundown on the shoes that are most and least recommended for HIIT workouts, the pros and cons of each, and how to choose the best HIIT shoe so that you can be on your way to tone your body and burning calories.
Difference Between HIIT Shoes and Training Shoes
There are several qualities you should consider when choosing shoes for your HIIT workout, some of which apply to any kind of athletic shoes, and some of which are HIIT specific.
The main difference between your average running sneaker and a shoe designed for HIIT is going to be stability. While running shoes are designed for going forward, shoes designed for HIIT workouts should be designed for keeping you stable during all sorts of activities.
Keeping that in mind, these are the most important qualities to look for when choosing a shoe for HIIT:
Durability
Flexibility
Stability
Less than 4mm of "drop" (difference in height from the heel to the front of the shoe)
Comfort
HIIT encompasses many different types of exercise and requires a shoe that can keep up with that intense, dynamic movement. You want your shoes to be durable and well made, so that you won't be wasting money having to constantly replace them. They should maintain flexibility, however, or you risk your freedom of movement being restricted.
Stability is important so that you will not injure yourself while doing any heavy lifting, which requires you to have a firm, stable stance on the ground. This is why any shoe for HIIT should have no more than 4mm of drop, otherwise your stability will be compromised.
Related: What are Cross Training Shoes Good For?
Types of Shoes for HIIT
Below are some of the common shoes that people use for their HIIT. We've also listed a type of shoes that you shouldn't use for HIIT.
Cross Training Shoes for HIIT (The Best Choice)
Cross-trainers are the most stable shoe for a large range of movements, such as the ones typically involved in HIIT workouts—from cardio to weight lifting to box jumps to rope climbing.
The difference in heel height from the thickly padded back end of a shoe to the lightly padded front is called the "drop." Cross-trainers have a drop of no more than 4 millimeters, as opposed to regular running shoes, which have much thicker cushioning.
Using Basketball Shoes for HIIT
Basketball players have to make a wide range of movements (such as jumping and pivoting) on the court, similar to those involved in HIIT workouts. Some of the popular models of basketball shoes provide strong support, and they are also flat, which increases stability for HIIT workouts.
Using Minimalist Training Shoes for HIIT
Minimalist shoes include thin shoes or the always eye-catching toe shoes. These shoes work well for intermediate or advanced HIIT participants, but not as well for beginners as you need to build a tolerance for the greater impact and shock to your foot caused by the lack of cushioning and support. They are very different from normal athletic shoes, so it is important to adjust to them before trying them in HIIT workouts.
Using Weightlifting Training Shoes for HIIT
Weightlifting shoes are extra hard and have a thick heel—the soles do not give, and some even have wooden heels that do not compress at all. They also have a strap that tightens over the top of the foot for security and stability. This type of shoe is suitable for intermediate or advanced HIIT participants, but because it is so different from a normal shoe, it is not the best for HIIT workout beginners.
Here is a quick guide to the recommended models of HIIT shoes:
| | | | |
| --- | --- | --- | --- |
| | Designed For | Pros | Cons |
| Cross-trainers | A wide range of activities | Versatile | Low cushioning and support |
| Basketball shoes | Jumping, running and pivoting | Flexible, supportive | Heavy |
| Minimalist | Stability | Lightweight | Low cushioning and support |
| Weightlifting shoes | Weightlifting | Stable | Not versatile |
Running Shoes are Not Recommended for HIIT
Running shoes usually have a drop of 8 millimeters or more in addition to a great deal of foam cushioning, which makes them perfect for running, but not ideal for HIIT training.
Additionally, running shoes are only effective for going forward, and not side to side or backward.
"Running is a linear activity, but HIIT training is very different," Reebok's senior product manager for training footwear Kristen Rudenauer told Shape. "Movements such as side shuffles, pivots, jumping jacks, cutting between cones, ladder work, planks and push-ups—you need support from front to back."
Running shoes might be fine for a trial HIIT class, but if you plan to continue to do HIIT workouts frequently, it is a good idea to invest in shoes that are made specifically for high-intensity interval training.
Do Not Go Barefoot on HIIT
Participating in a HIIT workout barefoot is not a good idea. Working out barefoot causes injuries very easily because there is too much impact for your joints to handle.
Also, especially if you have high arches, you need a shoe that supports you, or you will start to feel a great deal of foot pain and might need physical therapy or possibly even surgery if you do not discontinue your activity or start wearing the right footwear.
Bottom Line
Although they might be the most readily available, running shoes are not well-matched for HIIT workouts in the long run. Bare feet are not advisable for HIIT at all, and weightlifting shoes are ideal for the activity in its name, but unfortunately not for the other activities in a HIIT workout.
If you are already a somewhat experienced HIIT participant and you take the time to get used to them, minimalist shoes could be a good choice for footwear. Their stability and light weight make them well-suited for HIIT as long as you do not have pre-existing foot conditions or injuries.
Across the board, basketball shoes are probably the second-best choice of footwear for HIIT, but they are heavier than the other options, so if speed is an important factor to you when you work out, they might not be the right shoes for you.
Because they are the most versatile, cross-trainers are the perfect shoes for HIIT workouts. They are flexible enough to allow you to do any movement in the workout while keeping you stable. However, if you are prone to foot pain, make sure that you have a shoe that provides enough support and cushioning.
Whichever model you select for your HIIT workout, ensure that it is flat, has adequate support around the shoe and under your arches and offers a high level of traction. If you feel comfortable, supported and ready to take on a sweaty, intense workout, then you will know you found the right shoe for you.
Source: https://www.today.com/series/one-small-thing/what-hiit-workout-how-high-intensity-interval-training-works-t165208
Loveatfirstfit.com is a participant in the Amazon Services LLC Associates Program, an affiliate advertising program designed to provide a means for sites to earn advertising fees by advertising and linking to Amazon.com. We may earn a commission when you buy through links on our site.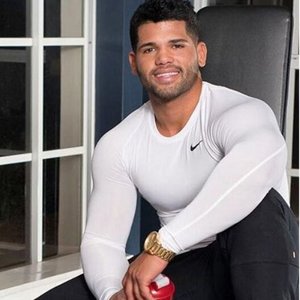 Austin is the author of loveatfirstfit.com and a personal trainer with extensive knowledge in nutrition. Austin is passionate about helping others to find a suitable healthy lifestyle and feel good about themselves. Austin's goal is to help people push their limits and achieve their physical performance.
Last update on 2023-02-13 / Affiliate links / Images from Amazon Product Advertising API