Jordans are no doubt the most sought after brand of basketball shoes in the world. When the first Jordan, Air Jordan I, debuted in 1984, it promptly changed the world of basketball shoes. It transcended basketball shoes to become a fashion symbol and a cultural icon.
You can tell if certain Jordans are fake by checking the shoebox and its sticker, inspect the size tag in the shoes, google search your model/color, and look closely on the stiching, and compare the fake jumpman logo with real Nike jumpman logo.
More than 3 decades after Air Jordan I's debut, Jordan is bigger than ever. In 2019, Jordan Brand brought in over $3.1 billion in sales for Nike. On top of that, there is a huge resale market for Jordans. The global sneaker resale market is now estimated to be worth more than $2 billion, with Jordans account for a big chunk of that.
With so much money on the line, it is not a surprise that a vast fake Jordan industry has sprung up to swindle money out of unsuspecting buyers. These counterfeiters have become very sophisticated. Therefore, it is important to learn how to detect fake Jordans if you ever plan to buy Jordans.
The best way to make sure you are not getting fake Jordans is to buy from the Nike website, Nike stores, or authorized retailers. Failing that, at least avoid oversea or low-rated sellers. Avoid shoes that are unreasonably cheap. Check the quality of the shoebox.
Related: What Companies are Owned by Nike? List of Brands Acquired and Sold by Nike
Make sure the shoe tag and the manufacturing sticker have the correct Nike style code and UPC number. Now that we've covered safe ways to buy authentic Jordans, let's jump in to a checklist of 6 ways to spot fake Jordans:
Check The Shoebox
If the shoes come in a beat-up shoebox, that is a big red flag. Real Jordans' shoeboxes are sturdy and well-made. Go through the following checklist to make sure the shoebox is authentic:
Different Air Jordan models come in different shoeboxes with different styles and colors. Go online and look up photos of the specific shoebox for your specific Jordan model. Make sure that matches the shoebox your Jordans came in.
Make sure the shoebox lid fits tightly over the shoebox body without any gaps.
The colors on the box should be uniform with no faded areas.
There should be Air Jordan Jumpman logos on the lid and the side of the box.
Check The Shoebox Sticker
All authentic Jordans come in a box that has a manufacturing sticker on its side. Check that sticker and make sure:
The information on the sticker (shoe model name, shoe size, color combo, country of origin) matches that of your shoes.
The text on the sticker is properly spelled and printed.
The sticker itself is in a perfect rectangular shape and is attached smoothly onto the box, with no air bubbles underneath.
The Nike style code on the sticker is correct.

The Nike style code is a 9 digit number printed on the manufacturing sticker. It is in 2 groups: a 6 digit group followed by a 3 digit group.
For example: the Nike Style Code of Air Jordan 4 Retro Laser 30th Anniversary is 705333 105
Go to the website such as StockX or Barcode Spider, type in the name of your Jordan model to find out its corresponding Nike style code.
Make sure that Nike style code matches the Nike style code printed on the manufacturing sticker.
Unfortunately, not one single site has all the Jordan models and editions and colorways in its database. So you may have to check several sites.

The UPC number on the sticker is correct.

The UPC number is the 12 or 13 digit number printed on the sticker right underneath a barcode.
For example, the UPC number of Air Jordan 4 Retro Laser "30th Anniversary" is 888408148209
Go to the website Barcode Spider, type in the name of your Jordan model to find out its corresponding UPC number.
Make sure that UPC number matches the UPC number printed on the manufacturing sticker.
Check The Size Tag inside The Shoe
Look for a tag that is sewn inside the shoe. It should have a size and a Nike style code printed on it. Make sure they match the actual size and Nike style code of your shoe.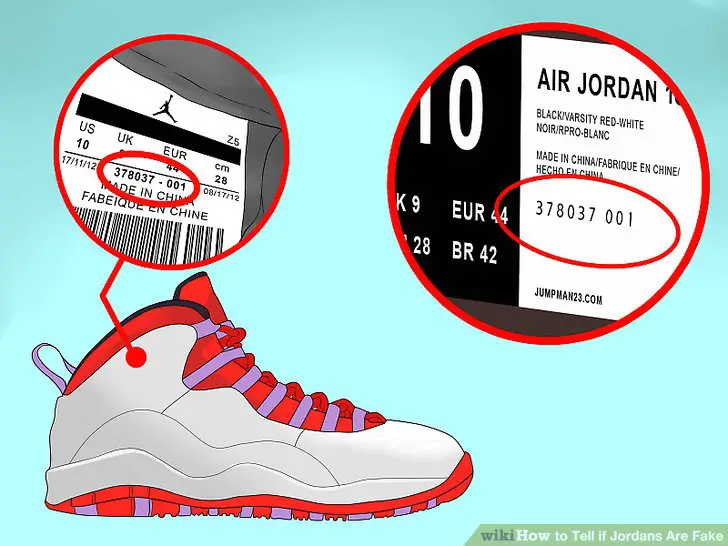 Related: Does Nike Run Big or Small? Complete Nike Shoe Fit List
Check the Model & Colorway
Go to Google to search the model name and colorway of your Jordans. If you can't find it online, your shoes are fake.
Check Stitching
The stitching on your shoes should be of the highest quality – evenly spaced, no loose ends, no frayed threads.
Check Jumpman Logo
Look at the Jumpman logo both on the shoebox and the shoe. Compare them to an authentic Jumpman logo and make sure they look the same. Here is a comparison between real jumpman logo and fake jumpman logo.
Also, make sure the Jumpman logo on your shoe is well-made with a well-defined (not blurry) edge.
Fake Jordans Are a Big Business
As mentioned, Jordans are big business. In 2019, Jordan Brand was a $3.1 billion business for Nike. For the 4th quarter of 2019, Jordan Brand just earned its first $1 billion quarter. And those numbers were wholesale revenues. Retail revenues will be significantly bigger.
| | | | | | |
| --- | --- | --- | --- | --- | --- |
| Year | 2015 | 2016 | 2017 | 2018 | 2019 |
| Nike revenue from Jordan Brand | $2.33 billion | $2.75 billion | $3.10 billion | $2.96 billion | $3.14 billion |
Table 1: Nike Revenue From Jordan Brand 2015 – 2019
There is also a huge and booming resale market for Jordans, complete with eye-popping prices. Some of the most in-demand Jordan models have been selling for between $9,000 and $38,000 on StockX. Many people are actively buying and selling Jordans as an investment. All told, Jordans are at the heart of a $2 billion a year sneaker resale market in 2020 that is predicted to explode to $6 billion per year by 2025.
Unfortunately, this booming demand for Jordans has created a big incentive for criminals to make fake Jordans. And fake Jordans have become a big business. Just recently:
As you can see, fake Jordans are by no means a small problem. So do not let your guard down. Make sure you have done the due diligence before you buy your next pair of Jordans.
If a seller is pricing a pair of Jordans much lower than everyone else, that is a huge red flag. You are not getting real Jordans for 50% off. You are getting fake Jordans. If it sounds too good to be true, it is. Use your judgment.
How to Buy From Nike Authorized Retailers
The best way to avoid fake Jordans is to buy from Nike. If you get your Jordans from the Nike website or a Nike store, you are guaranteed to be getting authentic shoes. Next best is to buy from a Nike authorized retailer.
Nike does not provide a list of authorized retailers to the public. Consumers normally would have to contact Nike directly to confirm whether a specific retailer you have in mind is an authorized dealer or not.
To save you some time, here is a partial list of major companies that are known as authorized Nike retailers:
Zappos
Eastbay
Footlocker
Champs Sports
Footaction
Finish Line
One notable absence from this list is Amazon. Many people assume that when they buy from a company as big as Amazon, they will not get fake products. That is no true at all. Most of the products on sale on Amazon are not being sold by Amazon itself. Instead, most products are being sold by 3rd party sellers who may or may not be selling fake products.
Related: 9 Places You Can Buy Cheap Jordans | Authentic Real Ones
And even if you are buying a product that is designated as being "Sold by Amazon," you can still end up with a fake product. That is because of an Amazon practice known as "inventory commingling" – under which, even if you buy directly from Amazon, Amazon may still ship you a product drawn from the inventory of a 3rd party seller. So, if that 3rd party seller sells fake products, you will get fake products.
This problem got so bad on Amazon that Nike stopped selling on Amazon in 2019 because of the rampant counterfeiting there:
"Nike is pulling out of (Amazon) after it struggled to control the Amazon marketplace. Third-party sellers whose listings were removed simply popped up under a different name."
Tip: If you are buying from a marketplace such as eBay or Amazon Marketplace, check the seller's feedback ratings. Only buy from sellers with an established history (1+ year selling, 100+ buyer feedback) and a high overall rating (> 95% positive).
Related:Top 25 Best Basketball Shoes for Guards | Forwards | Centers
A Word from Love At First Fit
If you have to buy from unauthorized sources, exercise great cautions to check if your Jordans are fake. Avoid shoes that are unreasonably cheap. Make sure the colorway you are buying actually exists.
Check the shoebox, the manufacturing sticker, the shoe tag, the Jumpman logo, and the stitching to look for any telltale signs of fake products. If you follow the steps in this article, you will cut down your chance of getting fake Jordans substantially.