Almost all gyms offer personal trainers to their members. However, the cost of a personal trainer is not included in the membership.
You will find that most personal trainers charge between $40 and $70 for an hour session. Of course, the rate varies between the gym you choose and the trainer's expertise and knowledge.
So, if you are looking to start personal training at Gold's Gym, you are in the right place. Here is what you must know about it.
How Much Is Gold's Gym Personal Training?
Personal training at Gold's Gym costs between $60 and $100 per hour. The amount the trainer will charge depends on their knowledge, expertise, and qualifications. The gym also offers discounts for personal training when you book sessions of ten or more at one time.
Remember that the personal trainer cost will also vary by location. That is why it is best to visit the Gold's Gym near you to find out more about their personal training cost.
Here is a price comparison of Gold's Gym personal training with others to help you make the right decision:
| | |
| --- | --- |
| Gym | Cost Of Personal Training Per Hour |
| Gold's Gym | $60 to $100 |
| Lifetime Fitness | $50 to $110 |
| LA Fitness | $60 |
| YMCA | $30 to $50 |
| Equinox | $110 |
The cost is of personal training per hour. You can opt for various personal training options to make the most of your fitness journey.
Related: Average Cost Of A Personal Trainer
Gold's Gym Personal Trainer Options
The personal training options depend on the Gold's Gym location as it varies between trainers. That is why you can find a Gold's Gym near you to understand more about what they offer. The personal trainers will design a personalized workout for you to obtain the best results.
You can opt for as many sessions as you like with the personal trainer. If you book over ten sessions at a time, the gym will offer you a discount to help lower your cost.
Once you start your personal training, you will have to get used to the trainer. If you don't like their method, you can always cancel.
Gold's Gym Personal Trainer Cancellation & Refunds
Gold's Gym does not disclose its personal training cancellation and refund policies. You will have to talk to your trainer and the gym staff if you want to cancel personal training. On the other hand, you can cancel your membership if you are not happy with the services.
The gym requires customers to offer a thirty-day notice prior to membership cancellation. You will also have to pay for the membership till that period passes.
On the other hand, if you are still within your original contract period, you might have to pay a membership cancellation fee. You can talk to the staff members at the gym you go to, and they will guide you better.
However, you will not need to cancel personal training. That is because all the trainers have relevant qualifications and certifications to make your experience better.
Learn More: Gold's Gym Membership Cost 2022
Gold's Gym Personal Trainer Qualifications
All the personal trainers have the qualifications to train you best. The chain requires personal trainers to obtain a certification from a nationally recognized agency. Most personal trainers at Gold's Gym have certifications from NASM, ACSM, ACE, NSCA, and many others.
You can also count on the trainer to have relevant experience to train you in the best way possible. Such qualifications and experience allow the trainer to give you an experience like no other.
If you don't believe us, you can always check personal trainer reviews.
Gold's Gym Personal Trainer Review
The personal trainers at Gold's Gym are there to enrich your fitness journey. According to many customers, the trainers are knowledgeable, have a positive attitude, and personalize each aspect of the training. The equipment available allows trainers to incorporate various workout regimens into the training.
Many trainers also go out of their way to offer assistance to the members. Even group training is fun and enjoyable for all members.
If you can't make it to the gym, you can also opt for Gold's Gym online personal training. 
Does Gold's Gym Have Online Personal Training?
Gold's Gym offers virtual personal training to its members. The gym calls it Gold's Gym Social Fitness on Demand. With ease and support, you can use this platform to work out from home.
The trainers will help you make the most of your equipment at home. You can also indulge in an equipment-free workout to fulfill all your fitness goals in no time with Gold's Gym personal trainers.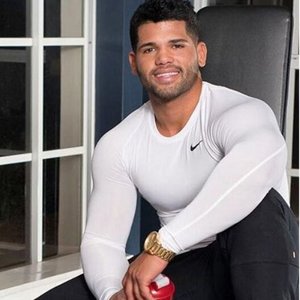 Austin is the author of loveatfirstfit.com and a personal trainer with extensive knowledge in nutrition. Austin is passionate about helping others to find a suitable healthy lifestyle and feel good about themselves. Austin's goal is to help people push their limits and achieve their physical performance.