Many people go to fitness centers to improve their health. The annual average gym membership cost in the US is $500. However, this can vary depending on your club.
Gold's Gym is a high-end American fitness club in the US. If you want to know about its membership cost, you're in the right place. Below we have detailed everything about it.
How Much is Gold's Gym Membership a Month?
Gold's Gym monthly cost is $29 for a 12 months contract. There is a one-time initiation fee of $74 and a maintenance fee of $39 per month, and it cost a total of $142 to get started at Gold's Gym. If you buy an annual plan, there is no initiation fee and monthly maintenance.
| | | |
| --- | --- | --- |
| Gold's Gym Plans | Individual | Couple |
| 12 Month Contract | $29/mo | $54/mo |
| 24 Month Contract | $25/mo | $49/mo |
| Annual | $348 | $648 |
| Initiation Fee | $74 | $148 |
| Maintenance Fee | $39 | $39 |
Gold's Gym offers different types of membership plans to offer consumers higher flexibility. You can enjoy monthly programs, annual, and much more. Here is a table to help you understand the membership prices of this gym chain:
These are the prices of the primary plans that Gold's Gym offers. If you are a single person, you can also opt for individual membership.
It is best to contact the gym to know about the individual membership prices. Besides that, the fitness club also allows you to opt for a couple and one minor plan too.
All locations of the fitness chain offer the same plans of monthly and annual programs. Not only that, but the gym also allows you to sign a two-year membership contract.
Here is a monthly price comparison with all major gyms in the United States:
Check Out: Does LA Fitness Have Classes?
Is There An Initiation Fee For Gold's Gym?
The 12 month and 24-month contracts of Gold's Gym require you to pay an initiation fee. Not only that, but the individual membership plans also have the same fee.
The initiation fee at Gold's Gym per person is $74. All plans require you to pay this amount except the annual membership. You can get that one without any initiation fee.
Besides this fee, the gym chain also asks you for a $39 facility maintenance fee for each membership. Once again, you do not have to worry about this amount when getting the annual plan.
Another thing to note is that the gym also has a late fee of $19.50. If you want to add a family member to your Gold's Gym membership, here is what you need to know about its prices.
How Much Does It Cost To Add A Family Member To Gold's Gym?
The fitness chain offers a buddy program that allows you to add a family member to your membership. The best thing about it is that you do not have to pay.
You can add a family member for free using the Buddy Program. Not only that but you can take a friend with you too with this plan.
If you are wondering whether the fitness chain offers a free day pass, worry no more. The next section contains all the information you need.
Does Gold's Gym Have A Free Day Pass?
Gold's Gym offers a free day pass at all of its locations in the US. However, the validity of the pass varies from one club to another.
Some locations of the chain allow guests to use the free day pass for seven days. Meanwhile, others limit the usage to one visit only.
Besides that, you can also enjoy a free month at the gym through a friend referral. Thus, guests do not have to worry when it comes to this fitness chain.
Related: Does Lifetime Fitness Have Guest Passes?
Can I Pay My Gold's Gym Membership Online?
The Gold's Gym has not provided information about paying your membership fees online. However, you can join the program on their website.
You should go to their online platform and use the join now option to get a membership plan. Once you have filled in the information, you can know more about the payment options.
Is There Any Special Offer On Gold's Gym?
The cheapest way to get a membership at Gold's Gym is by opting for the 24-month contract. You can enjoy various amenities with this program.
Besides that, fitness chains offer discounts on their membership plans from time to time. This is why you should check their website regularly for promotion updates.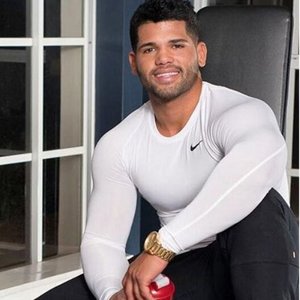 Austin is the author of loveatfirstfit.com and a personal trainer with extensive knowledge in nutrition. Austin is passionate about helping others to find a suitable healthy lifestyle and feel good about themselves. Austin's goal is to help people push their limits and achieve their physical performance.