Fitness clubs around the world offer services other than ones related to physical health. For example, some centers have daycare for their members who are parents.
24 Hour Fitness is a famous chain that many people opt for in the US. If you're wondering whether they offer a senior discount, you're in the right place. Here is what you need to know.
Does 24 Hour Fitness Have A Senior Discount?
Unfortunately, 24 Hour Fitness does not offer a senior discount to anyone in the US and elsewhere. However, that does not mean that seniors cannot use amenities at the club. You can still get a membership and enjoy all the perks this fitness chain offers.
The fitness clubs of this company have been operating since 1983. However, they have never offered an option of a senior discount. That is why it is unlikely that they will provide it in the future.
Many of you may judge the fitness center for not offering senior discounts. That is why it is good to understand their reason behind this move.
Related: Does LA Fitness Have Senior Discount?
Why Doesn't 24 Hour Fitness Have Senior Discounts?
24 Hour Fitness is a popular fitness chain that has never offered senior discounts. This is because their standard membership fees are highly reasonable.
Besides that, the club offers a hefty discount on annual membership options. So there is no need for them to offer senior discounts. If they start doing so, then they will end up having major financial losses.
The membership fees of this chain are reasonable and affordable for many people. Below is everything you need to know about the prices of 24 Hour Fitness.
How Much Is The 24 Hour Fitness Membership?
The membership cost of 24 Hour Fitness varies depending on the type you are getting and club access. Currently, you have monthly fees and annual bill options at this fitness chain.
If you are opting for single-club membership, then the fee will be around $40 monthly. This can vary depending on the location of the center.
Meanwhile, the monthly national membership costs about $56.99. With this type, you will have access to all clubs of 24 Hour Fitness throughout the US.
Some clubs also allow different ways to achieve membership for cheaper. Here is what you need to know about 24 Hour Fitness offering affordable options.
What Are The Cheapest Ways To Get 24 Hour Fitness Membership?
The membership prices remain the same throughout the nation for all people. However, everyone can still make significant savings by choosing the right package.
If you cannot pay a high amount at once, a monthly membership would be your top choice. However, keep in mind that the annual package is to select if you want to make significant savings.
It costs about $450 for multi-club access but is the best value for money. This is because it means your monthly charge is $37.5 and not $56.
So the cheapest way to get 24 Hour Fitness membership is by opting for the best value category. If you're wondering whether the chain offers other discounts, keep on reading.
Learn More: Rebook Promo Codes
Does 24 Hour Fitness Offer Any Other Discounts?
24 Hour Fitness is a highly affordable club chain that does offer other discounts. Firstly, they allow every citizen to try out their facilities by getting a free pass.
The free pass is a trial pass that you can use to enjoy amenities at this club for three days. Besides that, the fitness center also has discounts for healthcare workers.
For example, active military members and veterans can get a discount at 24 Hour Fitness. Additionally, first responders can also reduce their fees as the chain offers them a deal too.
Does 24 Hour Fitness Accept Silver Sneakers?
Fortunately, you can avail the SilverSneakers program benefits at 24 Hour Fitness and avail classes. Such classes are free for the people in the program and you will not have to pay an extra fee. However, if you want to avail classes outside the program at 24 Hour Fitness, you will have to pay for them.
What Other Gyms Have Senior Discounts?
Many gyms in the US offer senior discounts to old residents. Here are the top ones that you can go to if you want the deal:
YMCA
Planet Fitness
Bally's Total Fitness
American Family Fitness
Besides these, many other gyms also provide senior discounts. However, keep in mind that the rates will vary.
Does 24 Hour Fitness Have Any Other Discounts?
24 Hour Fitness does not offer senior discounts at any of their locations. However, they do have other membership deals for people of all ages.
Besides that, they offer discounts to military members, paramedics, EMTs, firefighters, and much more.
If you want to learn more about the deals at 24 Hour Fitness, you should contact them. The management will provide you with the latest information.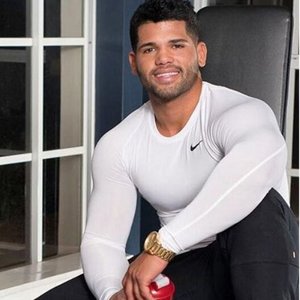 Austin is the author of loveatfirstfit.com and a personal trainer with extensive knowledge in nutrition. Austin is passionate about helping others to find a suitable healthy lifestyle and feel good about themselves. Austin's goal is to help people push their limits and achieve their physical performance.