When joining a gym, you must consider the membership cost to ensure it is within your budget. An expensive option that may be tempting to join is LA Fitness.
If you want to know why this gym is expensive and whether it is worth it, you're in the right place.
Reasons LA Fitness Is Expensive
LA Fitness is more expensive than an average gym as they are the biggest fitness chain in the United States and offer well-maintained high-end equipment. LA Fitness also has personal trainers, classes, and multiple luxury amenities such as a pool, squash court, and basketball court.
Many LA Fitness locations offer the same services for high flexibility. However, some signature sites are more spacious. So you may encounter additional amenities.
Some of the services you can enjoy at LA Fitness are:
High-End Equipment
The top attraction of LA Fitness is its high-end machines. All of them are from reliable brands and maintained really well.
This is why you will rarely encounter a broken machine on the gym floor. However, you must time your visit well when working out at LA Fitness.
The gym is popular and can get crowded during specific hours. Knowing the best time to visit LA Fitness will help you get the most out of your session without long waiting.
Game Courts
LA Fitness is also expensive because the gym has invested a high amount in its spacious structure. This is why you can enjoy various indoor game courts.
These include full-size basketball courts at almost all LA Fitness locations. You can also play squash at the gym to exercise your muscles and stay fit without intense workout sessions.
The courts are accessible daily from 5 am to 10 pm or 11 pm. The exact timing depends on the business hours of your specific branch.
Pool
Another high-end service that adds to LA Fitness's membership fees is the pool service. Most branches of this gym offer indoor pools with three long lanes for easy swimming.
You can mainly perform lap swimming in the pool except during specific water sports classes. These are only available at some locations.
Most LA Fitness branches also have outdoor pools for a kid-friendly experience. You can use this amenity for free if you're a member of this club.
Kids Club
As a parent, you may not be able to afford a babysitter whenever you go to the gym. Hiring an external daycare service may also be a hassle due to long hours of commuting.
LA Fitness understands this and offers a Kids Club where you can leave your children while working out. The qualified staff will engage your children in fun activities to ensure you can exercise without worrying.
So you will not have to find alternatives for your kids when working out at the gym or taking group classes at LA Fitness. Of course, this amenity also means that the gym's membership fee will be a bit higher.
Group Classes
Group classes are available at LA Fitness and are offered as an additional service with extra charges. So they may make your membership seem expensive.
You can choose from various options such as
Cardio
Yoga
HIIT
Pilates
Zumba
And more
The price of these classes is confidential because the exact amount varies depending on the number of sessions and timing.
Personal Training
Personal training also makes LA Fitness membership a bit more expensive. This is because you will have to pay extra by the hour.
A single one-hour session will cost you about $60, while a 30-minute session is for $45. You will get access to a qualified trainer for a highly satisfying experience.
The best thing is that the one-on-one attention also includes a diet plan to help you stay fit easily.
How Much Is LA Fitness Membership?
LA Fitness has an expensive membership, as per some people, but the amount is not that high if you consider all the perks you receive. The gym offers the best value for money by giving you access to luxury equipment, gaming courts, a pool, showers, and a Kids Club.
| | | |
| --- | --- | --- |
| Types | Initiation Fee | Monthly Fee |
| Single Club | $0 | $44.99 |
| All Clubs | $99 | $34.99 |
The gym mainly offers two membership options for a reliable experience. You can join a gym within your neighborhood for $44.99 monthly and with no initiation fee.
Getting this membership will mean that you can only work out at the gym in your vicinity. Meanwhile, the second option, with a $99 initiation fee, will allow you to access all national gyms.
So you can visit whichever LA Fitness location is near you at a specific time for working out.
Is LA Fitness Membership Worth It?
The membership at this gym is worth it because of the various perks and flexible hours. This fitness center is open from 5 am to 11 pm on most days, allowing you to enjoy late workouts.
You will get various free amenities with the membership, such as basketball courts, a sauna, and a pool. Using gym equipment is also included in the membership if you don't take personal training.
The best part is that LA Fitness has various locations across the 50 states. So finding a club near you will not be a tough task.
This gym also has better trainers than most other places and a huge space for working out.
LA Fitness Vs. Other Gyms
LA Fitness may seem an expensive gym to you, but it is not highly expensive as compared to other places. You can check the costs of different fitness chains to make the best decision.
| | |
| --- | --- |
| Gym | Monthly Membership |
| LA Fitness | $44.99 |
| Equinox | $285 |
| Crunch Fitness | $149 |
| Gold's Gym | $49.99 |
| Anytime Fitness | $59.99 |
All the gyms that offer the same perks as LA Fitness charge at least $50 per month. They also have higher initiation fees for every package, while LA Fitness does not charge an extra amount for single clubs.
This is why the club is worth joining if you want luxury perks without breaking your bank. The gym membership is relatively less expensive than other places and offers an affordable but good experience.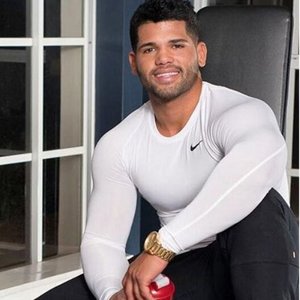 Austin is the author of loveatfirstfit.com and a personal trainer with extensive knowledge in nutrition. Austin is passionate about helping others to find a suitable healthy lifestyle and feel good about themselves. Austin's goal is to help people push their limits and achieve their physical performance.