While many gyms offer tanning solutions, the type of tanning is unique. For example, some offer spray tanning, while others can offer lay-down or even stand-up tanning.
Some gyms also offer a free trial that will enable you to try out the tanning services. So, you can take advantage of the many options at your disposal.
The top best gyms with tanning include World Gym, Anytime Fitness, Planet Fitness, YMCA, Gold's Gym, Crunch Fitness, and Fit4Less. Depending on your budget and preferences, you can opt for any of these gyms.
| | | |
| --- | --- | --- |
| Gym Name | Membership for Tanning | Availability |
| World Gym | Comes at an additional cost | Most locations |
| Anytime Fitness | Included with basic membership | Most locations |
| Planet Fitness | Black Card Membership | Almost all locations |
| YMCA | Additional fee | Some locations |
| Gold's Gym | Additional fee | Almost all locations |
| Crunch Fitness | Peak Results Membership | Almost all locations |
| Fit4Less | Black Card Membership | Most locations |
We recommend that you contact each gym and find out if they have tanning beds available. The staff will help you out and let you know whether you can use the facilities.
Remember that you will have to opt for a special membership or pay a separate fee. Some gyms also allow you to opt for the tanning bed service in their free trial.
It is crucial that you go through the rules and policies of each gym before you decide which one to opt for. You can contact the front desk or visit the gym and find out.
Learn More: Top 10 Best Gyms With Sauna Near You
World Gym
There is no better gym than World Gym when it comes to tanning. Most of the World Gym locations offer this facility to their members.
You will have to contact your nearest location and find out whether you will have to pay an additional fee or you can use the facility with the membership. Local clubs have unique policies that you must know about.
Membership of this gym begins at $19 per month, which is why it is an affordable solution. However, the membership cost can vary, depending on the local gym near you.
If you are looking for state-of-the-art tanning facilities, then World Gym is a great option. We recommend that you check the gym out before you commit.
You can visit the nearest World Gym club in your region to find out more about the type of tanning they offer. After that, you can decide whether it is the right choice for you or not.
Learn More: World Gym Membership Cost 2022
Anytime Fitness
While Anytime Fitness has many locations around the country, most of them are relatively small compared to other gyms. The gym does not offer any steam rooms and saunas, but you will find hydro massage chairs and tanning here.
Besides that, not all locations of Anytime Fitness will offer you a tanning solution. You will have to contact the gym near you and find out whether they have tanning beds or not.
Most of the locations only have a maximum of three tanning beds, so checking the availability is also crucial. You can use the mobile app or book your tanning session at the reception.
Remember that other gyms will offer you many more amenities at the same price tag. That is why you must decide whether Anytime Fitness is worth the cost for you or not.
Planet Fitness
Planet Fitness is perhaps one of the most affordable gyms you will find that also offers tanning services. More than 700 locations of this gym around the country have tanning beds for members.
One thing to keep in mind is that the membership price doesn't include tanning. You will have to opt for tanning as an add-on and pay the extra cost to avail this service.
For example, once you add it on, your membership will be upgraded to the Black Card membership. Using this membership, you can opt for as many tanning sessions as you like.
The Black Membership costs $22.99 per month, and it is not a steep price to pay for tanning beds. Most of the gym chains have a higher basic membership fee without including tanning.
So, if you want to stay within your budget and opt for a great gym with mid-range amenities and tanning beds, then Planet Fitness is ideal. You can contact Planet Fitness near you to understand their policies.
YMCA
| | |
| --- | --- |
| Gym Locator | YMCA Near You |
| Free Trial | No |
| Membership | Starts at $17/month |
The amenities at YMCA vary between each location, which is why not all locations will offer tanning beds to members. Some of the locations will have all amenities, such as courts, pools, hot tubs, and more.
However, some of them only have basic equipment that will allow you to get your workout in. It is an inconsistent gym in this regard, but if the location near you has a tanning bed, then you will get a lot out of it.
The best part about this gym is also that it is cost-effective, unlike many others out there. We recommend that you visit the YMCA near you to find out what amenities they have.
The prices of the membership can also vary, depending on the location. At some locations, you can even use the tanning bed for free if you are an annual member.
In other locations, you will have to pay an extra fee for using the service. So, be sure to contact them and find out how you can use their tanning services.
Gold's Gym
Gold's Gym has some top-quality tanning beds at most of its locations. You can also sign up for a free trial and check out the tanning beds to determine if they suit your preferences.
Remember that tanning beds at Gold's Gym tend to fill up fast because they have many members. You will have to call ahead and check the availability of the tanning bed before you decide to book a session.
The best part is that Gold's Gym is also partnering up with other tanning salons to offer you an incredible experience. Such salons have the latest tanning beds that will help you customize your tanning session.
We recommend that you visit the gym using the free trial and check everything they have to offer. Be sure to ask about the different policies and what you can use under the membership.
Even if the Gold's Gym location in your region doesn't offer tanning services, you might still get a discount at a nearby tanning salon if you become a member.
Crunch Fitness
Crunch Fitness should be on the top of your list because it offers some excellent tanning equipment to members. However, you will have to opt for the Peak Results membership if you want to enjoy the tanning services.
On the other hand, if you are on a basic membership, you will not benefit from tanning services, and you will only have access to basic equipment. You can also pay an additional fee to use the tanning bed at the basic membership level.
However, it will depend on the local Crunch Fitness in your area and what they are offering to you. With the Peak Results membership, you will also have access to other premium facilities that this gym offers.
The gym offers lay-down and stand-up tanning beds to members. You can decide which one you want to use before you book a session at Crunch Fitness.
Related: Crunch Fitness Amenities 2022
Fit4Less
Finally, we have Fit4Less, which is a great affordable gym you will find near you. Of course, if you want to use the tanning services of the gym, you will have to be a Black Card member.
The Black Card membership will set you back at least $11.99 every two weeks. However, with this membership, you will get what you need and have access to various amenities at the gym.
The best part about Fit4Less is that you can easily share your membership with your family members or friends. Another thing to keep in mind is that most of the locations don't have locker rooms or showers.
It is an important note to keep in mind if you will be using the other services that the gym offers. So, keep all of this in mind before you decide to opt for the gym membership.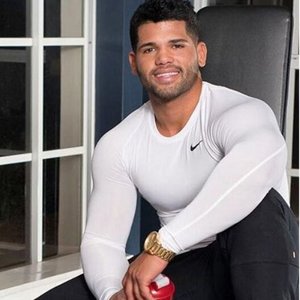 Austin is the author of loveatfirstfit.com and a personal trainer with extensive knowledge in nutrition. Austin is passionate about helping others to find a suitable healthy lifestyle and feel good about themselves. Austin's goal is to help people push their limits and achieve their physical performance.