Many gyms in the US offer personal training to help you fulfill your workout needs. On average, trainers charge $40 to $70 for one-on-one sessions privately.
Anytime Fitness is a gym chain that is well-known throughout the US. If you are wondering about their personal training policy, worry no more. Here is what you need to know.
Related: Anytime Fitness Membership Cost 2022
How Much Is Anytime Fitness Personal Training?
Anytime Fitness personal training prices start at approximately $35 for a half-hour session, depending on the club. For a limited time, you can join Anytime Fitness for just $1. To qualify for Anytime Personal Training, you must purchase a 12-month membership at a participating location.
Related: Average Cost Of A Personal Trainer
Anytime Fitness has not disclosed their personal training exact prices as they vary from one location to another. Anytime Fitness suggests you contact the club for the cost.
Here is a personal training price comparison with other Gyms:
| | | |
| --- | --- | --- |
| Gym | Package | Starting Price |
| Anytime Fitness | 1 hour | $35 to $75 |
| LA Fitness | 1 hour | $40 to $90 |
| 24 Hour Fitness | 1 hour | $80 and above |
| Lifetime Fitness | 1 hour | $50 to $110 |
| Gold's Gym | 1 hour | $60 to $100 |
The fitness chain has personal trainers at all of its locations in the US and Canada. However, the type of sessions you can opt for differs.
Some of them allow one-on-one and group workouts. Meanwhile, others only permit the group personal training. The club chain has many qualified trainers to help you.
The fitness chain has many personal training options you can enjoy. Most locations allow you to experience one-on-one sessions.
Anytime Fitness Personal Trainer Options
If you feel more comfortable in a group session instead of 1 on 1 with a trainer, you can opt for small group personal training as well. This typically includes two to four people and a trainer.
Small group training is similar to a personal training session, but it's usually less intense. Team workouts are also great if you have a group of people.
Apart from that, you can join personal team workouts at the gym chain too. This includes 4-5 or more people and a certified trainer.
Anytime Fitness does offer a free trial on their personal training, but if you hired a personal trainer from Anytime Fitness and it did not work out, you may consider cancellation.
Learn more: Does LA Fitness Have Personal Trainers?
Anytime Fitness Personal Trainer Cancellation & Refunds
Anytime Fitness has not disclosed cancellation and refund information online. The fastest way to find out is to ask a staff member at the club. You can also learn about this in the agreement contract that the gym chain presents.
Each personal training is personalized, which is why the cancellation fee varies. All this information will be present in the contract along with the refund policy.
However, the good news is that you can try the service for free before deciding. You should visit the Anytime Fitness website to get the 7-day free pass.
Most people decide to continue the personal training with Anytime Fitness because the trainers at this gym chain are highly qualified to offer the best experience.
Related: Does 24 Hour Fitness Have Personal Trainers?
Anytime Fitness Personal Trainer Qualifications
All Anytime Fitness personal trainers have National Academy of Sports Medicine (NASM) certifications. Besides that, most coaches also have the American Council on Exercise (ACE) qualification.
Some club chains also require trainers to have degrees in Exercise Science and Kinesiology. Thus, you should rest assured that the gym chain has qualified experts to help you.
The fitness chain also allows you to have a free consultation with their personal trainers before you sign up. This is to help you make an informed decision.
Anytime Fitness personal trainers have good qualifications and they generally have good reputations around the industry.
Learn more: Crunch Fitness Membership Cost 2021
Anytime Fitness Personal Trainer Review
Customers report that Anytime Fitness personal trainers are helpful and create a friendly environment. This is why you will never be out of place during the session.
Besides that, the gym chain has well-developed studios and equipment for personal training. You can all enjoy amenities at the club to have a wholesome experience.
The group training is also famous for being helpful. Your trainer will also offer you a diet plan along with the training.
Due to COVID-19, many places have started offering online personal training. Here is what you need to know about whether or not Anytime Fitness has it.
Does Anytime Fitness Have Online Personal Training?
Anytime Fitness does not offer online personal training at any of its locations. You will have to go to the gym and work out with a coach on the site.
The primary reason they don't offer this option is because of equipment restrictions. Many people don't have the right tools that are necessary for the workout.
However, rest assured that you will not have to commute long to the gym chain. Anytime Fitness has many locations all over the US and Canada. This is why you can easily find a club near you.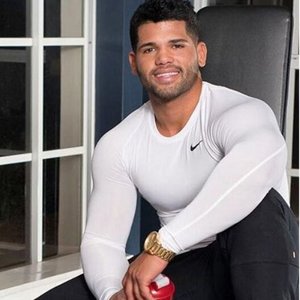 Austin is the author of loveatfirstfit.com and a personal trainer with extensive knowledge in nutrition. Austin is passionate about helping others to find a suitable healthy lifestyle and feel good about themselves. Austin's goal is to help people push their limits and achieve their physical performance.