Typically, many gyms in the US and other countries offer daycare services for parent couples and single parents. For example, Equinox is a luxury studio that offers childcare to members.
Similarly, Gold's Gym is another luxury fitness chain you may be wondering about. If so, you no longer have to. Here is what you need to know.
Does Gold's Gym Have Daycare?
Gold's Gym is a luxury chain that offers daycare services through a drop-off babysitting center. You can leave your kid of 4 months to 11 years at this gym's daycare. The best part is that the fitness chain offers many activities to keep your child engaged and fit.
The top about Gold's Gym daycare service is that it is included in the regular membership contracts. You can learn the prices of the different membership packages to understand the cost.
Typically, you can get a membership at Gold's Gym by signing a 12-month contract that bills you $29 per month. However, keep in mind that this price is exclusive of the initiation and maintenance fees.
You must also note that Gold's Gym has many locations throughout the world. This is why it is best to know if you can get childcare at all branches.
Related: Does Planet Fitness Offer Childcare?
Which Gold's Gym Locations Have Daycare?
Gold's Gym is an independently owned franchise, so not all locations offer childcare. Many branches in the US have Kids Club to fulfill your daycare needs. Besides that, some international locations also have childcare.
The top way to know if a location offers childcare is by contacting your designated branch. You can learn the complete details about the Kids Club and the timings by calling.
Another thing to remember is that you must always follow the Gold's Gym daycare policy when using the Kids Club. Otherwise, you may face strikes and membership cancellations for breaking the rules.
What Is The Gold's Gym Daycare Policy?
The rule in the Gold's Gym daycare policy is that you must be a member of the fitness chain to access the Kids Club. Besides that, your child must be 4 months old and below 11 years to be eligible for the daycare.
Here are some other key rules that are included in this gym's childcare policy:
Only a parent or legal guardian may leave/pick the child
Children are not allowed to enter other areas of the club
The childcare always operates on a first come first serve basis
Gym members must provide a government or other legal ID to check in the kid
No food or drink is allowed inside the daycare center
As long as you follow these rules, you will be on the safe side of the gym. Additionally, you don't have to worry about your child much. This is because Gold's Gym has many offerings for the kids.
What Do They Offer At Gold's Gym Daycare?
The fitness chain offers various engaging activities for the children to participate in. These may include reading programs, movement exercises, and much more. The gym offers activities to help your child grow a liking towards fitness.
You should also note that some locations of Gold's Gym also have certified teachers in the Kids Club. They can help your child with their daily homework while you use the gym.
However, the gym chain does not offer snacks or drinks inside the daycare. You should understand the childcare hours to get the maximum benefits.
What Are The Gold's Gym Daycare Hours?
Gold's Gym is open from early morning till late night throughout the week. However, the daycare hours vary from weekdays to weekends. Here is a table to help you understand.
| | |
| --- | --- |
| Day | Timings |
| Monday – Friday | 8 AM to 2 PM, 4 PM to 9 PM |
| Saturday – Sunday | 8:30 AM to 1:30 PM |
Keep in mind that these hours may vary depending on your branch. So be sure to confirm the timings with your club. You should also note that the gym chain has time limitations for each kid.
How Long Can Children Be Left At Gold's Gym?
Children of age 4 months to 2 years can enjoy one to 1.5 hours at Gold's Gym's daycare center. Meanwhile, kids above the age of two receive 2 hours of Kid's Club.
A key thing to note is that the gym chain only allows one kid in the daycare center per day. Besides that, your child cannot have more than 12 hours per week.
Gold's Gym has also kept some safety rules in place to offer a secure environment to your child. So rest assured that the gym is safe.
What Safety Features Does Gold's Gym Have?
Firstly, all the teachers at the Kids Club are CPR certified for assistance during medical emergencies. The gym also runs background checks before hiring a worker for the daycare center.
The Kids Club also has a secure door through which you have to be buzzed in. Not only that, but you have to show a membership card and legal ID to check in the child.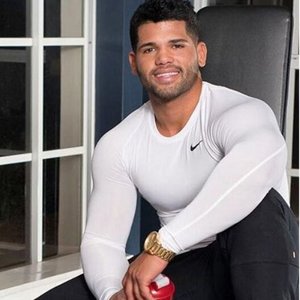 Austin is the author of loveatfirstfit.com and a personal trainer with extensive knowledge in nutrition. Austin is passionate about helping others to find a suitable healthy lifestyle and feel good about themselves. Austin's goal is to help people push their limits and achieve their physical performance.