Nike has long been the 800-pound gorilla in basketball shoes. Arguably, it created the modern basketball shoe business model with the release of Air Jordan I in 1984. Before Air Jordan I, basketball shoes were just that, shoes. Air Jordan I was the shoe that changed everything. After Air Jordan I, basketball shoes became status symbols and fashion statements, not to mention a cultural icon.
Fast forward to today. Nike remains the most dominant basketball shoe brand in the world. It has the biggest market share. It has the most prominent NBA superstars on its roster of endorsers. It has the largest number of devoted fans. It has the biggest research and development budget. The list goes on and on.
But there is a new kid on the block. For the last several years, Under Armour has been making waves in the basketball shoe market. It has managed to release a number of highly regarded and highly in demand basketball shoes. It has also signed a number of young NBA players to be its endorsers. Sure, it still has quite a way to go before catching up with Nike in terms of market share. But Under Armour without a doubt is an up and coming force in basketball shoes to be reckoned with.
In the rest of this article, we are going to look at how Under Armour and its basketball shoes stack up against those from Nike. We will also take a quick side trip and see how Under Armour basketball shoes compared to those from another big name in the market: Adidas. By the end of this article, you will have a good feel for how basketball shoes from Under Armour, Nike, and Adidas match up with each other.
Nike vs Under Armour History Comparison
The story of Nike began in Oregon. In 1964, University of Oregon athlete Phil Knight and his coach Bill Bowerman formed a company to import Japanese sneakers from Onitsuka Tiger (maker of ASICS shoes) and to sell the sneakers at track meets out of the back of Knight's car. A few years later, they stopped reselling shoes from Onitsuka Tiger and launched their own brand of sneakers – Nike.
For years after its founding, Nike was mainly known as a running shoe company. In 1984, everything changed. That year, a basketball player from the University of North Carolina at Chapel Hill was drafted third overall by the Chicago Bulls of NBA. This rookie was determined to sign with Adidas to be an endorser of their basketball shoes. He had no interest in talking to a mere running shoe company such as Nike. However, his mom intervened and made him to go meet with Nike. To seal the deal, Nike offered this rookie $250,000, several times more than even the biggest NBA superstars were getting at that time. As part of the deal, he would also get his own line of basketball shoes.
Related: Are Basketball Shoes Good For Running? Answers & Explanation
The name of this rookie was Michael Jordan. The name of his line of shoes was Air Jordan.
Nike released the first Air Jordan basketball shoe, Air Jordan I, in 1984. It had hoped to reach a sales goal of $3 million by the end of year 4. It ended up selling $126 million's worth of Air Jordan I in year 1.
Air Jordan I was the shoe that transformed basketball shoes from mere athletic equipment into fashion statements, cultural icons, and collector's items. Before Air Jordan I, basketball shoes were something you wear to play basketball. After Air Jordan I, they became something you would wear to school, to the mall, to everywhere. This transformation expanded Nike's potential market size by many times. It also turned Nike from a small upstart living in the shadow of giants such as Adidas into the undisputed juggernaut in basketball shoes.
Compared to Nike's storied history, Under Armour is an upstart, just like Nike was back in 1984. Under Armour was founded in 1996 as a maker of quick-drying athletic t-shirts made from sweat wicking synthetic fabric. The shirts caught on. The company started branching out into other athletic markets. In 2011, Under Armour debuted its first basketball shoe collection. Since then its basketball shoe business has been steadily increasing.
Nike and Under Armour Market Shares
In the footwear market, Nike remains by far the largest player, selling more than $22 billion's worth of shoes in FY 2018. Under Armour lags far behind Nike, managing to sell a total of a bit more than $1 billion's worth of shoes in FY 2018. This is hardly a surprise as Nike remains the biggest name in the business. It has the most influential brand, the largest number of shoe models, and the biggest NBA superstars as its endorsers. In comparison, Under Armour is more of a niche player in basketball shoes.
Nike and Under Armour Athlete Endorsers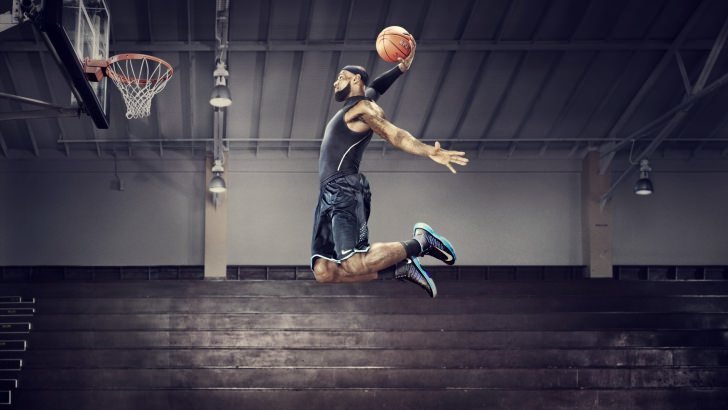 A core part of the basketball shoe business model is athlete endorsers. In this arena, Nike remains the peerless heavyweight champion. It has sponsorship deals with dozens of players in NBA, including the most prominent superstars such as the late Kobe Bryant, Lebron James, Kevin Durant, Kyrie Irving, Giannis Antetokounmpo, Russell Westbrook, Paul George, and the rookie phenom Zion Williamson. And then there is, of course, the one and only Michael Jordan, who remains the top-selling endorser for Nike after more than 3 decades.
In comparison, Under Armour is a featherweight in the endorsement game. It has signed a total of 4 NBA players, 3 of which are mid-tier non-stars. But the 4th one turns out to be Under Armour's saving grace: 2-time MVP and 3-time champion Steph Curry, the consensus greatest shooter of all time. Originally, Steph Curry was signed to Nike. But that was before he broke out into stardom.
In 2013, in a disastrous negotiation with Curry to renew his endorsement deal, Nike's representative mispronounced Curry's name and showed Curry a PowerPoint presentation that featured the name of another NBA player – Kevin Durant's. Nike also refused to give Curry a signature shoe. All this disrespect by Nike gave Under Armour an opening. Curry jumped ship from Nike and signed with Under Armour in 2013. Shortly after that, he broke out to become one of the biggest stars in the NBA. He won back to back NBA MVP awards in 2015 and 2016, as well as 3 championships in 2015, 2017, and 2018. Finally, Under Armour had a bona fide superstar on its roster. To this day, Curry's signature shoes remain the cornerstone of Under Armour's basketball shoe business.
Nike and Under Armur Major Models
Nike has dozens of basketball shoe models and countless colorways on the market at any given time. In 2020, its biggest selling models include Air Jordan XXXIV, Lebron 17, KD 13, PG 4, Kyrie 6, Zoom Freak, and Nike Air Zoom UNVRS FlyEase. The breadth of product offerings from Nike is truly unparalleled.
Under Armour has a much more limited product range. Its biggest sellers include Steph Curry's signature shoes: UA Curry 7 and UA SC 3ZERO III. UA Lockdown 4 is also a popular model.
Nike vs Under Armour Price Comparisons
Pricing is another place where Nike and Under Armour differ significantly.
Nike's pricing is decidedly upscale and has been a target of criticism for a long time. Nike Adapt BB 2.0 carries an astounding list price of $400. LeBron 17 "Graffiti" sells for $225, Air Jordan XXXIV sells for $180.
Under Armour, on the other hand, takes a more down to earth (well, relatively) approach to pricing. Its most expensive basketball shoe, UA Curry 7, sells for $140. UA SC 3ZERO III sells for $90, UA Lockdown 4 sells for $65.
Verdict: Nike basketball shoes are significantly more expensive than those from Under Armour. Nike is also seen as more of a collectible brand, which also contributes to Nike's higher prices. Are the higher prices justified? You have to decide for yourself. Under Armour's lower prices do not mean lower quality. In General, the materials and build quality of Under Armour basketball shoes are on par with that of Nike shoes.
---
Nike vs Under Armour Cushioning Comparisons
Cushioning is very important in basketball shoes. The game of basketball can be very harsh on your feet and knees. All the jumping, sprinting, cutting, and stopping on a dime put enormous stress on your bones and ligaments. Basketball players frequently suffer from foot and knee injuries such as plantar fasciitis, stress fractures, ACL tears, and ankle sprains. A basketball shoe with good cushioning can help prevent that.
Nike created the airbag-like cushioning technology Nike Air in 1977. Initially, it was used in running shoes but eventually, it found its way into Nike's basketball shoes. The original Air Jordan I featured a Nike Air unit in its heel.
In 1987, Nike Air was upgraded to Max Air which featured a bigger and visible airbag for improved cushioning. To this day, Max Air is still found in many Nike basketball shoes.
In 1995, Nike released Zoom Air, which added a series of high tension, tightly stretched polyester fibers to an airbag for extra impact absorption, and to snap the airbag back into position after it is compressed.
Nike is not limited to just airbag-based cushioning technologies. It also offers foam-based cushioning. In 2017 it launched Nike React, a new foam material for cushioning. Nike React manages to provide soft impact absorption and stability support at the same time, perfect for protecting basketball players given their need to change direction and speed at the blink of an eye.
---
Lebron 17
Nike Lebron is known for its exceptional cushioning. Lebron 17 features a huge Max Air unit at the heel and 2 maximum volume 15mm Zoom Air pods in the forefoot in addition to a soft React foam midsole. That is about as much cushioning as you will find anywhere today in a basketball shoe.
---
Kyrie 6
Other Nike models take a less extreme approach to cushioning. For example, Kyrie 6 comes with a Zoom Air Turbo unit under the ball of the foot plus a lightweight foam for cushioning. This combo provides less cushioning than Lebron 17 but offers the benefits of lighter weight and a better court feel. That is a trade-off many people would be willing to make.
---
Like Nike, Under Armour has its own proprietary techs for cushioning. Charged Cushioning is an EVA-based foam that provides more or less the typical amount of cushioning you would expect from the industry standard EVA foam.
For newer shoe models, Charged is being replaced by HOVR which is a new foam formula that is lighter and more durable.
Micro G is a high energy return, low compression foam that is 30% thinner than similar foams on the market. Micro G is particularly suitable for basketball shoes as its thinness gives basketball players a better court feel.
Typically, Under Armour basketball shoes utilize a combination of these cushioning techs. For example, UA Curry 7 comes with HOVR plus Micro G cushioning.
---
UA SC 3ZER0 III features Micro G foam together with the industry standard EVA foam.
Verdict: If you need the maximum amount of protection and cushioning, you can't go wrong with Nike Lebron 17. Otherwise, most Nike and Under Armour basketball shoes have a comparable amount of cushioning. You will be happy with either.
---
Nike vs Under Armour Upper Comparison
The upper of a basketball shoe determines how form fitting, breathable, and supportive the shoe is going to be.
Most Nike basketball shoes feature a synthetic or mesh upper that is both breathable and supportive. Some, like Lebron 17, come with a knitted upper based on Flyknit. Flyknit is a Nike proprietary knitting tech that knits high-strength fibers into a lightweight, form-fitting, and virtually seamless shoe upper. The resultant upper wraps the wearer's entire foot in an anatomically precise way, leading to improved support, fit, and breathability.
Under Armour basketball shoes typically come with uppers that are made with synthetic leather and/or TPU skins. They are comparable in breathability and fit to Nike uppers.
Verdict: It's a tie.
---
Nike vs Under Armour Outsole and Traction Comparison
Both Nike and Under Armour basketball shoes are typically equipped with rubber outsoles. That is not a surprise as rubber is pretty much the industry standard for sneaker soles due to its durability and traction on smooth surfaces.
But traction is not just determined by the material of the outsole. The tread pattern on the outsole also plays a part. Each shoe model has its own tread pattern. In general, various tread patterns from various shoe models perform more or less on par with each other. The exceptions are Nike PG 3 and PG 4. They offer substantially better traction than most other shoe models. The outsole of PG 3 is covered in tiny rubber suction cups. These cups grip onto the ground like the suckers on an Octopus's arms. PG 4 has a circular tread pattern that is just as grippy as that of PG 3.
Verdict: Nike PG 3 and PG 4 offer the best traction you will find anywhere. Other Nike shoe models and Under Armour models are comparable in terms of traction.
Related: Best Traction for Basketball Shoes | Nike vs Under Armour
---
Nike vs under Armour Design Comparison
Design is very subjective. Beauty is in the eye of the beholder and all that. But Nike does have an advantage here by the sheer variety of its shoe models. You are more likely to find a design you like from Nike than from Under Armour, just due to the simple fact that Nike offers far more designs to choose from.
Nike is also the more design-focused company among the two. It offers unusual designs and colorways such as the Kyrie 5 SpongeBob SquarePants or KD 13 Funk 2K Gamer Exclusive. You will not find designs like that from Under Armour.
Verdict: If you are a collector or a fan of limited edition shoes, Nike will probably be more to your liking. Otherwise, both Nike and Under Armour offer very good looking shoes.
---
Under Armour vs. Adidas
Adidas has an even longer history than Nike, having been founded in 1949. It is the second largest footwear company in the world after Nike, selling $13 billion's worth of shoes in 2018. That is less than Nike's $22 billion but still much more than Under Armour's $1 billion.
Adidas's endorser roster, while not as star studded as Nike, also surpasses that of Under Armour's. Adidas endorsers include NBA superstars Damian Lillard, James Harden, and Donovan Mitchell. The signature shoes of these 3 players, Dame, Harden, and D.O.N., constitute the mainstay of Adidas' basketball shoe offering.
Price-wise, Adidas is on the same level as Under Armour: most shoes are priced between $70 and $140.
Adidas developed a micro capsule-based foam cushioning tech called Boost. It combines the softness and comfort of EVA foam with the energy return and durability of TPU foam. Boost can be found in the midsoles of some Adidas basketball shoes such as Zoneboost.
More recently in 2018, Adidas created a basketball specific cushioning tech called Lightstrike, a midsole foam that is extremely lightweight. Lightstrike can be found in newer Adidas models such as N3XT L3V3L, Harden Vol. 4, and Dame 6.
Uppers, outsoles, and traction of Adidas basketball shoes are comparable to that of Under Armour's.
What sets Adidas apart from Under Armour is design. Among the 3 shoe companies, Adidas is probably the most fashion forward. Models such as N3XT L3V3L, Dame 6, and Harden Vol. 4 are truly eye-catching and beautiful. In comparison, Under Armour's designs tend to be more conventional.
Related: Top 25 Best Basketball Shoes for Guards | Forwards | Centers
Final Verdict
All 3 brands discussed in this article make high quality and good looking basketball shoes. Among the 3, Nike is the biggest and probably the most technology-focused. It also offers a large number of limited editions. If you are a collector or a basketball shoe nerd, you'll probably like Nike. But it is the most expensive.
Under Armour offers high quality shoes at a substantially lower price point than Nike. If you are looking for a good value and you prefer a more conventional look, Under Armour is your brand.
Adidas also comes in at a price point similar to that of Under Armour's. It is the most fashion forward of the 3. So for those who want a bolder design at a good price, look no further than Adidas.
Loveatfirstfit.com is a participant in the Amazon Services LLC Associates Program, an affiliate advertising program designed to provide a means for sites to earn advertising fees by advertising and linking to Amazon.com. We may earn a commission when you buy through links on our site.