24 Hour Fitness is the largest 24-hour gym in the United States. The membership is a little expensive, but still many people opt for it.
That is because the gym offers high-quality bumper plates, barbells, and more. It is one of the top gyms ideal for weightlifters and powerlifters.
Of course, you can also use it for group classes or personal training. It is ideal for anyone looking to work with weights or not.
Here is everything else you need to know about why 24 Hours Fitness is so expensive.
Learn More: Why Is Equinox So Expensive?
Reasons 24 Hours Fitness Is Expensive
24 Hours Fitness is expensive because it is the largest gym in the United States open 24/7. It also offers high-quality equipment for bodybuilders, weightlifters, and powerlifters. For example, they have bumper plates, Eleiko barbells, and more at each of their locations.
The gym also offers many amenities in their membership that you will not find in many gyms in the same price range. These include:
Access to racquetball and basketball courts
Swimming pools
Saunas
Whirlpools
Group classes
Squat racks
Showers and locker rooms
Kids' Club
And much more
High-Quality Equipment
One of the top reasons 24 Hours Fitness is expensive is because they keep adding high-quality equipment to their gyms. They offer cardio equipment, treadmills, ellipticals, kettlebells, medicine balls, TRX bands, Bosu balls, battle ropes, squat racks, deadlifting platforms, and much more.
The gym keeps on adding more to the equipment to enhance the experience of members. All the gym locations will offer you access to this equipment to have a great experience.
Largest 24/7 Gym In The US
Another reason 24 Hours Fitness is expensive is that it is open all the time for members. That was the idea behind opening this gym and naming it. However, there are some locations that are not open 24/7 because they follow the blue law.
Keeping the gym open all the time increases running costs, such as electricity, and much more. These costs are transferred to the members.
The locations are also convenient and you can easily find a 24 Hours Fitness gym in your region. You have to pay a premium for this convenience.
Learn More: Why Is Crunch Fitness So Cheap?
Access To Courts
With a 24 Hours Fitness membership, you will have access to their racquetball and basketball courts. It is important to check the timings of the court. However, they are open to members who would like to indulge in playing.
The courts are huge and even their maintenance costs a lot. 24 Hours Fitness has to cover its costs and they do this through an expensive membership.
The amenities you will receive are worth the price. Think of the gym as your solution for everything.
24 Hour Fitness Membership Cost
24 Hours Fitness offers a few membership options to people. The prices also vary by location. Typically, you can expect to pay between $30 and $60 per month, depending on the plan you choose.
| | | | | |
| --- | --- | --- | --- | --- |
| Type Of Membership | National Access (All Clubs in the US) | Regional Access (Access to Clubs within a 50-Mile Radius) | Initiation Fee | Annual Fee |
| Monthly | $56.99/month + taxes | $51.99/month /month + taxes | $0 | $49 |
| 12-Month Commitment | $51.99/month /month + taxes | $46.99/month + taxes | $0 | $49 |
| One Year Paid in Full | $41.67/month + taxes | $37.50/month + taxes | $0 | $0 |
| Two Year Membership | $39.58/month + taxes | $35.42/month + taxes | $0 | $0 |
Remember that you will have to spend anywhere between $100 and $1,000 at signing, depending on the plan you choose. Some locations will also offer you a lower membership price.
However, these are the typical prices at most 24 Hour Fitness gyms. You can talk to the nearest 24 Hour Fitness gym in your area about the prices they offer to make an informed decision.
Is A Membership at 24 Hours Fitness Worth It?
A 24 Hour Fitness membership is worth it for powerlifters, weightlifters, and bodybuilders. It has all the equipment lifters will need for a great workout. That doesn't mean that other people shouldn't opt for the 24 Hour Fitness membership.
The gym also offers group classes, personal training, yoga classes, swimming, basketball, racquetball, and much more. You can also opt for the gym within a 50-mile radius.
Such a location will offer you convenience as you can go anytime. You will have the flexibility you need to create your own schedule at the gym.
Learn More: Lifetime Fitness Review
24 Hour Fitness Vs. Other Gyms
24 Hour Fitness is not the most expensive gym of all. Other gyms are much more expensive than this one. Most gyms are more expensive than 24 Hour Fitness as you can tell.
| | |
| --- | --- |
| Gym | Monthly Membership |
| 24 Hour Fitness | $30 and $60 |
| Planet Fitness | $10 and $30 |
| Anytime Fitness | $36 |
| Gold's Gym | $19.95 |
| Equinox | Over $200 |
| LA Fitness | $19.99 per month |
Learn More: Why Is Planet Fitness So Cheap?
As you can tell, 24 Hour Fitness is a budget-friendly gym for members that can pay a standard fee and receive some incredible amenities. The cost is middle-tier so that you can enjoy everything you need while working out.
You can select the membership you think will suit you best for a fantastic experience. We recommend choosing the regional access, as you will have access to the closest 24 Hour Fitness that you can visit at any time for working out.
You will get access to locker rooms, floor equipment, cardio equipment, weight machines, free weights, saunas, studio rooms, and more luxury facilities you can enjoy. The gym is right in the middle in terms of budget-friendliness.
Other gyms will cost you more or they will be cheaper and will not offer you all the amenities you require for a great workout. That is why we recommend you opt for 24 Hour Fitness Gym for your fitness.
It will enable you to have access to everything you require for great weightlifting or cardio session. The gym is also very spacious.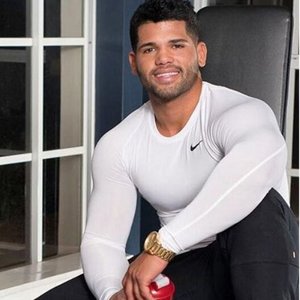 Austin is the author of loveatfirstfit.com and a personal trainer with extensive knowledge in nutrition. Austin is passionate about helping others to find a suitable healthy lifestyle and feel good about themselves. Austin's goal is to help people push their limits and achieve their physical performance.