Many gyms such as LA Fitness offer a guest pass to non-members in the US. The service allows various people to enjoy gym amenities for a specific period.
Gold's Gym is a luxury fitness club that you may be wondering about regarding a day pass. If so, you're in the right place. Below is all the information you need.
Does Gold's Gym Have Guest Passes?
Gold's Gym offers guest passes at all of its locations in the US. You can opt for the one-day trial to try out the club. Besides that, the gym chain also offers a seven-day pass called the VIP guest pass.
A key thing about the one-day pass is that it will allow you to use the basic amenities of the club. Meanwhile, the seven days trial will offer you access to all services.
Many gym chains offer a guest pass for free to all people. However, some also charge a small fee. Luckily, Gold's Gym offers high flexibility regarding the day pass.
Are Gold's Gym Guest Passes Free?
Gold's Gym is a versatile gym that wants guests to immerse themselves in an enjoyable experience, so it offers free passes. You don't have to worry about paying when getting the one-day trial or the VIP guest pass.
The pass will enable you to use multiple gym equipment without additional charges. Moreover, you can engage in weight training, HIIT, cardio classes, and much more at this gym chain.
Besides that, Gold's Gym also offers paid passes at many of its locations. They may be $15 per day or $25 per week. This depends on the branch you are visiting.
However, keep in mind that the fitness club has some usage restrictions regarding the guest passes. This means that not all people can get the pass at Gold's Gym.
Who Can Get Gold's Gym Guest Passes?
The top thing to note about Gold's Gym guest passes is that they are available to people of age 18 or above. If you are a minor, you cannot get the pass using parental sign-up.
Besides that, you must be a local resident to get the free pass at Gold's Gym. This is essential as you have to present a local ID at the nearest club for the pass.
These are the few restrictions that come under the guest pass policy of this gym chain. You must also keep other guidelines in mind to enjoy a fun experience at this club.
What Is The Gold's Gym Guest Pass Policy?
The primary rule you must follow is to sign up for the free guest pass beforehand. Not only that, but you cannot enter the gym before signing a waiver at the front desk on the arrival day.
Another thing to remember is that you must take your local ID with you to get the pass. Besides that, you should also ensure that you have not been a gym member for the past six months.
Gold's Gym also does not offer the pass if you used it less than six months ago. Moreover, you cannot use the guest pass with other club offers.
The guest pass also offers access to different equipment in the club. This depends on whether you have the VIP version or the standard.
Can Guest Pass Use Any Equipment Or Facilities At Gold's Gym?
You can use the standard gym equipment with the one-day pass and engage in cardio classes. Meanwhile, the VIP version will offer you access to all gym amenities, including a session with a personal trainer.
Besides that, you can access fitness classes with a guest pass too. However, this may vary from one location to another. So it is best to contact the gym before visiting.
You may also consider taking a friend with you if you are a member of the club. This can help you have a more enjoyable experience.
Can I Bring A Guest With Me To Gold's Gym?
Gold's Gym allows members to bring guests with them through the Buddy Pass program. This option is only available if you have the club's membership.
Typically, you can add a guest by paying a $5 fee or more, depending on the branch. However, keep in mind that not all locations offer the Buddy Pass option.
Additionally, the gym may offer special promotions from time to time. You may take your friend during such an offer period. Of course, this varies depending on the different times of the year.
Apart from that, you can always tell your guest to get the free VIP pass and bring them along with you. This is the easiest and most cost-effective option.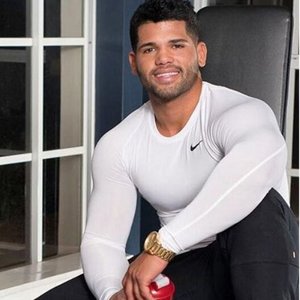 Austin is the author of loveatfirstfit.com and a personal trainer with extensive knowledge in nutrition. Austin is passionate about helping others to find a suitable healthy lifestyle and feel good about themselves. Austin's goal is to help people push their limits and achieve their physical performance.