Many gyms face a huge crowd during peak hours which can be annoying for some members. 24 Hour Fitness is a famous club that offers personal training and classes.
You may want to know the best time to visit this gym. This is because 24/7 clubs can get more crowded than other fitness centers.
So here's all the information about the best time to visit 24 Hour Fitness.
Recommended Time To Go To 24 Hour Fitness
The best time to visit 24 Hour Fitness is midnight to 6 am. You will experience a primarily empty location during these hours. 9 am to 11 am also suitable if you don't mind working out with some early risers.
A less crowded gym is preferable because you will not have to wait to use a machine. You will also not have to worry about the time restrictions to use the equipment.
24 Hour Fitness showers are also empty from midnight to early morning, so you can easily wash before going home. The best part is that you can exercise in a quiet atmosphere without anyone disturbing you.
So if you hate socializing, you should visit the gym during the least crowded time. It is also best to know whether the crowd is more on weekdays or weekends to avoid those days.
Is 24 Hour Fitness Less Crowded On Weekdays Or Weekends?
24 Hour Fitness is less crowded on weekends because most people enjoy their free day with family. Some singles and fitness enthusiasts visit, but the number strength is comparatively low.
Midnight to 6 am is the least crowded time on all days, including the weekend. You will also interact with a few early risers and some night owls during these hours.
7 am to 8 am is not advisable because the club will be crowded with people waiting in lines for showering. So you will encounter a packed locker room, and gym equipment may also be being cleaned at this time.
So 9 am to 11 am is the next window with a less crowd than the evening hours. However, it will be more than the number of people you will find from midnight to 6 am.
24 Hour Fitness is also very busy during specific hours, so visiting during those hours will be disadvantageous. You may not get to use specific equipment due to the crowd.
What Time Is 24 Hour Fitness Most Busy?
4 pm to 8 pm is the busiest time for 24 Hour Fitness because office workers get free around this time. Most fitness enthusiasts also hit the gym during these hours after getting done with daily chores.
So the evening is the worst time to visit 24 Hour Fitness because the gym floor will be crowded. Showers will also be filled, so you will have to wait to use the equipment and clean yourself later.
11 am to 3 pm is also relatively crowded because part-timers may visit the gym. Some people also use their long lunch breaks to work out at the club.
There is a relatively high crowd during the earlier hours on weekdays. Evening time is less busy on weekends because many people take a break on their holidays.
If you cannot visit the gym early on some days, you should have a plan for the busy hours. This will prevent you from missing exercising on specific days due to the crowd.
What To Do If 24 Hour Fitness Is Busy?
You can exercise at home by using basic equipment such as dumbbells. Mixing up your routine by doing Pilates or yoga on busy days is also suitable to remain fit. Of course, the best solution is to avoid the crowded time by visiting the gym later.
Below are some other things you can do when 24 Hour Fitness is busy:
Sign up for a class: This option is best if you are free throughout the week during busy hours. Classes are pre-scheduled, and you will receive a trainer. You can join HIIT classes for intense workouts or yoga for light activity.
Visit a park: Some parks have outdoor gym equipment to help you perform basic exercises. You can use them to get your daily dose of fitness activity. Jogging or running around a track is also suitable to keep your cardiovascular health good.
Get home equipment: If you're reliant on a specific machine, you can purchase it for your home gym. Amazon offers durable but reasonable fitness equipment. An indoor bike is a good option to simultaneously exercise your upper and lower body.
Choose another gym: Some gyms are relatively less crowded after 5 pm. You can conduct thorough research to find the best option. Switching is best if you can only exercise in the evening and require equipment.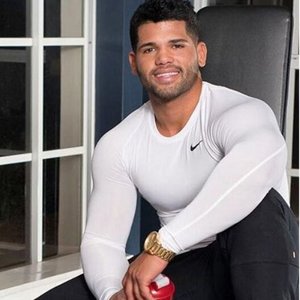 Austin is the author of loveatfirstfit.com and a personal trainer with extensive knowledge in nutrition. Austin is passionate about helping others to find a suitable healthy lifestyle and feel good about themselves. Austin's goal is to help people push their limits and achieve their physical performance.