Summer is in full swing. The sun, the sand, the breeze – this is the perfect time to bust out your khaki shorts and enjoy a carefree day strolling around doing nothing and everything. Khaki shorts are lightweight and cooling – in short, the perfect pants for summer.
Generally, khakis shorts look good with boat shoes and sandals. Sneakers also work well for casual work, and loafers are classy dress shoes for khaki shorts.
Better yet, khaki shorts are a classic that transcends trends. You do not have to worry about being out of fashion. Khaki shorts are always in style. They are a no-brainer when it is hot outside.
What you do need to think about is what shoes to pair with your khaki shorts. Your shoes complement and complete your look. They help you to stand out from the crowd and to define your personal style. But there are so many choices for shoes that it can be overwhelming. No worries, we are here to help.
We will show you the 6 styles of shoes that go well with khaki shorts. For each shoe style, our staff here at Love At First Fit has combed through the products on the market to come up with our top 5 picks for that style. Now your shoe choice can also be a no-brainer.
People commonly use the word "khaki" to mean a lightweight cotton twill fabric. But originally, khaki was a color, a light yellowish-brown hue that was similar to the color of the soil. The word khaki is a loanword from Hindustani, one that means "soil-colored."
Khaki traced its root to the British Indian Army in the 19th century. At that time, British soldiers stationed in India were still wearing the traditional British uniform of white trousers and bright red wool coats (hence the famed moniker "Redcoats.").
However, that uniform became a liability in the scorching Indian summer climate. So, in 1848, the Britons decided to ditch their white trousers and red wool coats in favor of the local lightweight cotton garments. They also smeared their outfits with soil to create camouflage. Khaki was thus born.
From its military origin, khaki found its way to the civilian world and eventually became a classic. Khakis are very versatile. Every man should have at least one pair of khaki pants and one pair of khaki shorts in his closet.
Both as a color and a fabric, Khaki is casual and informal. It is earthy, natural, and easygoing. So when choosing shoes to wear with your khaki shorts, avoid overly formal shoes such as Oxfords or monk straps. Go with something more relaxed.
In the following sections, we will look at the 6 styles of shoes that go well with Khaki shorts. To save you even more time, for each style we have also combed through the offerings on the market and come up with our top picks. No matter your taste and style, we hope you will find something you like here.
Related: Best Type of Shoes to Wear on a Boat | Boating Shoes Guide
---
Boat Shoes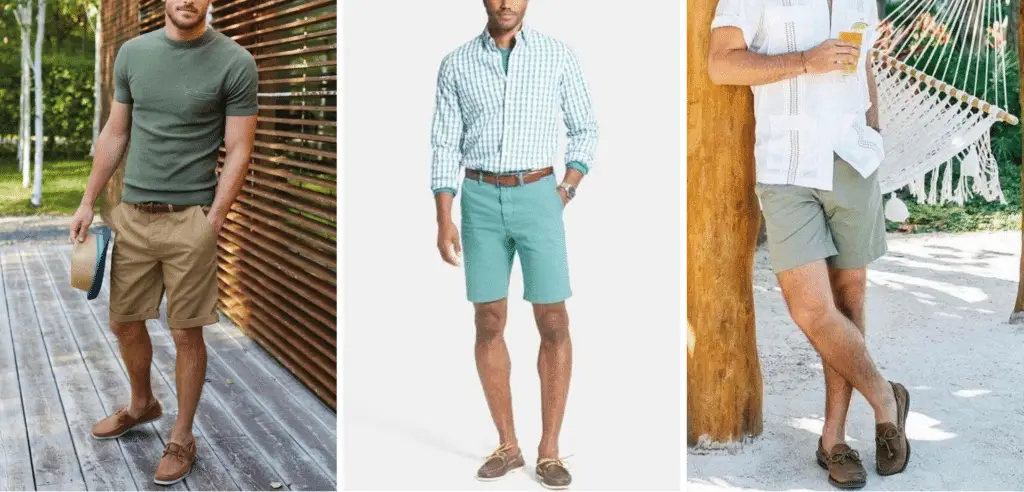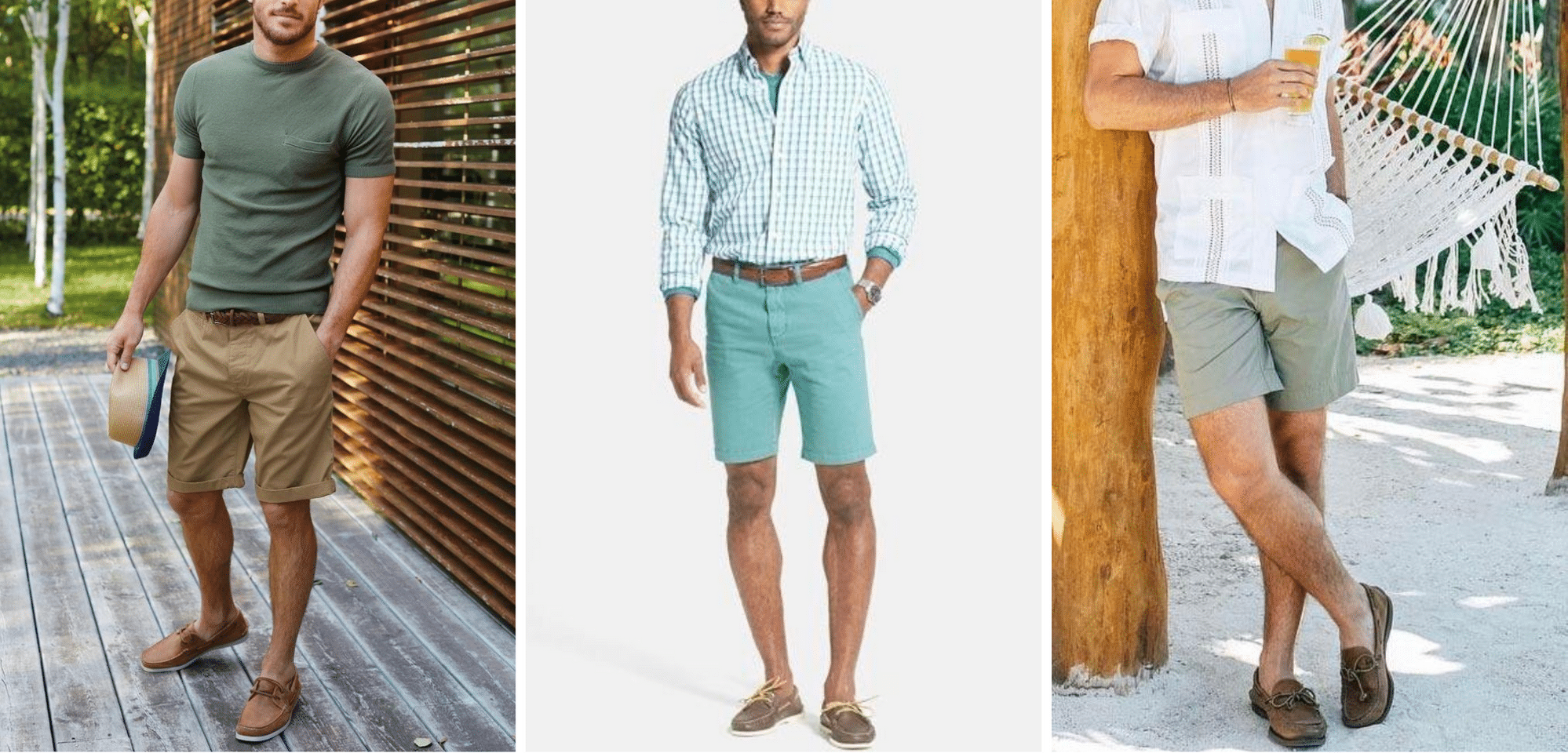 Boat shoes, as their name implies, are designed for use on boats. They typically have canvas or leather uppers with non-marking rubber soles. A siping pattern is cut into the soles to provide traction on wet decks.
Boat shoes were invented in 1935 by American sailor and inventor Paul A. Sperry. One day while sailing, Sperry slipped on the deck of his boat and fell overboard. Fortunately, he was able to get back on board.
This accident spurred him to work on developing a non-slip shoe just for boating. One day, he noticed his dog was able to run over ice easily without slipping. Inspired by the grooves on his dog's paws, he used a knife to cut a herringbone pattern into his shoes' soles to increase traction.
The result was the first modern boat shoe. He founded a company named Sperry Top-Sider to manufacture and sell his invention.
While initially worn mainly by sailors, by the 1970s boat shoes have become casual footwear worn everywhere. The rugged look of boat shoes fits particularly well with khakis.
To play up its nautical heritage, wear boat shoes with a blue striped t-shirt, a navy blazer, and a pair of khaki shorts. Or go all preppy by pairing navy boat shoes with white khaki shorts and a salmon polo shirt.
Related: Top 10 Best Shoes for Boating | Sperry and More
Wear your boat shoes either without socks or with no-show ankle socks. The key is to keep your ankles bare.
Our Boat Shoe Top Picks:
Sperry Men's Authentic Original 2-Eye Boat Shoe
Columbia PFG Men's Bahama Vent PFG Boat Shoe
Amazon Brand – 206 Collective Men's Boat Shoe
Dockers Men's Beacon Boat Shoe
---
Loafers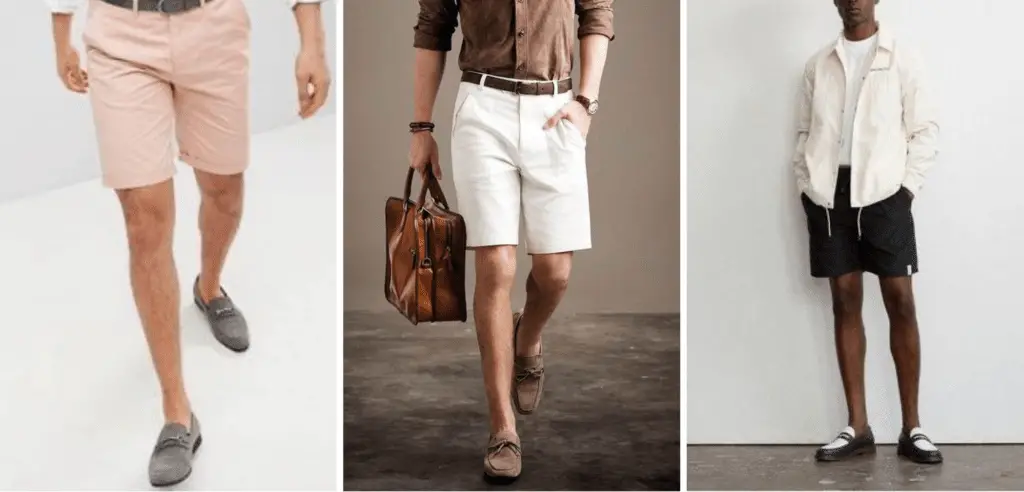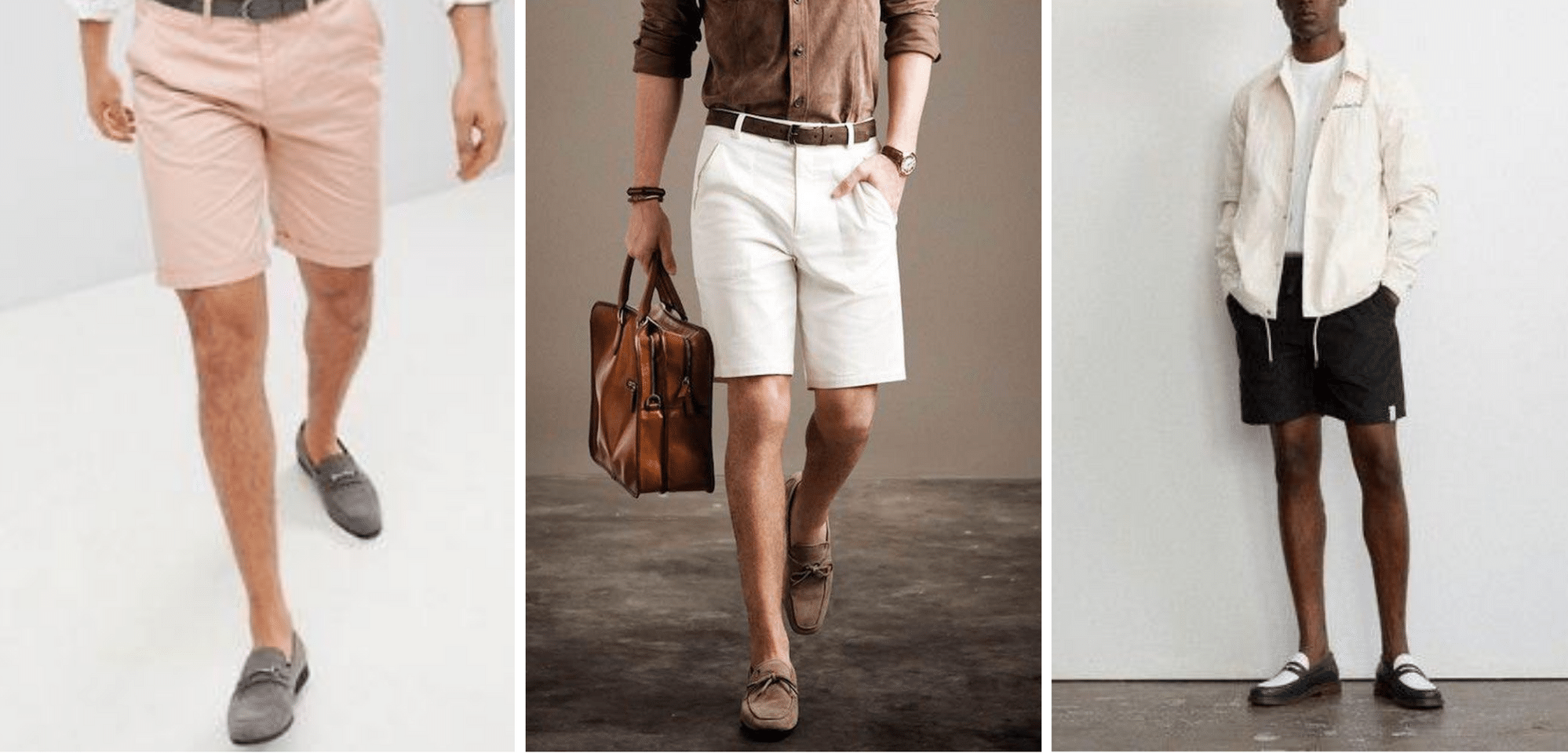 The first loafer was created in the 19th century in London by the bespoke shoe company Wildsmith Shoes as a house slipper for King George VI.
From its royal British origin, loafer spread first to Norway and then to the rest of Europe. Eventually, loafer crossed the Atlantic and took root in America. In the 1930s, a shoemaker in Maine invented the penny loafer, which quickly became an icon of preppy style.
If you like the preppy look, wear this sock-free with crisp khaki shorts, a buttoned-down shirt, and a blue casual blazer. It will look classy with many type of dress shoes, especially loafers.
Suede tassel loafers will also look good with khaki shorts and a simple white shirt.
Our Loafer Top Picks:
Cole Haan Men's Nantucket Loafer II
ALEADER Men's Canvas Slip-On Loafer
Skechers Men's Superior Milford Slip-On Loafer
Crocs Men's Santa Cruz 2 Luxe Loafer
---
Chukka Boots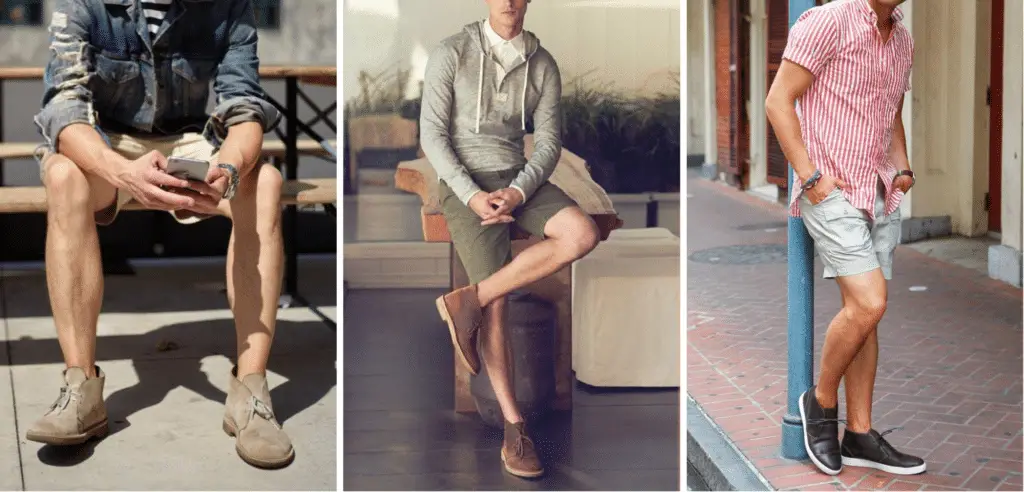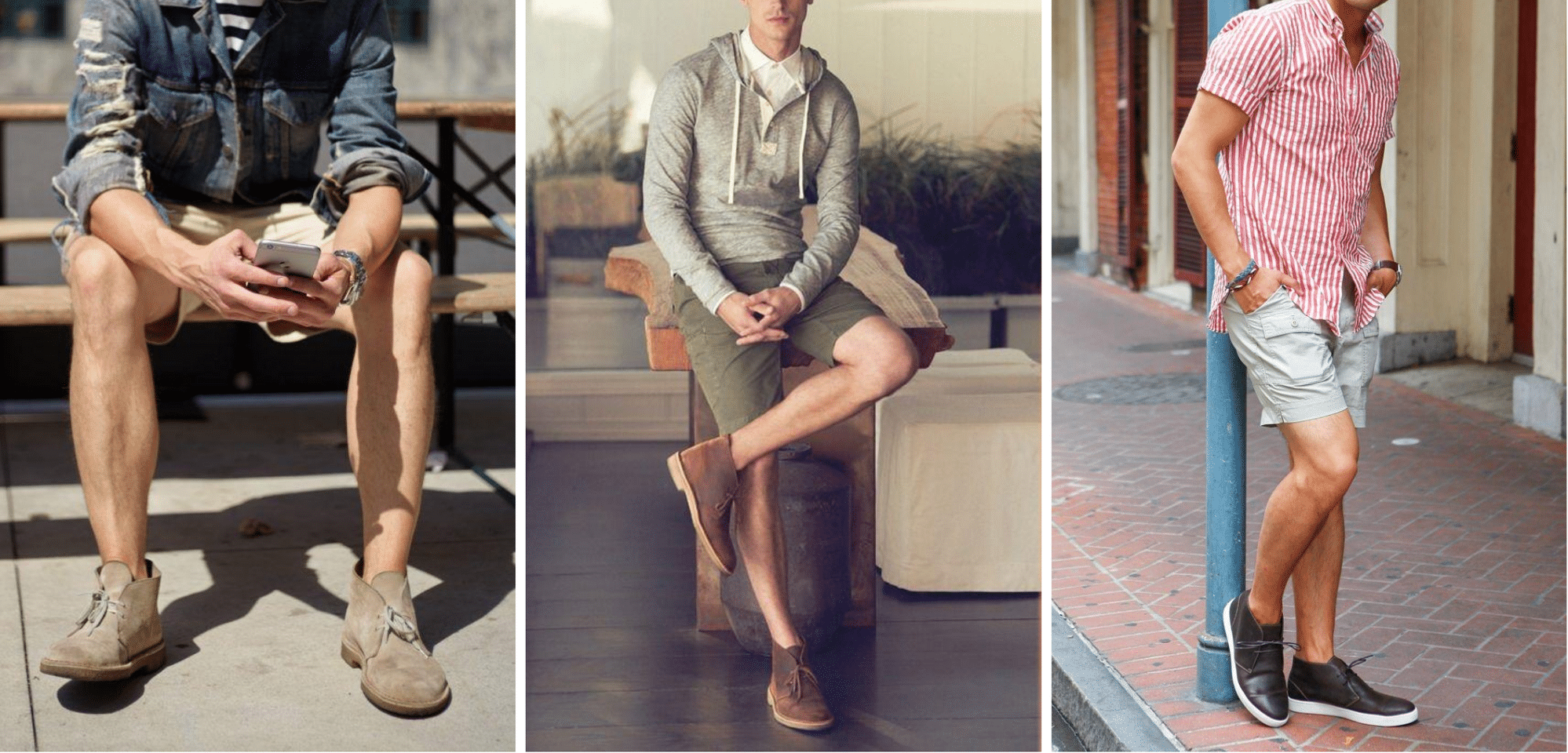 Just like khakis, Chukka boots originated in the British military. They were the desert boots worn by the British soldiers in the North African Campaign of World War II.
Chukka boots are ankle-length boots with leather or suede uppers, leather or rubber outsoles, and open lacing with two or three pairs of eyelets. They are typically casual footwear but some Chukka boots with glossy leather uppers and leather soles can also be quite dressy.
With khaki shorts, go with Chukka boots that are more informal. A pair of sand-colored suede Chukka boots with rubber soles would look great with khaki shorts and a white v-neck t-shirt.
Another great combo is chocolate-colored Chukkas, brown khaki shorts, and an olive long sleeve t-shirt. Chukka boots also work very well with casual jeans.
Related: Men's Shoes that Look Good with Jeans (with Photos)
Our Chukka Boot Top Picks:
Clarks Men's Bushacre 2 Chukka Boot
Nunn Bush Men's Lancaster Plain Toe Chukka Boot
Clarks Men's Stinson Hi Chukka Boot
Dockers Men's Greyson Leather Casual Chukka Boot
No products found.
---
Sneakers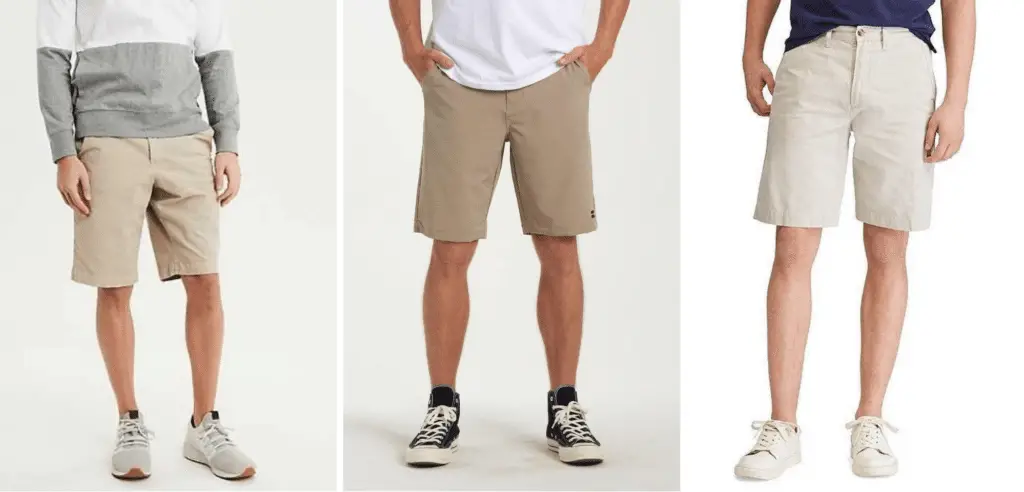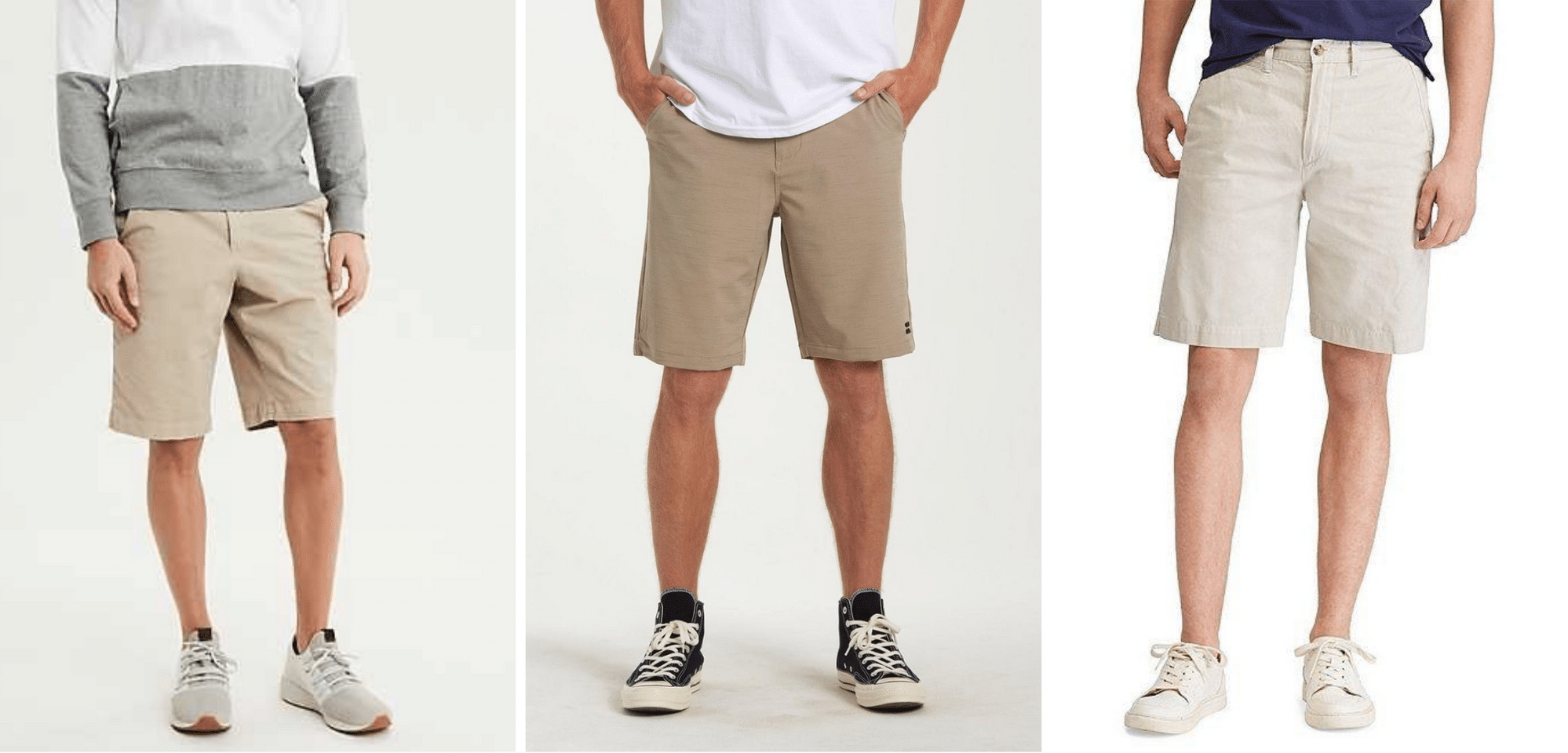 Sneakers are the ultimate streetwear shoes. Whether they are performance sports shoes from Nike and ASICS, or casual footwear from Adidas and Converse, or designer creations from the likes of Prada and Dior, sneakers can amp up the cool factor of any outfit. Not to mention, sneakers are also very comfy.
For a retro look, pair Converse Chuck Taylors with khaki shorts and a vintage t-shirt. For a more adventurous look, go with Adidas Marquee Boost and a printed casual shirt. Want maximum comfort? Try any ASICS Gel running shoes.
Our Sneaker Top Picks:
Converse Men's Chuck Taylor Sneakers
ASICS Men's Gel-Venture 6 Running Shoe
adidas Men's Marquee Boost High-Top Fabric Basketball Shoe
Nike Men's Air Max Torch 4 Running Sneaker
PUMA Men's Suede Classic Plus Sneakers
No products found.
---
Espadrilles
Espadrilles are casual, flat shoes with a canvas or cotton fabric upper and a sole made of esparto rope. The esparto rope sole is what makes a shoe an espadrille.
The first mentioning of espadrilles dates back to at least 1322. Back then, espadrilles were peasant shoes made in the Occitania region of France and all over Spain.
From its root as peasant footwear in Europe, espadrille has become a popular casual shoe all over the world. Its earth-tone canvas upper and distinctive rope-based soles make it a perfect shoe for summer.
Wear a pair of striped espadrilles with pastel khaki shorts and a plain t-shirt. Or a pair of color-block espadrilles with sand khaki shorts and a white linen shirt. You will look like you have just stepped out of a Mediterranean island vacation commercial.
Our EspadrilleTop Picks:
TOMS Men's Alpargata Rope Loafer Flat
Alexis Leroy Pureness Textile Men's Flat Espadrilles
Havaianas Men's Origine Stripes Espadrilles, Blue
---
Sandals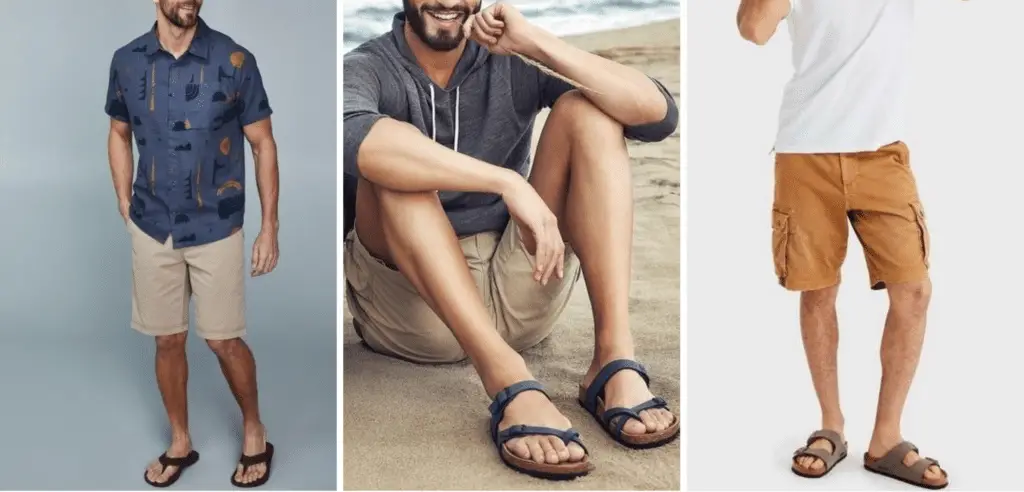 Sandals are the oldest type of shoes anywhere. The oldest sandals were discovered in Fort Rock Cave of Oregon, US. They are made of sagebrush bark and are at least 10,000 years old.
When wearing sandals with khaki shorts, go with sandals that are less bulky and more breezy. Pair brown sandals with pale blue khaki shorts and a plain t-shirt to cool down on a hot summer day, and enjoy the breeze on your feet. Life does not get much better than that.
Our SandalTop Picks:
Reef Men's Cushion Bounce Phantom Sandal
No products found.
Vionic Unisex Wave Toe-Post Sandal with Concealed Orthotic Arch Support
Quiksilver Men's Carver Nubuck Sandal
No products found.
Oakley Men's Supercoil 2.0 Sandals
---
Key Takeaways
Before you go off to find your perfect shoes to wear with khaki shorts, just keep a few key things in mind:
Khakis are casual and informal. They are best worn with informal shoes. Avoid overly formal shoes such as Oxfords or monk straps.
Khaki shorts go well with loafers, Chukka boots, sneakers, boat shoes, espadrilles, and sandals.
Feel free to experiment with color and texture. The key here is to find your own voice and your own style. Make something uniquely yours.
Loveatfirstfit.com is a participant in the Amazon Services LLC Associates Program, an affiliate advertising program designed to provide a means for sites to earn advertising fees by advertising and linking to Amazon.com. We may earn a commission when you buy through links on our site.
Last update on 2023-02-13 / Affiliate links / Images from Amazon Product Advertising API